It has been six months since we discovered Fender Play. A guided online learning program that teaches new guitar players to get playing in minutes. We were instant fans and have been sharing our experience a long the way. Thank you Fender for sponsoring this post. Learn guitar at home with Fender Play!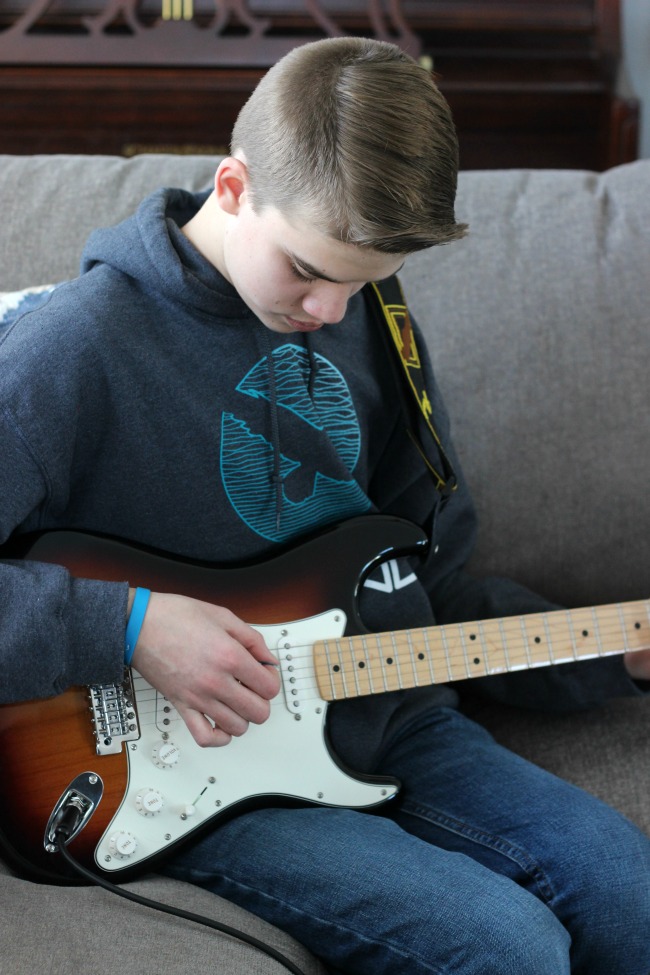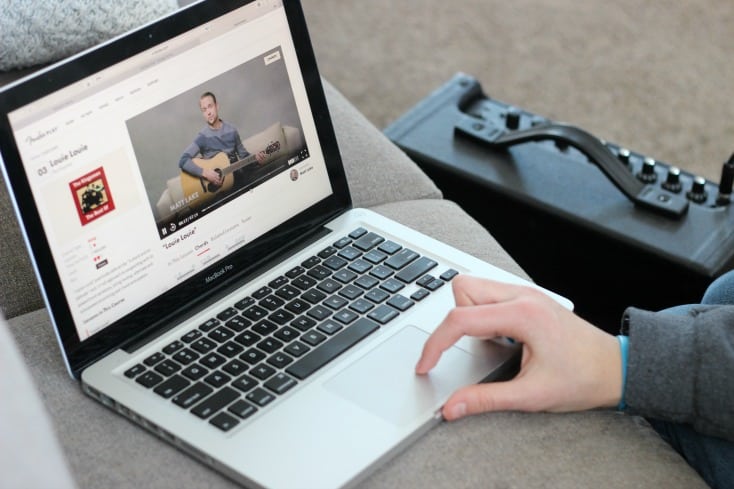 I thought I'd give some final thoughts now that we've had ample time to get a feel for the program!
I asked Dallin yesterday what he's thought of the program. We broke it down into pros and cons, to keep everything completely transparent.
Pros:
The videos are fun and the instructors are personable.
The videos are top-quality 4K multi-camera video production and delivers a clear and unified curriculum.
The program is organized and broken down into short lessons.
He was able to start playing riffs the first day.
Fender Play is fun and song-based. They help you play the songs you love by breaking them down to the basics first.
Customized curriculum is based on your musical preference. (He chose electric guitar).
The subscription is affordable and they even have sales, so watch for those!
They have created a Facebook group for students to join to ask questions and find out other useful information.
Cons:
Sometimes he feels like the videos go too fast and he isn't memorizing the chords as fast as he should.
Botton line: Will be continuing on the next 6 months with Fender Play? Hands down, YES.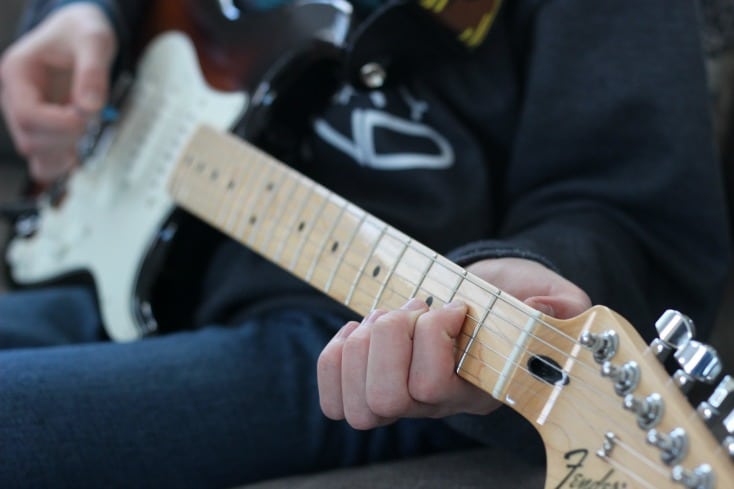 Dallin's work load at school continues to keep him busy, but he has really enjoyed his online guitar lessons. Some may argue that one on one lessons is the way to go, and I believe that it would be amazing if he had the opportunity to have weekly lessons, but that just isn't going to fit into his schedule at this point in his life.
So instead of giving up on playing the guitar right now, he has the opportunity to go at his own pace, to fit the lessons into his schedule, and to still learn a new skill.
And if he has a question, we work together to figure out the answer. Dallin's love of music has brought him more confidence than any other life experience. Once a super shy kid, he now goes out of his way to sign up for band competitions, to try out for district music festivals and enjoys playing in front of audiences.
For this reason, we will support him learning ANY new instrument that he shows an interest for.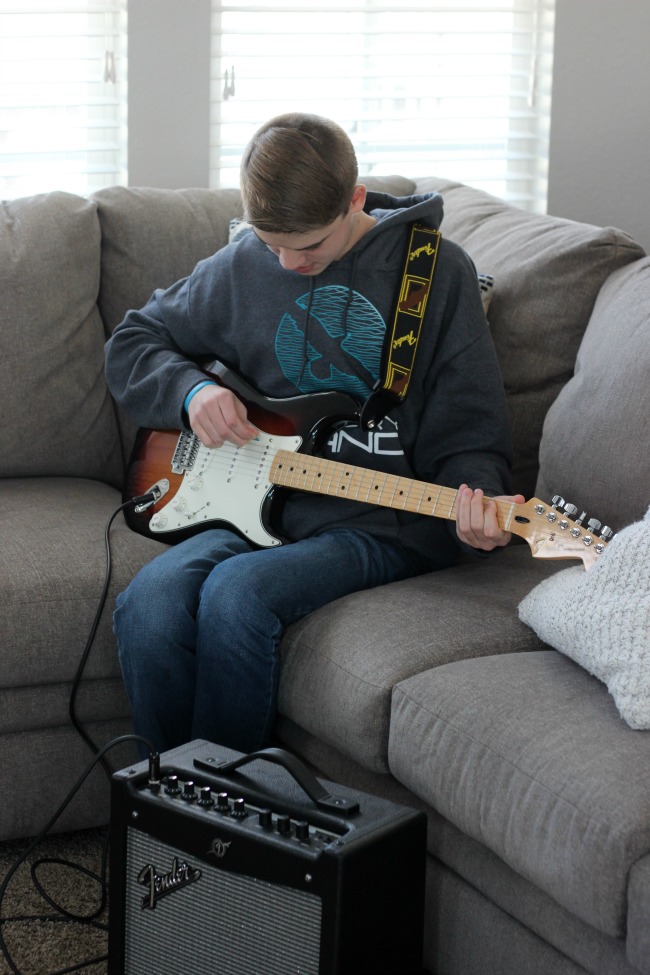 Is your teen interested in guitar lessons from home? You can start your
FREE 30-Day Trial
at play.fender.com.
You might also like…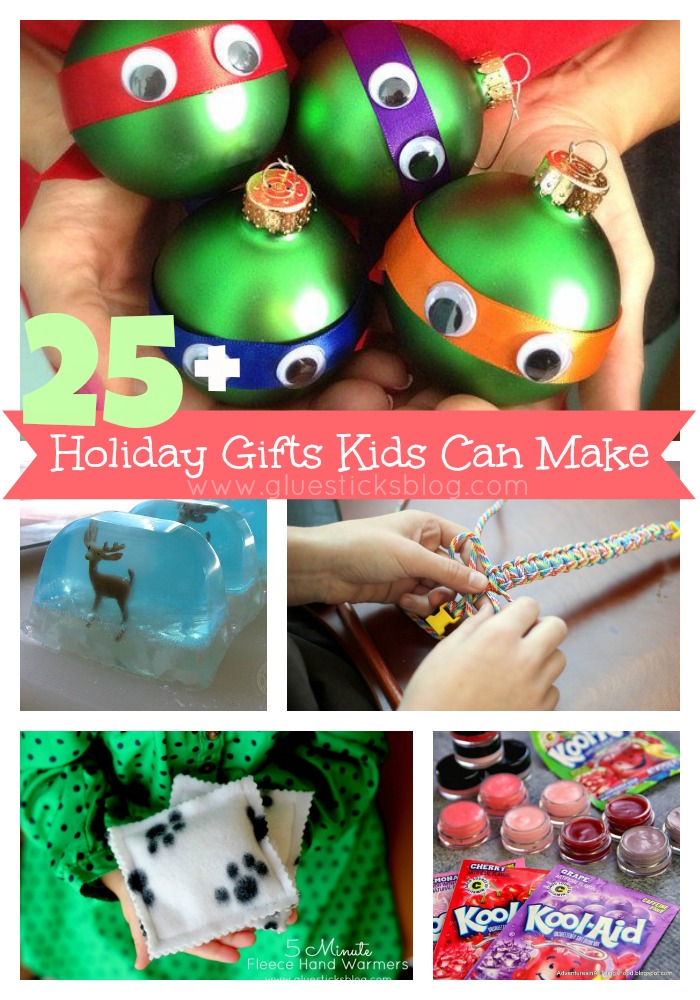 I was selected for this opportunity as a member of CLEVER and the content and opinions expressed here are all my own.