If you've been intimidated by sewing with knit fabric you will love the simplicity of The Bellamy knit nightgown pattern. An easy one hour sewing project for little girls (18 months -12 years old) that comes together to create a soft and feminine little night dress. Make one for every season with the 4 customizable sleeve and hem lengths! This post contains affiliate links.
You might also like our 8 in 1 princess apron pattern (FREE!) or my favorite 1 hour nightgown pattern for cotton fabrics. That one and this knit one are my absolute favorite nightgown sewing patterns.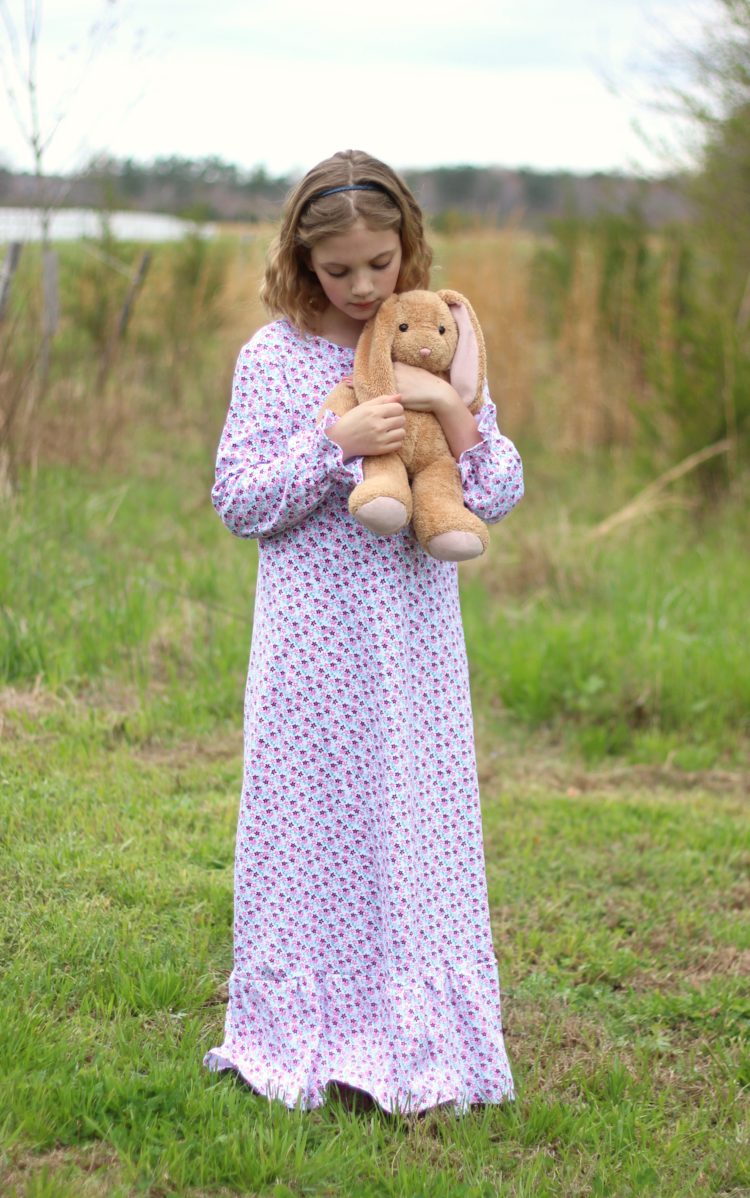 Knit Nightgown Sewing Pattern
I love sewing for my girls, but generally work with quilting fabrics. I like sewing with knits, but don't have near as much experience with them. And I don't own a serger.
When Abby, from Sew Much Ado, was looking for pattern testers for her brand new Bellamy nightgown pattern I put my hesitation aside and dove right in.
Now I want to sew with ALL THE KNITS. This darling nightgown came together in a little over an hour. The step by step instructions were fabulous, the perfect quickie sewing project without ANY notions!
This nightgown is so soft and stretchy and Kaylee absolutely loves it. She likes the longer length and sleeves, but you can actually make this nightgown in a variety different variations in length and sleeve styles. If making Christmas pajamas is a tradition that your family has you'll love this pattern and will be able to use it for years and years!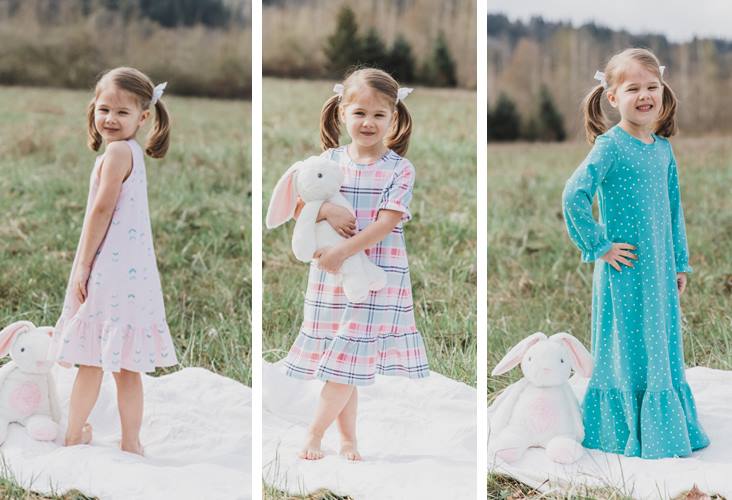 Photo Courtesy of Sew Much Ado
The Bellamy Nightgown PDF Pattern is all you'll ever need in a girl's nightgown pattern! Featuring options for loads of different styles like sleeveless, short sleeves, or long sleeve, and a variety of bottom hem options for below knee length or ankle lengths, it's truly the only custom nightgown pattern you'll need year-round!
Made out cozy knit fabric and featuring a ruffled hem, this will be your little girl's favorite new nightgown!
5 tips for sewing with knit fabrics
You don't need a double needle or serger to finish the raw edge. A sewing machine and ball point needle work just fine.
Use a ball point needle. A ball point needle has a round tip and won't pierce or tear your fabric. This is important when working with stretchy fabrics.
Use a long zig zag stitch. I made mine about as long as my machine would let me. It almost looked like a straight stitch, but if you looked closely you'd see a zig every few stitches, giving the seam a bit of stretch. I've learned this by experience. I made myself a maxi skirt YEARS ago and used a regular straight stitch. One stretch of the skirt and the entire seam broke and came apart. So, always use a zig zag or stretch stitch.
Press every seam and use the steam function on your iron. This is my favorite trick working with knits. The steam really makes for a nice finished look and helps the knit maintain its shape.
Do not stretch your fabric as you sew (unless the pattern tells you to).  Let your machine guide the knit fabric through to avoid stretching and bunching. Again, something I've learned years ago by experience.
ALWAYS pre-wash knit fabrics. ALWAYS. I used a 2-way stretch that I purchased at Joann's. I bought an extra yard just to make sure that I'd have enough because knit fabric will usually shrink up a bit during the first wash. It definitely did, about a half a yard's worth.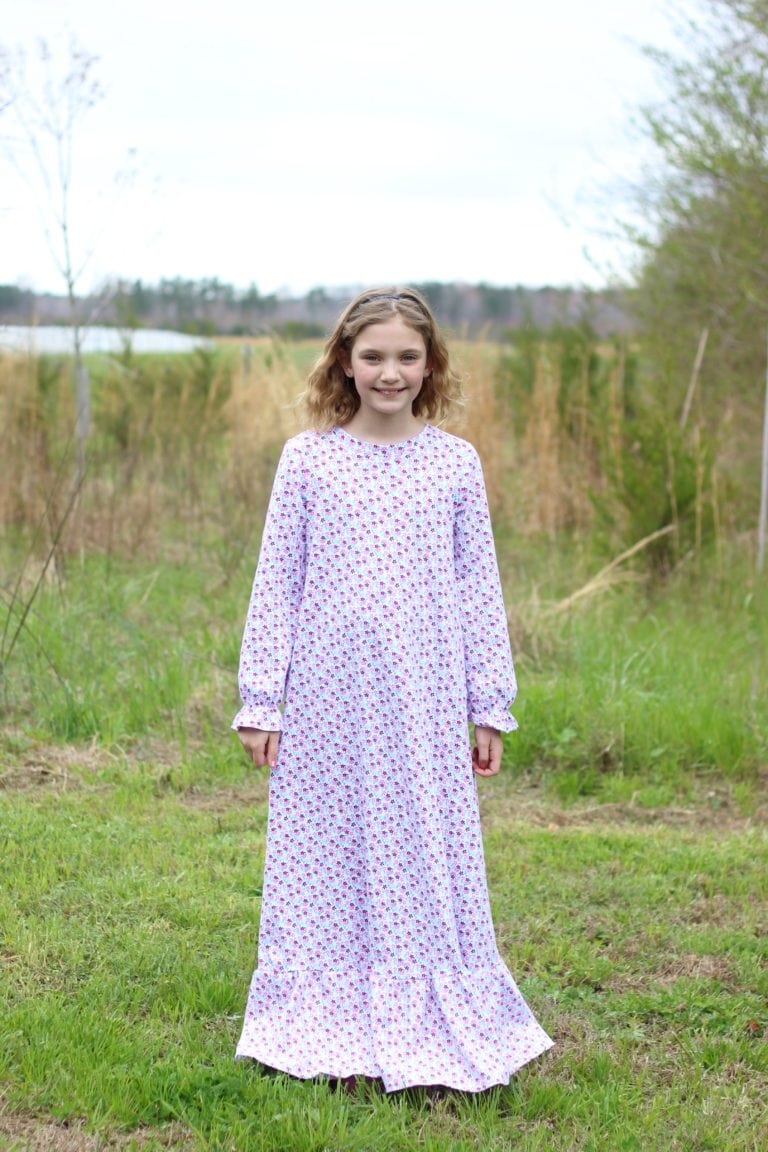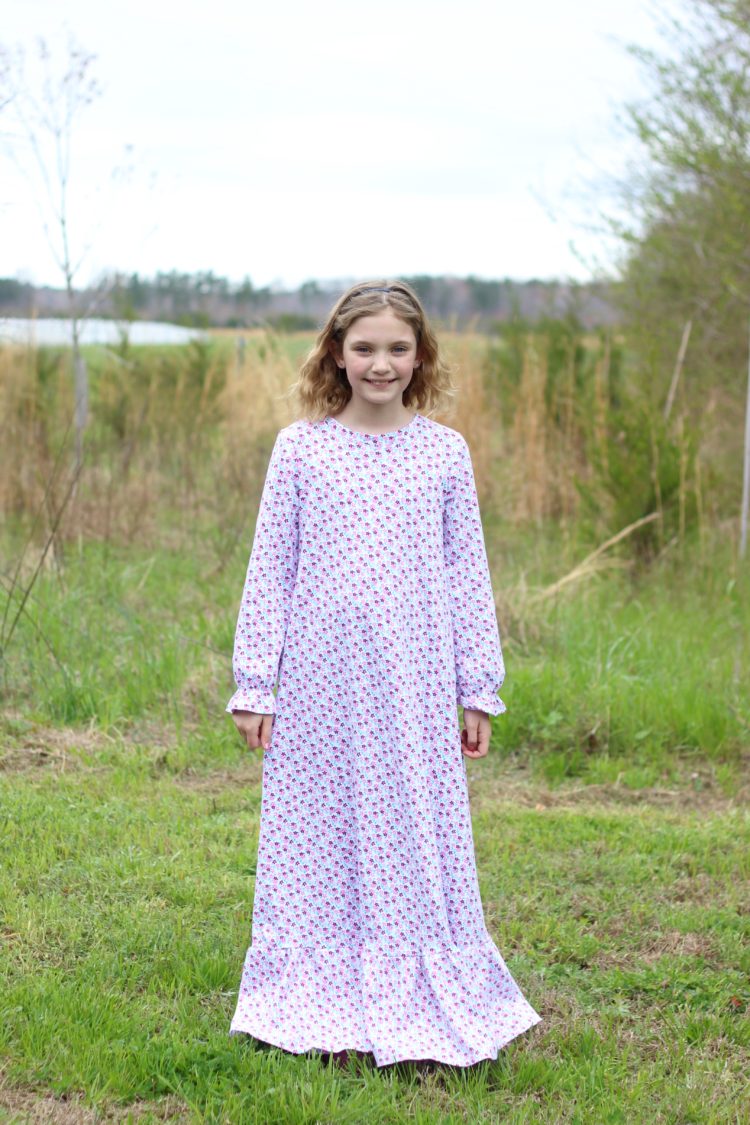 I've purchased and used many pdf sewing patterns over the years and this one, by far, was the easiest to follow. Abby outdid herself and was very thorough in drafting this easy-to-follow nightgown pattern.
It isn't very often that you find pretty nightgown for girls in the store these days. So many of them are plastered with licensed characters on the front. I love that I can make a lovely handmade nightgown in their choice of knit and get creative with pretty lace or ruffle hems if I want! I can't wait to make more nightgowns for my little ladies!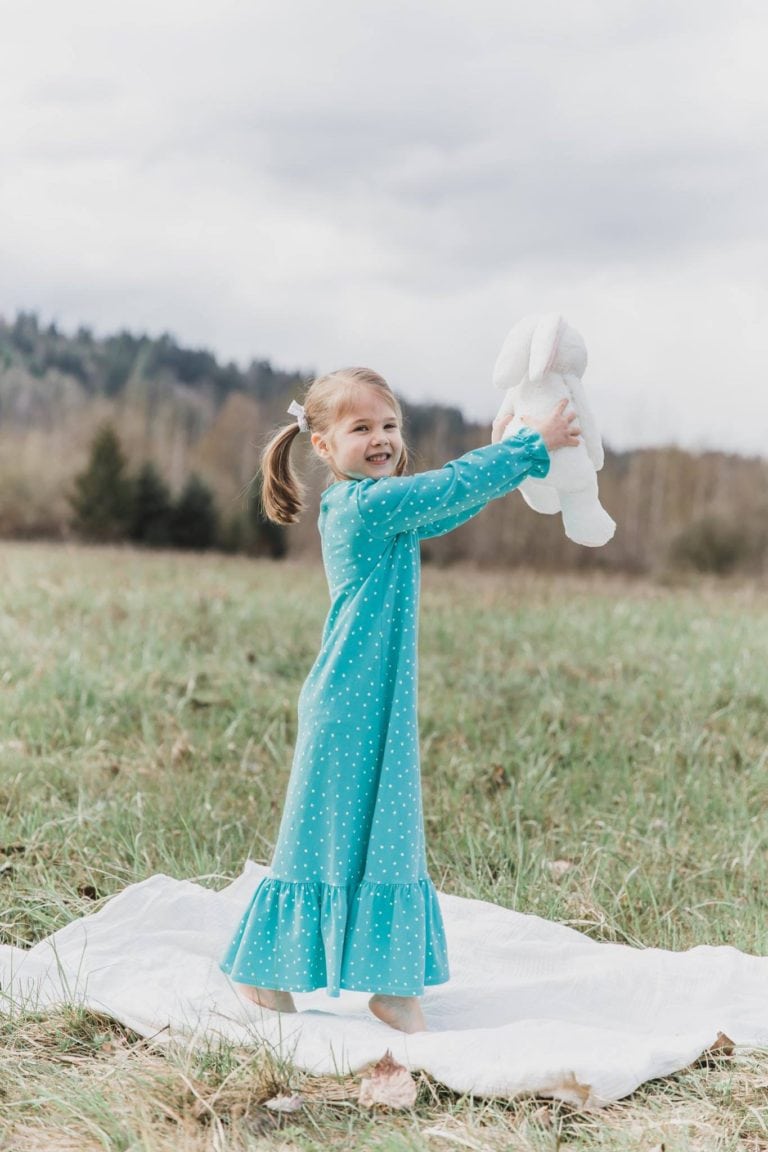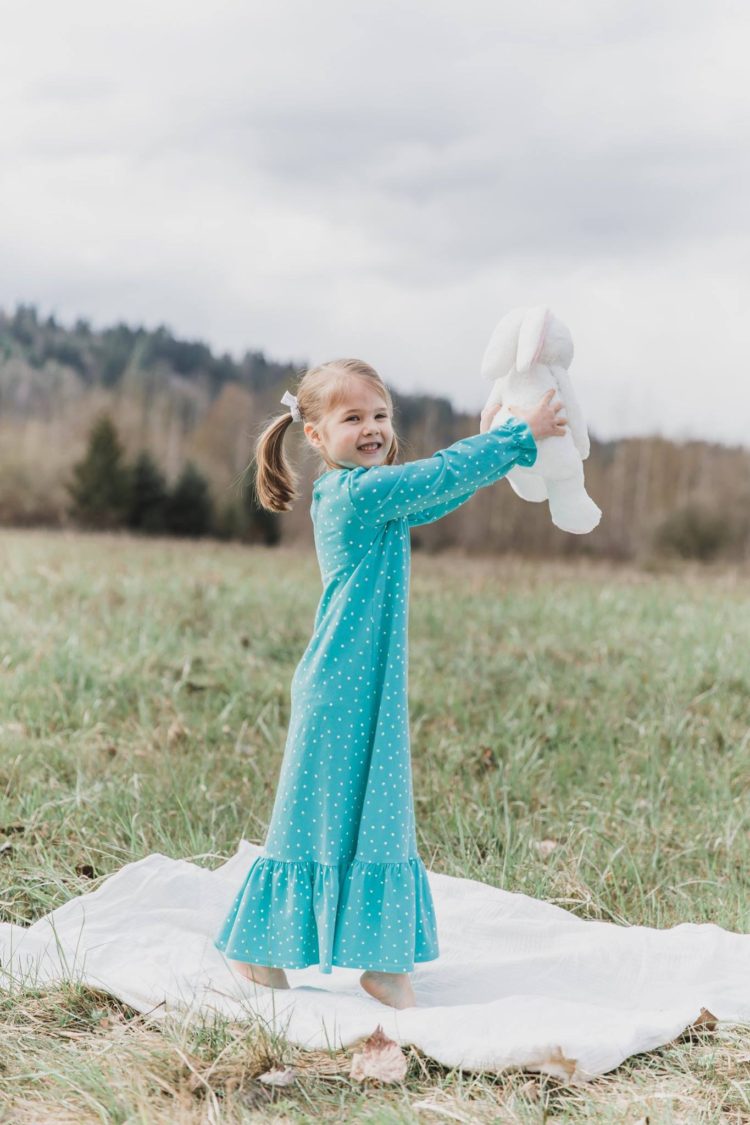 Photo Courtesy of Sew Much Ado
Girls Knit Nightgown Pattern
You can get your own pattern for the Bellamy Nightgown  for year long sewing!
Welcome! I'm Brandy, mother to 5 darling kiddos and a cute black lab named Toby. My husband is in the Coast Guard so we've lived all over the place, turning each house into a home. I love baking, sewing, making cute things with my kids, and sharing what I've learned with all of you!