1 Hour Girls Nightgown tutorial without zippers or buttons. Long or short sleeved, knee or ankle length. It's up to you! Such a versatile pattern, perfect for Christmas pajamas.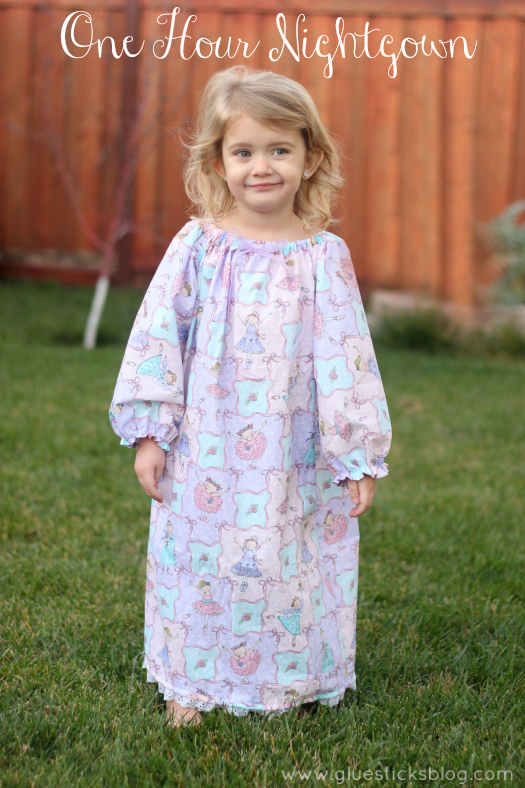 It had been quite awhile since I sewed something for my girls. So when little Ruby said, "Mommy, can you please  make me a nightgown?" in the cuuuuutest little voice, I snapped to it. One hour later she had a beautiful new ballerina nightgown. Fabric courtesy of Grandma who found several yards at a thrift store.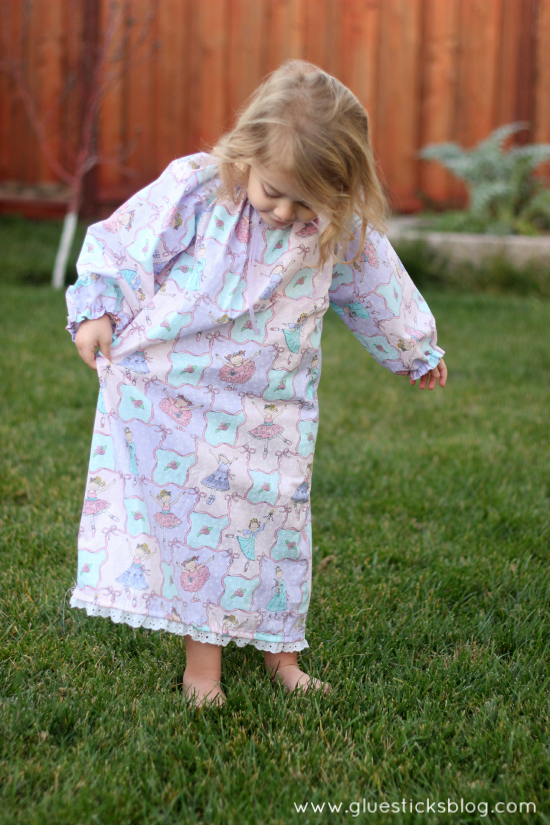 I love beautiful little nightgowns. She does too, and she was thrilled with how it turned out. For a little girl who likes wearing dresses every day it just makes since to have a dress for pajamas too.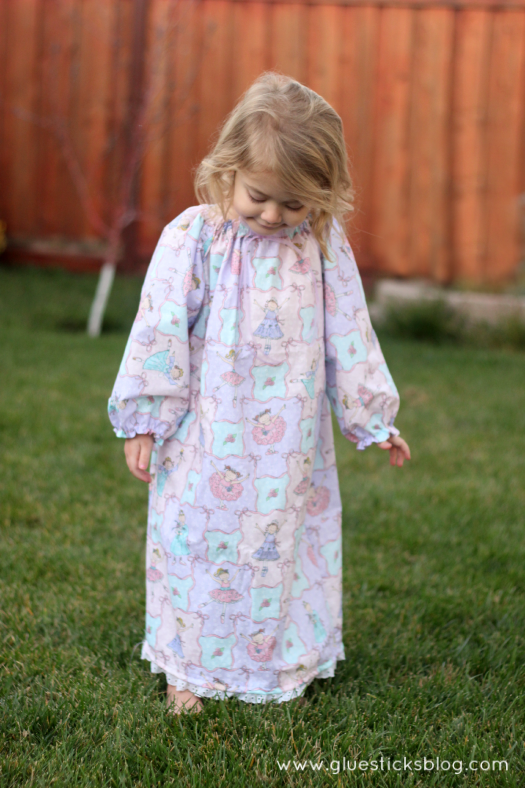 The reason this nightgown is such a quick project is the fact that it doesn't require notions. No buttons, snaps, or zippers. Just some elastic. The pattern consists of one sleeve piece and two rectangles for the dress. That's it! When I say that this is a one hour project, I'm not kidding. I used the Peasant Pocket Dress from Whimsy Couture. You can pick it up for under $5, and trust me, it's the best $5 you'll ever spend. You will find so many great uses from this one simple pattern. Check out the other things I've made using including costumes, pioneer dresses and more!
1 Hour Girls Nightgown Without a Zipper or Buttons
It's called a pattern, but technically it's a tutorial. The pattern piece is ONE piece which helps you cut the under arm curve. Awesome right? You don't need to cut out pattern pieces, tape anything together or use a ton of printer paper and ink. Just follow the measurement chart, cut out a few rectangles and go!
The cutting guide shows measurements for long, 3/4 and short sleeves. You can also add as much length as you want to create a knee length or ankle length nightgown.
I am in no way affiliated or being paid by Whimsy Couture, I simply adore this pattern and think that every sewing momma needs it in her closet for quick and easy nightgowns, costumes, dresses and peasant tops.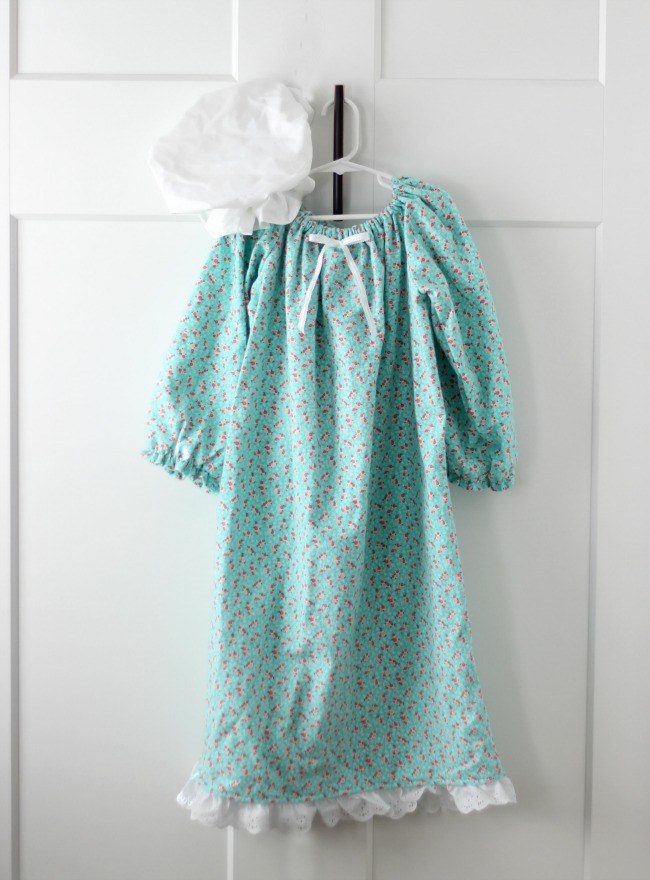 Last year I made my girls each a flannel peasant nightgown and added lace trim. They were still done in about an hour and I even found a darling tutorial for making night caps! We had just finished reading The Long Winter (Little House on the Prairie) and they were so excited to have cozy nightgowns and night caps just like Mary and Laura. I even paired it with a tin cup, peppermint candy sticks, small cake pan and a Little House on the Prairie cookbook.
1 Hour Girls Nightgown Pattern
Pattern: Peasant Pocket Dress from Whimsy Couture (altered to create a longer nightgown length)
Fabric: thrift store find.
4 More Sewing Projects To Make For Girls
10 Minute Wired Headbands: this is an easy one for kids to make, too!
8 in 1 Princess Apron (Elsa, Anna, Belle, Cinderella (2 versions), Snow White, Aurora and Ariel!)
Welcome! I'm Brandy, mother to 5 darling kiddos and a cute black lab named Toby. My husband is in the Coast Guard so we've lived all over the place, turning each house into a home. I love baking, sewing, making cute things with my kids, and sharing what I've learned with all of you!