Turn a washcloth into a cozy little puppy friend with this simple no-sew puppy washcloth tutorial! Make a few of them to give as gifts. Kids LOVE these little washcloth puppies. They are so easy to make and are so cute. Decorate with eyes, a ribbon collar, and make the puppy out of any color of washcloth that you'd like! Thank you, Disney Junior, for sponsoring our creativity. This post contains an affiliate link.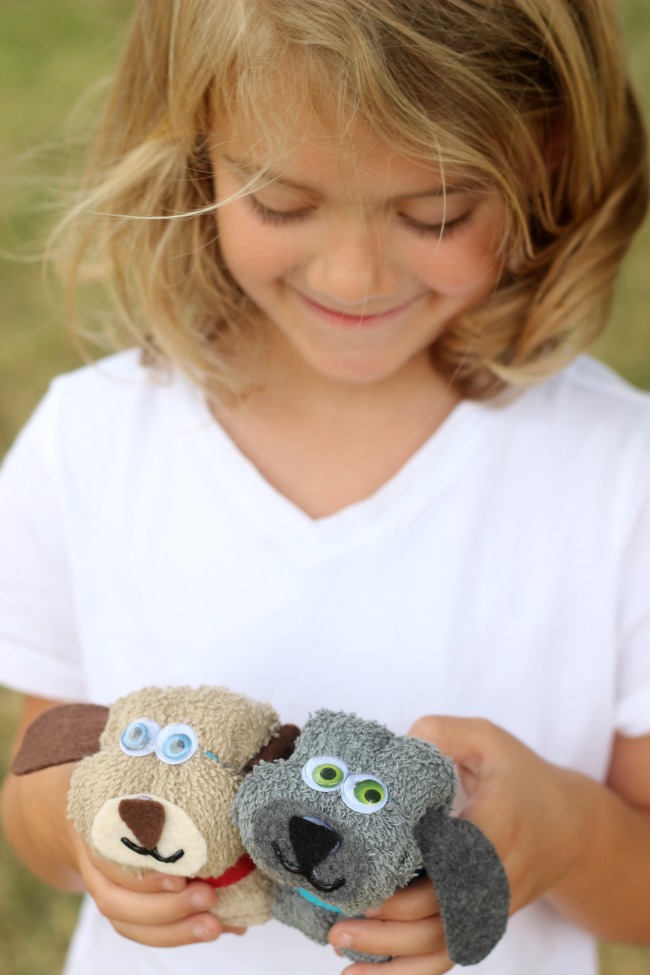 Both of my girls are little puppy lovers. Especially Kaylee. From her backpack for school to the drawings she doodles in her free time—it's all puppy themed. She even had a puppy birthday party last year with her friends. We made these little puppies out of washcloths and they were a huge hit! I found the idea from a Girl Called Kim and we made them our own with these cute little face details. We've made four of them now and the girls want to go back and get more washcloths to make them in a rainbow of colors!
More easy no-sew projects for kids:
No-Sew Puppy Wash Cloth Pals
These no-sew puppy wash cloths come together in about 10 minutes! We made them match our favorite pug brothers, Bingo and Rolly, from Disney Junior's Puppy Dog Pals show.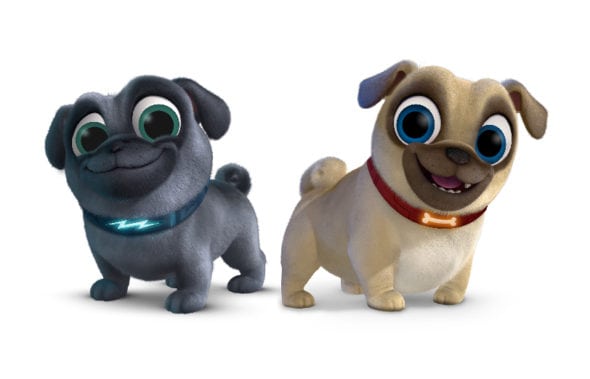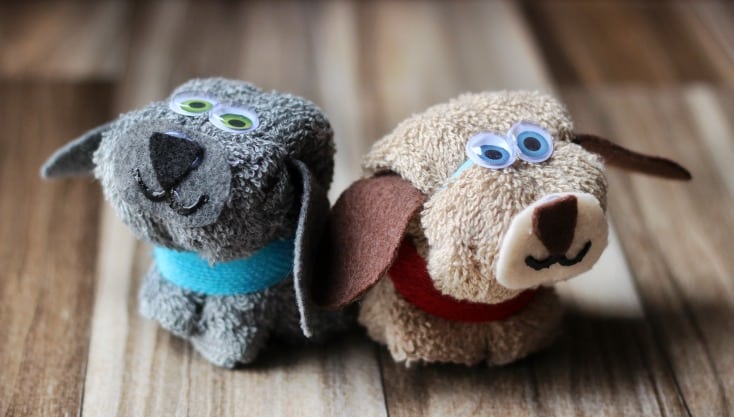 Our little washcloth Bingo and Rolly aren't exact replicates, but my girls didn't care! While my girls enjoy sewing, I'm always on the lookout for a quick and easy no-sew project for kids like this one. Once that they can make together! We matched their eyes, coloring, and collars to make two washcloth puppy brothers who are ready to go on adventures with the girls.
How to Make a No-Sew Puppy Wash clothPal: A Quick Project for Kids!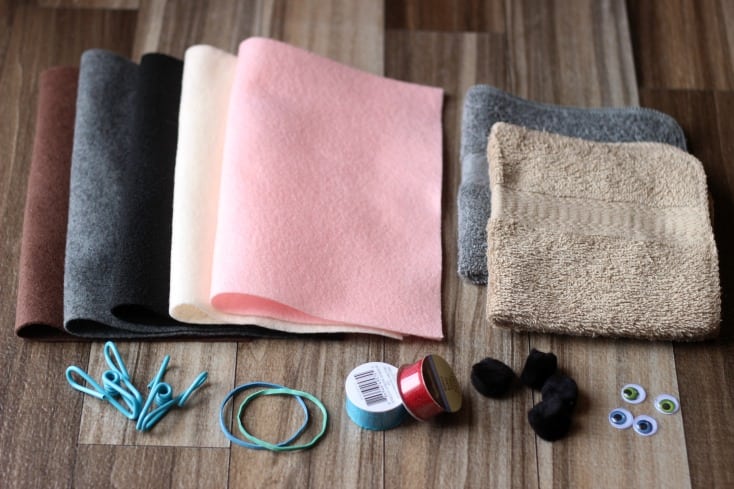 Supplies:
Felt in a variety of colors
1 washcloth for each puppy
Clothespins or chip clips
1 rubber band for each puppy
Ribbon
Craft eyes
Pom Poms
Black fabric paint
Craft glue or hot glue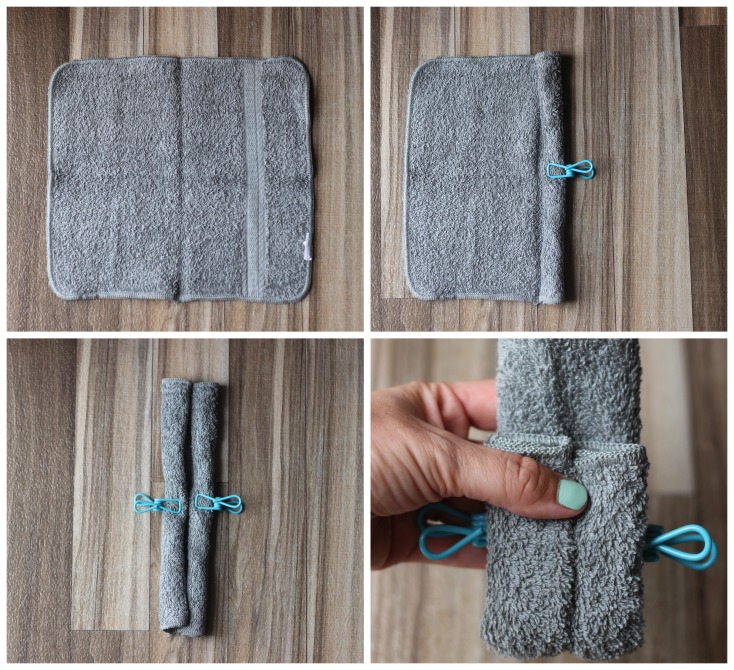 Steps:
1. Lay your washcloth on a flat surface. If your washcloth doesn't have a solid center line, mark the center with a pin.
2. Roll tightly from one side, all the way to the center. Clip into place.
3. Repeat for the other side.
4. Turn over so that the rolls are in the back. Fold up 1/3.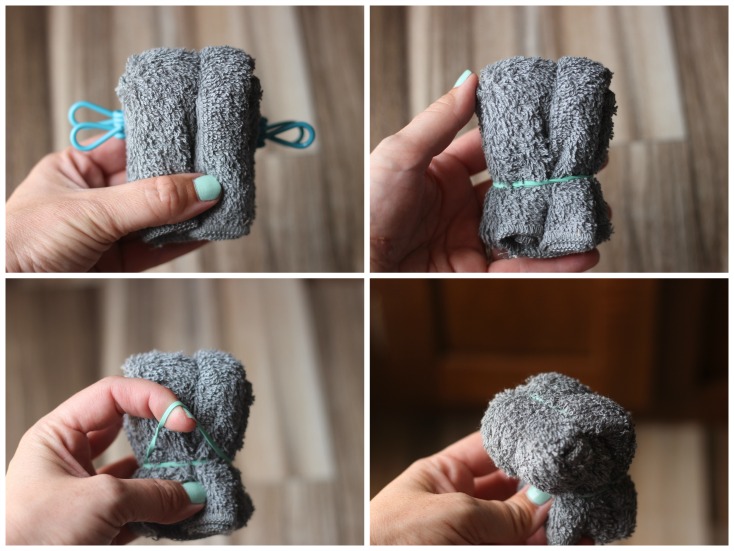 5. Fold down the top section so that your washcloth is now folded into thirds.
6. Wrap with a rubber band, about 1″ from the bottom.
7. Pull one layer of rubber band up and over to the top, creating a separation for a face.
8. In the last photo, you'll see the rubber band on the top.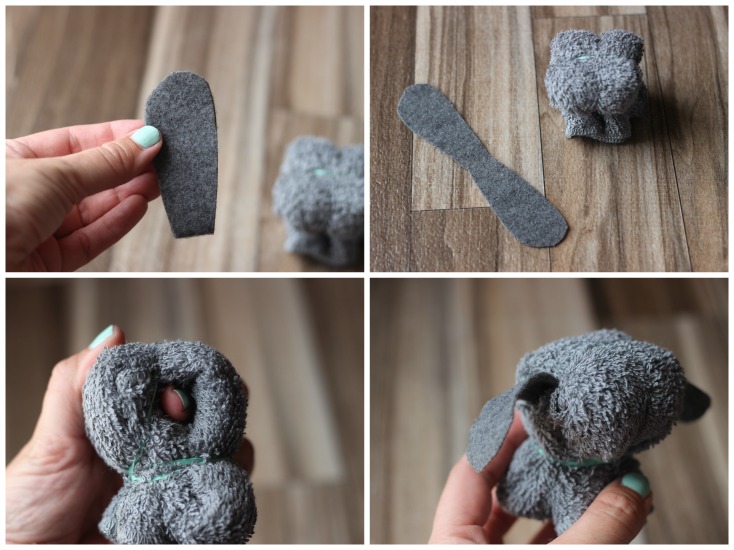 9. Cut out an earpiece on the fold of your felt.
10. Open it flat.
11. The washcloth head has two holes running through it. Slide a finger through one to open it up a bit.
12. Push earpiece through the hole and out to the other side.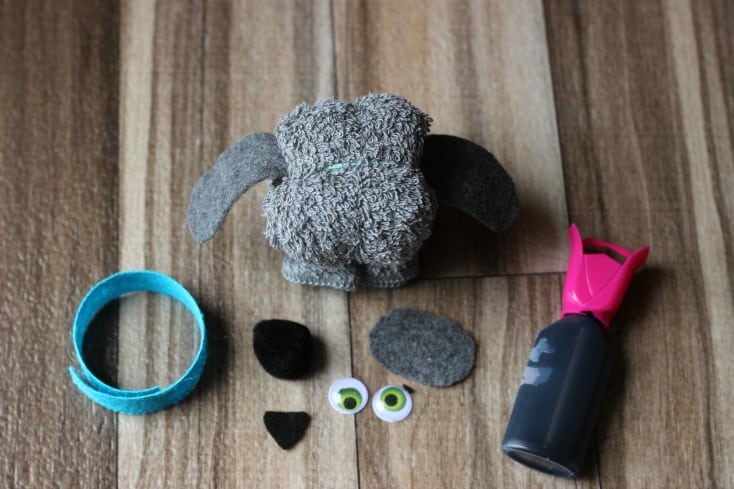 Now it's time to accessorize your  puppy dog.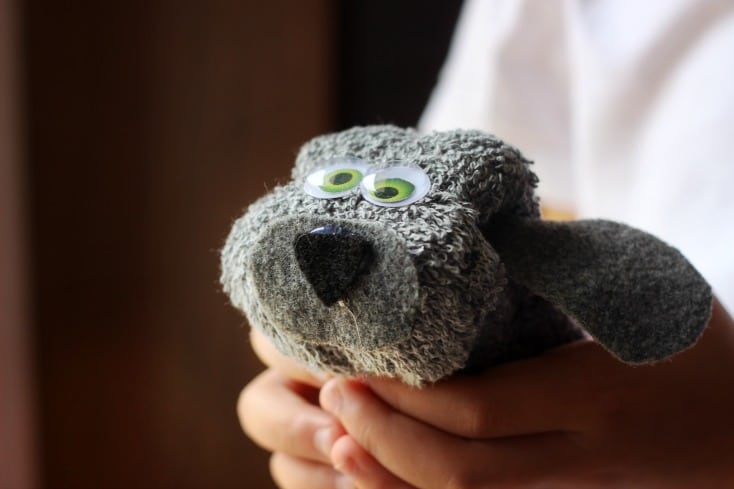 Add felt pieces to create a face. Glue on craft eyes and add a ribbon for a collar.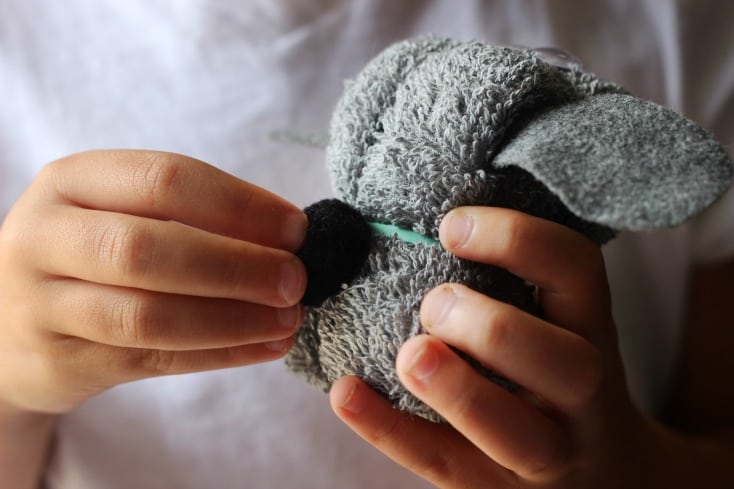 Glue a small pom onto the back for a tail.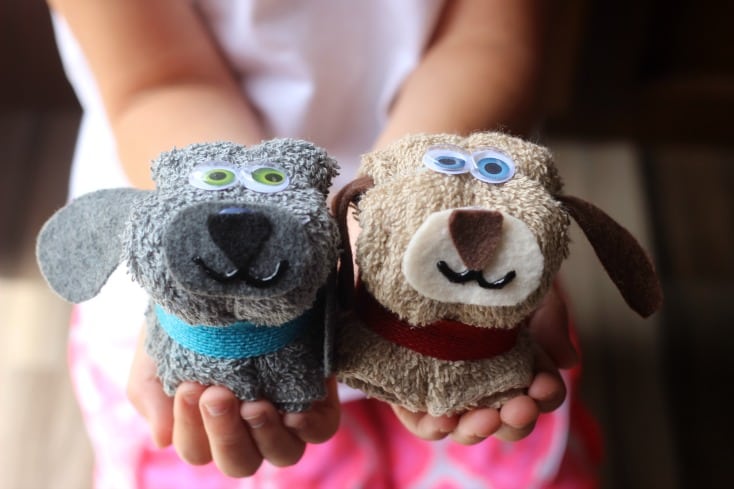 Add a mouth using craft paint. Let dry completely!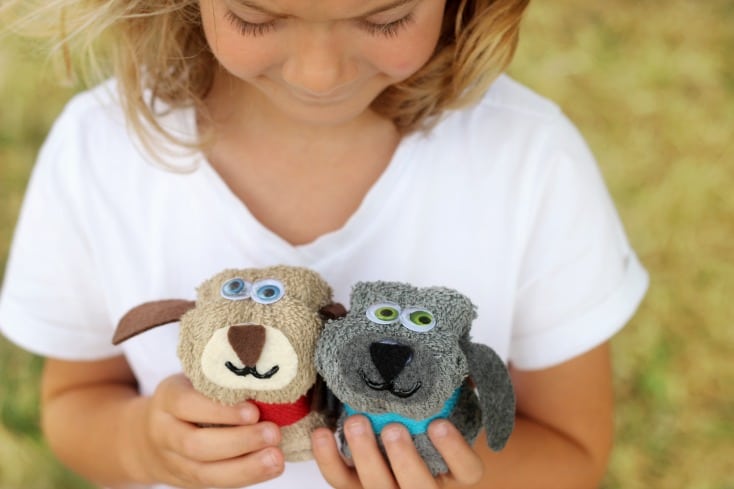 Oh my goodness, right? They are so cute and such a fun no-sew craft for kids!
This is a sponsored post written by me on behalf of Disney Junior.
If you are looking for more fun crafts for kids check out all my kid crafts. And here are more puppy projects to make!