Make a no-sew fleece poncho for a toddler! So cute and cozy for fall, it's like a blanket for their shoulders! I'll share this quick 10 minute project with an optional ruffle detail.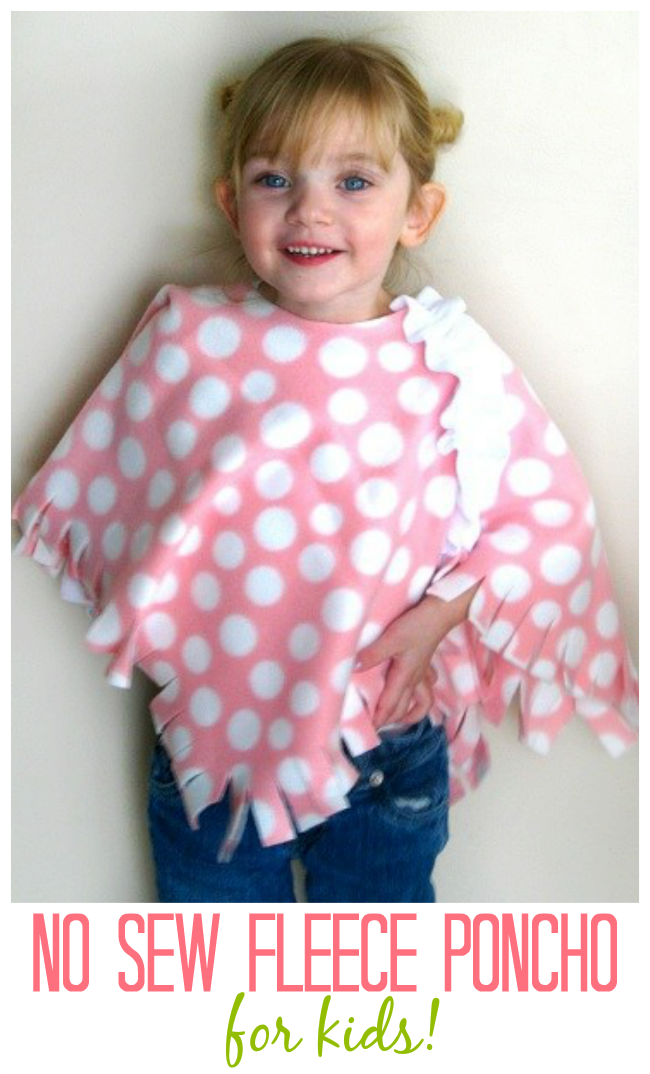 My mom called me the other day and told me about a little project that she made for her friend's daughter. She thought Kaylee would like it too. I agreed!
It was a little no-sew fleece poncho that she found online.
I told Kaylee about it and told her it was a little blanket for her shoulders. She was thrilled to go to Joann's and pick out some fabric for her new "shoulder blanket".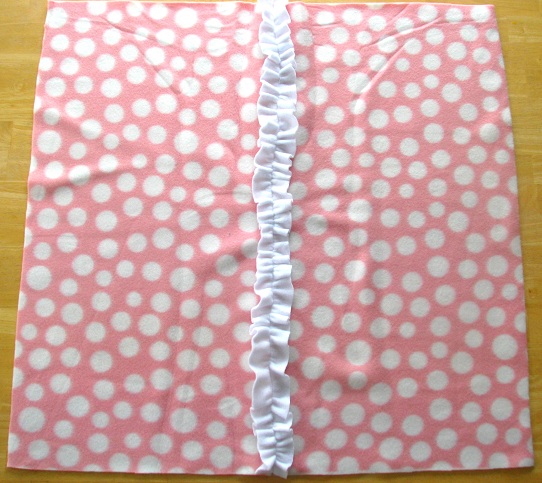 3/4 of a yard of fleece will make 2 of these no-sew fleece ponchos. I didn't need 2 so I used the scraps to make her a little scarf with the scraps.
Measure the length from one wrist, across the chest, and all the way to the other wrist. This will be the measurement for the square of fleece. I used a 27″x27″ square for this one.
If you'd like to keep this a no-sew project, you can stop right there, but I thought I'd add a little ruffle. I cut a strip of fleece twice as long as the square and stitched through the center, pulling the end strings to scrunch it. Then pinned it to the fabric, stretching and adjusting as I went.
There was extra on the ends so I just trimmed that part off.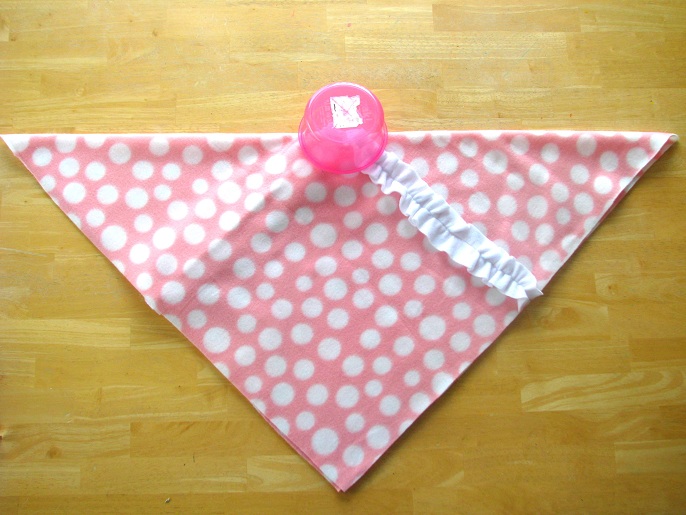 Then I folded it in half diagonally and made the hole for her head. This little bowl is 4″ in diameter and was perfect. I just used it as my guide. You'll just need a semi-circle shape on the fold.
Fleece is stretchy. It's better to start small and make the hole bigger if you need to later. If you made the ruffle, you can just back stitch a few stitches to keep the ends from unraveling after cutting the hole for the head.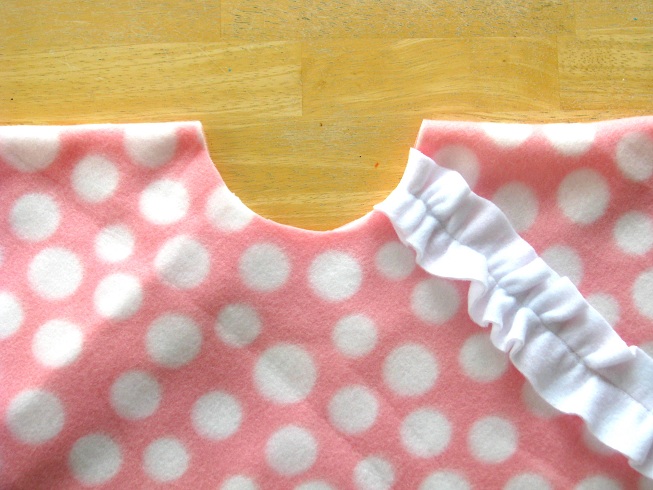 There are several ways to finish the bottom. You can just leave it or cut it with pinking shears, or create a fringe. I just trimmed 2″ up across the bottom to create a fringe. I didn't tie the ends, just left them like fringe.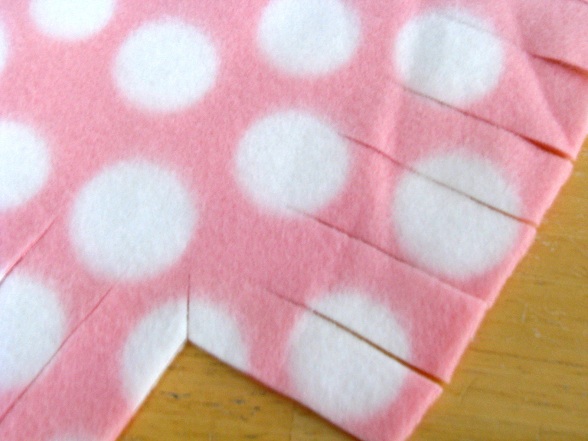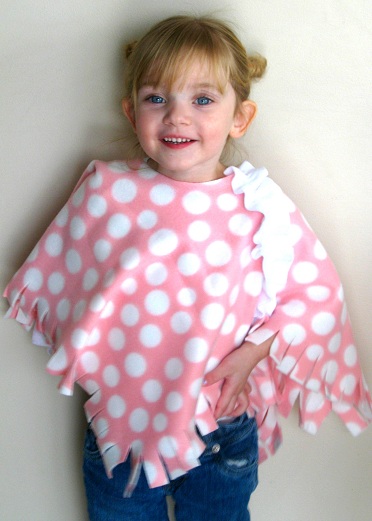 It was so easy to make and only cost around $3 that I decided to make her 2. The one pictured, and another little black with white polka dot one.
The perfect little blanket for her shoulders.
***My little gal is 38″ tall. 3/4 yard of fleece is about 27″ and is perfect for a little girl her size (3-4 years). You can adjust accordingly to fit your child. If making for a child 5-8 years old you'll probably need a yard.***
You might also like…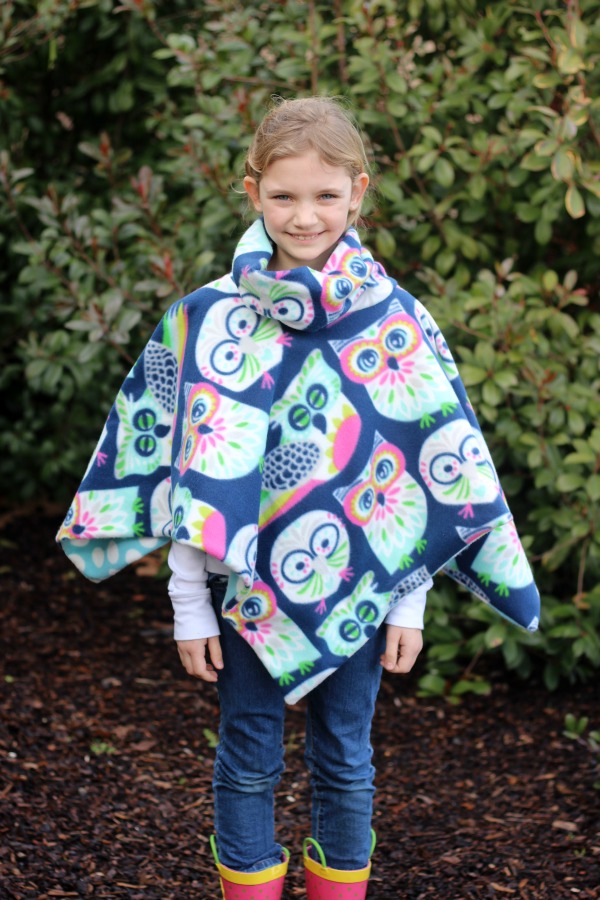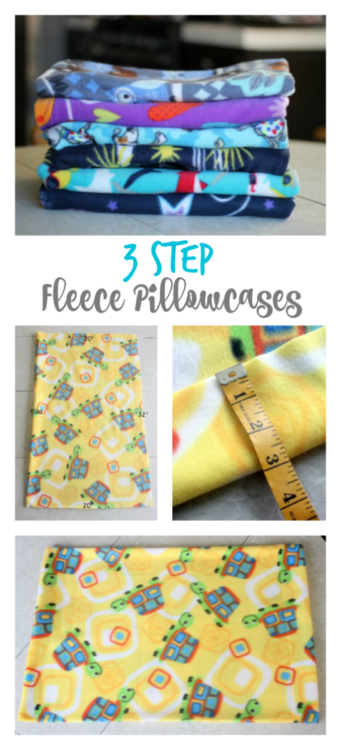 Welcome! I'm Brandy, mother to 5 darling kiddos and a cute black lab named Toby. My husband is in the Coast Guard so we've lived all over the place, turning each house into a home. I love baking, sewing, making cute things with my kids, and sharing what I've learned with all of you!