These peeps bunny sugar cookies are a fun treat for Easter and taste a lot better than peeps marshmallows! Frosted in buttercream and covered with sanding sugar. They are easy to make! This post contains affiliate links.
You might also like our Easter basket sugar cookies, our rainbow sugar cookies, or our Pop Tart bunny houses!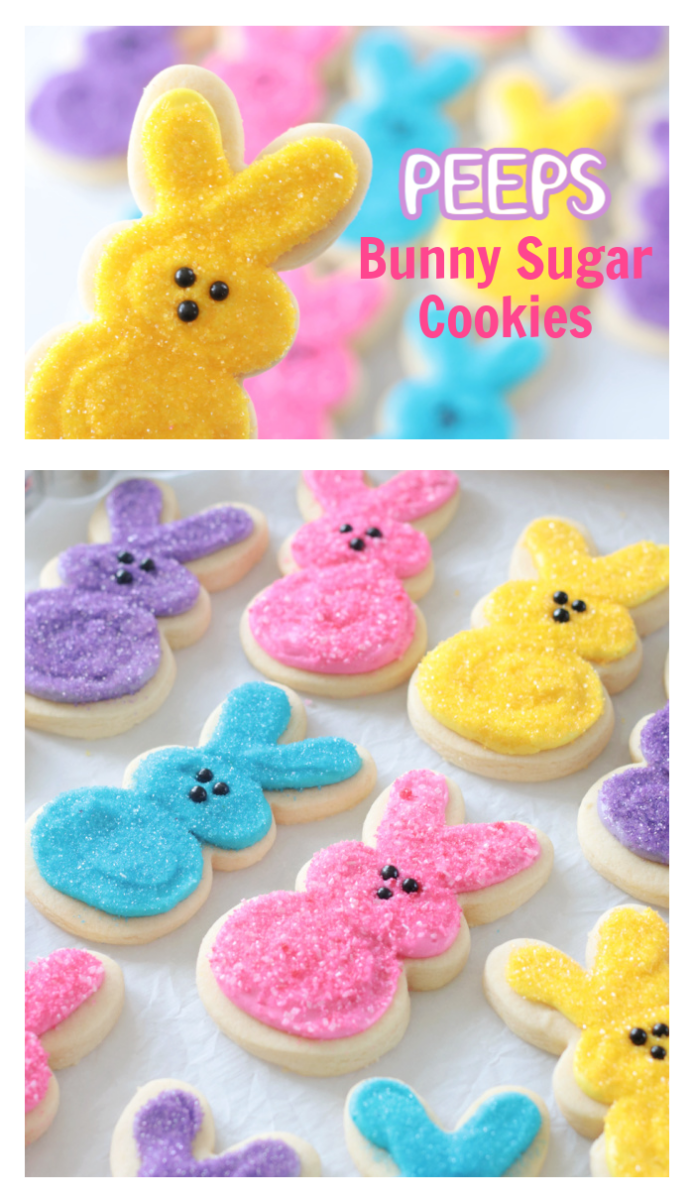 Watch our step by step video!
Peeps are a classic Easter candy, and occasionally we'll buy them for projects like bunny houses, but I think they taste pretty awful. Not to worry, you can still have the cuteness of peeps with the deliciousness of a sugar cookie.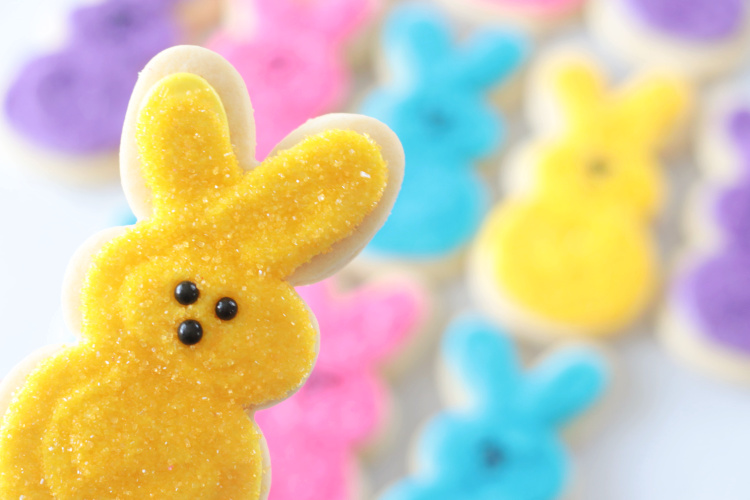 Peeps Bunny Sugar Cookies
Our peeps sugar cookies are easy to make, easy to frost and so fun for Easter. I frosted ours in buttercream, but if you really want to take them to the next level you can frost them with MARSHMALLOW buttercream.
The cookies are darling with a coating of buttercream, but gently pressing the tops into sanding sugar gives them the signature peeps marshmallow texture and hides any imperfections.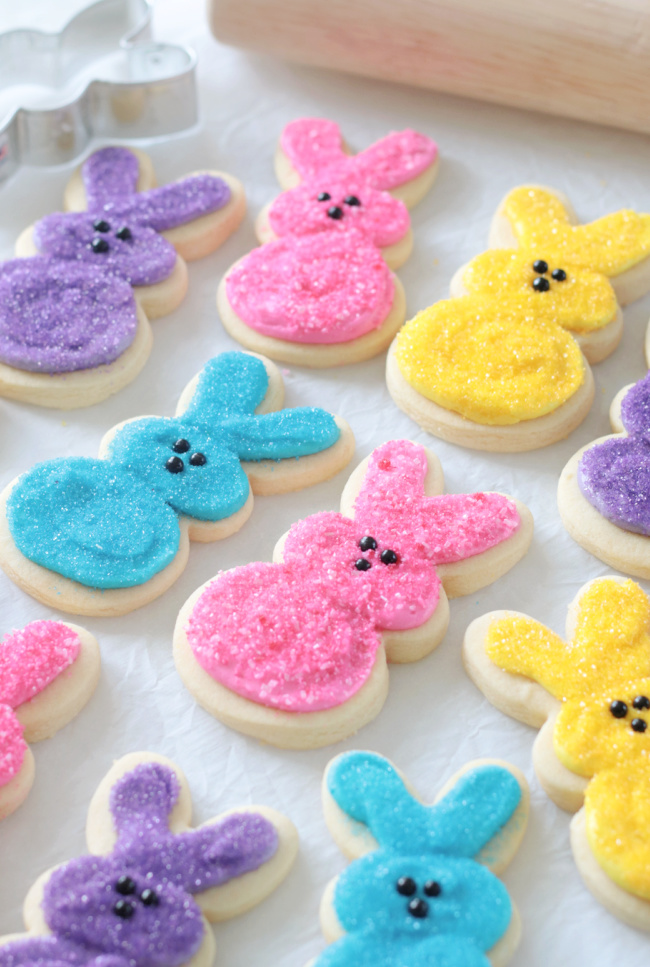 Best Sugar Cookie Dough and Frosting
You'll need a batch of my sugar cookie dough and a batch of vanilla buttercream (recipes are at the end of the post). I prefer the taste of buttercream to royal icing (and I have no idea how to flood cookies or decorate with royal icing). The frosting will set up enough (after an hour or two) to allow you to stack the cookies 2 cookies tall for storage.
You can find sanding sugar (sugar sprinkles) in any color. We made frosting to match for the most vibrant colors (this is my favorite food coloring right now), but you can also frost them with white buttercream and dip them into colored sugar.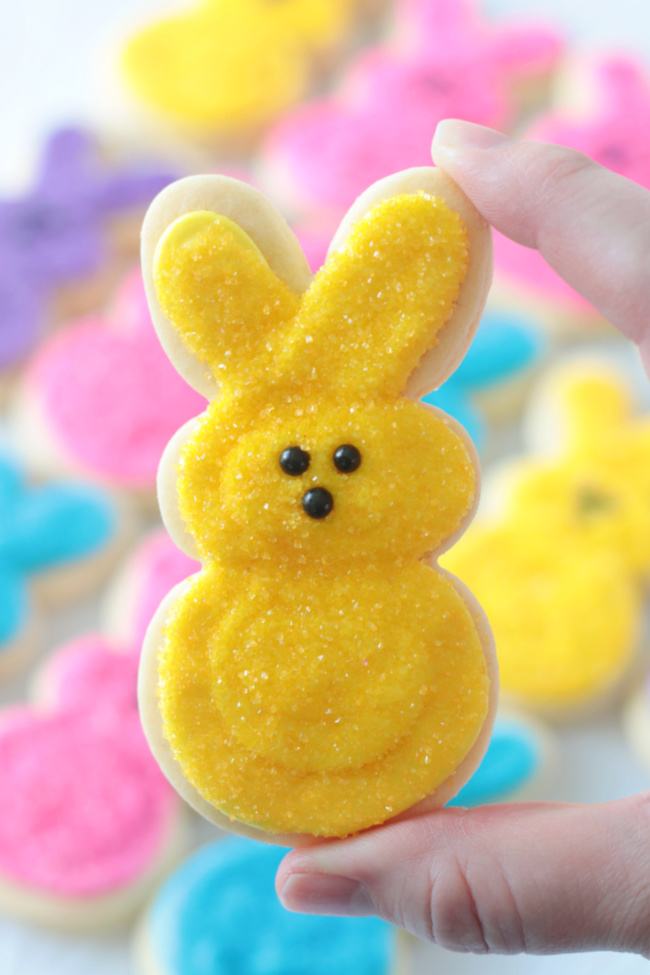 Bunny Sugar Cookie Supplies
Let's get started!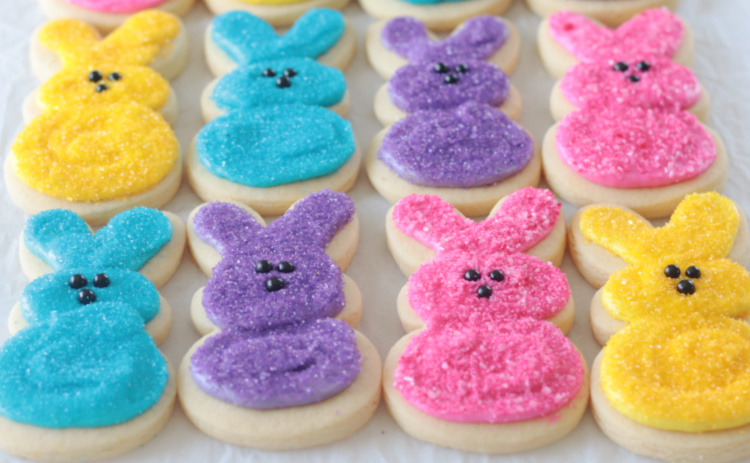 How To Decorate Bunny Cookies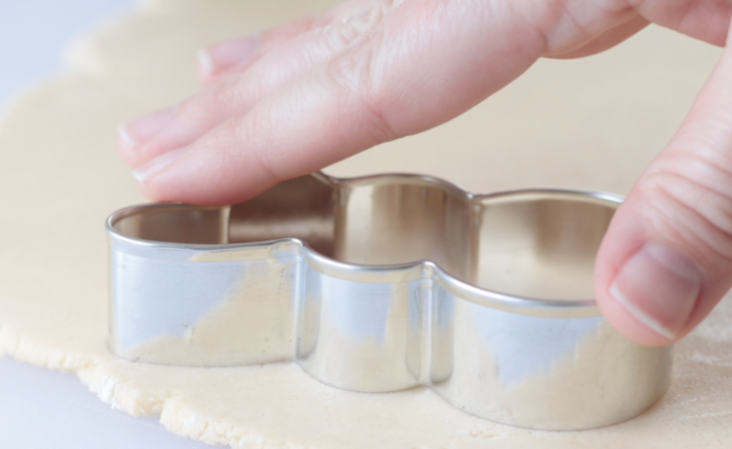 Cut out and bake sugar cookies. Let cookies cool completely before frosting.
Fill frosting bags with a 1A tip (it is helpful to have a few tips so that you don't have to keep washing and swapping tips).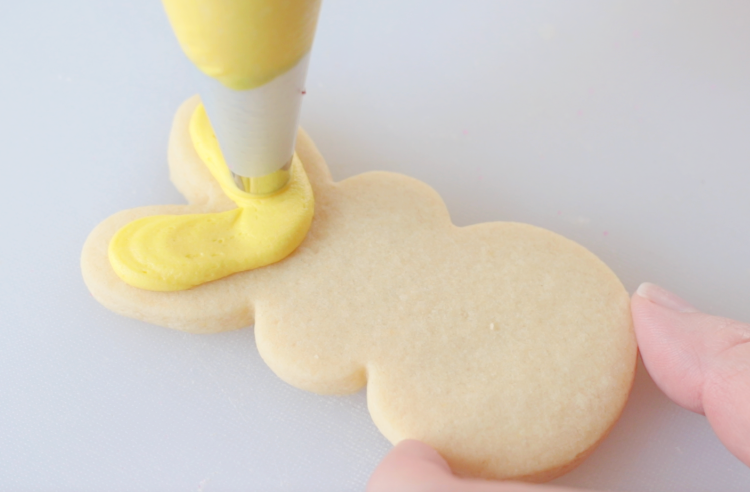 To use a 1A tip, hold the tip CLOSE to the cookie (1/4″ away). Squeeze the frosting and drag it across the cookie for a smooth application. Start with the ears in a "v" shape then work your way down to the head and body.
Watch our step by step video at the top of the post for the best visual guide!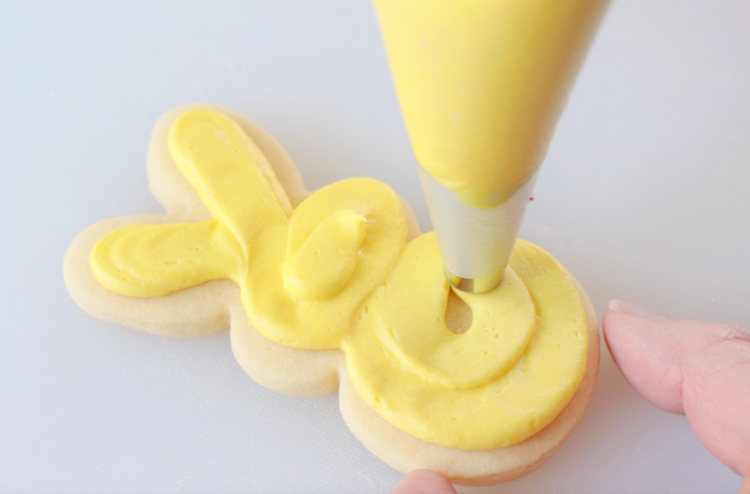 If you don't plan on dipping the cookies in sugar sprinkles you can stop right there and gently smooth the frosting with a butter knife. If dipping the cookies, read on…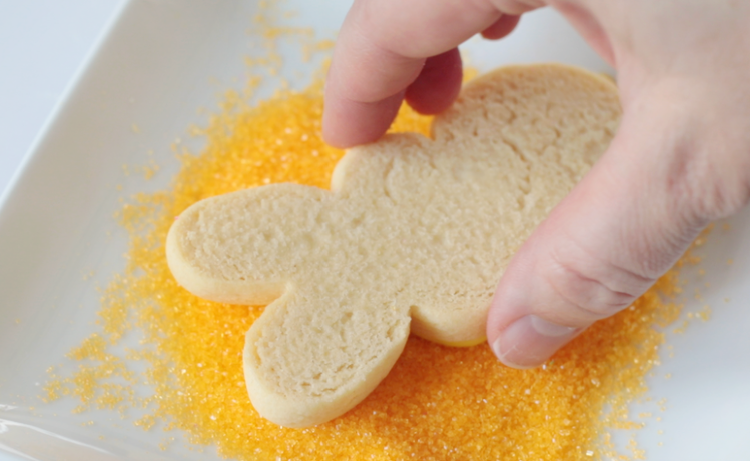 Pour sugar sprinkles onto a plate. Gently press the cookie into sprinkles. Lift cookie then tap gently so that excess sprinkles fall back off onto the plate. If there are any areas that weren't completely by the colored sugar you can sprinkle it on with your fingers.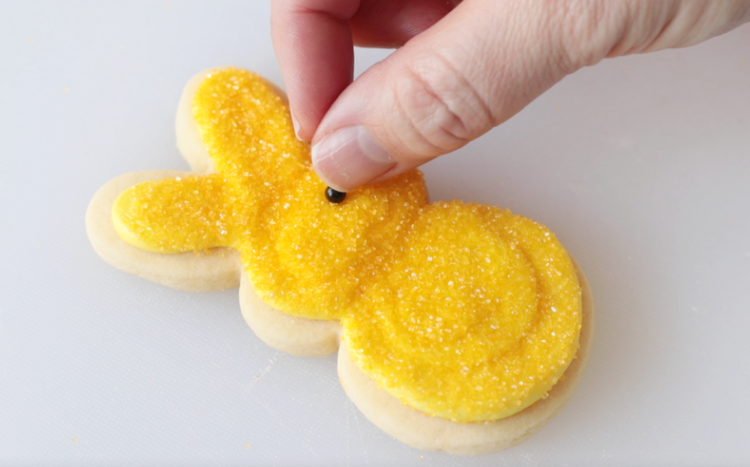 Press two eyes and nose into the cookie.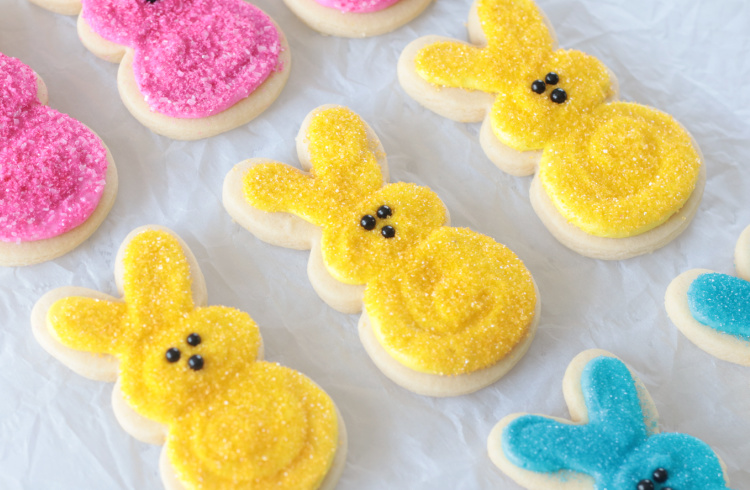 For best results store decorated sugar cookies in an airtight container at room temperature or chilled in the refrigerator.
You can also bake cookies ahead of time and freeze undecorated cookies in a freezer bag until ready to decorate!
Peeps Bunny Sugar Cookies Recipe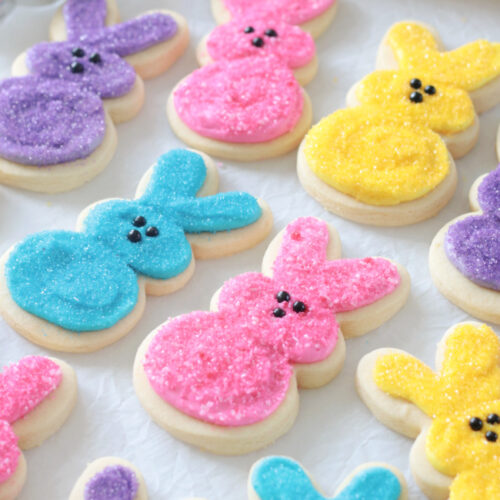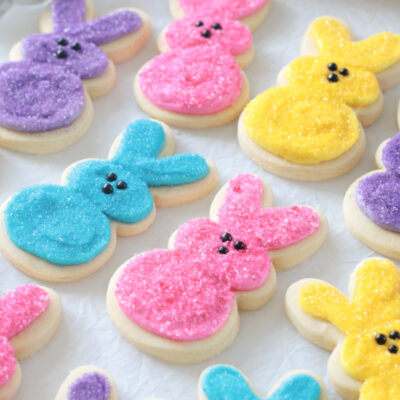 Peeps Bunny Sugar Cookies
These peeps bunny sugar cookies are so fun for easter and taste a lot better than peeps marshmallows! Frosted in buttercream and covered with sanding sugar. They are easy to make! 
Print
Pin
Rate
Ingredients
1

cup

salted butter

softened

1/2

cup

shortening

1 1/2

cup

sugar

1

large egg

1 1/2

teaspoon

vanilla

2

teaspoon

almond extract

4

cup

all purpose flour

1/2

cup

corn starch

2

teaspoon

baking powder
Frosting
1

cup

butter

softened

6

cups

powdered sugar

2

teaspoons

vanilla

6-8

Tablespoons

milk
Decorations
sugar sprinkles

in a variety of colors

black sugar pearls
Instructions
In a large mixing bowl combine butter, shortening, and sugar. Beat until fluffy with an electric hand mixer or stand mixer. Turn the mixer down and add egg, vanilla, and almond extract. Add baking powder. Sift in flour* and cornstarch and mix thoroughly.

*Start with 3 1/2 cups of flour, and if the dough seems too soft add the last 1/2 cup of flour. If the dough seems too dry, add a tablespoon or two of water.

Lightly flour your work surface and shape dough into a large ball.

No refrigeration necessary.

Press ball of dough into a disk shape and roll dough out to desired thickness using a rolling pin (I usually do 1/4-1/2") and cut into shapes. Add flour to dough if it feels too sticky but a nice soft dough is what you want. Carefully transfer cut out cookie shapes with a spatula to a baking sheet.

Bake on baking sheets at 325 degrees for 9-10 minutes. Cookies will be soft. Let sit on baking sheet for 5 minutes before carefully moving to a wire rack. Cool completely before frosting.
Frosting
Beat frosting ingredients together. Add more/less milk until desired consistency is achieved.
Decorating Cookies
Fill decorator (we like disposible) bags with frosting and frosting tip.

Follow the step by step guide in the post and watch our video for decorating tips!
Notes
No salt is necessary in this recipe.
You may have extra frosting leftover. We like making extra so that we can make as many colors as we'd like.
If you don't care for almond extract you can omit it and use your favorite flavoring (lemon, coconut, etc.)
Cookies can be made ahead and stored in the freezer until ready to decorate.
Store frosted cookies in an airtight container (or cookie sheet covered with plastic wrap) at room temperature or in the refrigerator.
Cookies can be stacked once the frosting has had a chance to set up. I wouldn't stack them more than 2 cookies tall.
Nutrition