I like sewing pajama pants like this for my kids because it eliminates the guesswork. Printed patterns and the finished measurements have been hit and miss for me, but these pajama pants work! I've been making pajama pants and pants for Halloween costumes using this method for years. It is really very simple. This post contains affiliate links.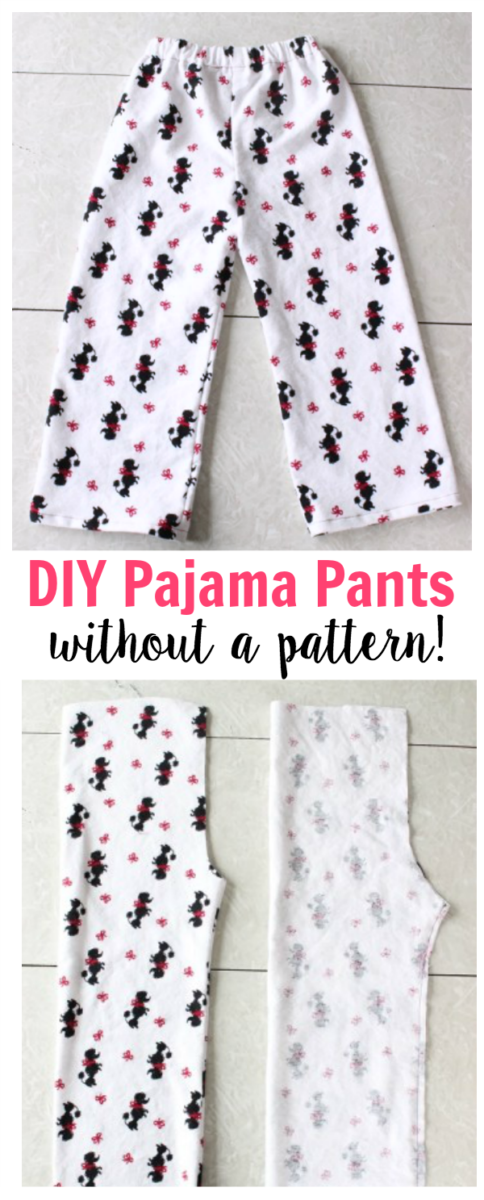 Watch Our Step By Step Video!
Does your family have the Christmas pajama tradition too? Our kids (and sometimes mom and dad) always receive pajamas on Christmas Eve. Sometimes homemade like these darling
1-hour nightgowns
, sometimes store-bought. They were so threadbare this year that I made some quick pants to wear from now until Christmas and I will be ordering flannel pajama sets for Christmas Eve.
Types of Homemade Pajama Pants
If you look at store-bought toddler-big kid pajama pants you'll notice that they look exactly like the ones that I am showing you how to make today. They are cut on the fold, without outer side seams, and are made out of 2 pieces of fabric. The front of the pants looks identical to the back. In contrast, if you look at a teen-adult pair of pajama pants, you'll notice they are made using 4 pieces of fabric and have side seams, as well as inner seams. The back is a bit baggier than the front, allowing for curves, hips, and more movement. If you are looking to make teen-adult pajama pants I'd recommend using a pdf sewing pattern for the right size and best fit. If you are looking to make elastic waistband pajama pants for toddlers, all the way up to big kids, without a pdf pattern let's get started!
Pajama Pants Supplies
existing pair of pajama or lounge pants
fabric
scissors
pins
elastic
sewing machine or serger
thread
3 More DIY Sewing Projects That YOU Can Make!
How To Make Pajama Pants Without a Pattern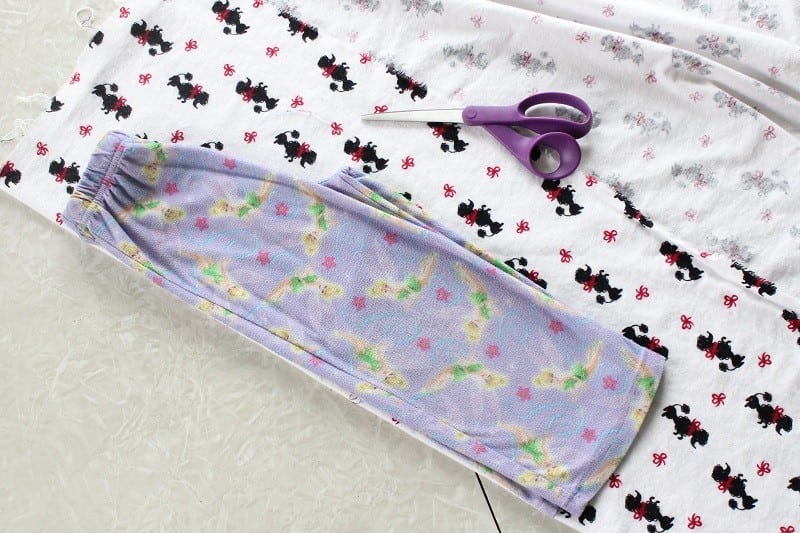 To sew pajama pants without the hassle of a pattern, just grab a pair of pants that you already have and follow my instructions.
Use a pair of pajama pants that you already have and fold them in half. Iron if necessary to make sure you have the right shape.

Lay the fold of the pants on the fold of the fabric.
Pull the crotch area out a bit so that it is pointy.
Cut 2 pieces (one for each leg) on the fold, using your old pair as a guide (you can trace the cutting line onto the fabric before cutting if you'd like).
Make sure to leave at least 1/2″ for seam allowances on the sides. You will need about 3″ on the top for the elastic casing, and an inch or so for the bottom hem, depending on how big you make it.
Make sure to be generous in the crotch area (where the back comes to a point) so that there is plenty of room to bend over and move around without stressing the seam. I usually go at least an inch away instead of 1/2″ for the seam allowance in the crotch area.
Note: Because you are using an existing pair of pajamas, the elastic waist is already scrunched, so you can also add an inch or so when cutting that area if you'd like for a bit of extra room.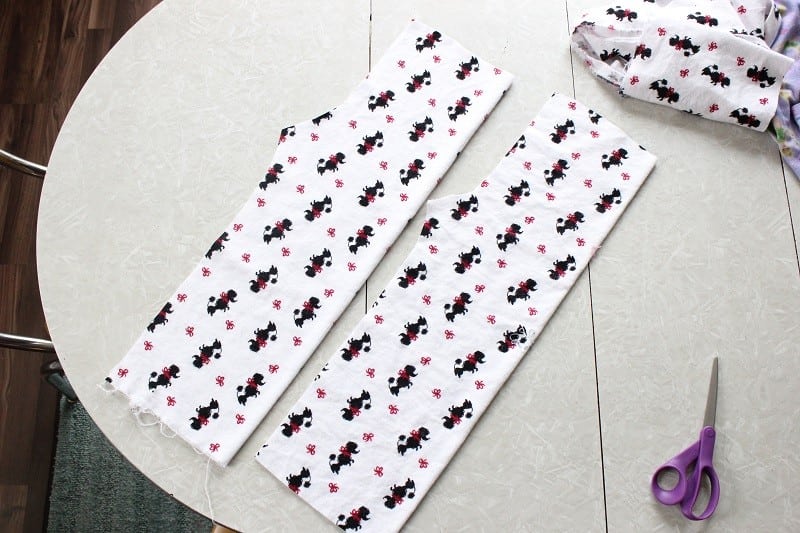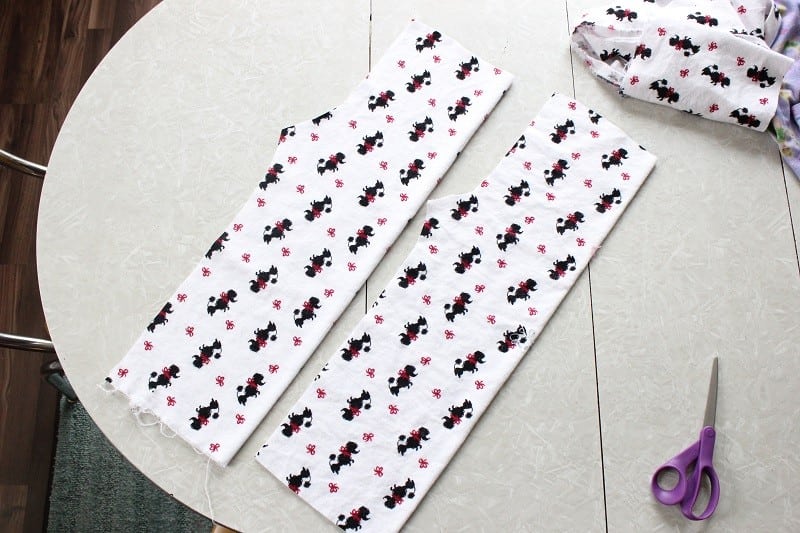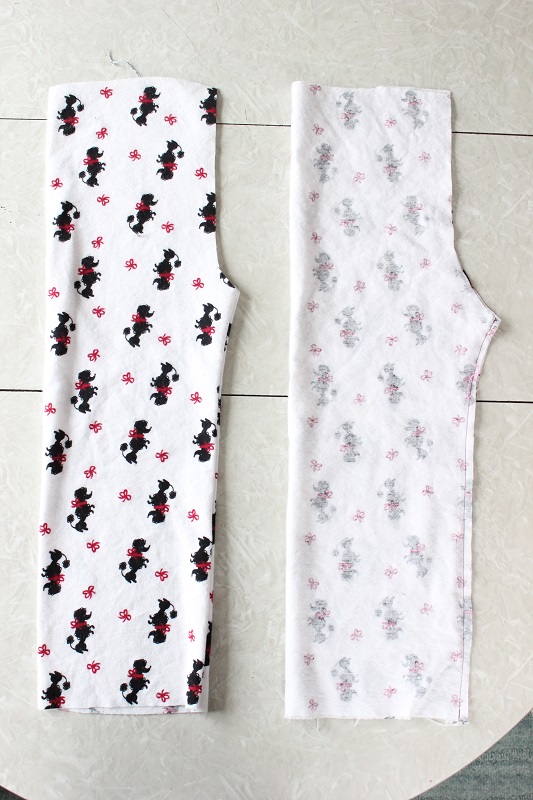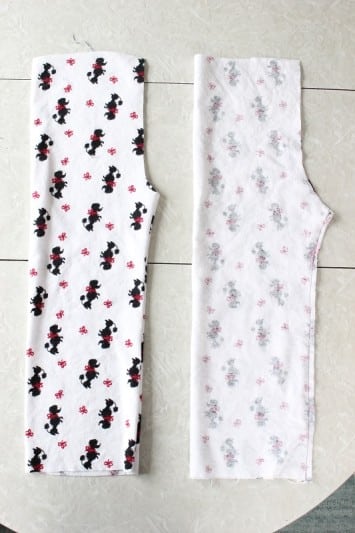 Fold them inside out and sew (straight or zig-zag stitch) along outer leg edge (from the bottom, to where the crotch begins to curve). Trim close to seams.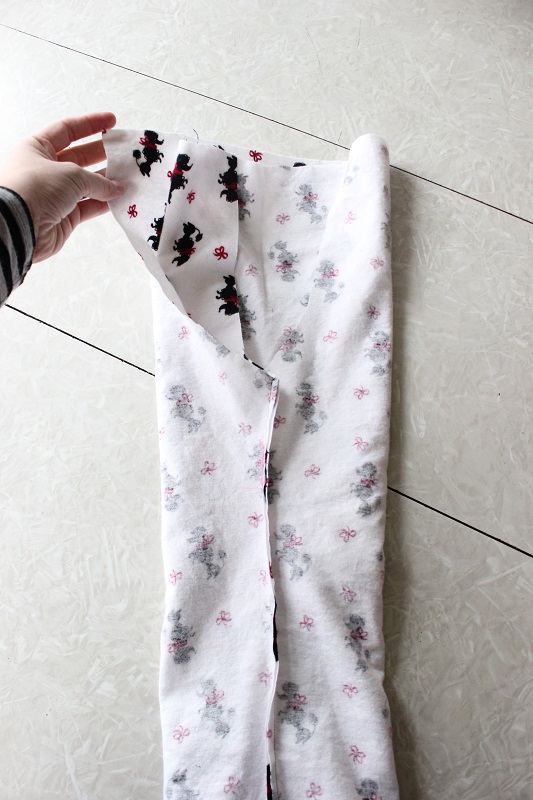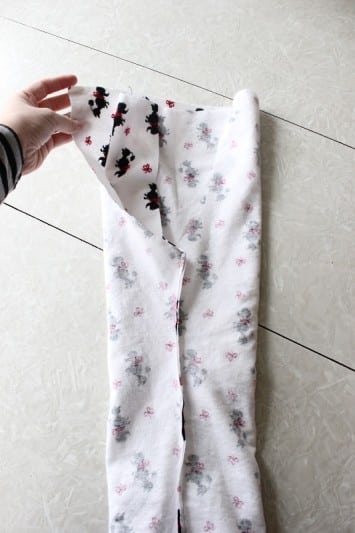 Turn one pant leg right side out and stuff it inside the other pant leg. Right sides of the fabric will be facing each other.  Make sure that the long seam that you just sewed on each leg matches the other.
Pin in the center to keep it in place.
Sew the crotch seam of the pajama pants. Begin at the waist, sew along and end at the top again.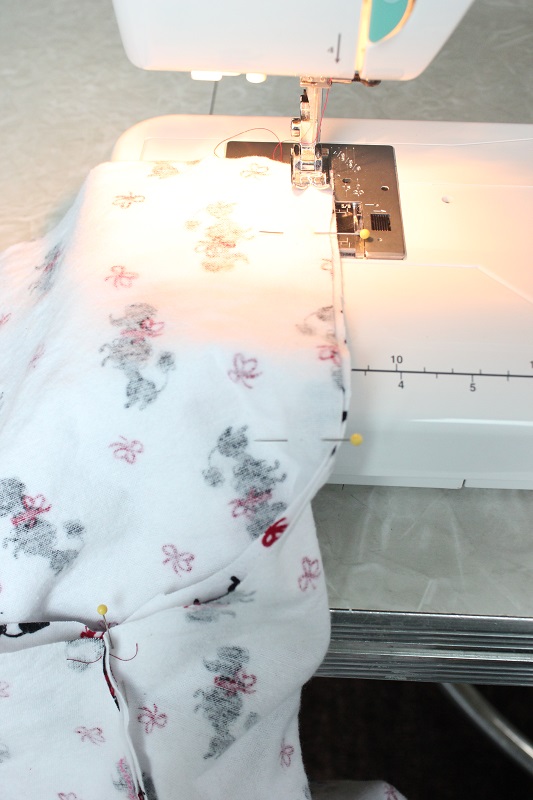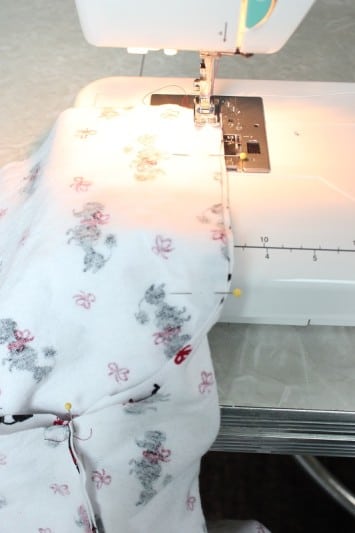 Sew once more close to the seam line to reinforce since this area will get a lot of wear.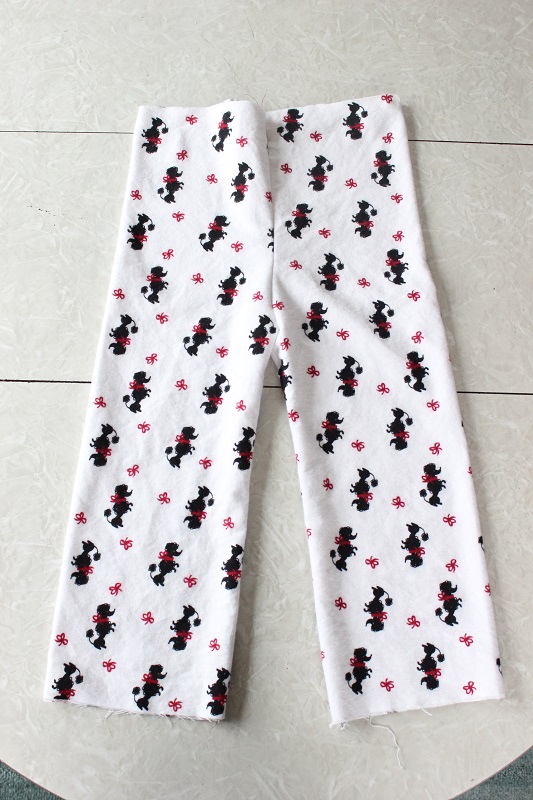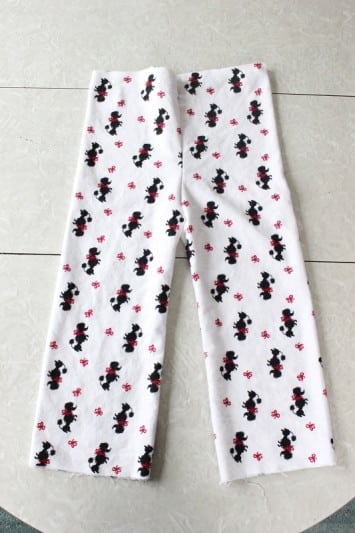 Turn the pajama pants right side out. Almost done!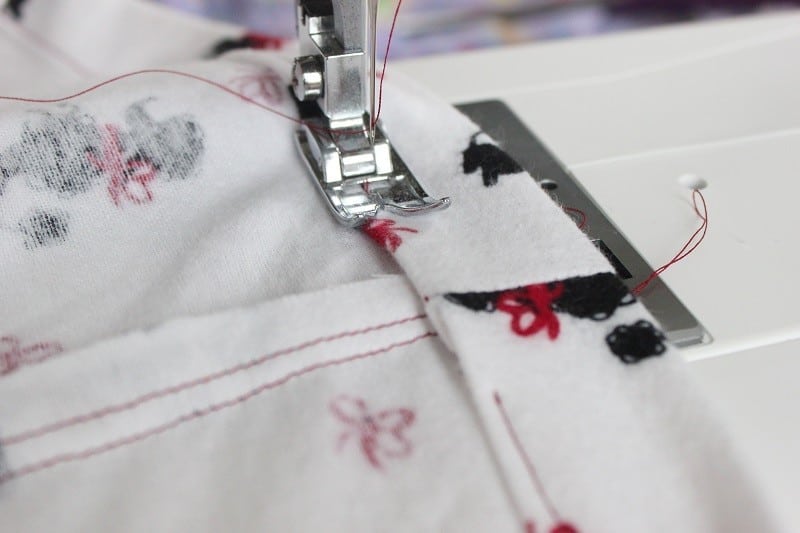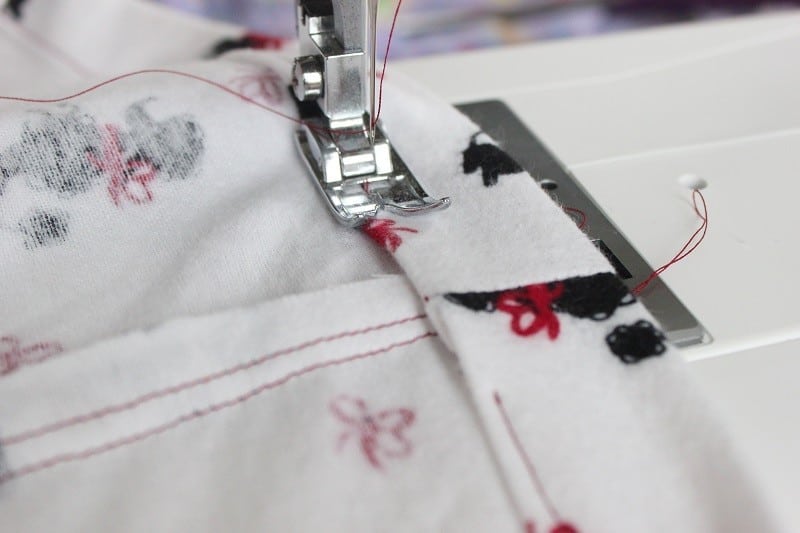 I used 3/4″ wide elastic. The length of the elastic should be the same size as your child's waist + 1″.
Fold down the waist 1/4″ inch and press it.
Fold it another 1 1/4 inch and sew the casing all the way around with a 1/4″ seam, also leaving a 2″ gap to insert the elastic into later.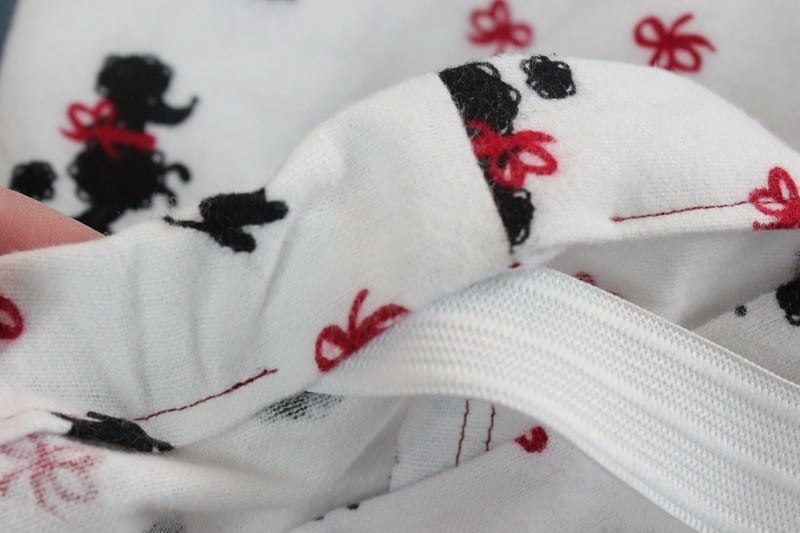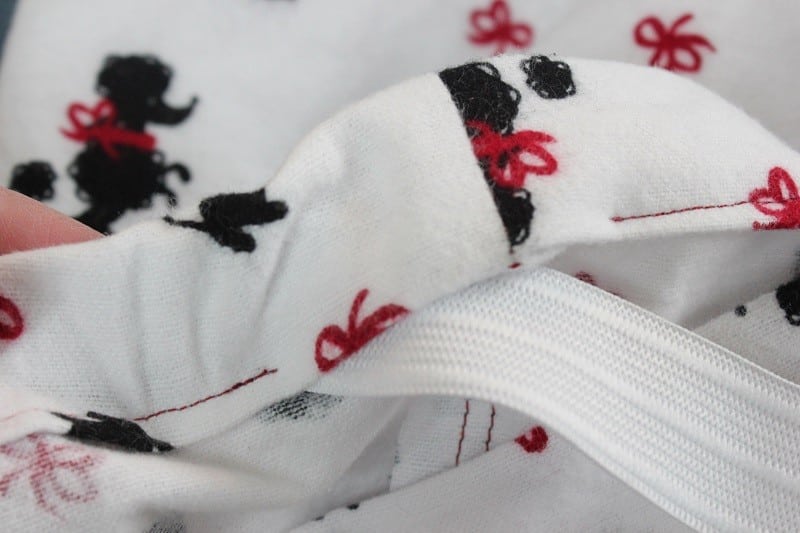 Insert your elastic using a safety pin to help guide it through the waistband.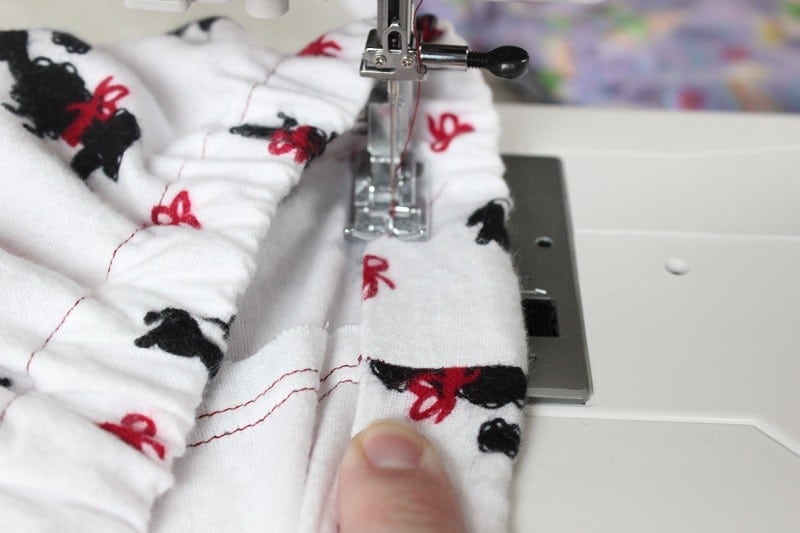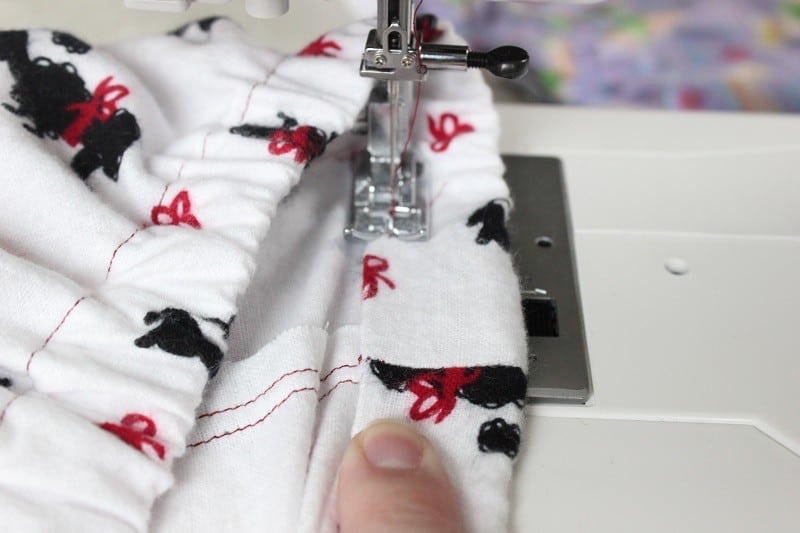 Sew ends together. Stretch the waist, pulling the elastic back into the opening.
Sew the gap closed.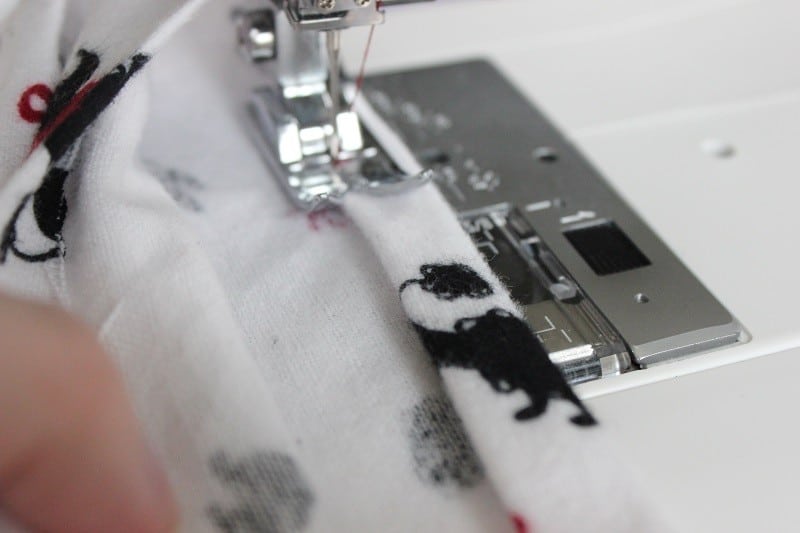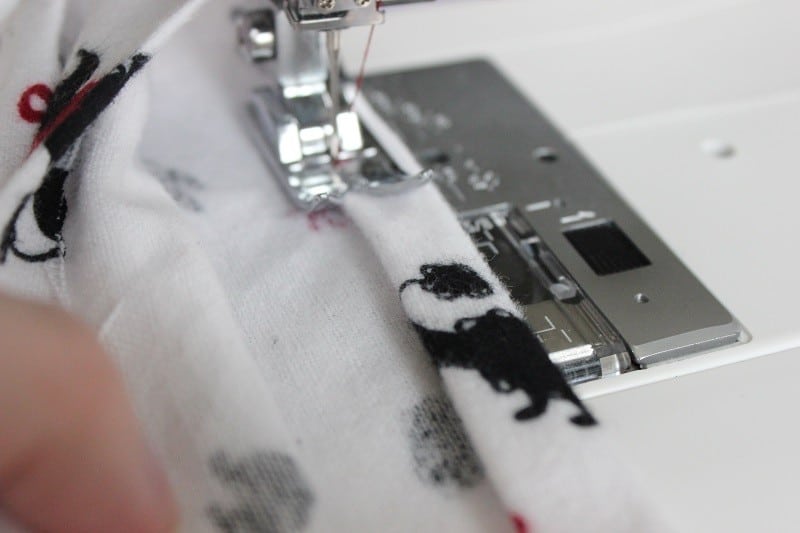 Fold up the hem and press, then fold up one more time and press. (This one is about 1/2″). Sew around on both legs. Flannel is so easy to work with. You don't need pins since it pretty much just sticks together.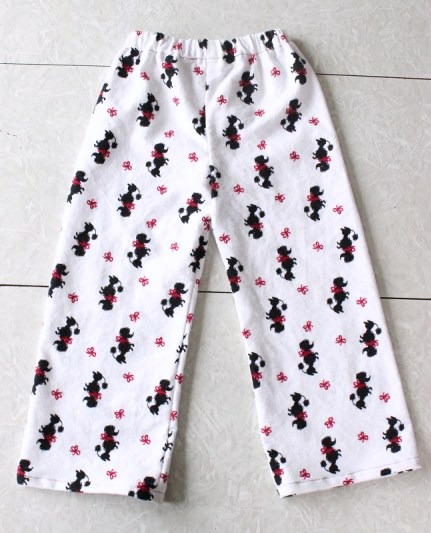 If you are looking for a beautiful knit fabric nightgown pattern to switch things up
my girls both have these!
It's a fabulous pattern from Sew Much Ado and comes together quickly. So cozy and soft! Maybe make the pj pants for the boys and nightgowns for the girls!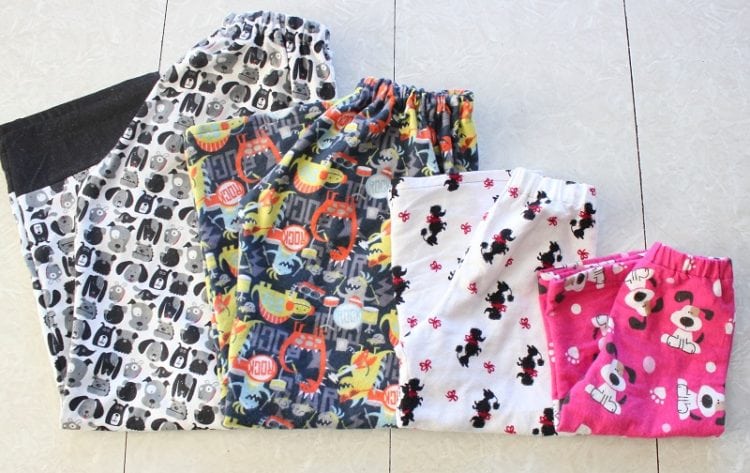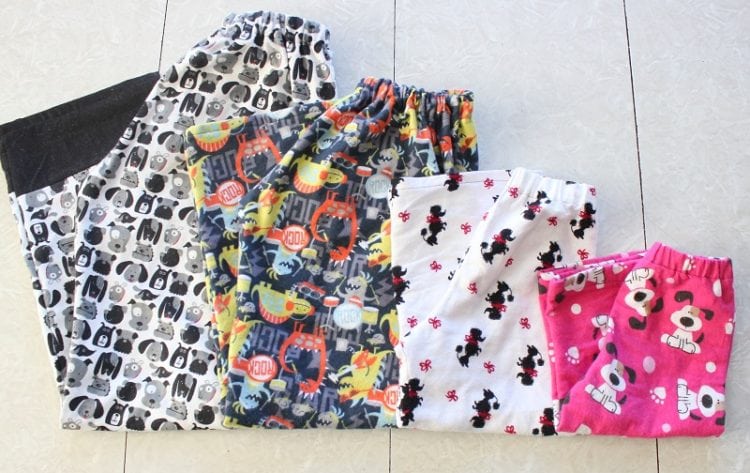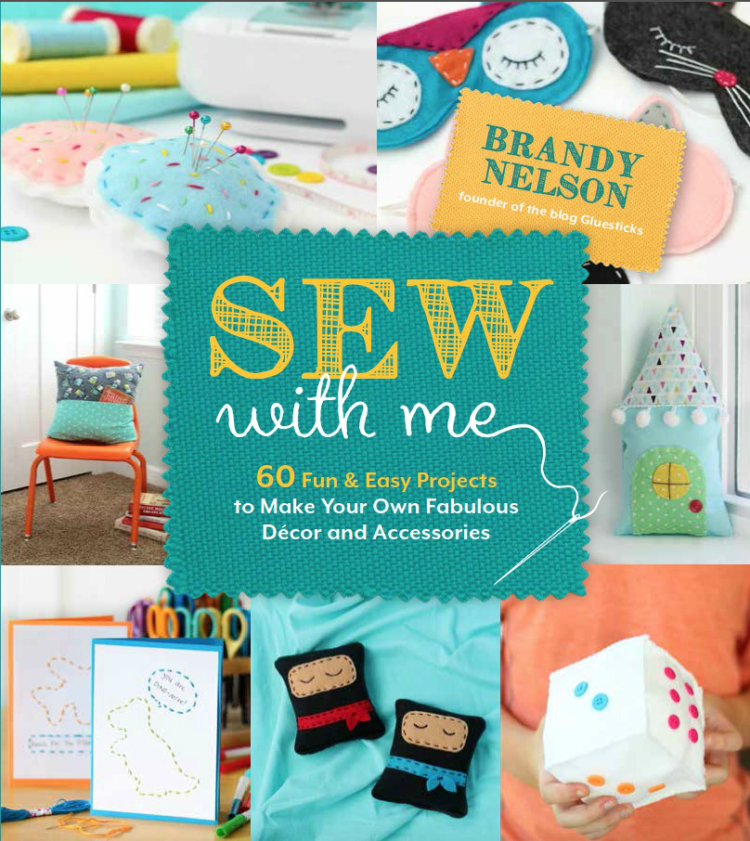 This post was originally shared in 2013.
Welcome! I'm Brandy, mother to 5 darling kiddos and a cute black lab named Toby. My husband is in the Coast Guard so we've lived all over the place, turning each house into a home. I love baking, sewing, making cute things with my kids, and sharing what I've learned with all of you!