These "We Donut Know What We'd Do Without You" printable donut tags are just the right size to attach to a package of mini donuts as the perfect thank you gift!
Looking for more printable tags? You'll love our watercolor EOS lip balm printables!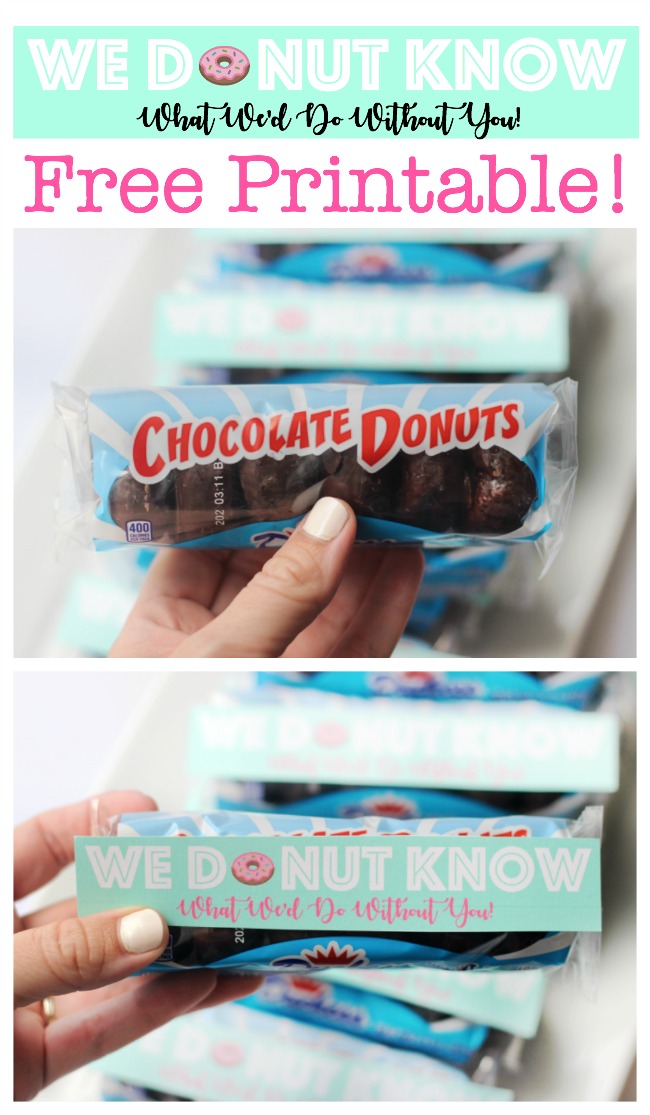 I am fortunate to be able to work with the children in our church every Sunday in our Primary! This is no small task with over 80 active children in our area. I work with 3 other gals to make sure that things run smoothly and that we have teachers for each class.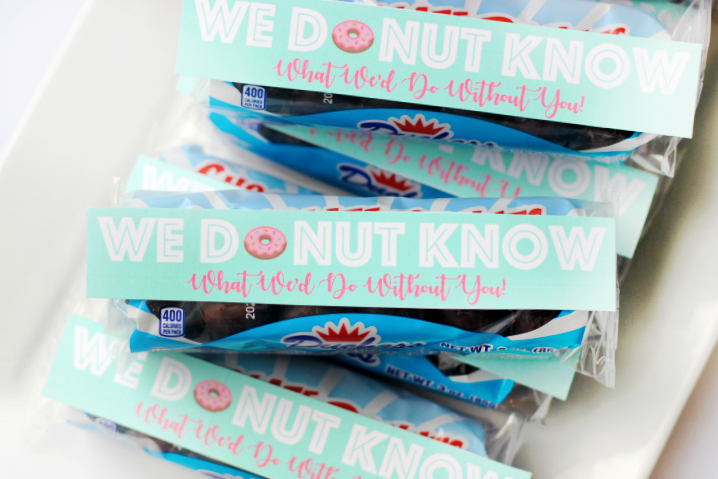 We Donut Know What We'd Do Without You Printable Tags
Some of the classes are quite challenging with children who have special needs, but the teachers are angels. So patient, so kind, and they come each Sunday ready to teach. Our nursery leaders (who teach ages 18m-3 years) go above and beyond. Last week they had a giant tub of colored rice for the kids to play with. For Valentine's Day, they had heart-shaped pizzas for each child. They put up with runny noses, play doh in the carpet and everything in between! We decided to declare last Sunday "Primary Teacher Appreciation Day". Just a way to say "Thank You" for all that they do. In August. It wasn't even the middle of the year or something they were expecting, but isn't it almost better that way?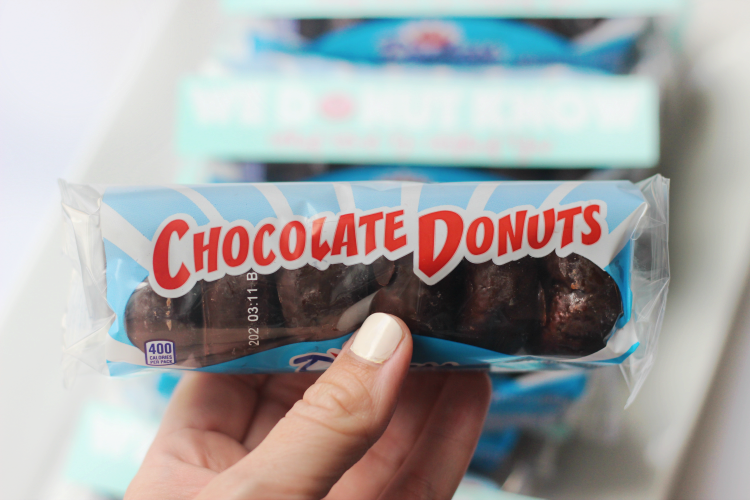 These chocolate donuts from Sam's Club are one of my FAVORITE treats. And they are super affordable too. You can get a box of powdered, chocolate or coconut crunch mini donuts (12 packages in each) for about $5. I picked up a couple of boxes and went home and made a cute little printable mini donut tags so say "thank you".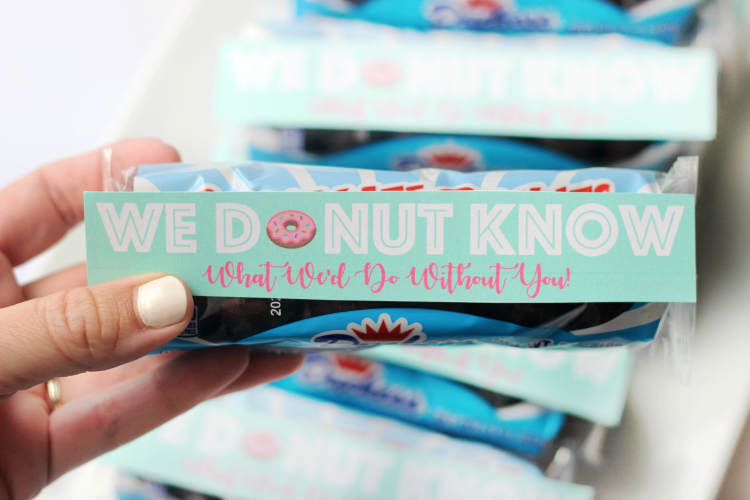 PicMonkey is my go-to for creating printables like this.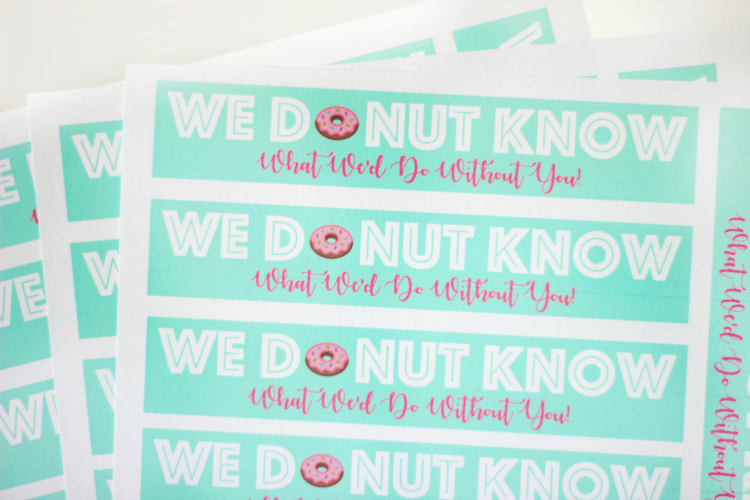 I created a sheet of printable thank you tags that you can download and use too! Use them for anyone! Babysitters, teachers, friends, or the mailman.
Printable Donut Tags: Attach to a Package of Mini Donuts!


Click here to download the printable thank you tags.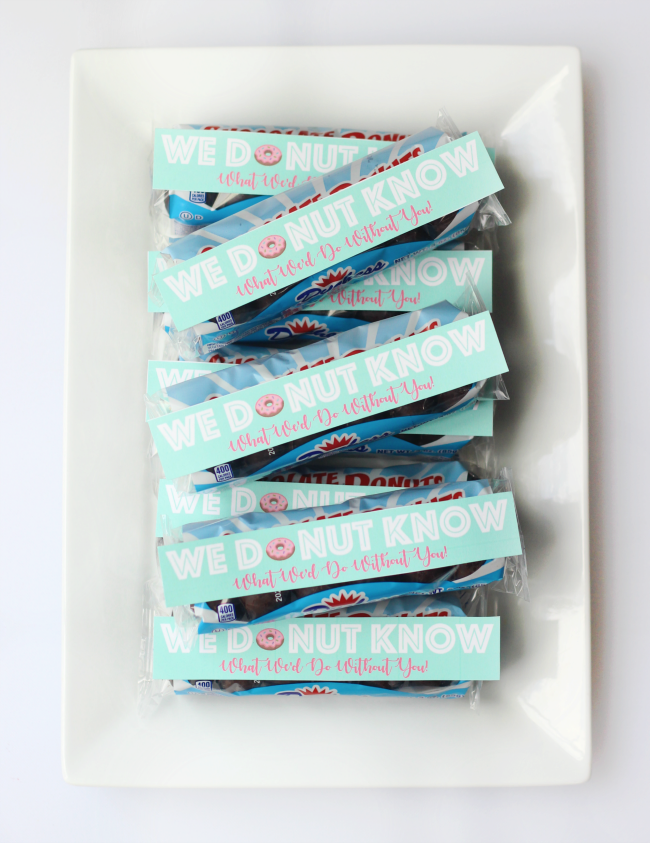 More Uses for Printable Donut Tags!
Attach to a bag of mini donuts or a package of donut holes.
Leave on a teacher's desk with a freshly made donut and small carton of milk.
Attach to a donut themed lip balm or bath bomb.
Wrap around a mug with a Dunkin Donuts gift card.
Tie onto a cellophane bag filled with homemade mini donuts.
You might also like these printable gift ideas…
Treat Yo' Self Printable Tags: Add this fun printable to a dessert in a mug kit for a fun birthday, teacher, or anytime gift idea! "Treat Yo'Self !" A quick 5 minute gift idea.
Birthday in a Box Printable Label: Send a friend a birthday party in a box this year! All they need to do is supply the cake. Comes with party decor, serving ware, candy, and a printable tag!
"I Carrot Lot About You" Easter Gift Basket: Fill a basket or mug with Easter goodies and add one of these darling "I Carrot Lot About You" printable Easter tags for a quick and easy gift for a friend or teacher!