Fill a basket or mug with Easter goodies and add one of these darling "I Carrot Lot About You" printable Easter tags for a quick and easy gift for a friend or teacher! This post contains affiliate links.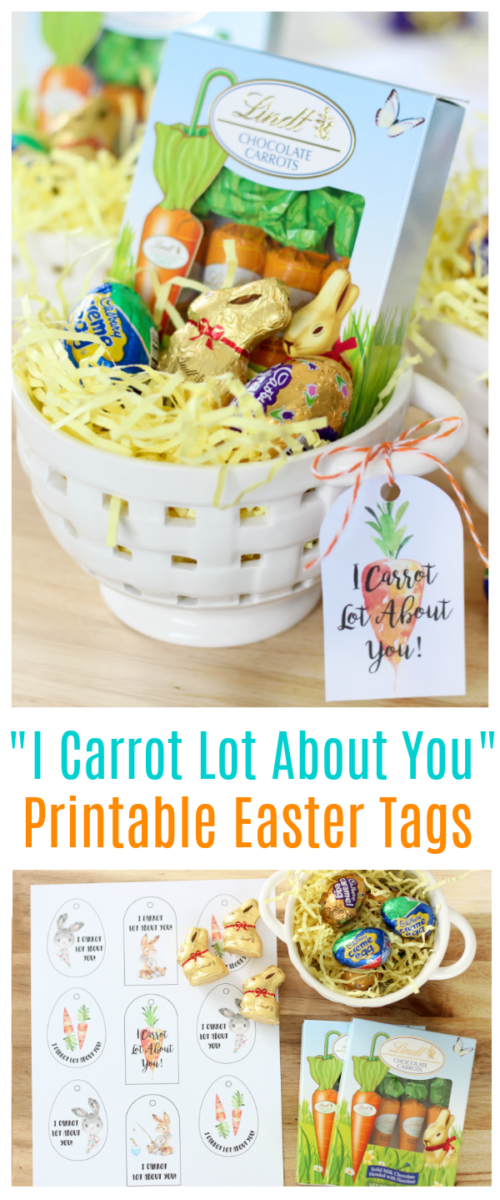 Yesterday I stopped by Target to pick up goodies for Easter Baskets. Let's face it, I'm there at least once a week so it was pretty much just my regular visit. I was totally inspired by a few items that I found in the Dollar Spot and came out with not only everything that I needed for Easter, but also 3 darling gifts for the girls' teachers and Mac's speech therapist, Katie. Score! I wasn't planning on doing Easter gifts for teachers this year, but sometimes it's fun to surprise them on holidays when it isn't expected.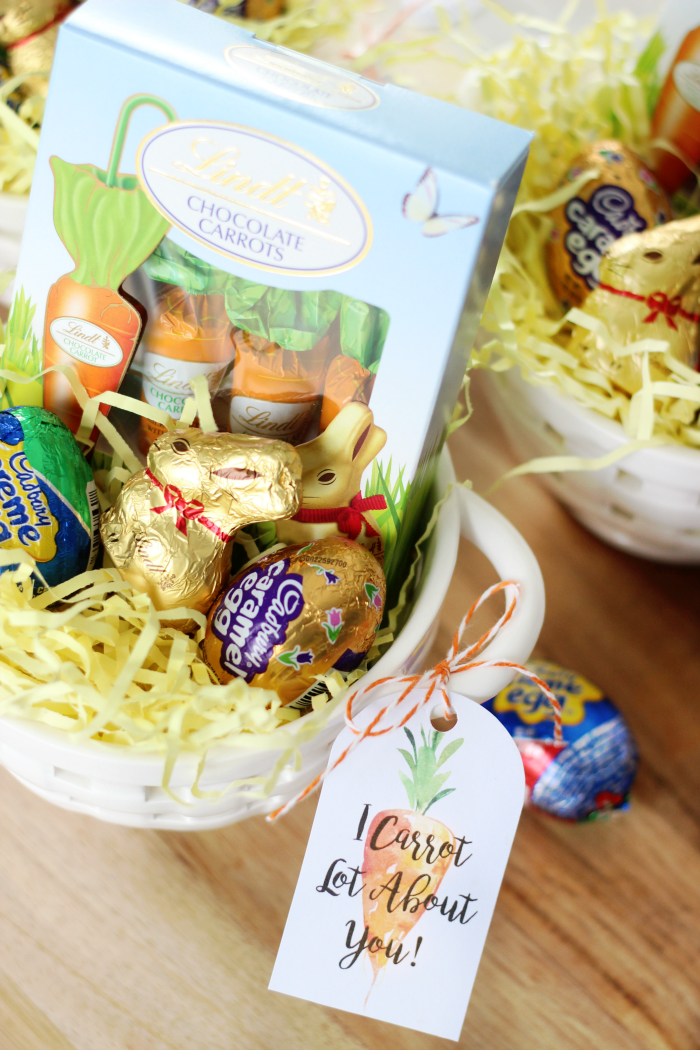 Do you like the corny printable Easter tags that I made? Ha! I saw those cute boxes of chocolate carrots and knew that I had to base my entire baskets around them. I thought I was pretty clever when I came up with this little phrase, but a quick google search proved that it has been used on greeting cards before. Dang. Is anything original anymore? Oh well, it doesn't appear to be as common as "Some Bunny Loves You" and it goes perfectly with the chocolate carrots so I'm considering it a win.
4 Easter Crafts You Will Want to Check Out:
Carrot Treat Bags Sewing Tutorial
"I Carrot Lot About You" Printable Easter Tags & Gift Idea
If you'd like to make a few of these cute baskets with printable Easter tags I'll show you how simple it is to do!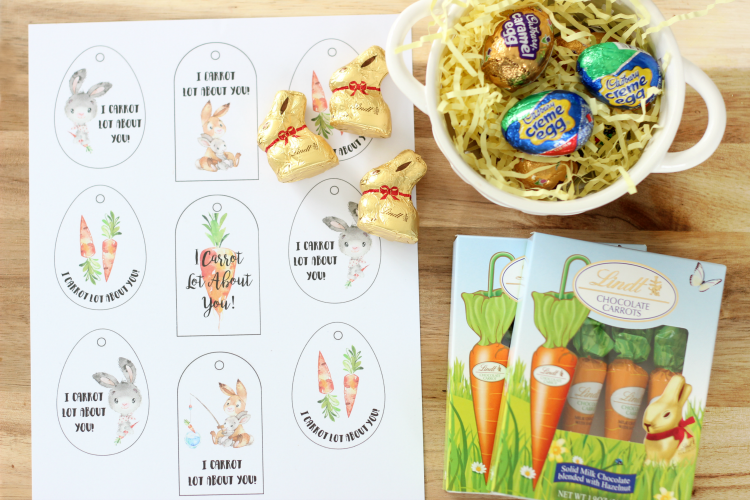 You'll need:
basket
Easter grass
chocolate carrots
chocolate eggs
chocolate bunnies
scissors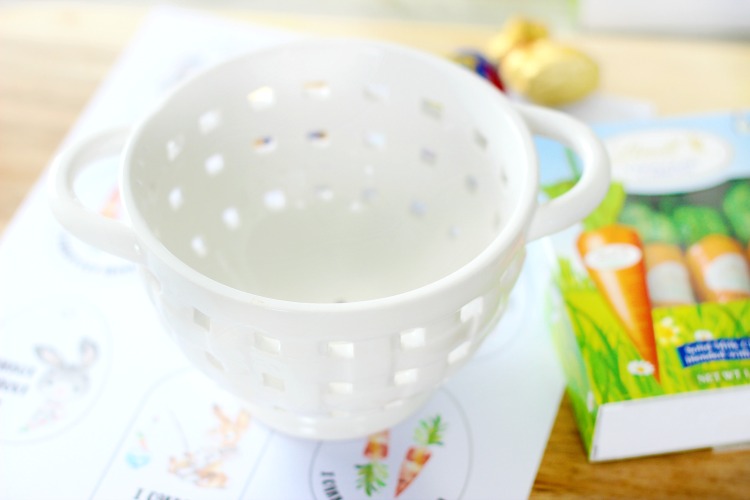 This is actually a mini colander that I found in the Dollar Spot. They had white, pink, yellow and blue. We all know how seasonal the Dollar Spot is, but even if they don't bring these back next year they will have something similar for Easter.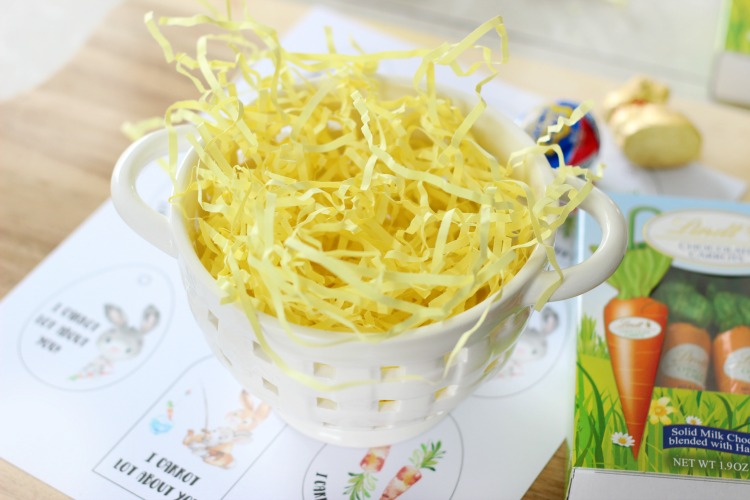 Step 1: Grab a handful of Easter grass and stuff it into the basket.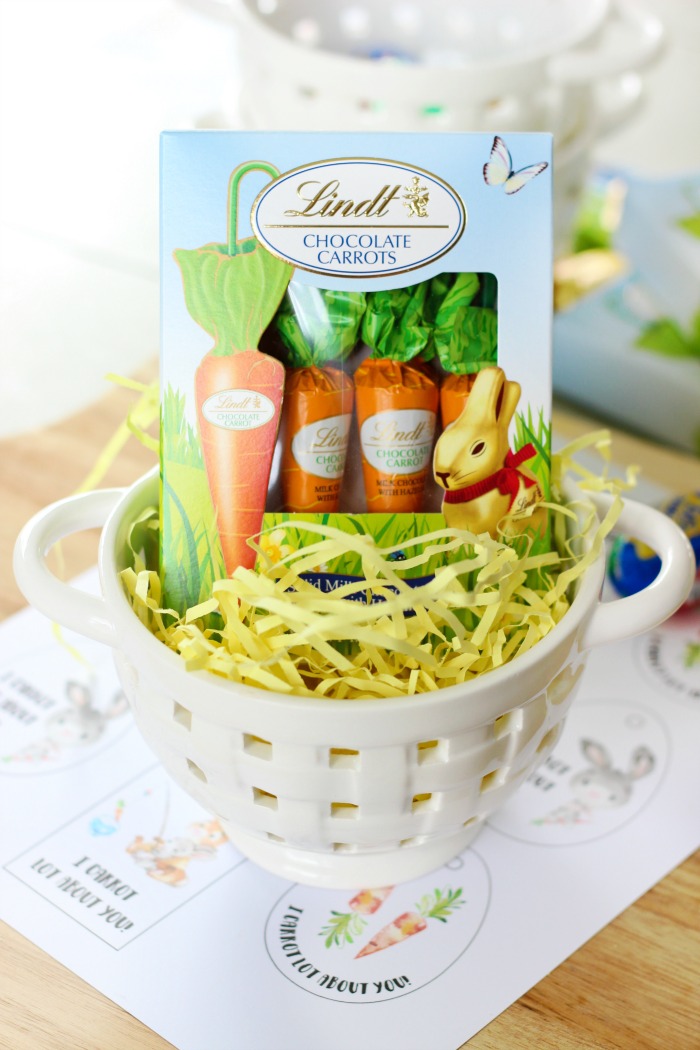 Step 2: Add a box of chocolate carrots in the back.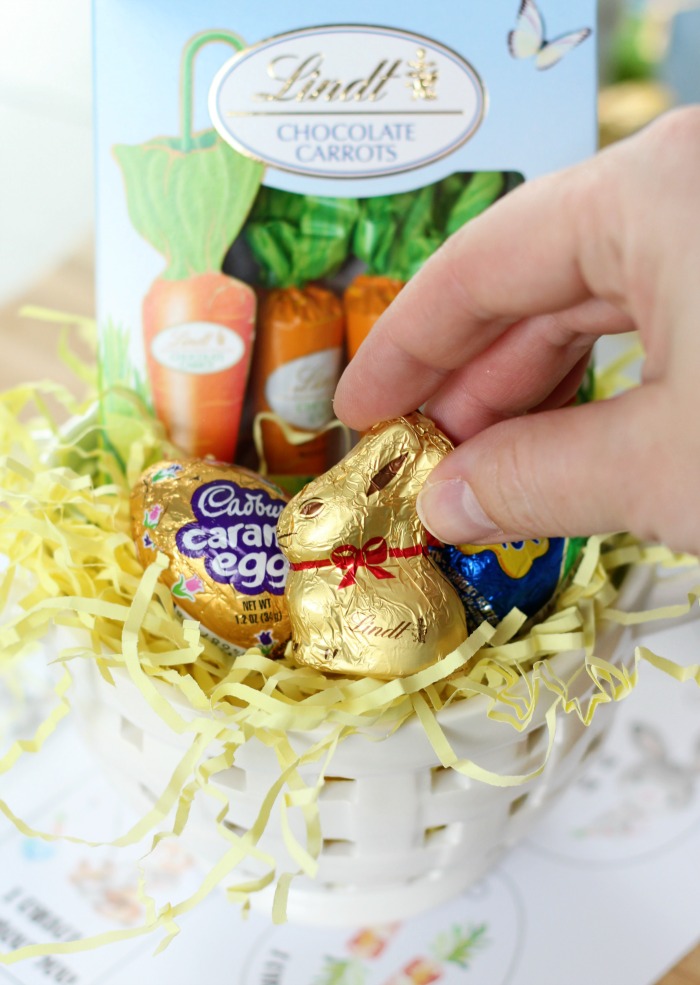 Step 3: Tuck the chocolate eggs and bunny into the grass.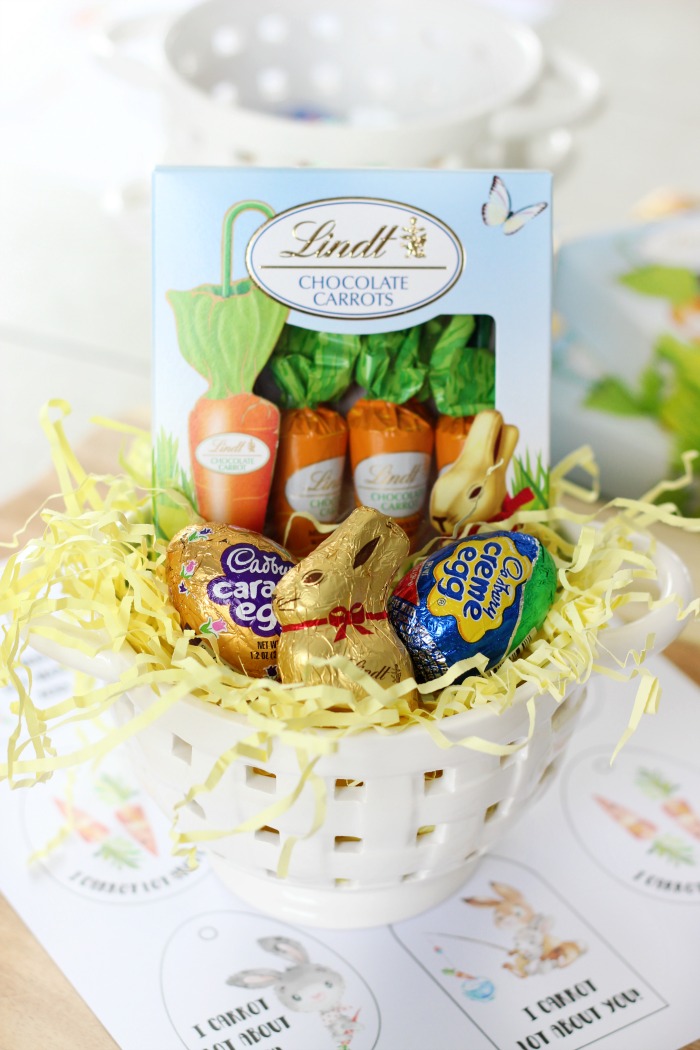 Step 4: Print out the tags and select which one you'd like to use!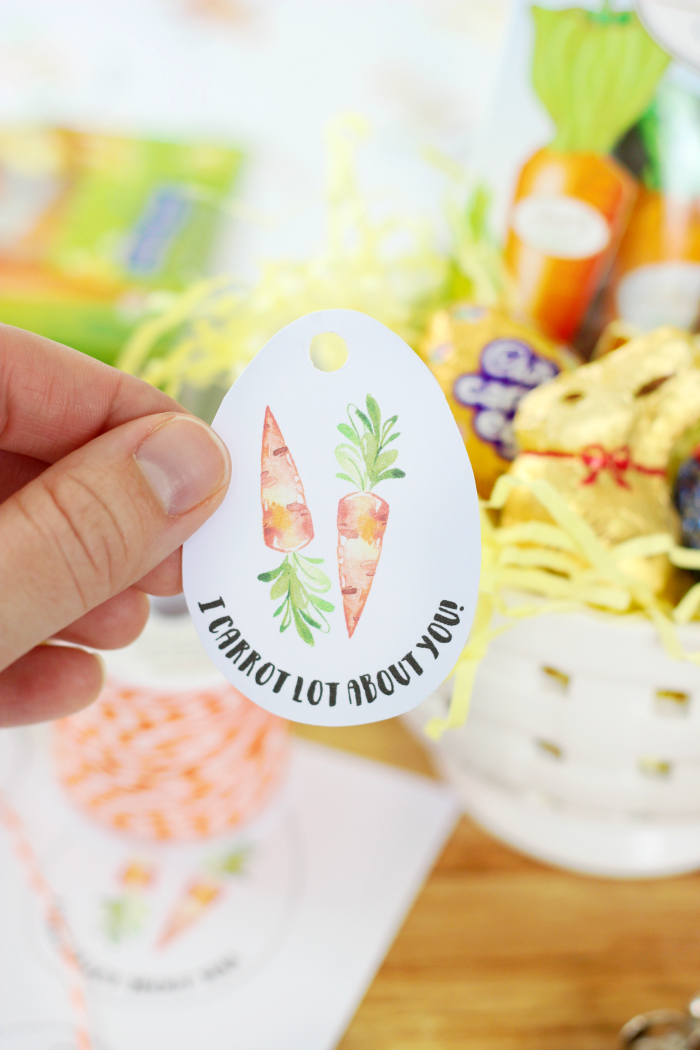 Step 5: Hole punch the tag and tie it onto the basket with baker's twine.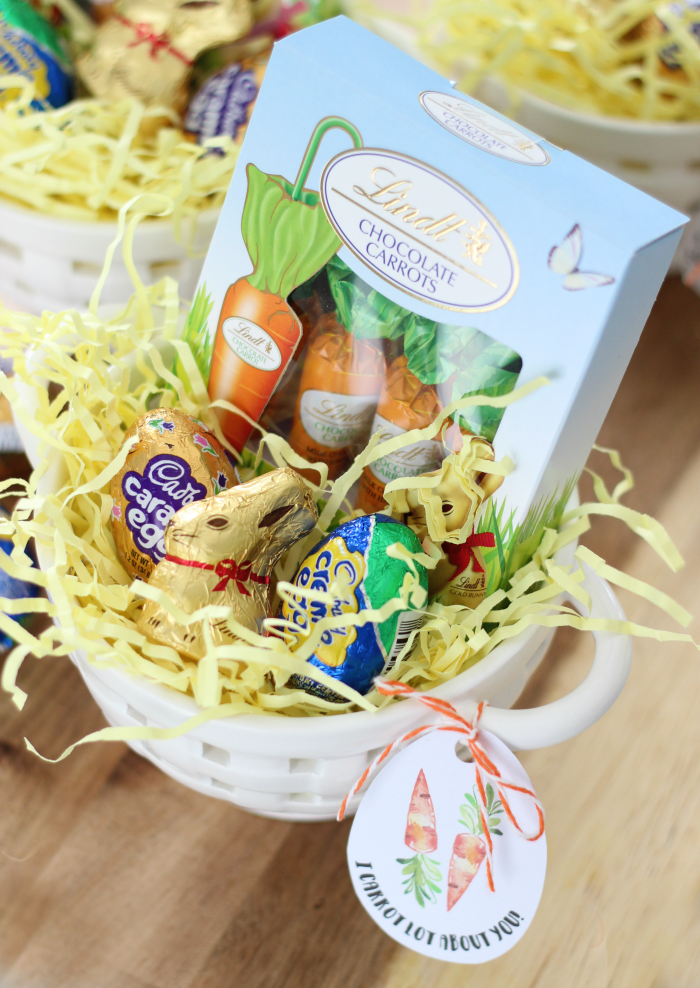 Our spring break starts next week so we are delivering these to our sweet teachers on Friday!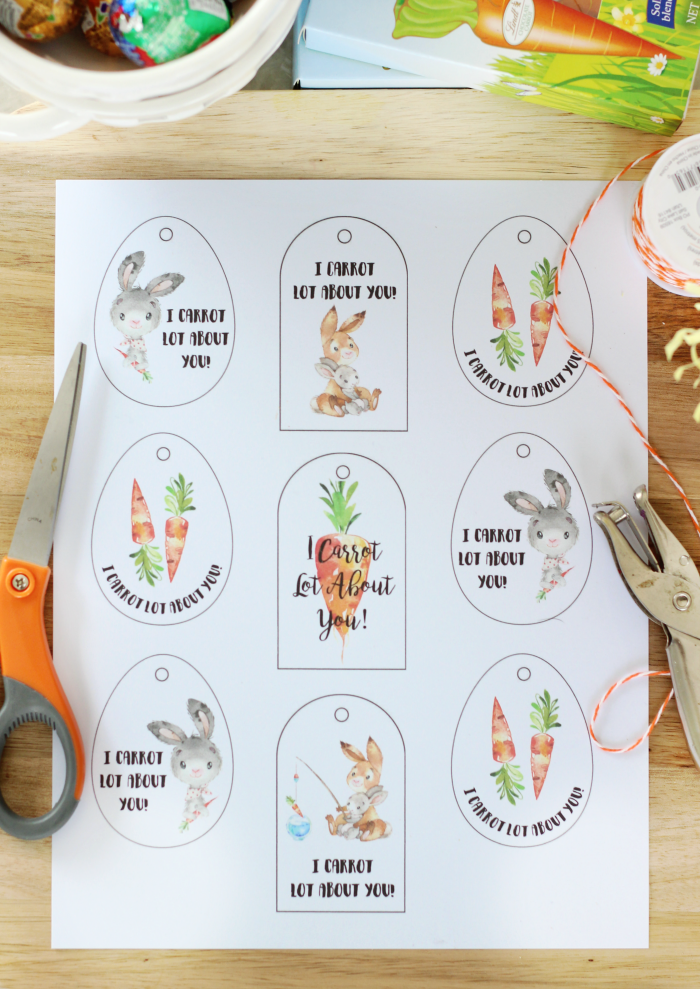 Here is the link to download my printable tags. Print at 100% on cardstock for best results.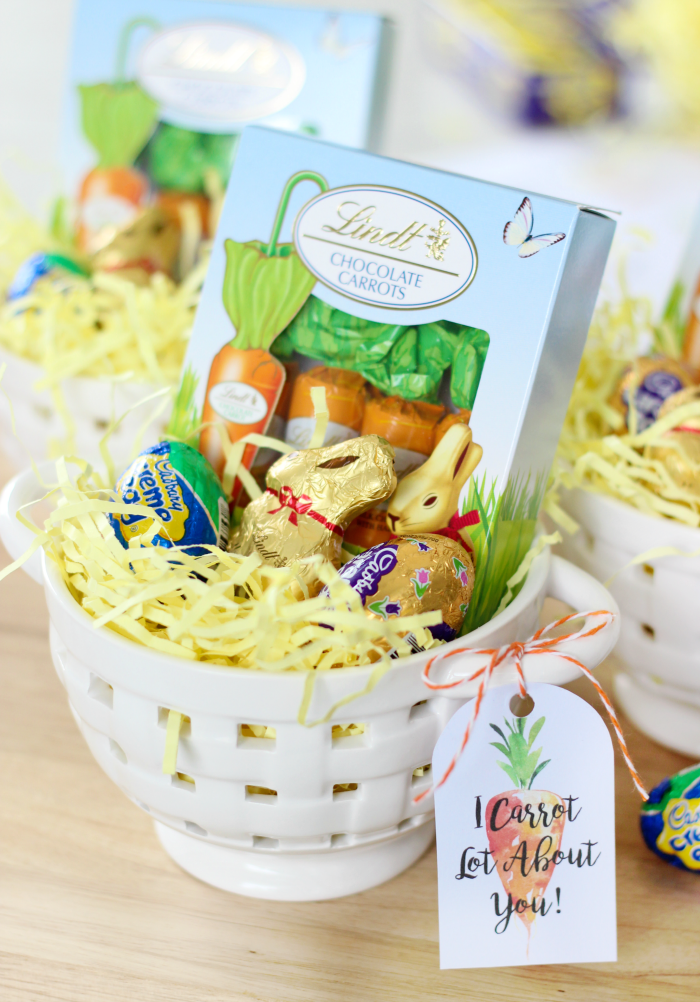 You might also like these gift ideas:
Pedicure Gift Basket: A beautiful pedicure gift basket brimming with everything needed for a luxurious pedicure! Peppermint sugar scrub, foot cream, nail polish, a travel nail kit, and an electronic foot file.
Birthday in a Box Gift Idea with Free Printable:  Send a friend a birthday party in a box this year! All they need to do is supply the cake. Comes with party decor, serving ware, candy, and a printable tag!
Fairy Garden Kit: Make a whimsical fairy garden kit to brighten someone's day! Everything you need, including fairy dust, neatly packaged in a planter and tied with a pretty bow.