A quick and
easy baby quilt
tutorial for those who don't consider themselves to be quilters! This quilt comes together incredibly fast! Use pre-packaged bias tape or make your own binding. It's up to you!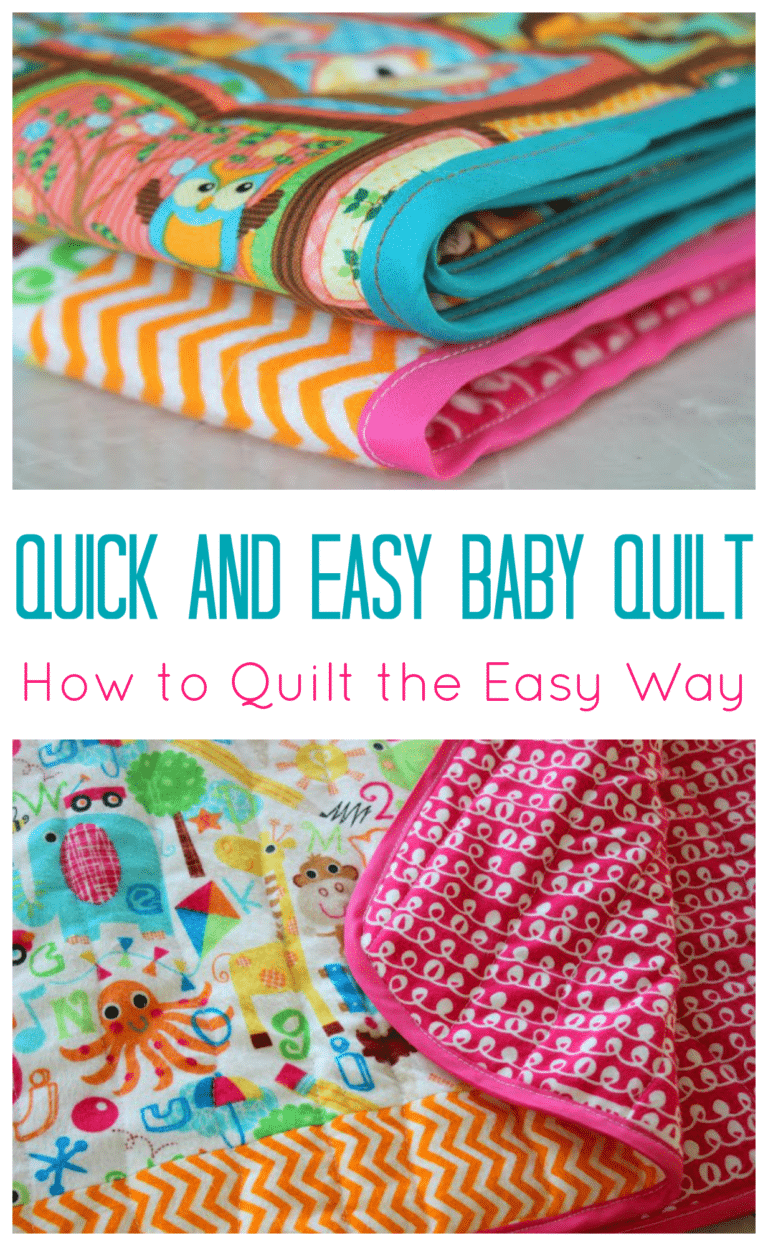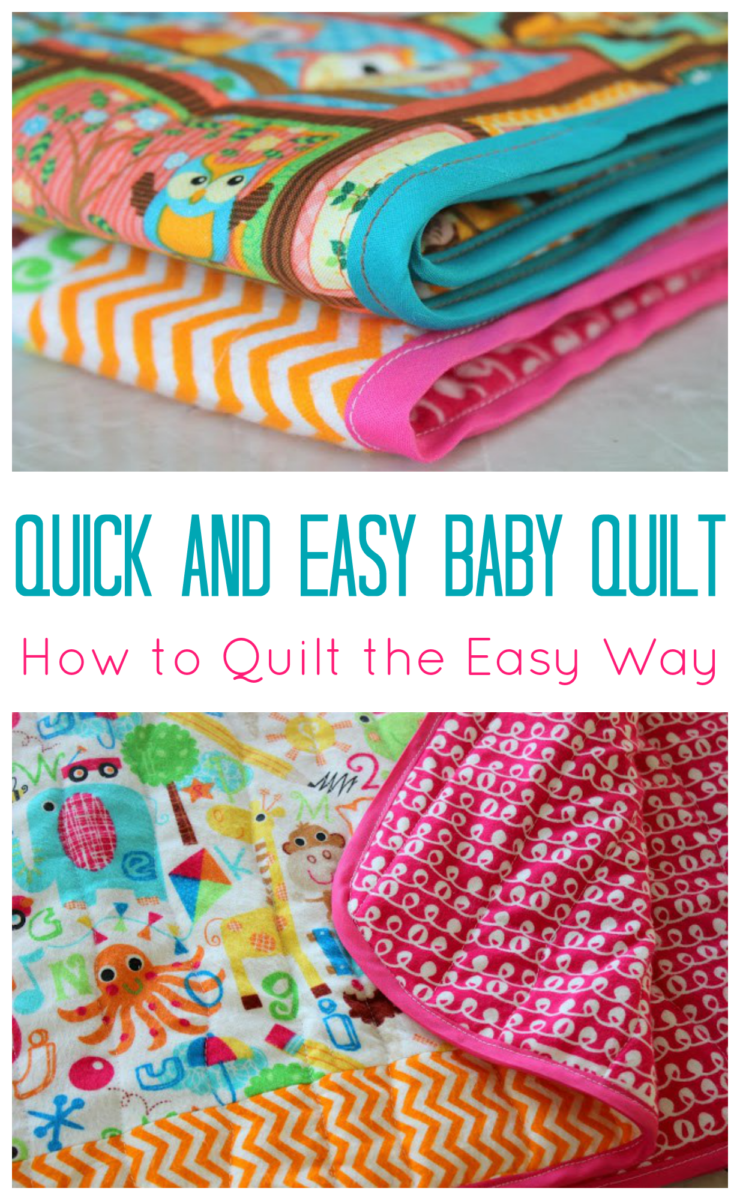 I like projects that are quick. Projects that I can finish in less than a week,. Not something that would take weeks or months to finish. Maybe it's because I'm a compulsive person.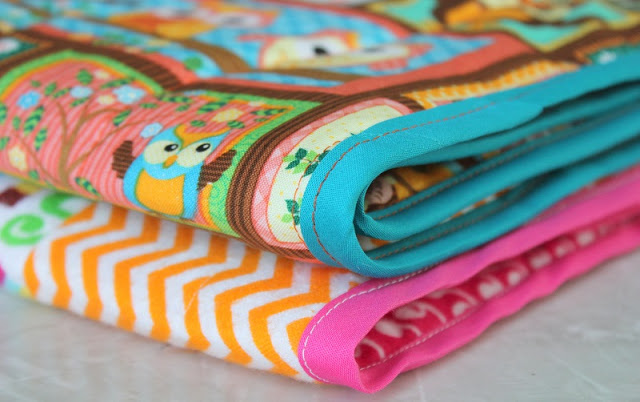 When I get an idea in my head I can't think about anything else until it is done. So the thought of hand quilting a large project makes me stress out. Because I would constantly be thinking about that unfinished quilt!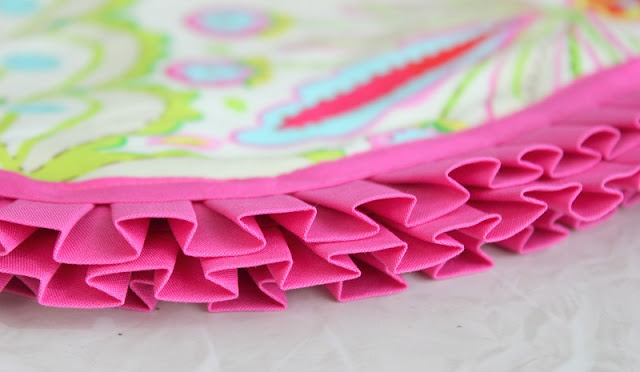 My friend has been coming over lately to use my machine and we've had a great time making baby blankets as gifts. For being a beginner, she has made some pretty awesome blankets. How cute is that bias tape that we sewed around the edging of this easy baby quilt? LOVE.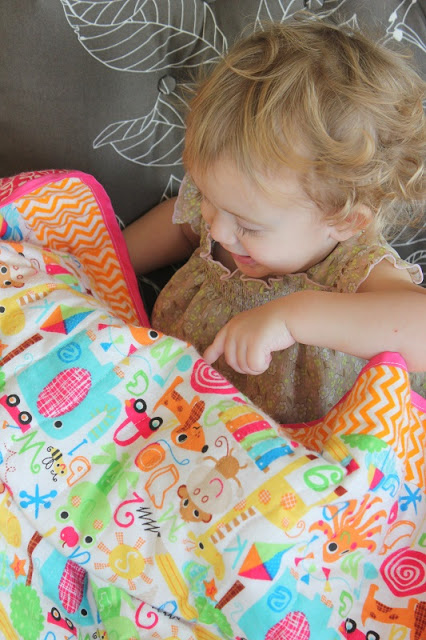 I saw these darling fabrics at Joanns and decided to make Ruby a little quilt.
It was a small quilt. About a yard and a half. Perfect for dragging around and snuggling in. She absolutely loves it and uses it every day. The best part? I made it in less than 2 hours.
The quilting isn't exact. It isn't measured.  It isn't planned out at all, and that's what I love about it. An easy baby quilt from start to finish. Fun wavy lines, from the top to the bottom, adding a fun design to the soft flannel fabric.
My grandma was an amazing hand quilter and wouldn't have machine stitched this little quilt. Her work was so detailed and perfect after years and years of homemade quilts. I cheated a bit, but because I machine stitched it, I actually finished it! And a finished quilt is better than one that was never even started!
So if you don't consider yourself a quilter, but would like to try your hand at making an easy baby quilt in a couple of hours, this tutorial is for you.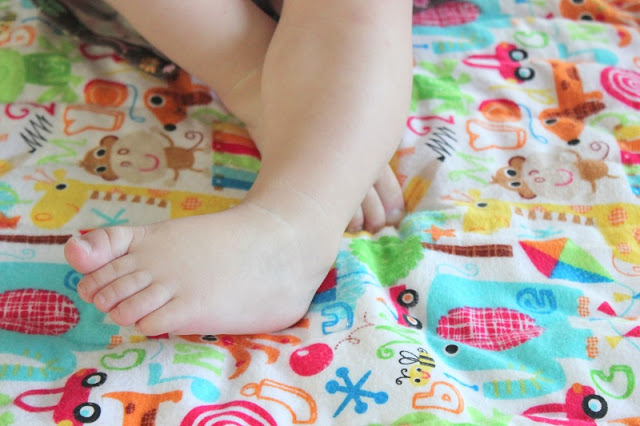 Quick and Easy Baby Quilt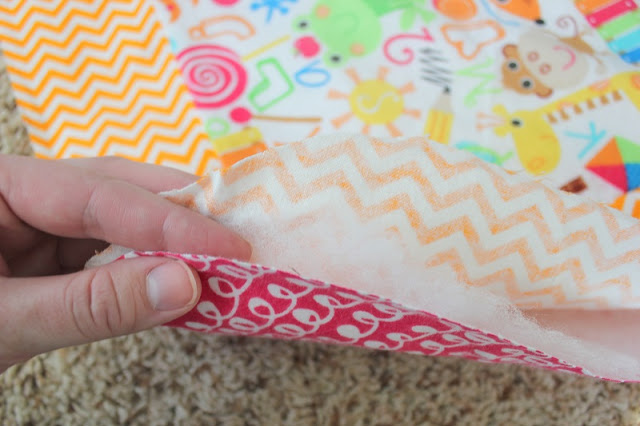 The smaller the quilt, the easier to machine quilt.
Â
Sandwich a very thin layer of batting in between the top and bottom fabrics for your quilt.
I made a border around my main fabric with the orange chevron, but that isn't necessary. Simply using 2 pieces (one for the front and one for the back) of fabric works fine!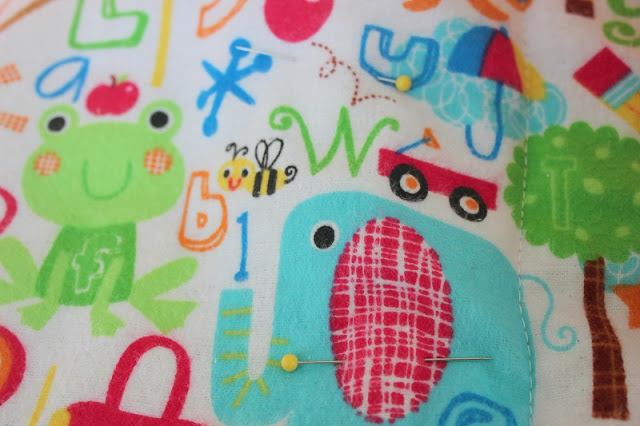 Pin your quilt all over. Safety pins are nice since they don't poke you as you sew, but straight pins are quicker and easier to pull out. I placed pins about 2″ apart. You can also use a basting spray to hold your fabric layers together.

This keeps the fabric and batting together while you machine quilt and I set my machine stitch to 3.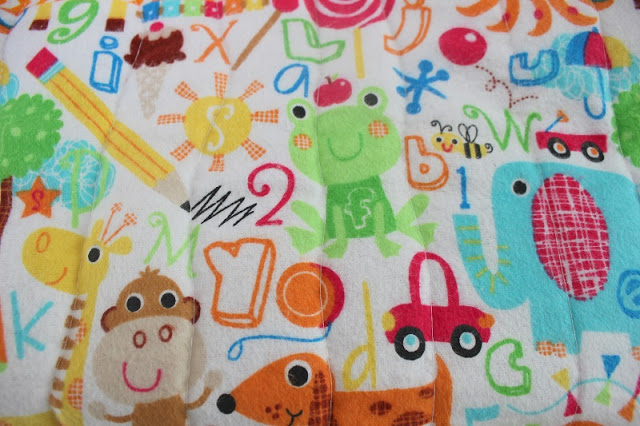 Starting at the TOP CENTER of the quilt, sew a wavy line down the entire length of the quilt. Going back and forth, not worrying about being exact at all.I have a walking foot attachment for my machine that helps sew through thick fabrics evenly, but it doesn't work well for wavy lines. Since my batting was so thin my basic sewing foot worked fine, as long as I was diligent to keep my fabric pressed out flat and pinned really well. If you'd prefer to quilt straight lines, I'd recommend the walking foot. It works great.
Then start back at the top and do it again a couple of inches to the right. Repeat this until you reach the right edge.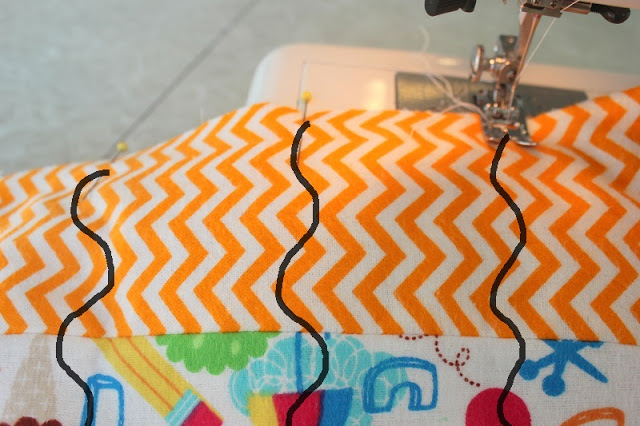 Then go back to the center and do the same thing all the way to the left edge. Wavy lines (going from top to bottom) a few inches apart all the way to the left side of the quilt.(pardon my inept computer skills above, but you get the picture 😉
The reason I started in the center and worked towards the edges was to keep the fabric from puckering up and ending up with a bulge in the center of the quilt. By working from the center out, I was able to smooth the fabrics as I went. If it was a bigger quilt I would have rolled the sides up like a scroll to prevent bulk while sewing, but this was so small that it wasn't really an issue.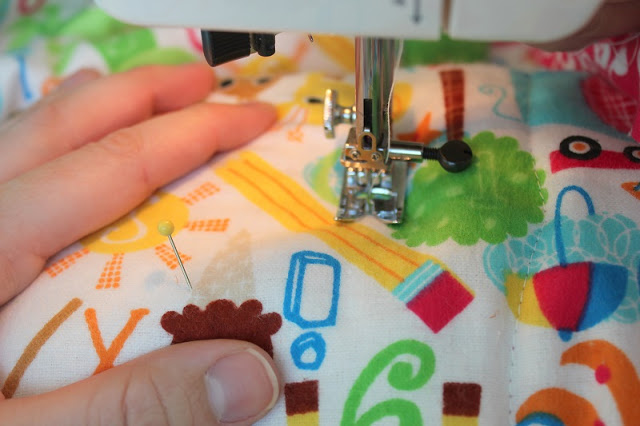 I used
both of my hands
to flatten the fabric as I was sewing through the layers.When finished quilting, trim the edges to make everything even and then bind it. You can use this f
antastic quilt binding technique
using fabric or use bias tape. I had some pink bias tape so I went with that.  Here is a
great tutorial
for using bias tape.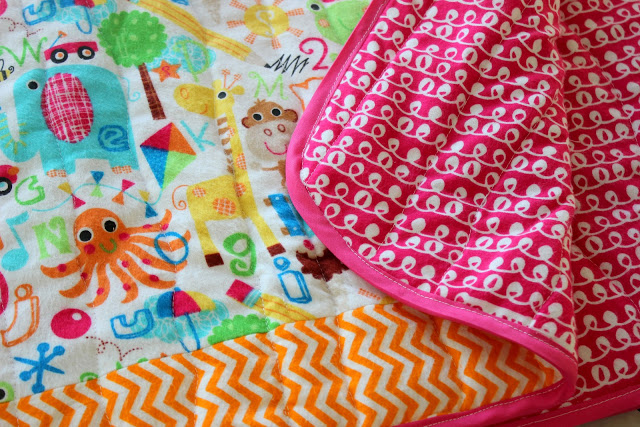 When you are finished, you will have a darling baby QUILT that was just as quick to make, if not quicker, than a tied blanket….and personally I think it is cuter!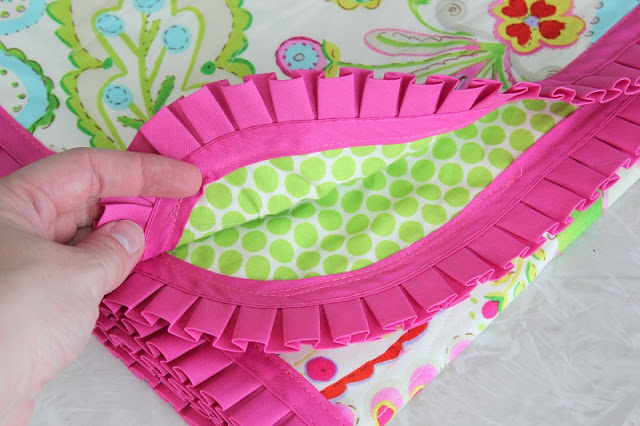 Here is the one we made for my friend's niece!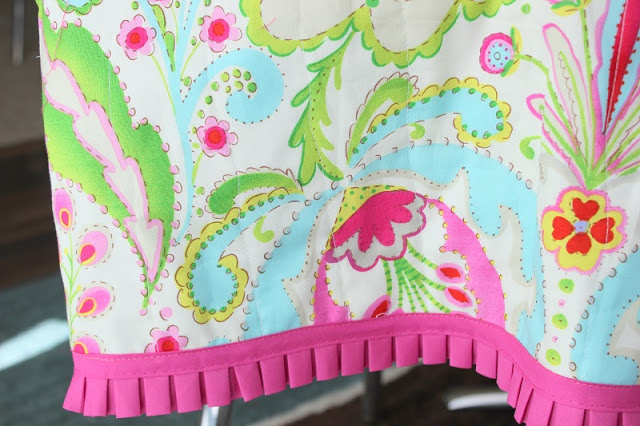 And here are two more baby blankets that would be perfect baby shower gifts!