Given 15, 30, or 60 minutes of time to clean, how much can you accomplish? Probably a lot more than you might think!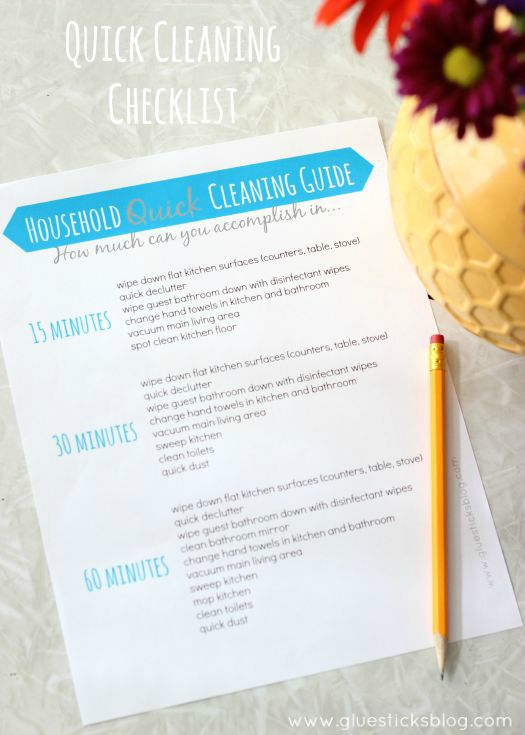 How much time do you usually spend tidying up the house? I used to follow the kids around all day and pick up the toys as they dropped them. Sad, but true. To think of how much times I wasted when I had my first two kids trying to keep up with it all! Now I do a quick power cleaning of the house once or twice a day. Today I'm sharing my
quick cleaning checklist
with you and I'd love to hear what works for you in your home!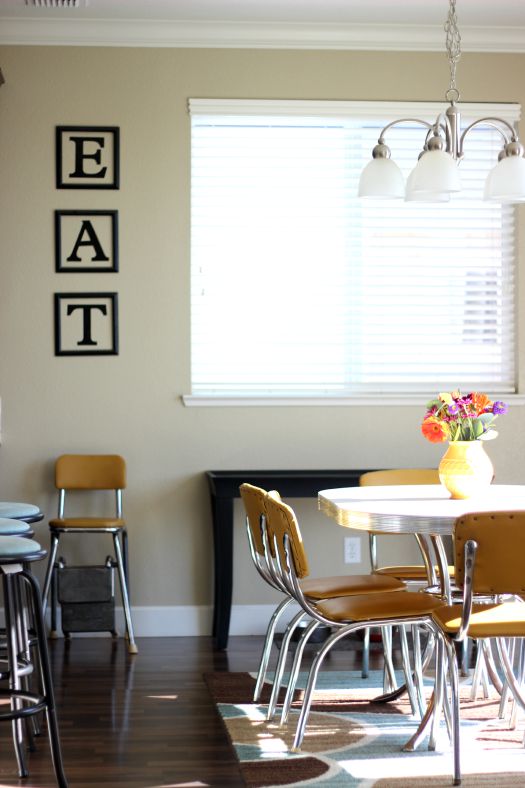 I always think of it as a game and I've enlisted my kids in this logic too. I look at the clock and think to myself, "I'll just see how much I can get done before I pick up the kids from school in 30 minutes." And, woah! When I focus that 30 minutes on cleaning and not on other things like checking my e-mail or Instagram I can get a lot done! We do this before bedtime too. I'll ask my kids to clean up as fast as they can to see how much we can get done in 10 minutes. And then there's those times that I get a text saying that a friend is stopping by in 15 minutes. Aren't those the best motivational boosts to get a little tidying up done? I don't feel like I have anyone to really impress, but I don't think they really want to see Ruby's undies laying on the living room floor or globs of sticky toothpaste all over the bathroom sink and counter.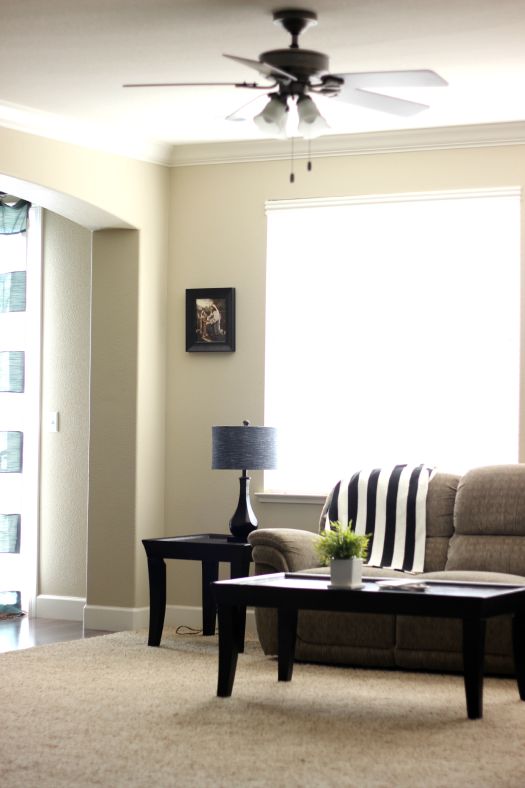 There are household tasks that I do every single time I tidy up the house. Regardless of if I have 5, 15, or 30 minutes like decluttering and wiping down flat surfaces in the kitchen and bathroom with a cleaning wipe. Then there are tasks that I only do if I have an hour or so to clean or if the house really needs it like mopping or cleaning the toiletss. I made a Quick Cleaning Checklist in case anyone else would like to take the power cleaning challenge and I'll talk more about that at the end of the post!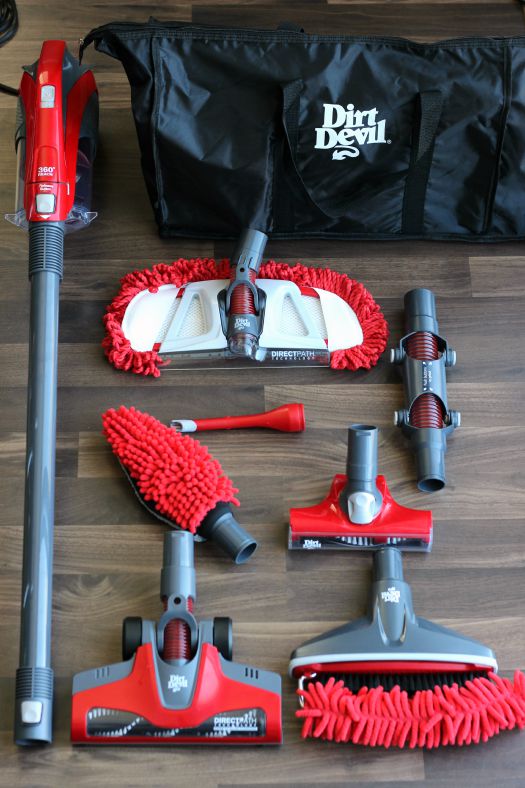 My kids think I'm crazy, but I love to vacuum. Nothing brings faster results and instant gratification than nice vacuum lines across the carpet. Even if the counter has stacks of mail, school flyers, or groceries that still need to be put away. I only vacuum the second story once or twice a month, but I vacuum the main living area downstairs 4-5 times a week (we have a dog).
I was thrilled to add the Dirt Devil® 360° Reach™ to my cleaning arsenal this month. Look at all of those attachments! When I have 15 minutes to clean I usually vacuum, sweep the kitchen floor, and do a quick dusting of the first floor. My Dirt Devil 360 Reach can do all of that, and without even unplugging it thanks to a 27′ cord.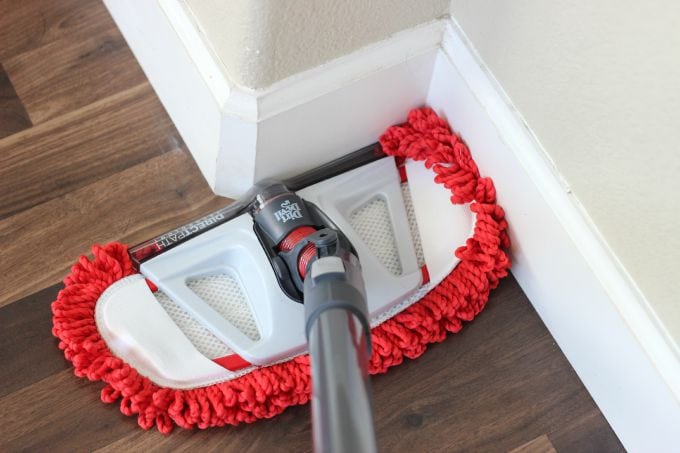 After I do a quick declutter, I wipe down the kitchen and bathroom counters and load the dishwasher. Then I'll vacuum and dust the kitchen floor, getting up all of the dog hair and crumbs with the vacuum + dusting SWIPES microfiber pad.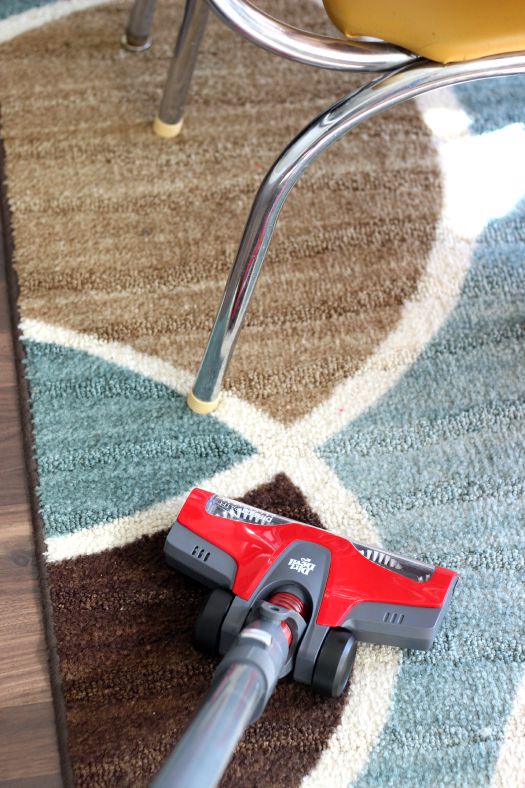 Then I switch to the carpet and rug attachment to quickly spot vacuum under the kitchen table. I can also vacuum the living room carpets with this attachment. It is great for a quick cleaning, but I still like vacuuming with my full size vacuum when I need to do the entire first floor.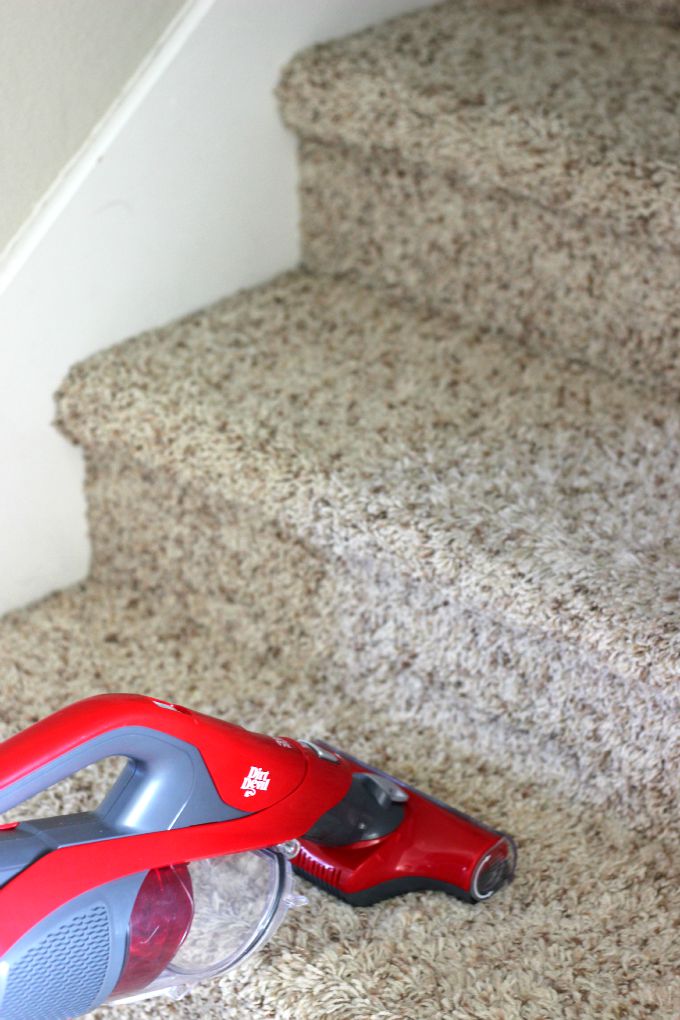 Then I decide on another area like the stairs, ceiling fans, or tall bookcases that might need a quick clean. I don't do clean them every day, but I'll go ahead and show how the attachments work for those areas too. On days when the stairs need to be vacuumed I can switch to the power stair and upholster attachment which makes it easy to vacuum the stair fronts as well as the steps.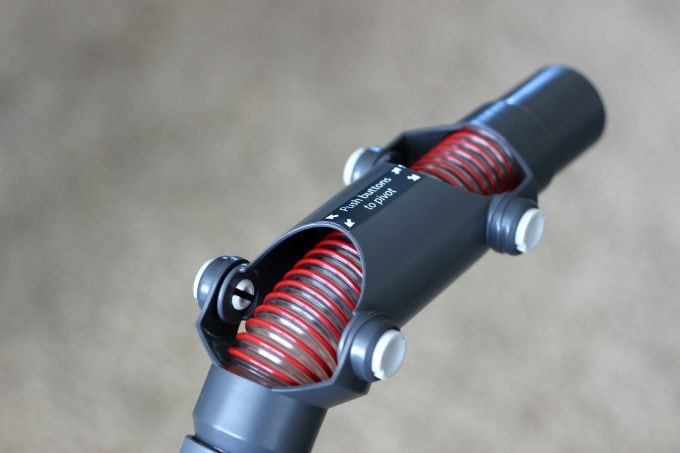 The pivoting tool works great to get those hard to reach spots and angles like on top of bookcases.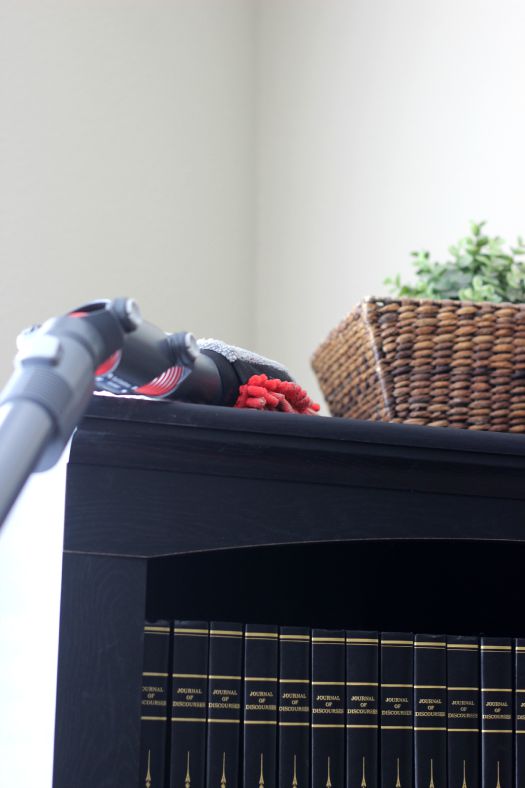 It wipes and vacuums the dust at the same time!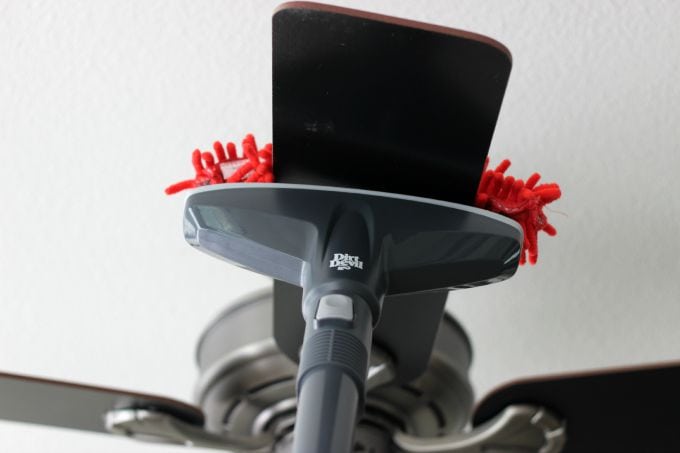 I don't clean the ceiling fans every day, weekly, or even on a monthly basis because it is super annoying to do. Usually it isn't until I notice a thick layer of sticky dust building up and over the blades that I'll pull out a step stool and sprinkle my carpets with dust bunnies. With the ceiling fan attachment I no longer have an excuse for laziness. I can stretch from floors to ceilings and catch everything in between. This makes dusting the fan blades quick and easy. No step stools, no more dust bunnies all over the carpet.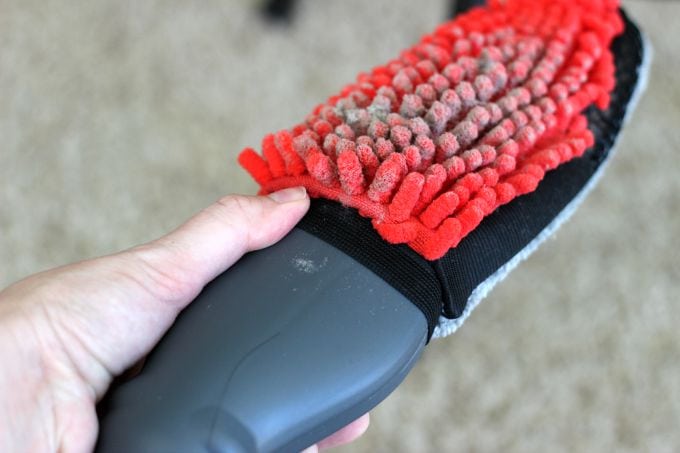 When the SWIPES pads look disgusting I just pull them off and toss them in the wash.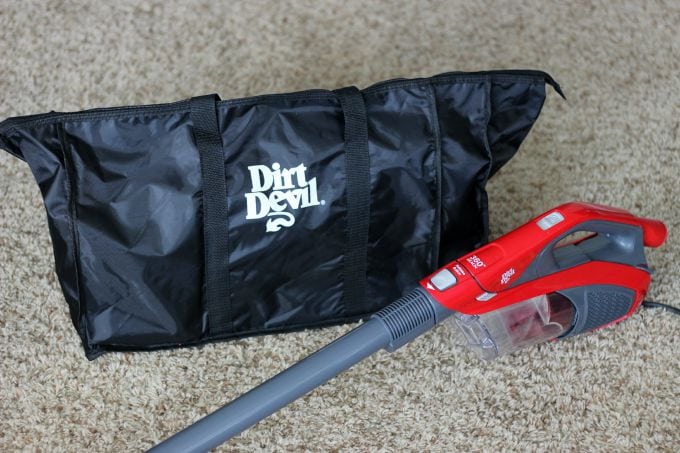 When I'm finished with sweeping, vacuuming and doing a little dusting with my Dirt Devil 360 Reach I can put everything away in the storage bag.
The final thing to do is change out hand towels. Are your bathroom hand towels always wet or is it just my children that drench them when they wash their hands?!?!
That completes the 15 minute section of my Quick Cleaning Checklist!
*wipe down flat kitchen surfaces
*quick declutter (kids usually help with this!)
*wipe guest bathroom down with disinfectant wipes
*change hand towels in kitchen and bathroom
*vacuum main living area
*spot clean kitchen floor (sweep/dust, spot mop)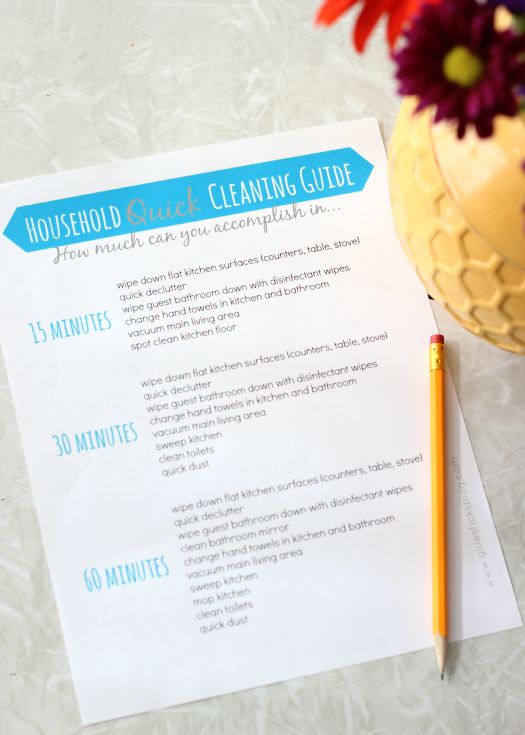 How much can you accomplish in 15, 30, or 60 minutes?
Feel free to print out this basic checklist for a quick reference!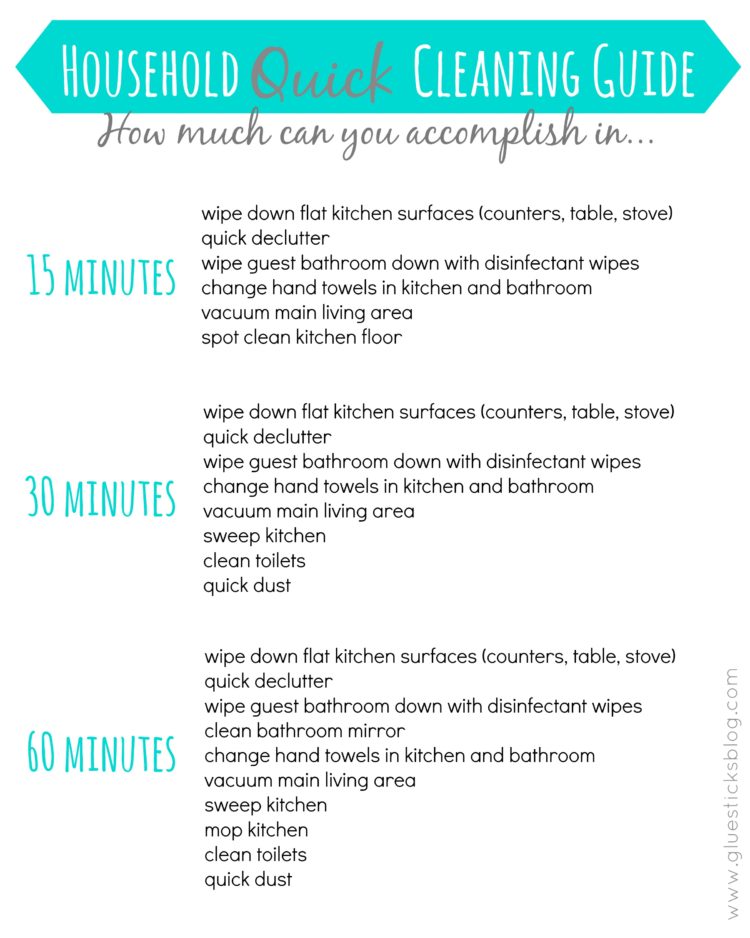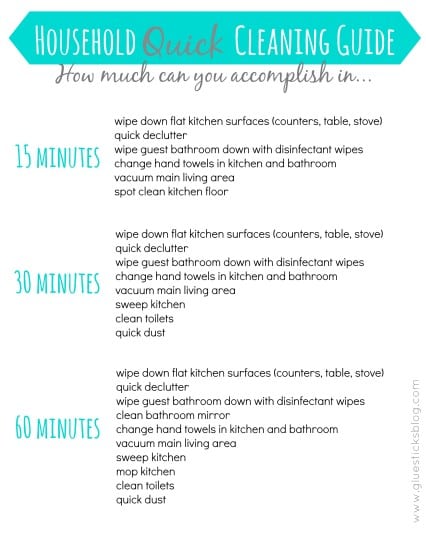 This post is part of a social shopper marketing insight campaign with Pollinate Media Group® and Dirt Devil, but all my opinions are my own. #pmedia #DirtDevil360Clean http://my-disclosur.es/OBsstV