Organize your favorite family recipes with our cookbook printables! Store in a binder with page protectors for safe keeping and easy access! This post contains an affiliate link.
If you're like me and like having a hard copy of everything instead of digital files you'll love this family cookbook! You might also like my printable calendar pages.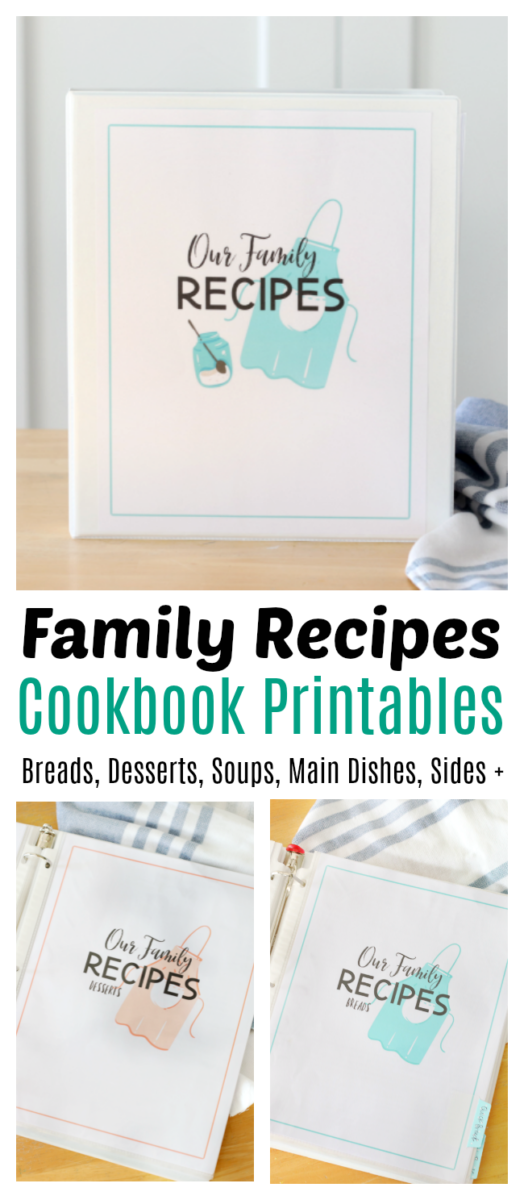 After 18 years of storing recipe cards, print outs, and cut outs from the back of boxes in a tattered binder, I finally organized everything into this family recipe cookbook. Complete with dividers and sheet protectors to keep the recipe pages clean while baking.
I can't believe it took me so long to do this! It's been 3 months since I compiled it and I couldn't love it more. I plan on making one for each of my kids when they get married, filled to the brim with our favorite family recipes.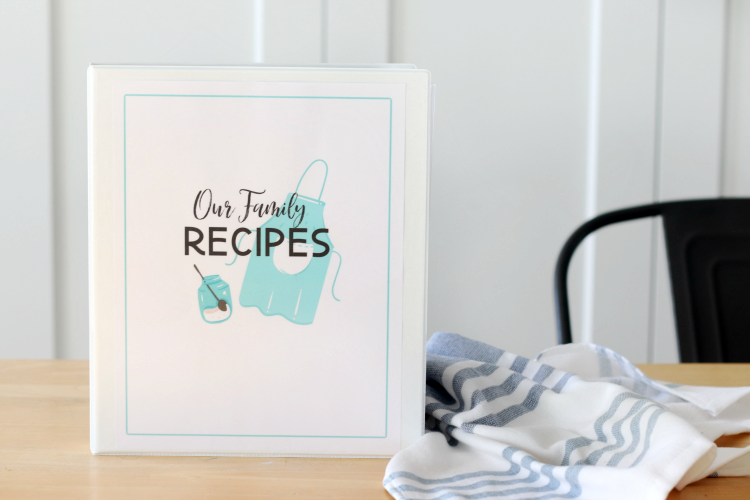 Right now I have it in a 1″ binder, but will most likely bump it up to a 2″ binder as I continue to print off recipes from my blog and other sites. I really tried to like digital storage for recipes, using my phone or ipad while cooking to see the recipes, but I just can't get used to that. I'm such a hard copy gal, who still uses a paper calendar and day planner, so having the recipe printed out in front of me works best.
9 Cookbook Printables (Cover + Category Pages)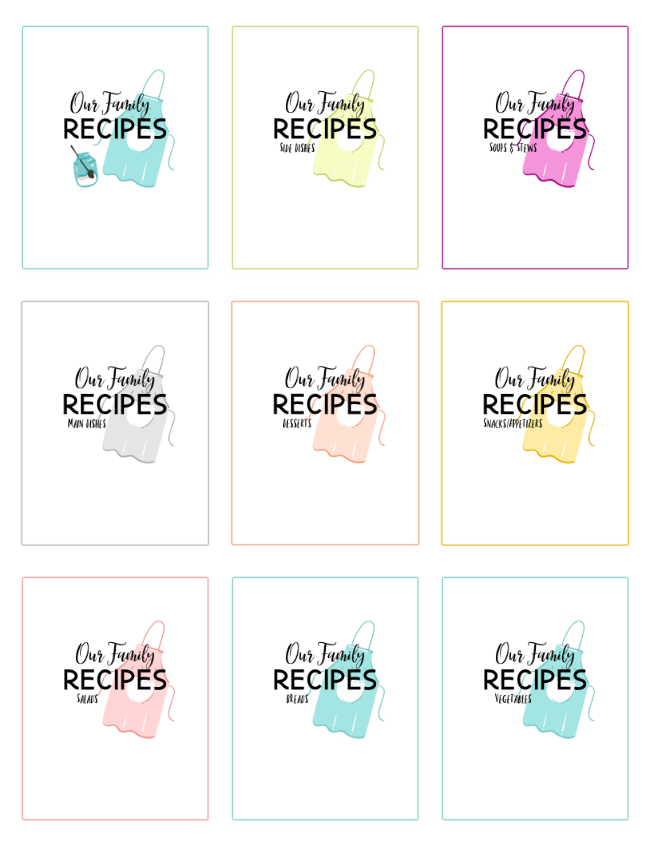 I've created a cover  as well as category pages to divide the following sections:
Breads, desserts, main dishes, appetizers and snacks, vegetables, soups and stews, sides, and salads.
How To Assemble a Family Cookbook Using Our Cookbook Printables
You'll need:
A binder with pockets
Sheet Protectors
Most food blogs have a recipe card plug-in that makes printing recipes easy. I've been slowly working on printing out my blog recipes to keep in my binder. When I want to make the recipe, I print out a copy to keep in my binder.
I love the handwritten and typewritter printed index cards from my grandma, and keep them in the binder pockets. I took the time to type the recipes in a word doc to print and keep in the sheet protectors, but just couldn't get rid of the cards. So now I have both.
Our Family Recipes Cookbook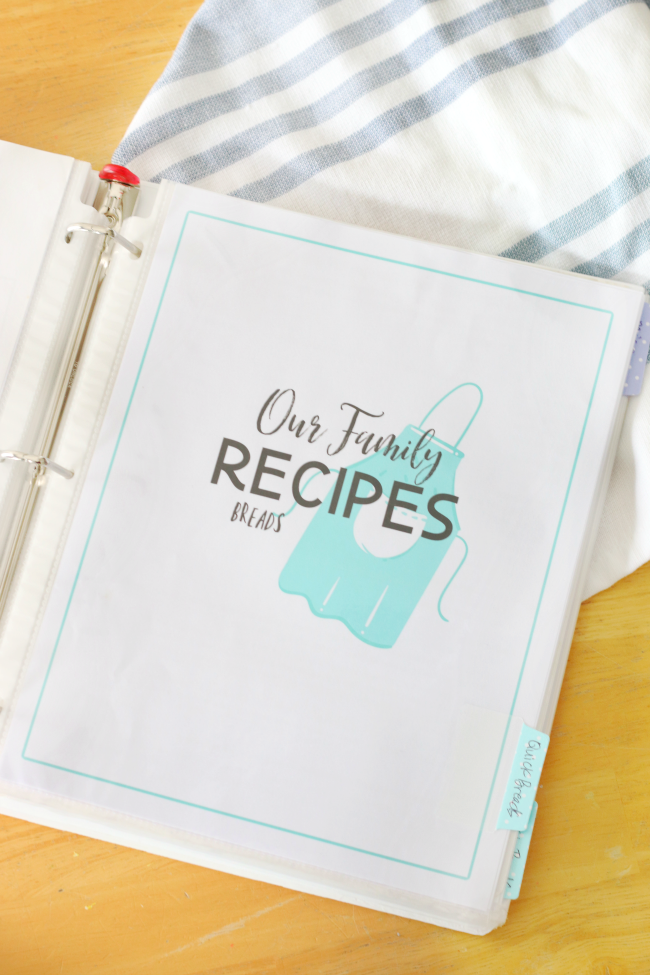 I have so many bread recipes that I created sub categories. A quick bread section and a yeast bread section. I simply added a sticky tab to divide those sections.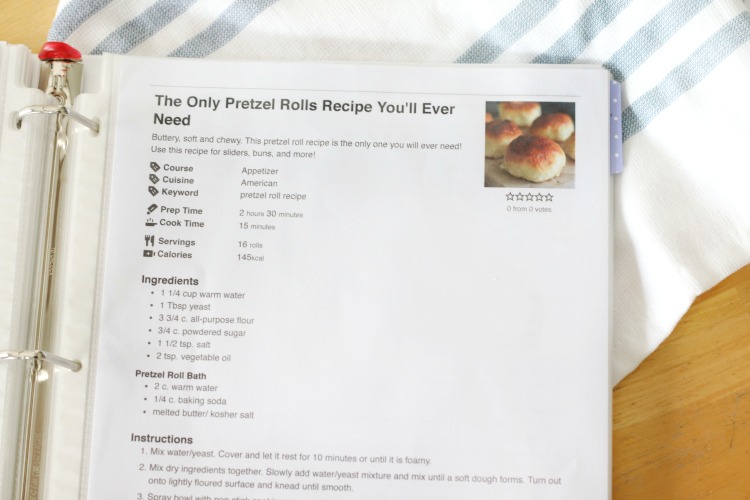 Have you tried our pretzel roll recipe? It's my favorite to use for sliders and hamburger buns!
3 More Favorite Family Bread Recipes
Quick Garlic Parmesan Breadsticks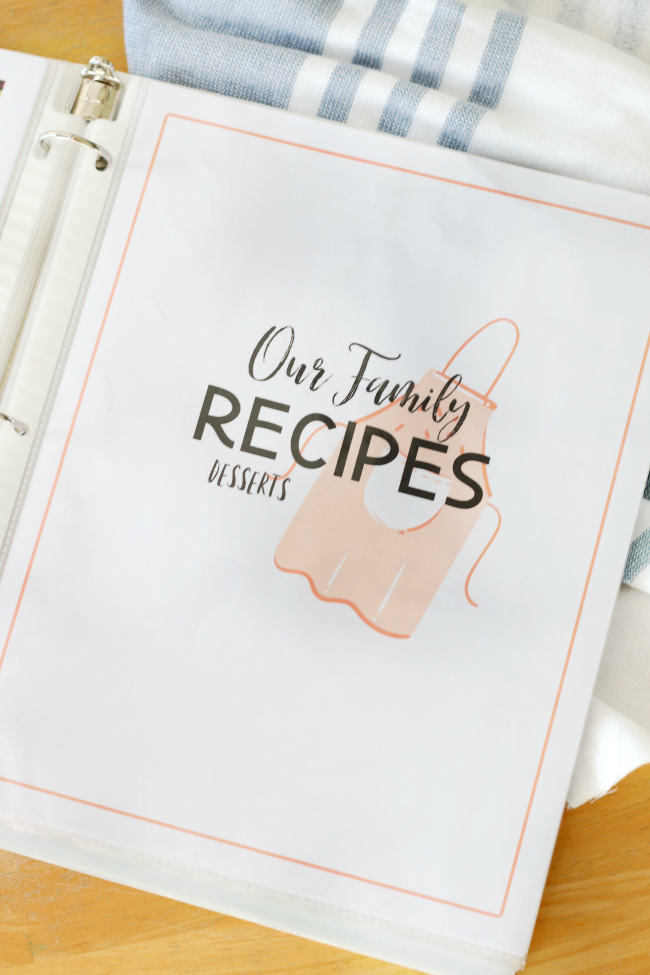 Desserts are definitely my weekness. I like cooking, but I LOVE baking. I decided it was probably a good idea to create an extra tab just for all of the cookie recipes that I have.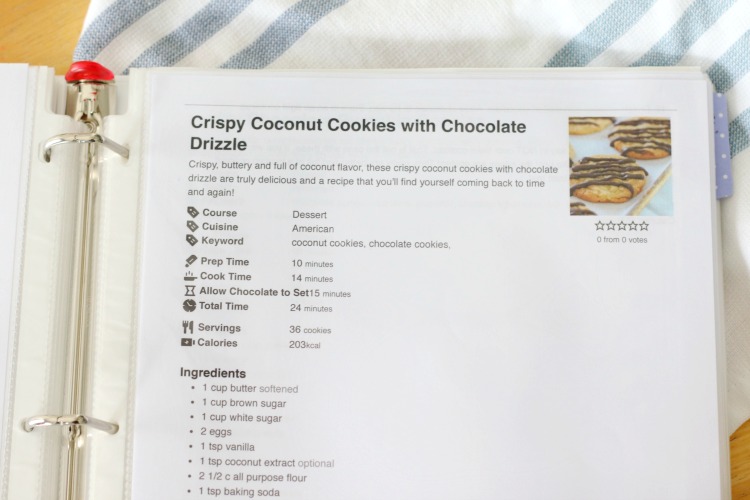 These crispy coconut cookies are one of my favorites!
3 More Favorite Family Dessert Recipes
Texas Sheet Cake from Your Homebased Mom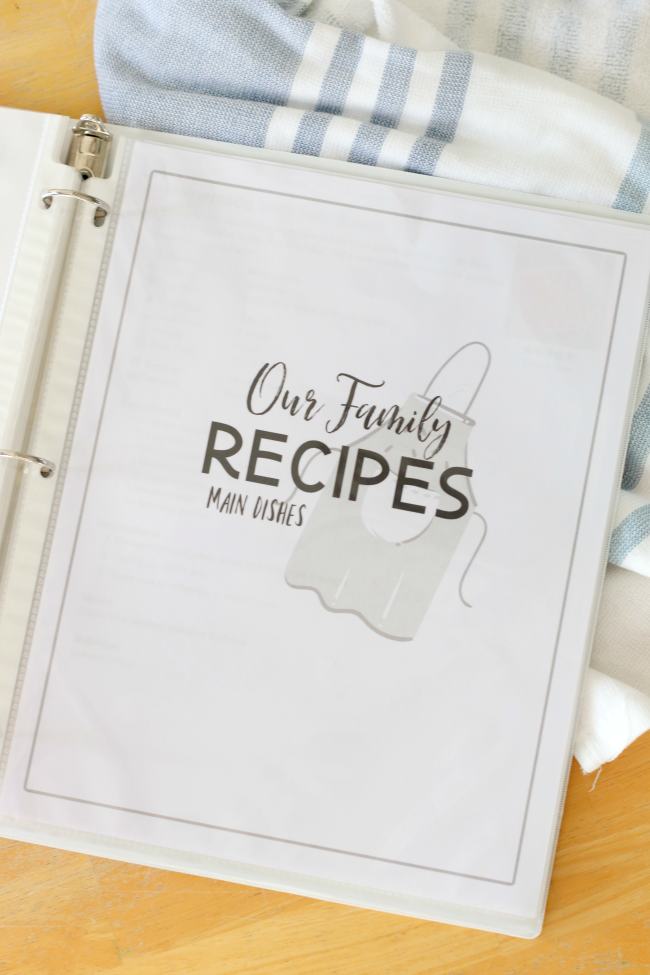 There is also a main dish section for our favorite family dinners like quick stroganoff.
3 More Favorite Family Dinner Recipes
Swedish Meatballs from Skinnytaste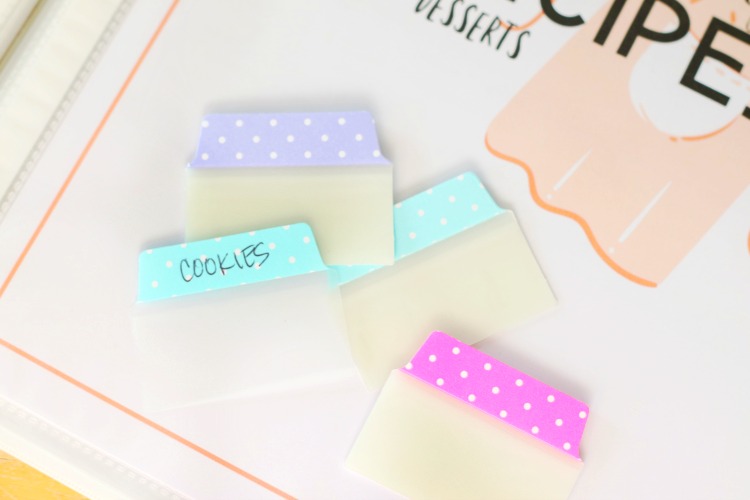 These sticky divider tabs work great and are repositionable. You can create as many sub categories as you'd like!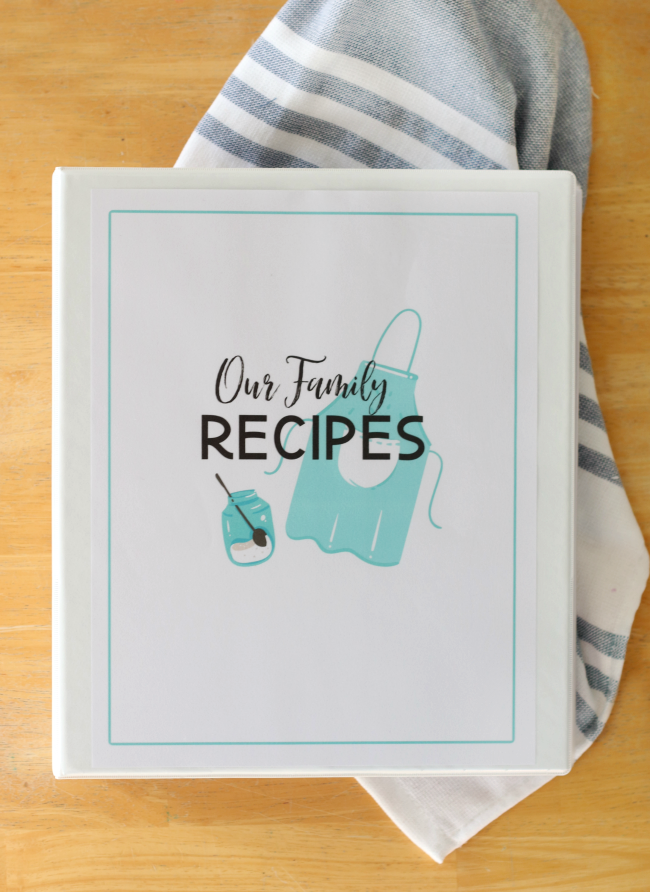 How To Print Cookbook Printables
Cover, side dishes, soups and stews, main dishes, desserts, snacks and appetizers, salads, breads and vegetables.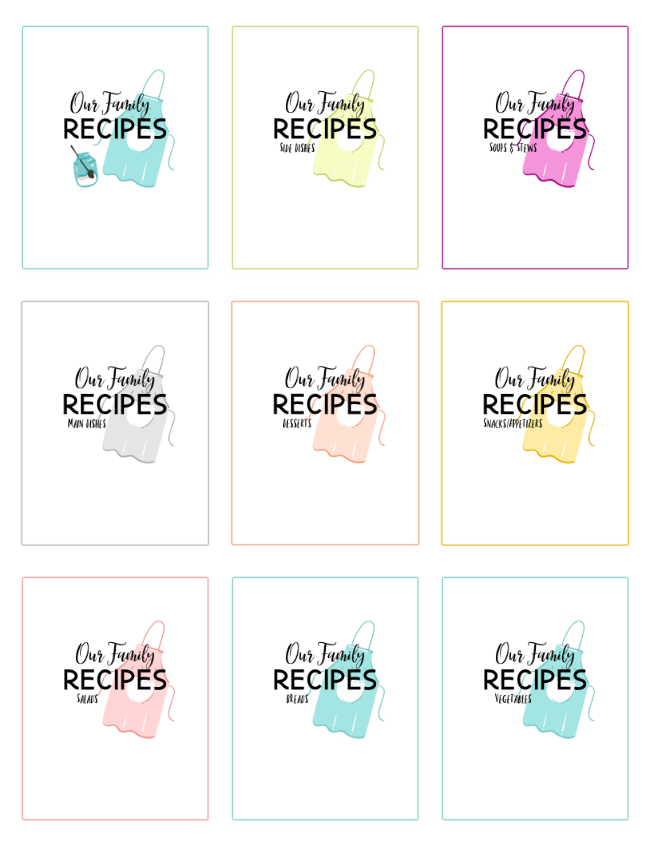 Click here to download the family cookbook printables. You can print out as many as you need!
Open the pdf file.
Download to your computer to save.
Click on the printer icon. Select what pages you'd like to print. Click print.
Welcome! I'm Brandy, mother to 5 darling kiddos and a cute black lab named Toby. My husband is in the Coast Guard so we've lived all over the place, turning each house into a home. I love baking, sewing, making cute things with my kids, and sharing what I've learned with all of you!