Red, white and blue OREO Cookie Balls are fun to make as a family and perfect to bring to summer gatherings. 
Check out our OREO cookie taste test challenge with printable score sheets!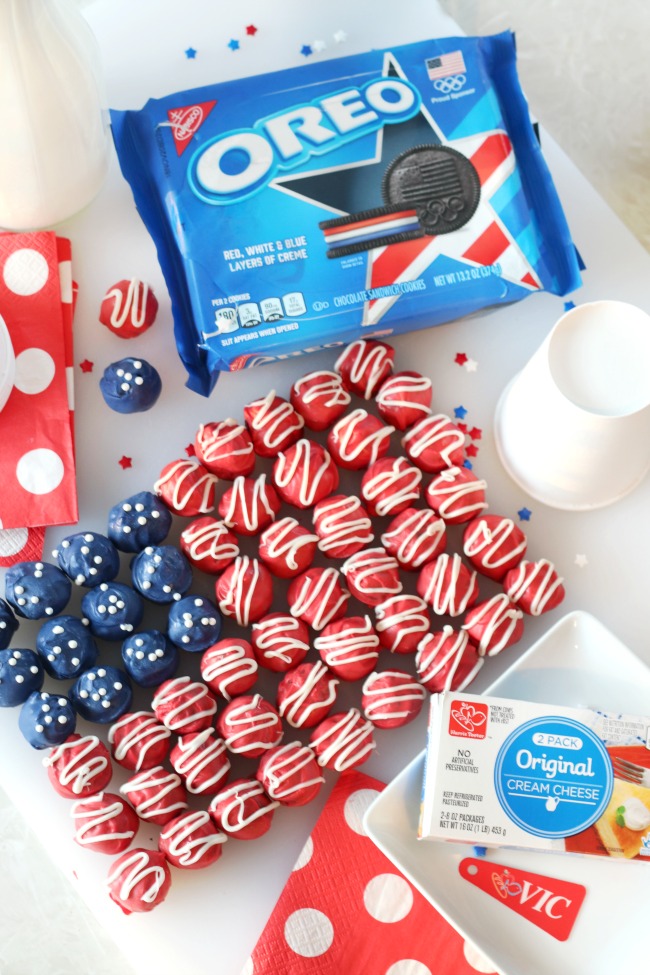 Watch Our Step By Step Video!
With so many things being postponed this year, we are making the most of the time we have close to home and creating our own summer memories. We were sad to see that the Olympic Games Tokyo 2020 have been postponed until July 2021. We understand why, but we're looking forward to watching our favorite sports! What are your favorite summer Olympic sports to watch? Ours are diving, swimming, gymnastics, and rowing. Instead of watching them, we decided to DO them on our own!
Ruby and Kaylee are learning how to dive this month during swim lessons, and Dallin went kayaking in the Chesapeake Bay with a few friends last week. We also installed a trampoline sprinkler around the top of the trampoline net to keep the kids cool while they jump. We are finding ways to incorporate our favorite summer sports into our everyday activities.
I picked up a few packages of Oreos on my last shopping trip. One to keep in the pantry, and two more to turn into OREO cookie balls…red, white and blue cookie balls!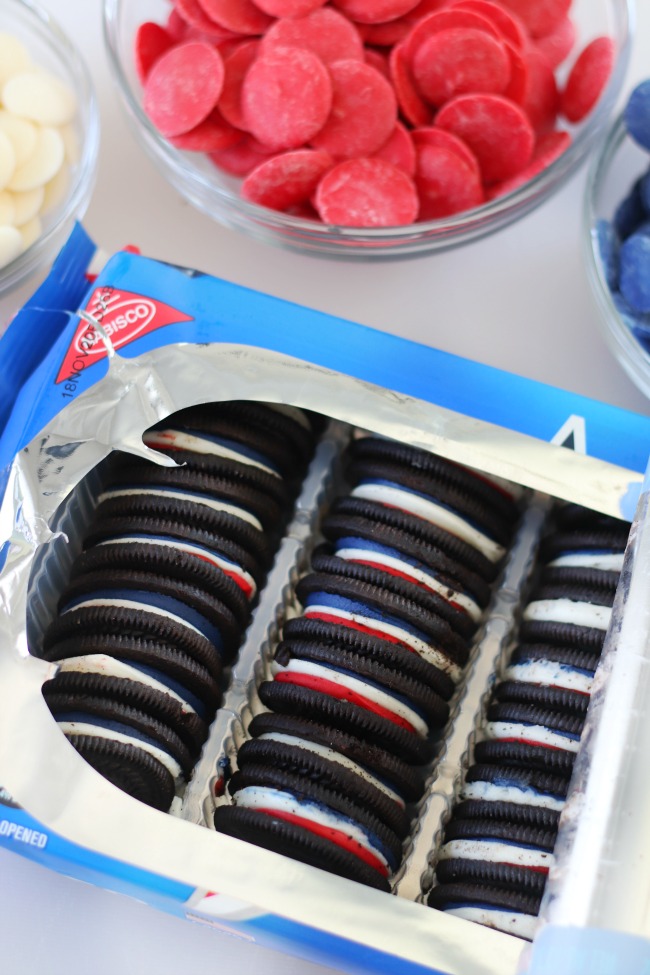 What a fun summer treat. These would be perfect to snack on during a family game night! Here are some of our favorite backyard family games to play.
Family Games To Play At Home
Egg Race: place an egg on a spoon and race your opponent to the finish line. If you drop your egg, you're out (or have to start over)!
Balloon Race: Race to the finish line with an inflated balloon between your knees!
Water Balloon Volleyball: Played with partners. Each person holds two corners of a beach towel and works together to launch a water balloon to the other side of the net where two more players work together to catch it in their beach towel.
Easy Family Group Games
Octopus:
The rules: One person is the octopus and the rest of the group are fish. The octopus calls out what color of fish he/she challenges to swim past him/her based on the clothing they are wearing. If they can swim past the octopus and make it to the designated safe spot (the sidewalk in this case) they are free. If one gets tagged they are it. The octopus can also say "all fish" and all fish have to swim past instead of only a certain color of fish.
Sardines:
The rules: One person hides while the rest of the group counts. Then they disperse looking for the first person. When they find that person they hide WITH them! Pretty soon there is a group of kids hiding together. Play continues until the last child finds the group. Whoever was the first person to find the child who was hiding gets to hide first in the next round.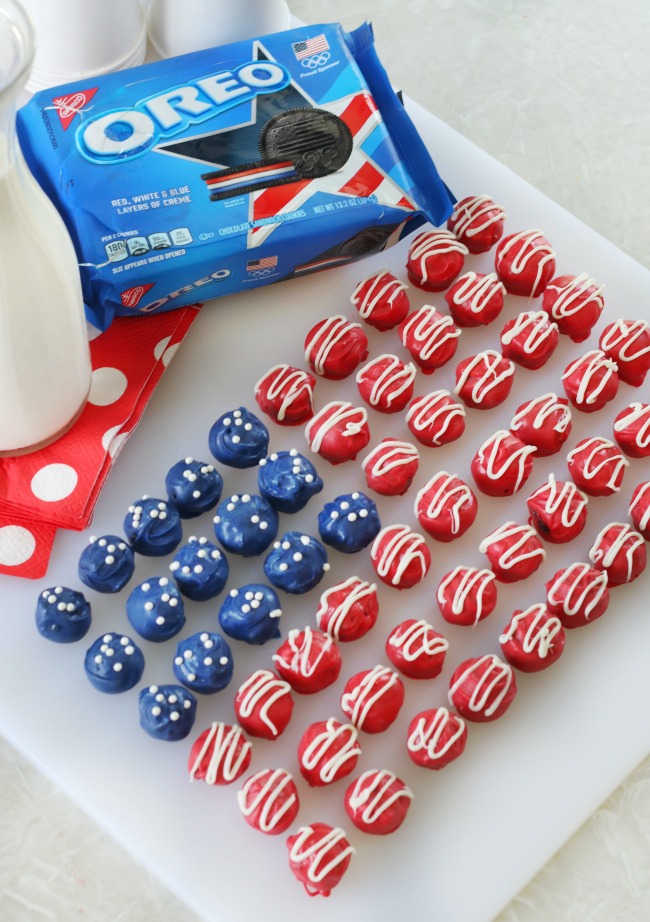 Red, White and Blue Oreo Cookie Balls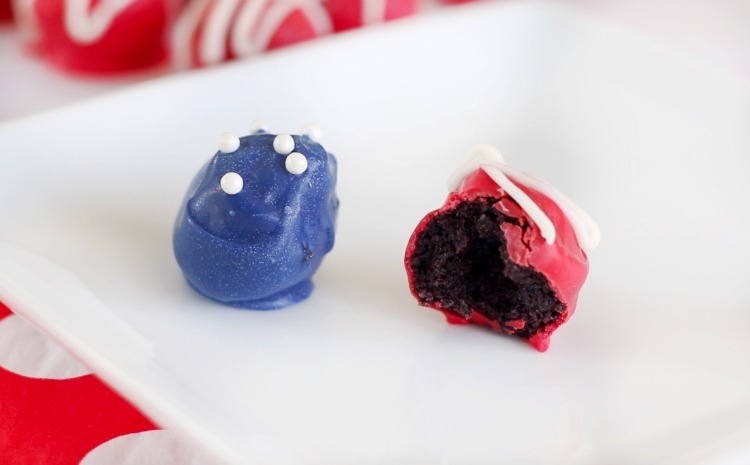 You can use regular OREO Cookies to make cookie balls as well. When blended, you can't see the colored filling. You can switch up favors to make a variety of delicious cookie balls.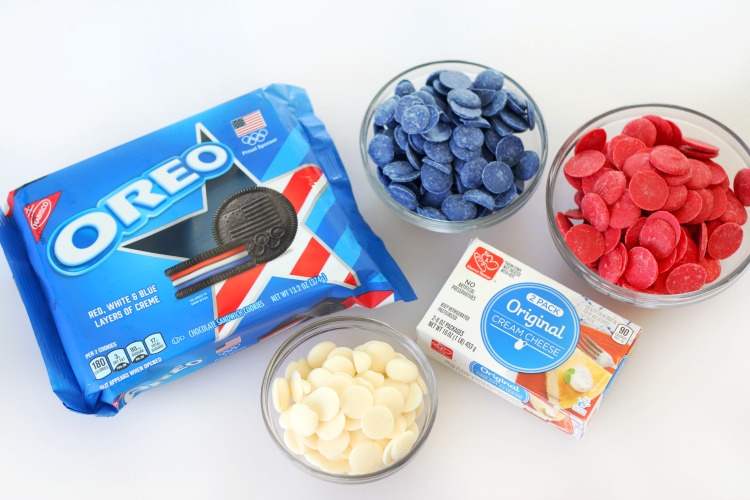 Ingredients
1 pkg. OREO Cookies, finely crushed
1 (8 oz.) package cream cheese
5 oz. blue candy coating wafers, melted
5 oz. red candy coating wafers, melted
1 oz. white candy coating wafers, melted
4 tsp. sprinkles
How To Make OREO Cookie Balls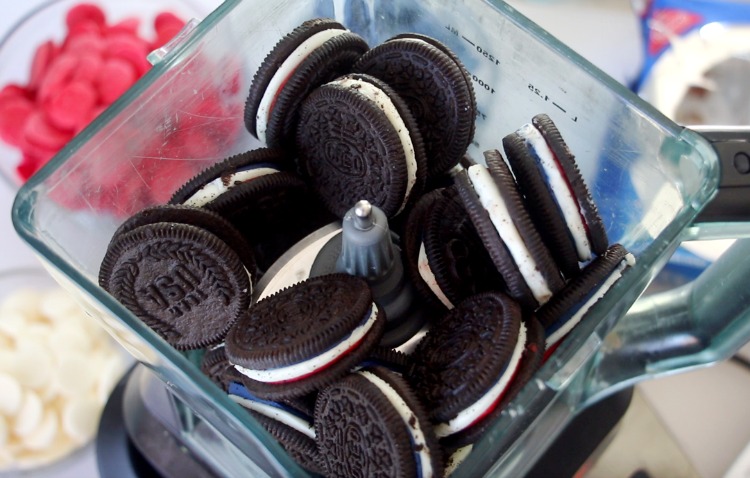 I like pulsing mine in a blender or food processor. If you don't have one of these you can place the cookies in a bag and crush them with a rolling pin. You'll need about one package of OREO Cookies to make a batch of OREO Cookie Balls.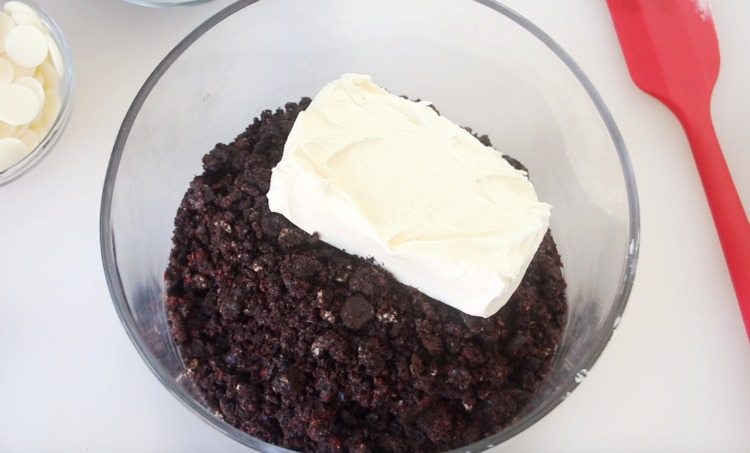 Mix in 1 package of cream cheese with the crushed cookies until a soft dough forms.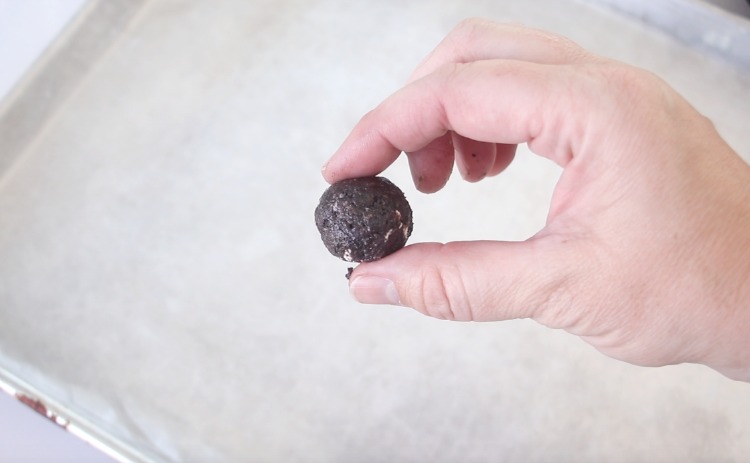 Roll into 60 (1 inch) balls and place on a baking sheet lined with wax paper. Freeze 10 minutes. While the cookie ball centers freeze go ahead and melt your candy melts.
You can use a double boiler or microwave. I microwave mine for 30 seconds then give them stir and continue microwaving in 15 second intervals until smooth.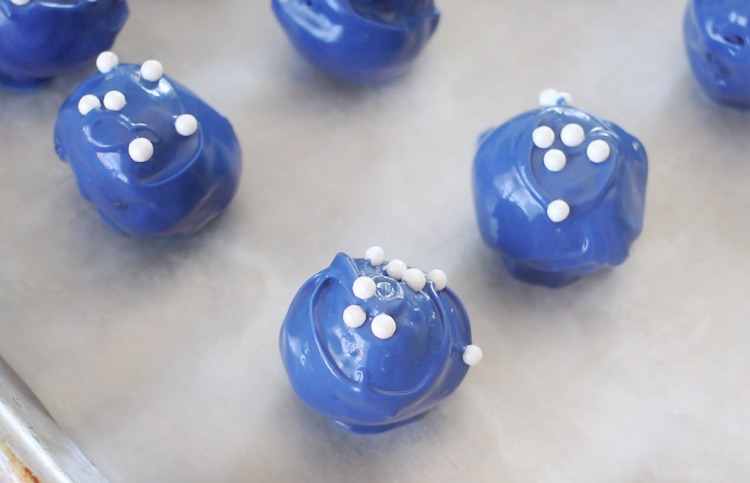 Dip 15 cookie balls in blue candy melts and the rest in red. Add white sprinkles to look like stars on the blue cookie balls.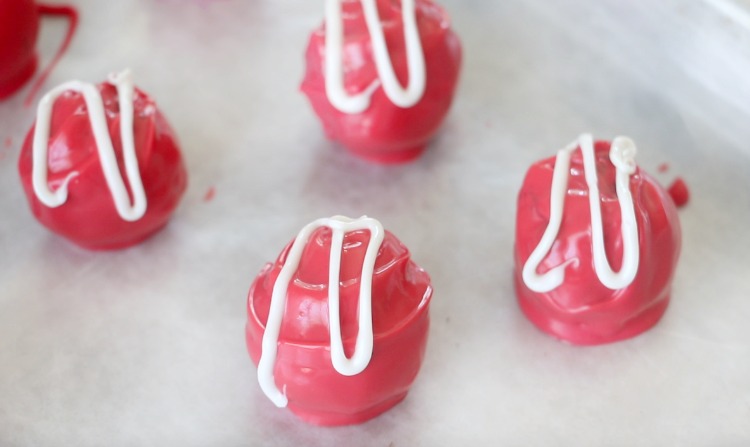 Drizzle the red cookie balls with white candy melts.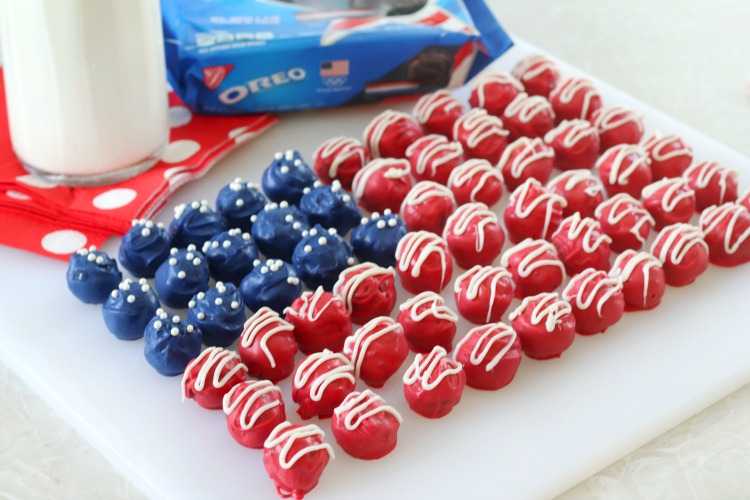 This recipe makes 60 delicious cookie balls to arrange like an American flag. Arrange the OREO cookie balls in 6 rows with 10 balls in each row. Serve with milk.
OREO Cookie Balls Recipe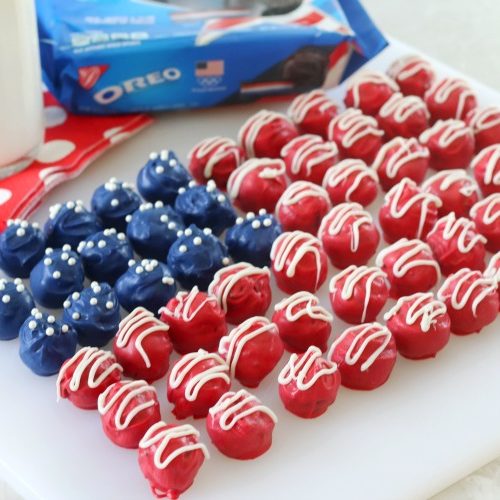 Red, White and Blue Oreo Cookie Balls
Red, white and blue OREO cookie balls are fun to make as a family, and perfect to bring to summer gatherings. Make 60 cookie balls in a batch!
Print
Pin
Rate
Servings:
60
cookie balls
Ingredients
1

8 oz. package

cream cheese

softened

1

19.1 oz. package

OREO cookies

about 36 cookies, finely crushed

5

ounces

blue candy coating wafers

melted

4

teaspoons

white sprinkles

15

ounces

red candy coating wafers

melted

1

ounce

white candy coating wafers
Instructions
Mix cookie crumbs and cream cheese until blended.

Form into 60 (1-inch) balls. Place balls on wax paper lined baking sheet and freeze for 10 minutes.

Dip 15 balls in blue candy coating and sprinkle with white sprinkles.

Dip remaining balls in red candy coating and drizzle with melted white candy coating. Return to baking sheet.

Chill cookie balls 1 hour, or until candy coating is firm.

Arrange cookie balls on a platter, in 6 rows of 10 balls each, to resemble an American flag.
Notes
Note: if candy coating appears to be too thick, stir in up to 2 tsp. shortening into melted candy before dipping cookie balls.
Nutrition
This creative recipe collaboration was sponsored by Nabisco.
Welcome! I'm Brandy, mother to 5 darling kiddos and a cute black lab named Toby. My husband is in the Coast Guard so we've lived all over the place, turning each house into a home. I love baking, sewing, making cute things with my kids, and sharing what I've learned with all of you!