This farmhouse egg wreath is easy to make! Paint the eggs any color you'd like, and hang in a farmhouse kitchen or on a chicken coop! This post contains affiliate links to Amazon.
You might also like our 10-minute boxwood wreath or Dollar Spot pumpkin wreath!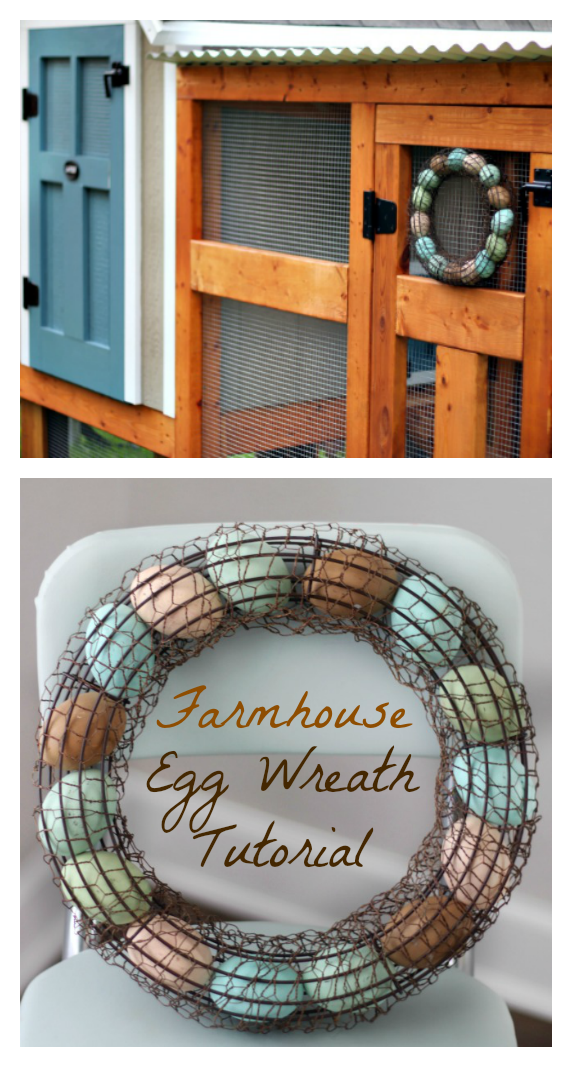 We decided early in the spring that it was time to add chickens to the family. My husband and boys came up with a plan for the coop, and spent the next few months working on it. I couldn't be happier with how it turned out, and I've had a lot of fun adding a few decorative touches!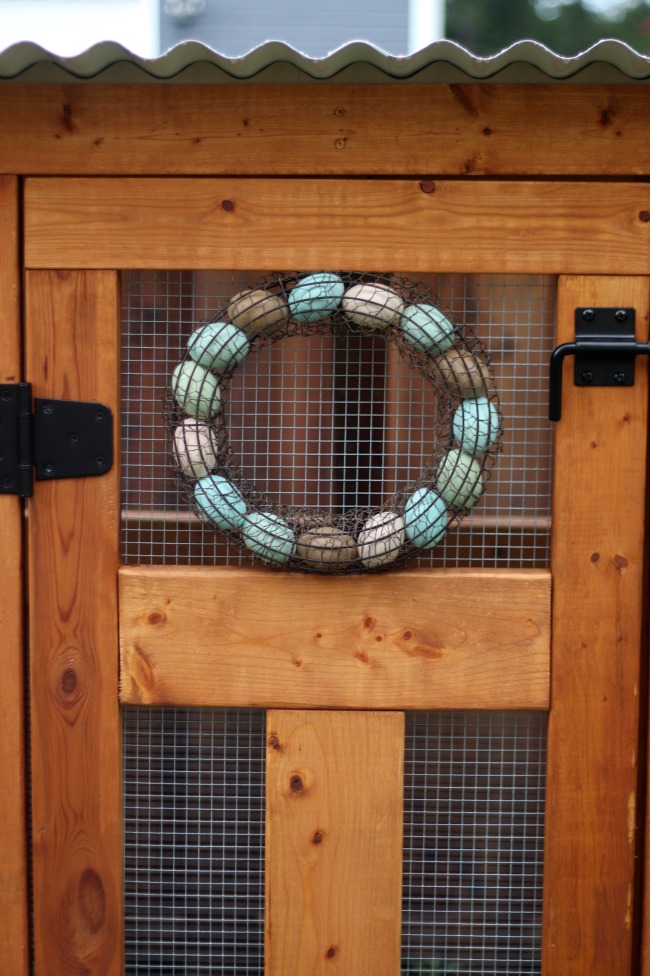 The chicks are still too young to live in the coop, so they are living in a brooder in our garage. They are 3 weeks old, and I absolutely adore them. Their personalities are hilarious, and we can't wait for them to be able to spend more time outside, exploring and living their best lives.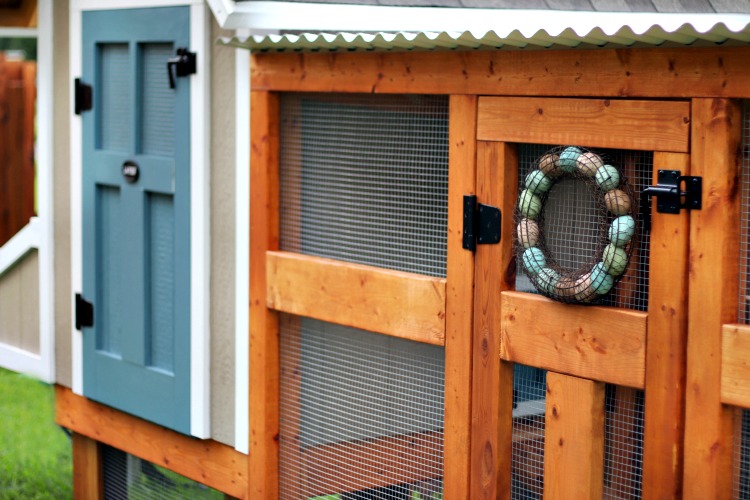 I'll share more about the coop when we've had a chance to see how the chickens like it, but for now let's focus on the farmhouse coop wreath! Priorities, ha!
Storebought eggs wreaths are garbage. I've ordered them in the past, and they are usually made with styrofoam eggs glued to a grapevine wreath base. I wanted a sturdy wire egg wreath, and they simply don't exist—at least they didn't until now.
Chicken Coop Wreath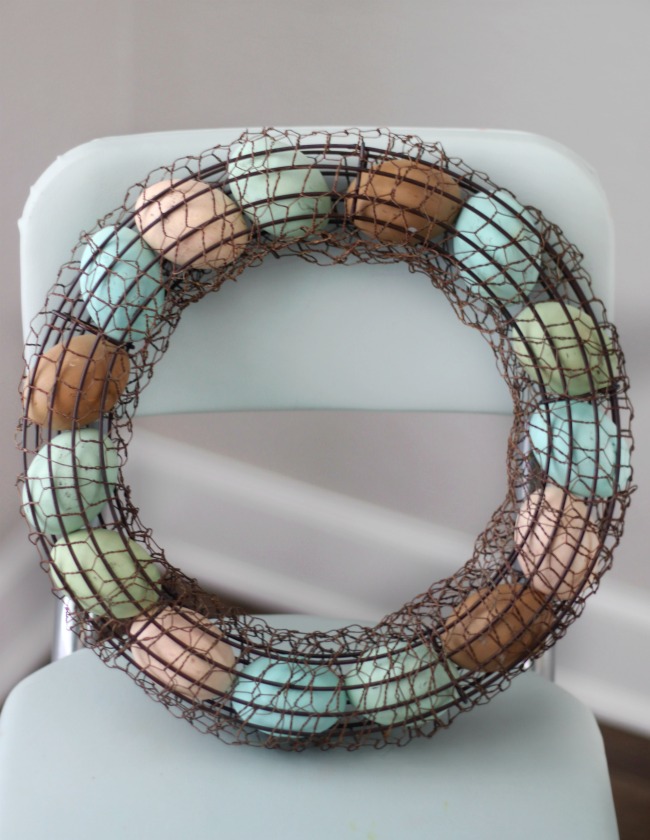 This farmhouse egg wreath would be stunning in a kitchen or outside on a coop. It was so easy to make, and exactly what I pictured in my mind. I love when that happens!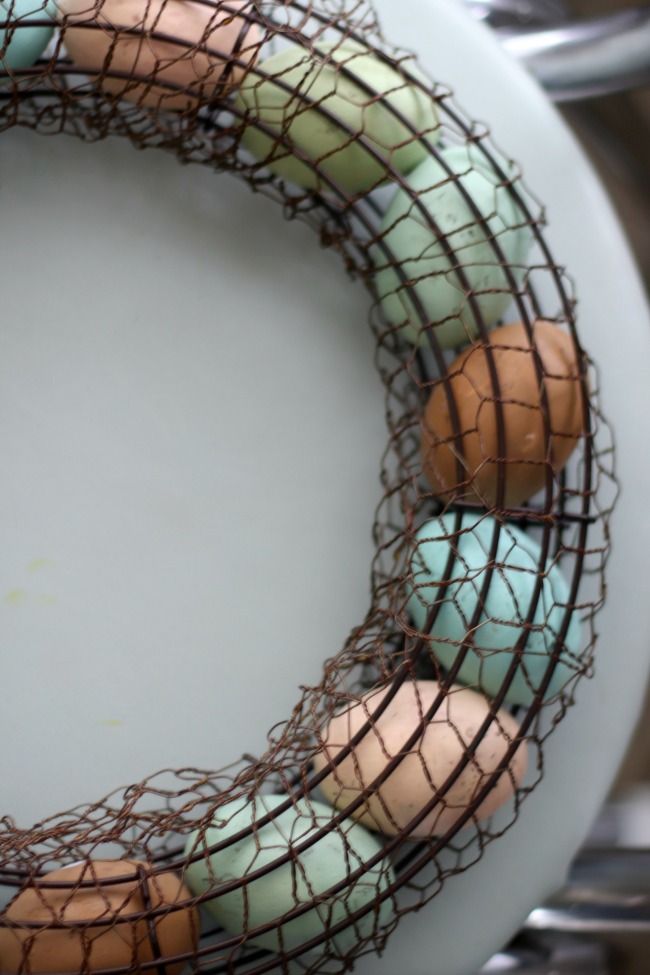 Farmhouse Chicken Wire Wreath Supplies
I took a chance and ordered everything from Amazon, hoping it would fit together. I purchased 2 wire wreath frames and spray painted them brown.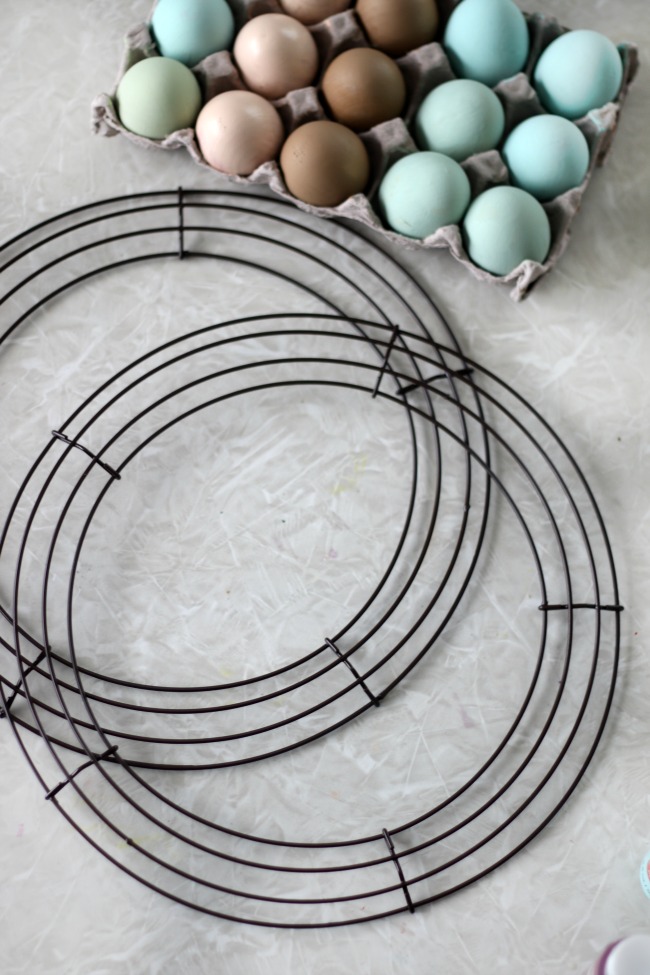 Most wire wreath frames are green, but adding two coats of spray paint is a super simple fix.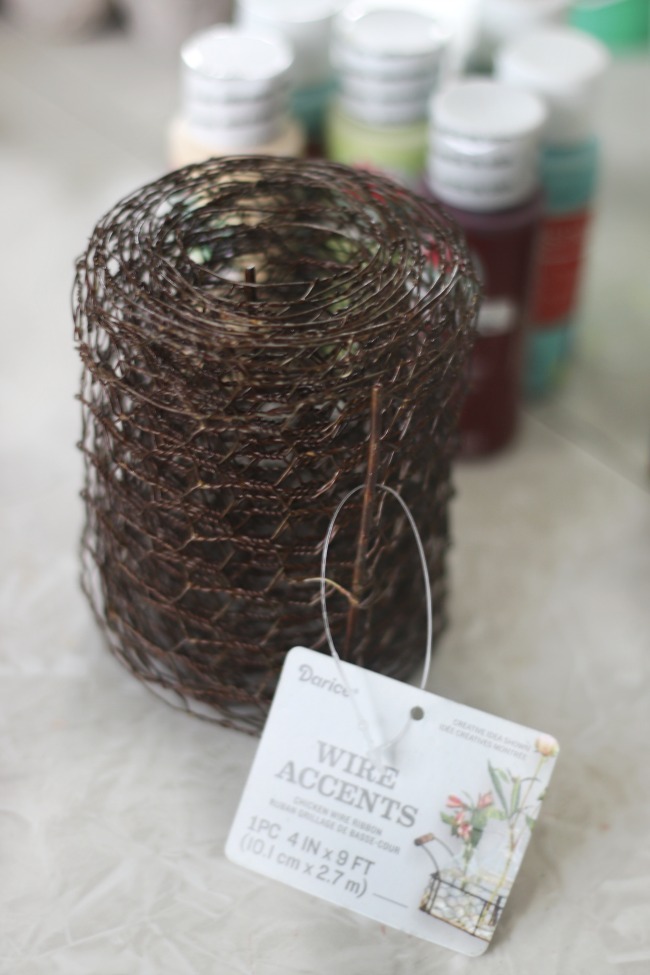 The chicken wire is craft wire so it's easier to work with. You'll need the entire 9 feet package to make this wreath.
Note: If the one I listed above is out of stock, here is an alternative.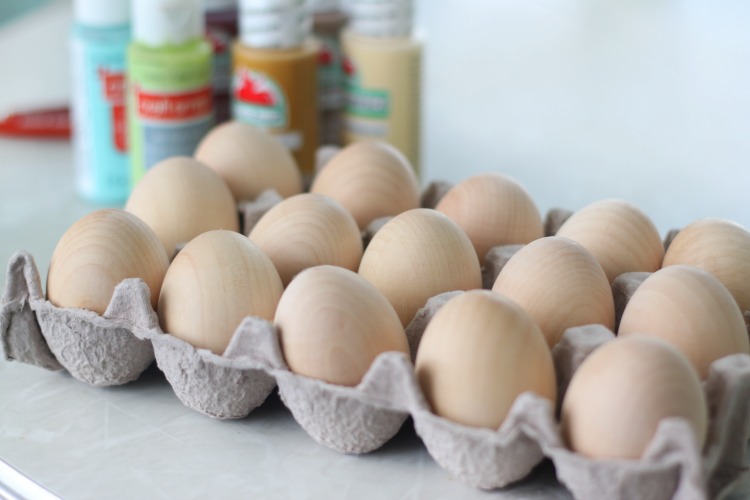 The eggs are wooden eggs and are JUST THE RIGHT SIZE for the wire frames. You'll need all 15 eggs to make the wreath.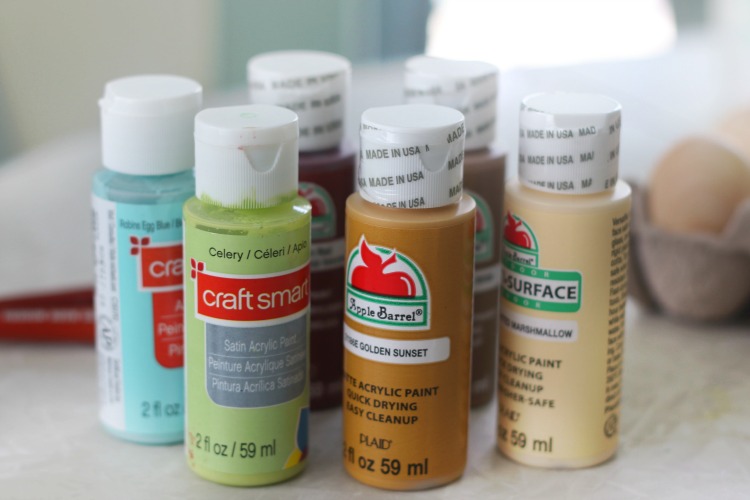 My favorite part was coming up with the colors for the eggs. I used a variety of paint to do this. I toned down blue, green and brown paints with cream and khaki colored paints to achieve the subtle hues.
The rusty craft wire will leave specs on the eggs which makes them look speckled. No need to add any extra decorative details to the eggs with paint!
Ready to make your own farmhouse egg wreath? Let's get started!
Farmhouse Egg Wreath Tutorial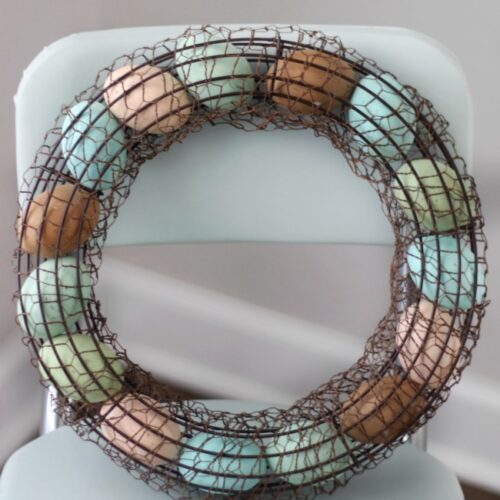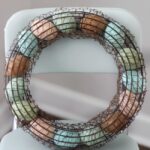 Print
Farmhouse Egg Wreath Tutorial
This farmhouse egg wreath is easy to make! Paint the eggs any color you'd like and hang in a farmhouse kitchen or on a chicken coop!
Equipment
paint brushes

wire cutters
Instructions
Spray two wire frames with brown spray paint. Let paint dry.

Paint wooden eggs with acrylic paint. Apply 2 coats and allow paint to dry completely. Spray finished eggs with clear spray paint.

Place one wire wreath frame on table. Set eggs inside.

Place other wire wreath frame on top.

Use wire cutters to cut the end off of the wire (this makes it easier to start wrapping the wreath) and wrap chicken wire tightly around wreath. This is easiest if you have someone to help you hold the wreath in place while you wrap the wire around the first couple of times.

Continue wrapping until the entire wreath is covered. You will have just enough wire (9') to complete the wreath.

There will be a lot of rusty dust from the wire. This is normal.

When you get to the other end of the wire, tuck the ends into the wire on the back of the wreath.

Spray finished wreath with clear spray paint.
Welcome! I'm Brandy, mother to 5 darling kiddos and a cute black lab named Toby. My husband is in the Coast Guard so we've lived all over the place, turning each house into a home. I love baking, sewing, making cute things with my kids, and sharing what I've learned with all of you!