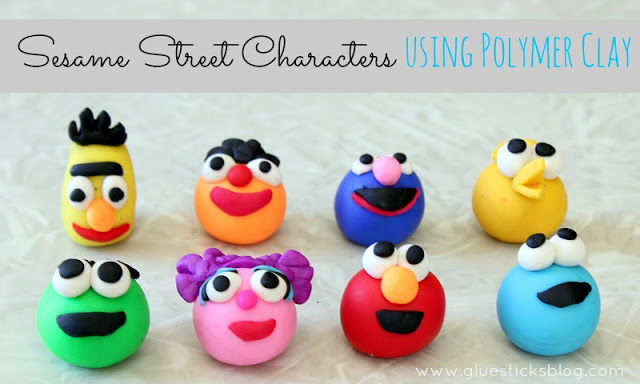 Most folks stopped playing with play-doh sometime during their childhood. I guess I am not most people because I had way too much fun making these polymer characters with Ruby! We started out with the plan of making Elmo and Cookie Monster, but once I got started I had to make all of our favorites. And here they are!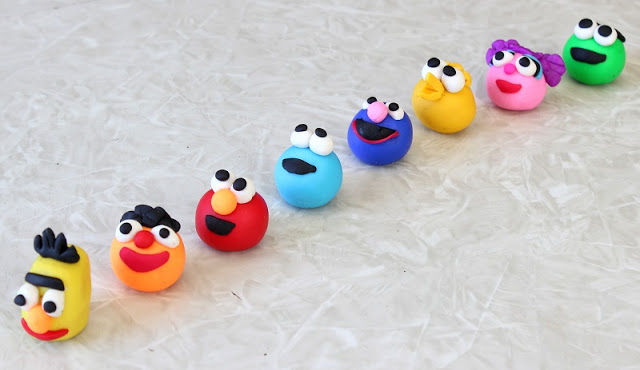 They just make me laugh everytime I see them. Such goofy, fun characters that remind me of being a kid. Except for Abby. I don't think she was around back them.
Ruby is at the age where she no longer puts odd objects inside her mouth so I felt safe letting her help me. If you have young children just be aware that this is not edible like salt dough and you need to wash their hands thoroughly after using it.
We started out by breaking off even portions of clay and rolling them into a ball for the heads of the characters.
Then we made eyes. Lots of them.
You can use a paring knife or other kitchen tools to form and cut the clay. In the photo above I was cutting out Big Bird's beak.
Polymer clay sticks really well to itself. Just press and it's on there (once it's baked). Since I kept all of the shapes the same (except for Bert) it was easy to make them look uniform.
Here they are. All ready to go into the oven. 265 degrees for 30-40 Â minutes. Allow to cool on the pan before removing.
These guys are nice and sturdy. Ruby has been rolling them around, carring them all over the house and sharing them with her siblings. She can drop them on the carpet or short distances and they won't break. They don't crumble and they are completely solid. That is the beauty of polymer clay.
This little guy was waiting for the kids when they got home from school. They thought it was pretty funny.
Which character is your favorite?
Oh, and here are some "Puffles" (Club Penguin) that Kaylee made when she got home from school. She didn't want to be left out of the fun!
This post contains sponsored product (polymer clay).