#KetchupsNewMustard #CollectiveBias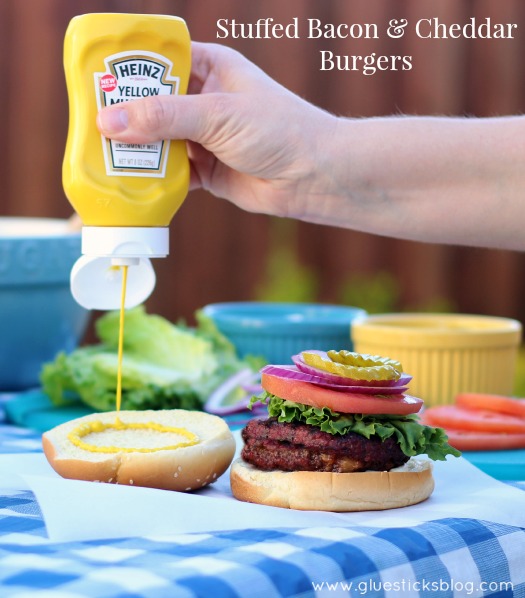 It's April which means that BBQ season has been here for a couple of months in California. Don't hate. The kids asked if we could eat outside on Saturday and it was just too nice outside not to. And miracle of miracles, it was a gorgeous night without mosquitos. I have no idea where they were because they are usually all over me! We made stuffed bacon and cheddar burgers, classic potato salad, and enjoyed fresh pineapple too. All on paper plates and diner baskets for easy clean up. My favorite kind of dinner!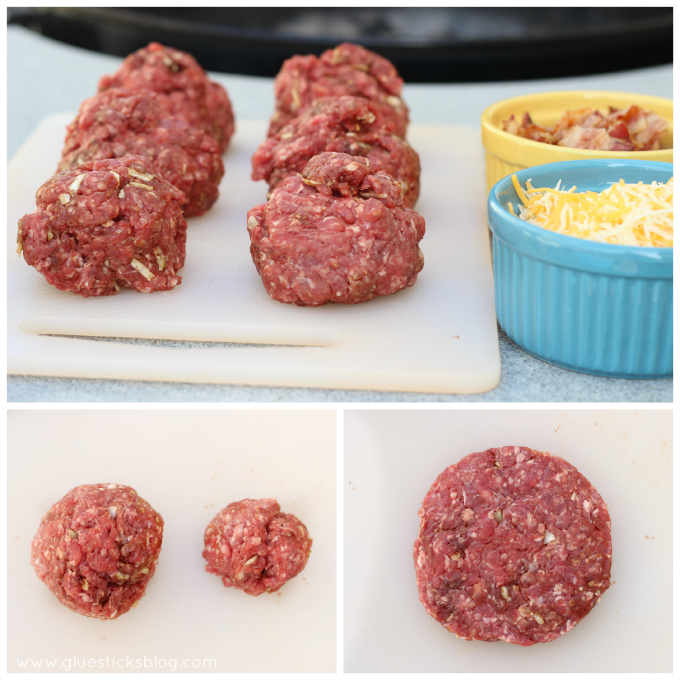 Have you made stuffed burgers before? There are a couple of ways to make them and they are fun to customize. We kept them simple with cheddar and bacon, but you could totally add in green chiles, onions, bell pepper, mushrooms, cubed cheeses, the possibilities are endless!
Our basic burger patties start out with 2 lbs. of LEAN ground beef and 1 packet of dry onion soup mix. The onion soup mix gives such a nice flavor.
Separate the ground beef into 6 portions. Break off 1/3 of each ball and set aside. You will end up with 6 bigger portions and 6 smaller ones. Form the bigger portions into flat patties.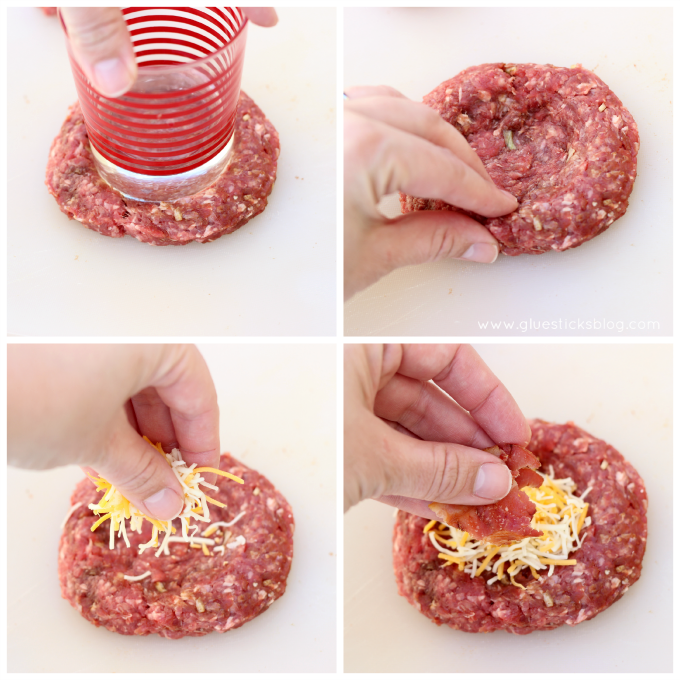 Use your hand (or the back of a cup) to make an indentation.
Press with your fingers to deepen the indentation and fill with your favorite add-ins.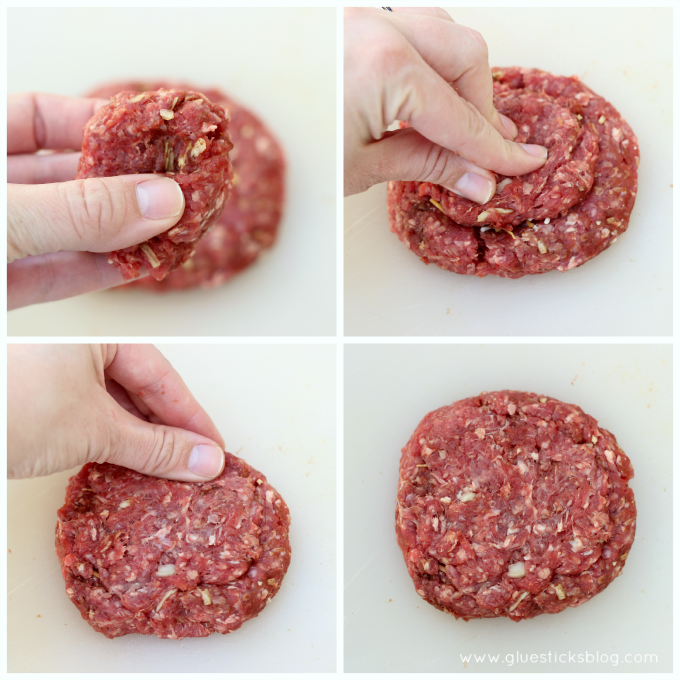 Use the smaller portion of ground beef that your broke off and fill in the gap, covering in your add-ins.
Press around and seal all edges.
That's one way to make a stuffed burger. Here's another!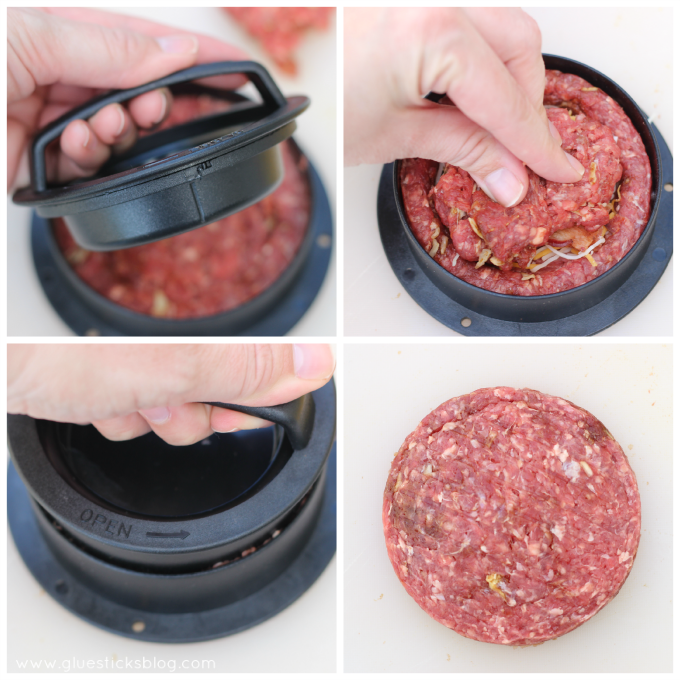 Use a stuffed burger press! I love mine because it makes uniform patties every time. Regular or stuffed and it also makes small sliders!
Grill those bad boys up to perfection! What I like about stuffed burgers vs. just mixing the bacon and cheese into the meat and grilling it all together is that you get less burn off. The cheese will come out slightly, but the bacon stays inside and is perfectly tender and juicy inside the burger.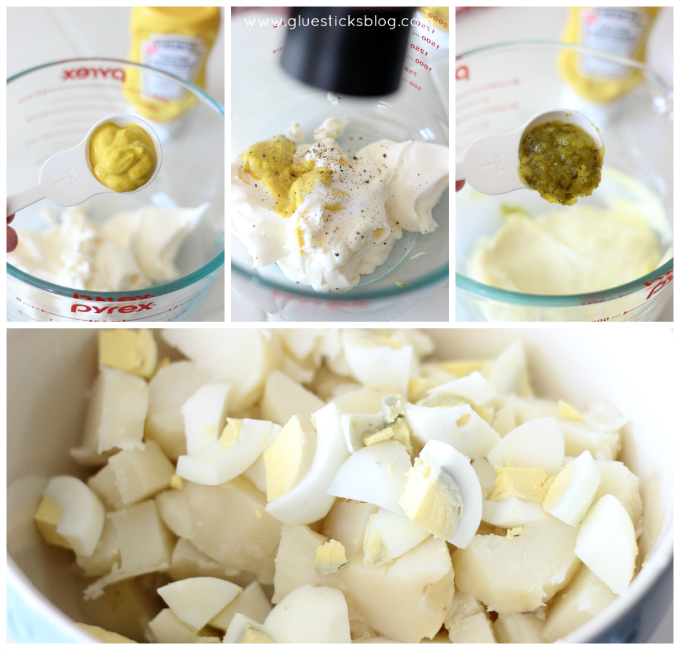 What is your favorite side dish to serve with burgers? Mine is classic potato salad. I brought this to a potluck one time and my friend said, "You brought 'White Trash' Potato Salad, My FAVORITE!". Hmm…a compliment and an insult all in one, ha! She called it that because it was the basic condiment, nothing fancy kind of potato salad. Just mustard, mayo, and relish!
The dressing comes tougher super quick.
1 1/2 c. mayo
1 T. New Heinz® Yellow Mustard
1 T. relish
salt and pepper to taste
Mix dressing into a bowl with 3 sliced hardboiled eggs, 1/2 c. chopped onion, and 6 potatoes that have been peeled, boiled, then cubed.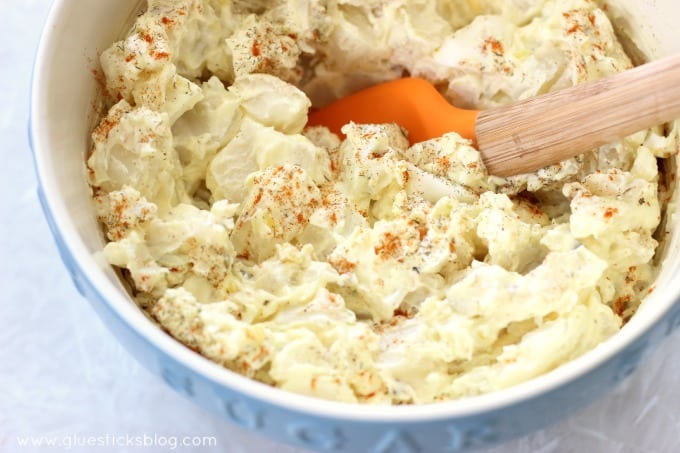 If you want to take it up a notch, sprinkle with dill weed and paprika. Refrigerate until ready to serve!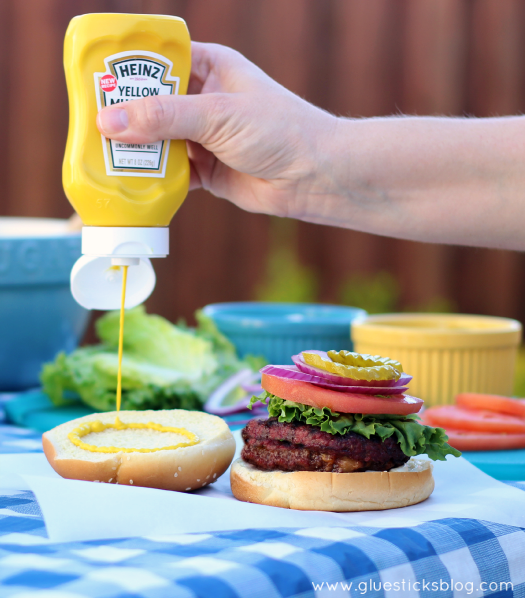 The only thing that I really need on my burgers is mustard. Everything else is just a bonus. I love the tang that it adds and add it to all my sandwiches, hot dogs, and corn dogs!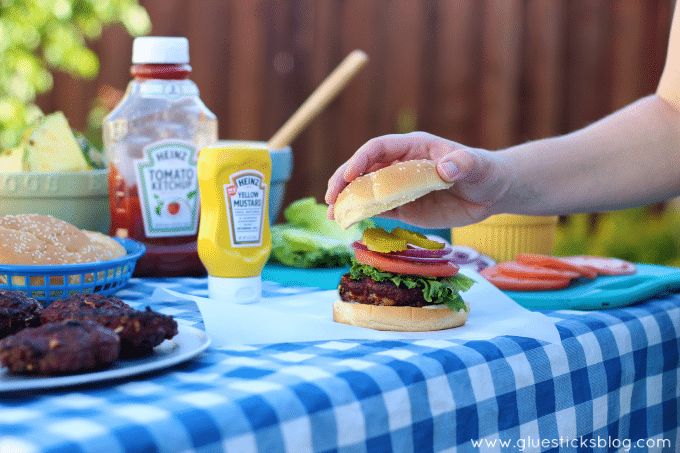 Sadly, I am the only one in my family who likes mustard. Crazy, right? This is why that big ol' bottle of ketchup is almost empty and my small Heinz Yellow Mustard is a smaller size, but I go through it pretty quickly considering! Does anyone else refuse to buy mustard that isn't in the "top-down" squeeze bottle? Nothing ruins a sandwich quicker than a big squirt of mustard water.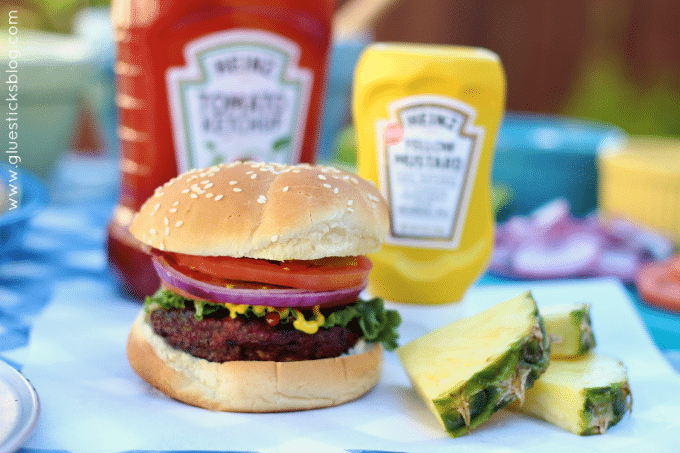 Mayo, stuffed bacon and cheddar patty, Heinz Ketchup, lettuce, red onion, tomatoes, pickles, and a big ol' squirt of Heinz Yellow Mustard and it was just perfect! The kids like helping with dinner prep, so they had a great time customizing their burgers. The burgers were so delicious and filling, but Dallin, who can now out eat both of us, came back for a second burger.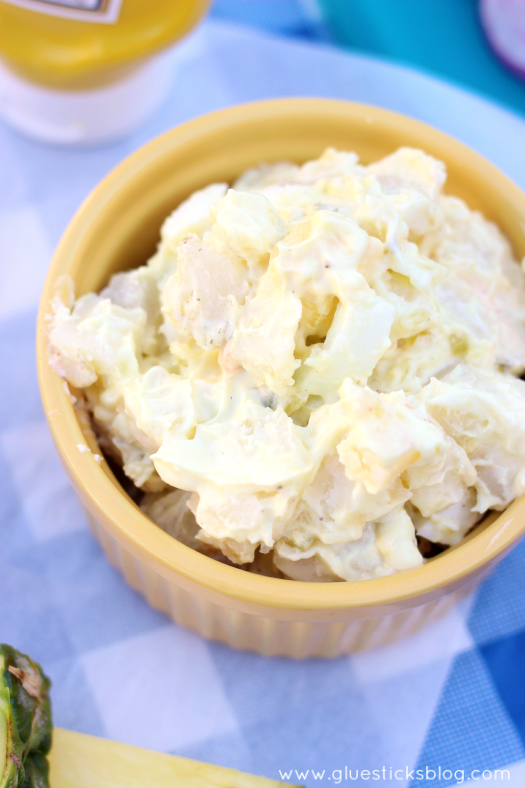 I made sure to save room for my "White Trash" potato salad. Seriously, I hate that phrase, but I can't make this potato salad without remembering that!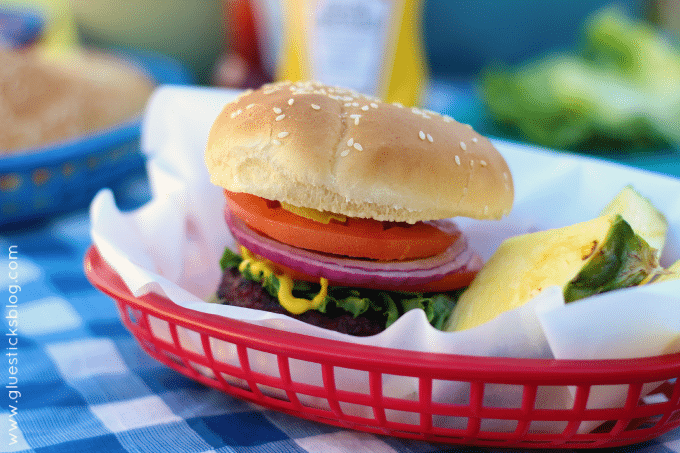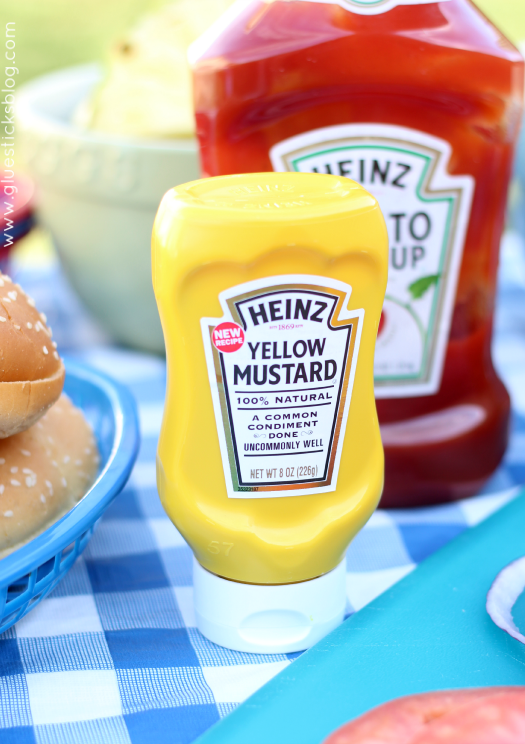 Heinz Yellow Mustard just launched in February at Walmart and is now being sold at other grocery stores too.
Now Heinz Ketchup isn't alone on the shelf, it's tangier cousin is right next to it! (And possibly behind a pole like it was at my Walmart). A secret blend of spices and vinegar, made from 100% natural ingredients, combine for the perfect balance of flavor and tang! And the best part? Heinz Yellow Mustard is a thicker mustard that sits on top of the bread which helps avoid soggy sandwiches. Yes.
Ketchup has a new mustard and you can read find great sandwich and grilling recipes at KetchupsNewMustard.com
You might also like…