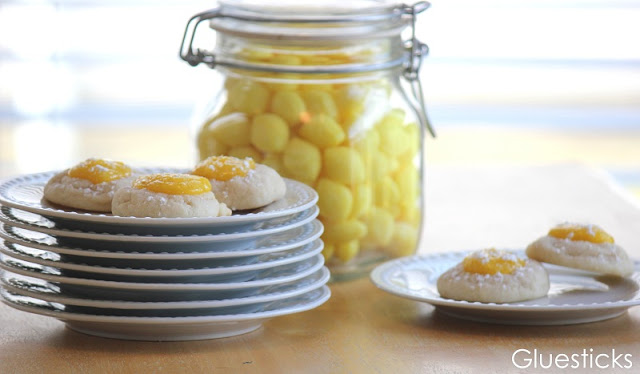 Mmm….lemons! I can't get enough of them. Lemonade, lemon drops, lemon scented candles, cleaning products, etc. There is just something about them that I have loved FOREVER. So when I had a pint of homemade lemon curd leftover from the raspberry lemon dessert spread I made a couple of weeks ago, I couldn't let it go to waste!
Cue: Thumbprint Lemon Bar Cookies. Absolutely perfect, melt in your mouth, cookies. Your welcome 🙂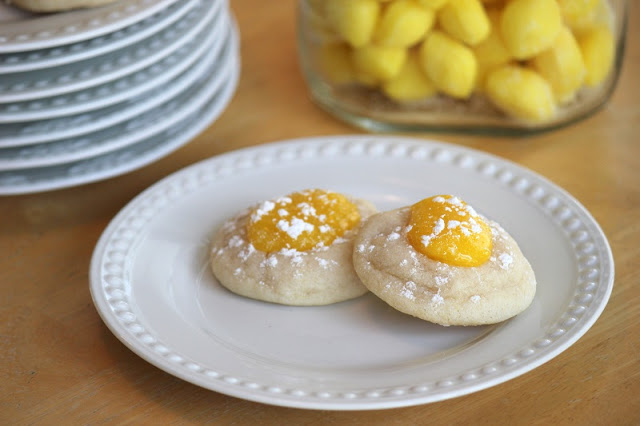 Thumbprint Lemon Bar Cookies
adapted from Lemon Bar Cookie Cups: Barbara Bakes
2 c. flour
1/2 teaspoon salt
1/2 teaspoon baking soda
1/2 teaspoon cream of tartar
1/2 cup butter, softened
1/2 cup sugar
1/2 cup powdered sugar
1/2 cup vegetable oil
1 egg
1/2 teaspoon vanilla
3/4 cup lemon curd
powdered sugar for decorating, optional
Preheat oven to 350°
Combine the flours, salt, baking soda and cream of tartar in a small bowl and set aside.
In a large bowl, cream butter and sugars until light and fluffy. Beat in the oil, egg and extracts. Add flour mixture to creamed mixture and stir until combined.
Drop one tablespoon dough onto a baking sheet. Bake for 8 minutes.
Remove from oven and using the end of a teaspoon or small spoon, make an indentation in the center of each cookie. Fill with a teaspoon of lemon curd. Return to the oven and bake for an additional 3 minutes, or until cookies are firm and lightly browned on the sides. Transfer to wire cooling racks and sprinkle with powdered sugar.
Makes 2 1/2 dozen.