Homemade caramel corn drizzled in white and dark chocolate. This black and white caramel corn is easy to make and incredibly addicting! Just as delicious as any gourmet popcorn and tastes fresh because you made it at home!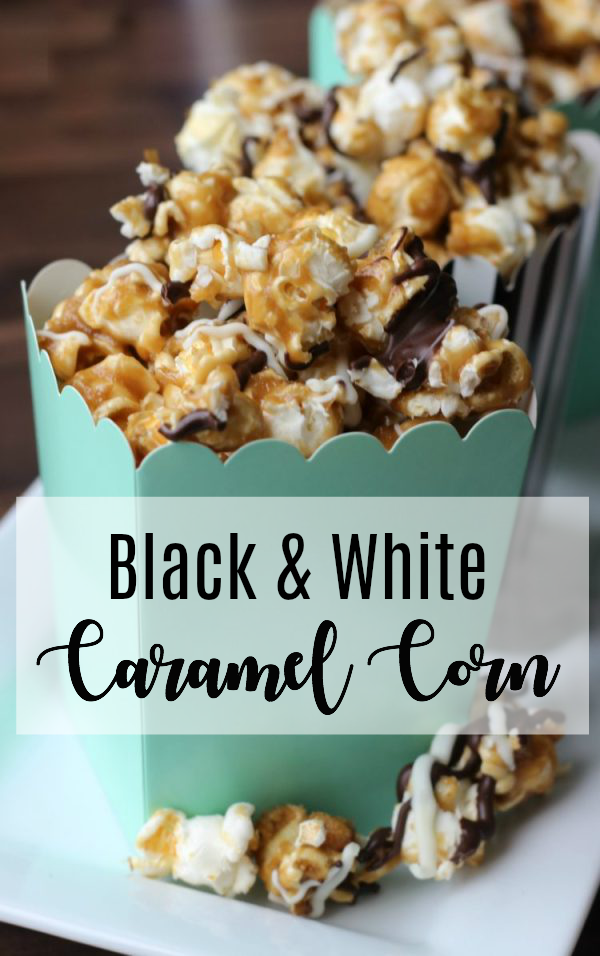 Black and White caramel corn is one of my favorite guilty pleasures and since National Popcorn Day is right around the corner I thought it was only appropriate to make a batch and share the recipe with you. Why do I know that National Popcorn day is this month? Because I married into a popcorn loving family. The kind who don't believe in sharing a bag of microwave popcorn and use large mixing bowls as individual popcorn bowls. You start to keep up on things like this and you know we will be enjoying a few bowls of popcorn come January 19th!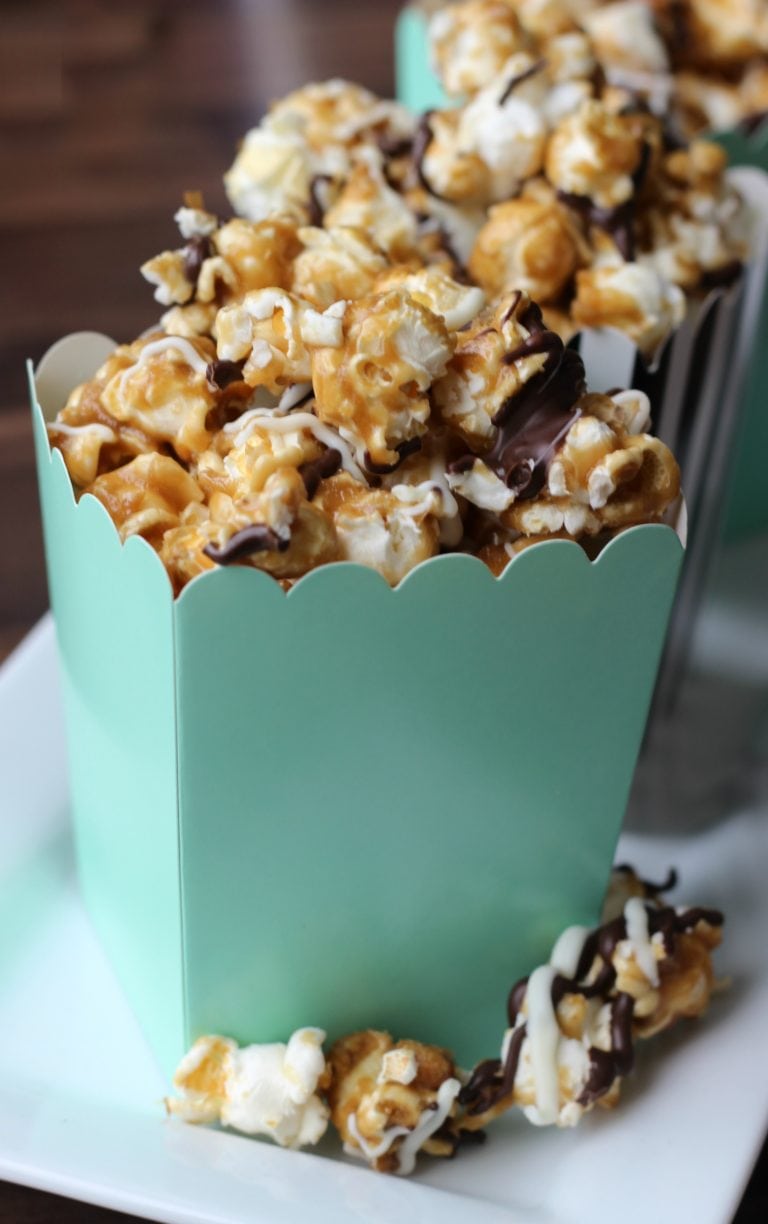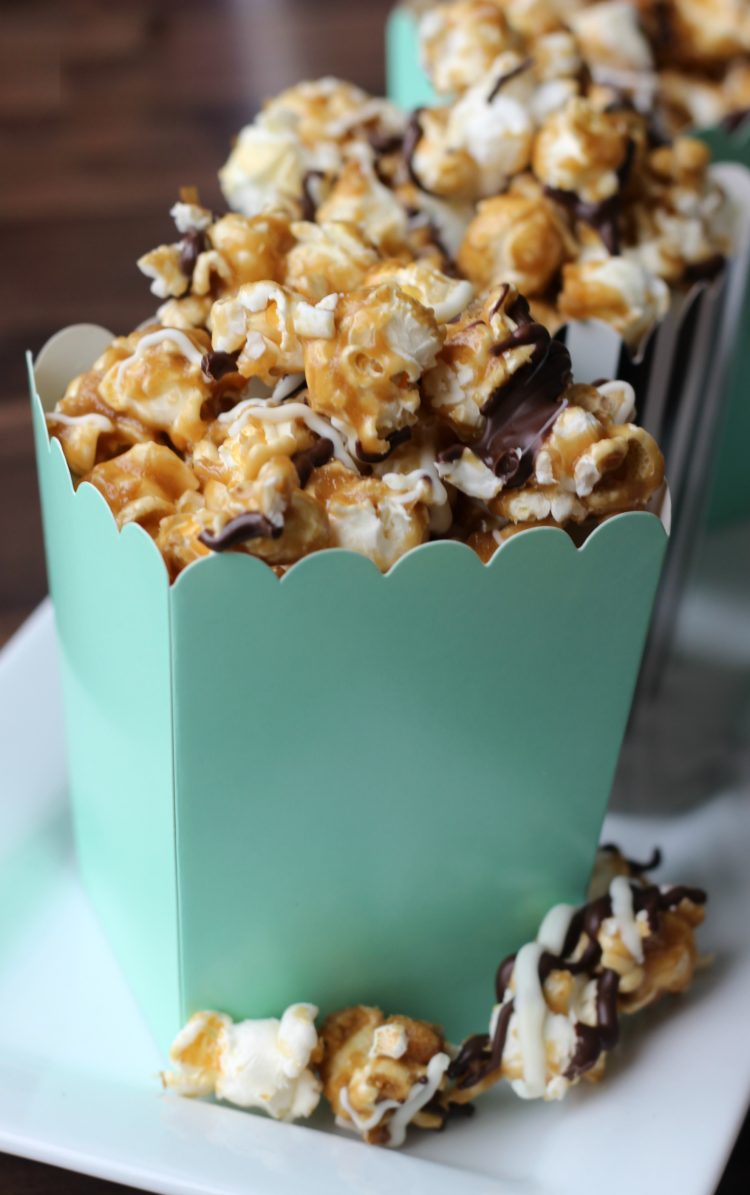 Black and White Caramel Corn
6-8 quarts of air popped popcorn (2 batches)
1 c. butter
2 c. brown sugar
1/2 c. light Karo syrup
1 tsp. salt
 1 tsp. baking soda
2/3 c. melting chocolate wafers or chocolate chips
2/3 c. white melting chocolate wafers or chocolate chips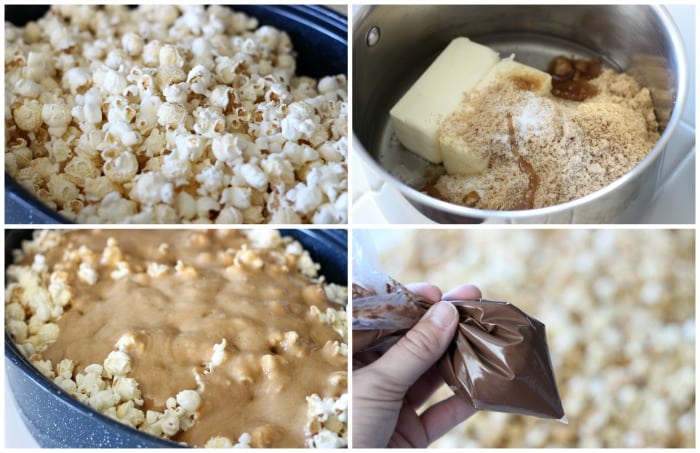 Pop popcorn and place in a large roasting pan.
Combine butter, sugar, salt and karo syrup in a medium saucepan and heat over med-high heat. When bubbly, set timer for 5 minutes and boil, stirring constantly.
Remove from heat and add baking soda. Stir.
Pour caramel mixture over popcorn in the roasting pan. Give it a nice stir to make sure the popcorn is coated evenly.
Bake at 200 degrees, stirring every 15 minutes, for 1 hour. Pour out onto baking sheets lined with parchment paper.
Melt chocolate by placing chocolate chips or melting wafers in a Ziploc sandwich bag and placing the bag in a bowl of hot water. Cut off one corner, and drizzle over caramel corn. Let sit until chocolate has hardened.
Break up popcorn chunks and store in an airtight container.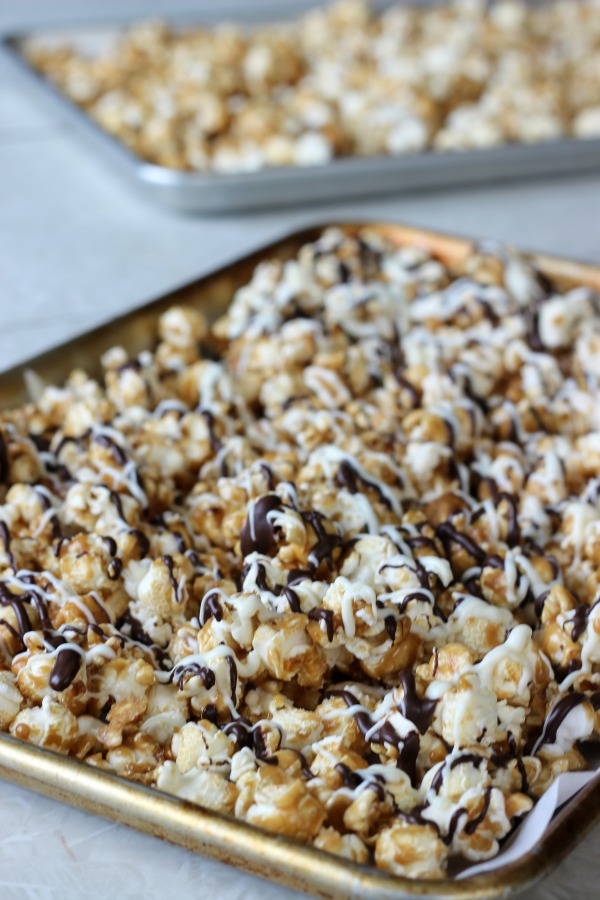 This black and white caramel corn makes a great gift. Gourmet, yet, so easy to make and very very addicting!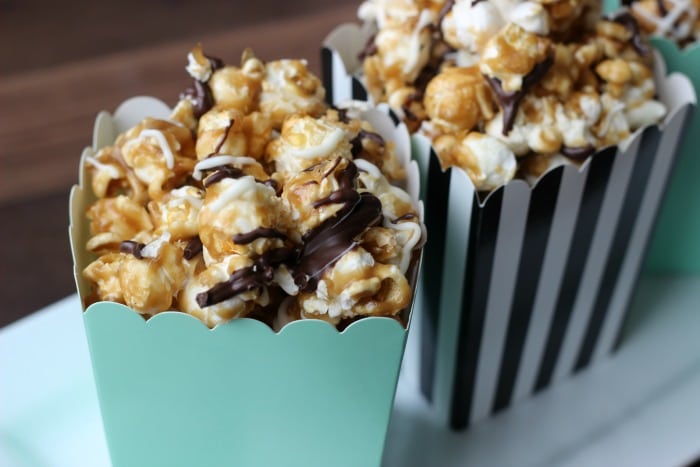 I love these little popcorn boxes that I found at Oriental Trading! I have them in several colors and, truth be told, this is the first time I've ever used them for popcorn because they work great for so many other snacks too!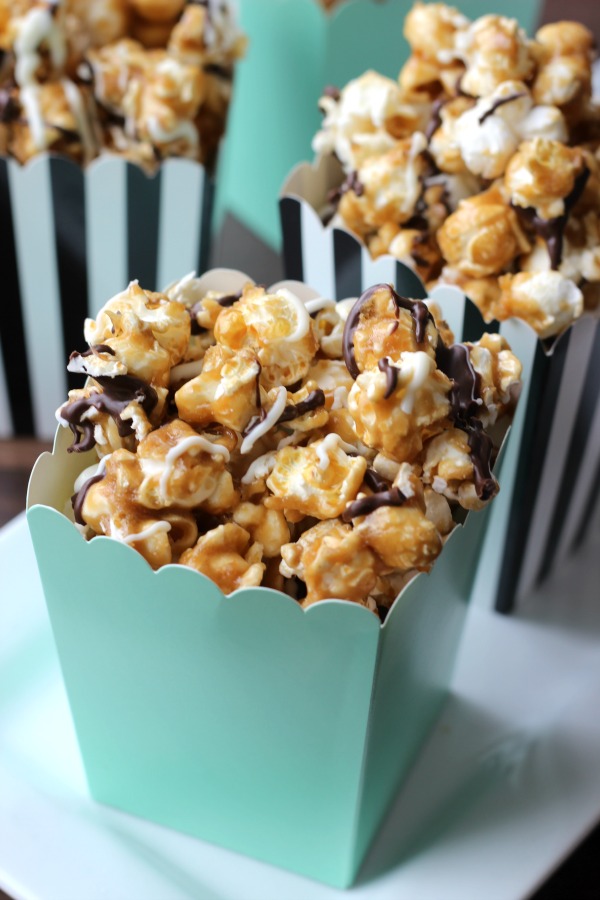 You might also like…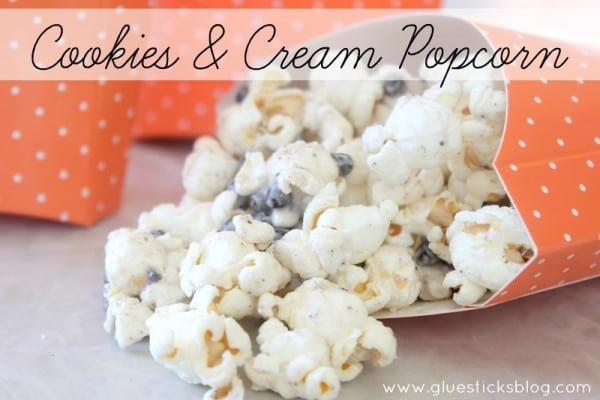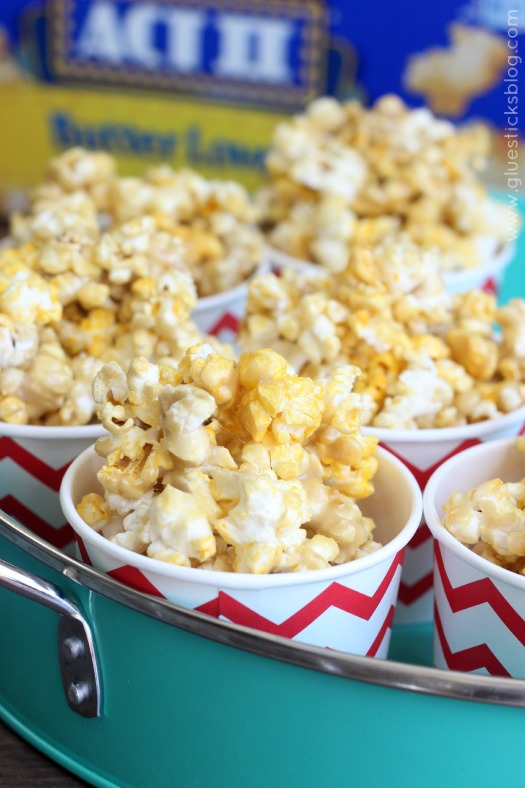 Microwave Marshmallow Caramel Corn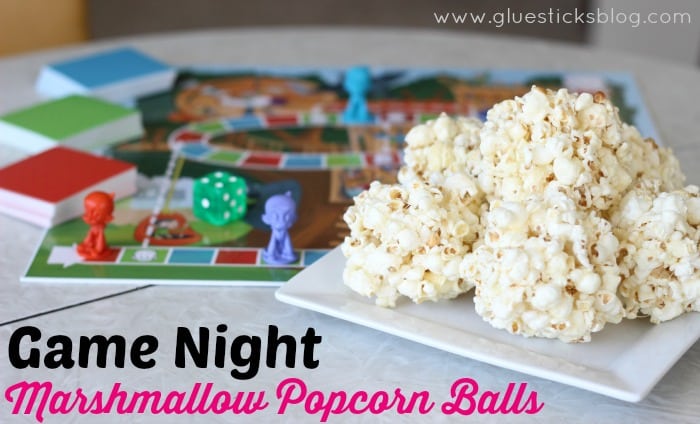 Marshmallow Popcorn Balls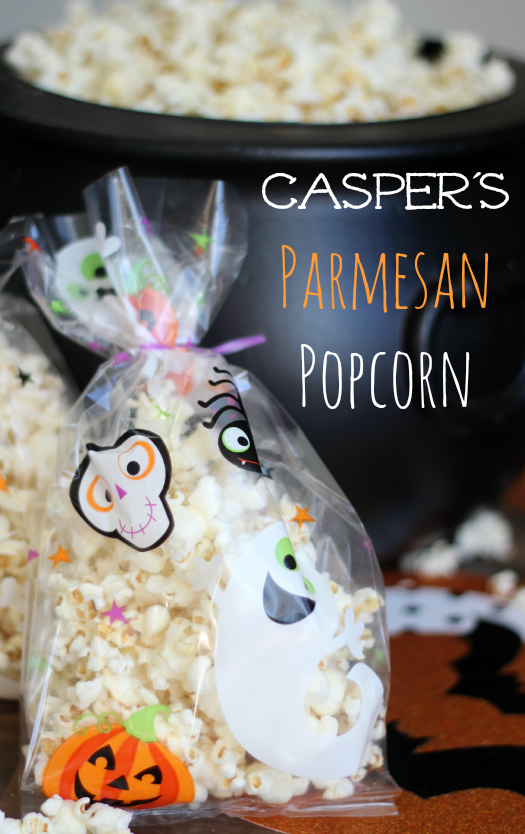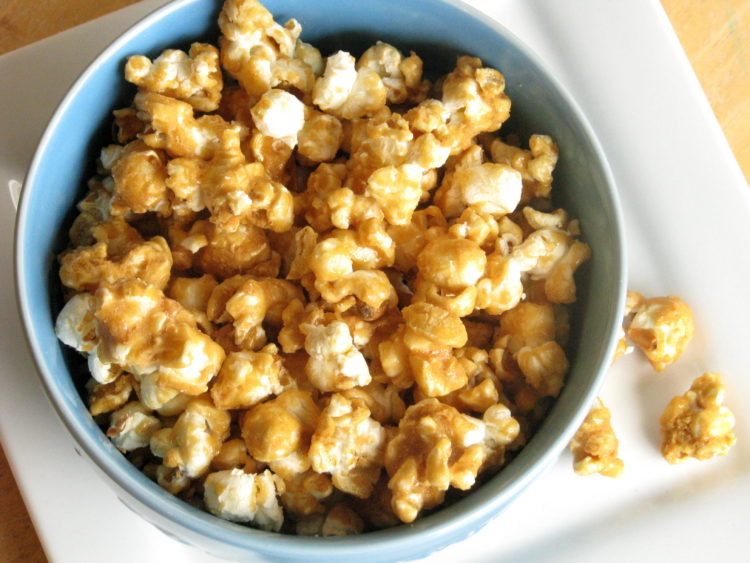 Paula Deen's Caramel Corn Recipe
And here are a dozen MORE popcorn recipes to try!