This classic BLT pasta salad recipe combines crispy bacon, locally grown produce from Walmart, and bow tie pasta. Tossed in a creamy ranch dressing, it's sure to be a hit at any gathering!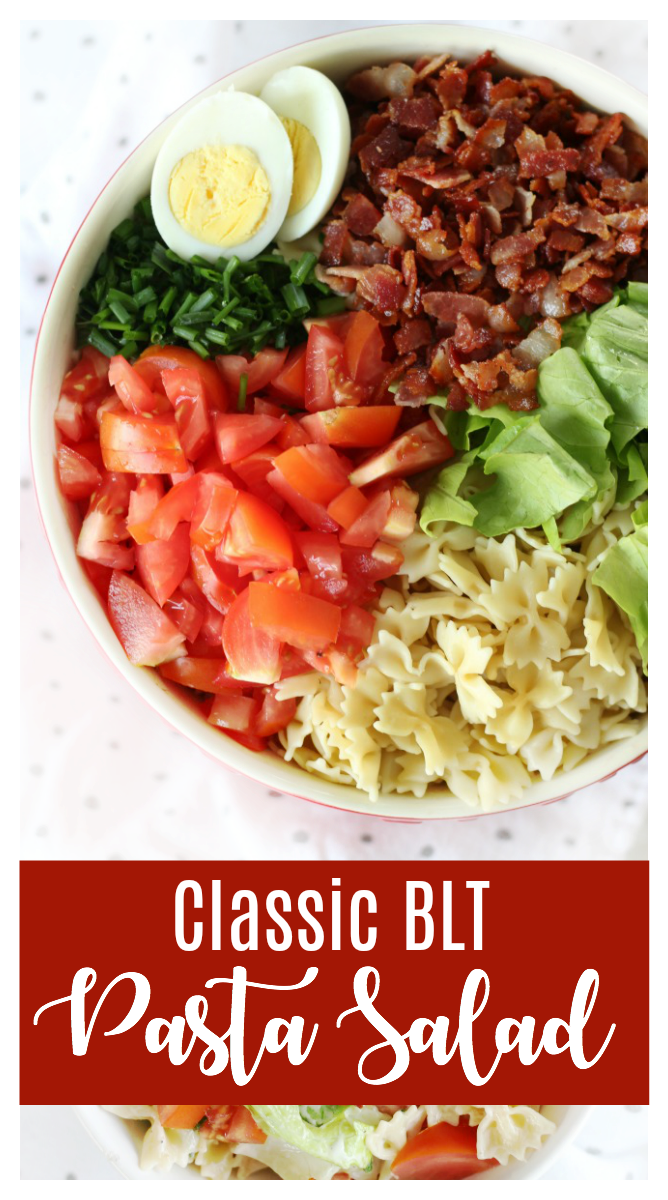 I'm a soup and salad kind of gal and definitely take after my mom. She makes the best pasta and green salads! This BLT pasta salad recipe is a throwback to my childhood. It's simple, it's basic, but I think that the best family recipes are! Why do we try to complicate things? Crispy bacon, vine-ripened tomatoes, butter lettuce, chives, mini bow tie pasta, and ranch dressing. If you really want to get fancy, add chopped hard boiled eggs (I like cutting them in half and make enough for each serving to have one). And for a traditional pasta salad recipe with a vinegar based dressing be sure to try this one. The secret is the dressing!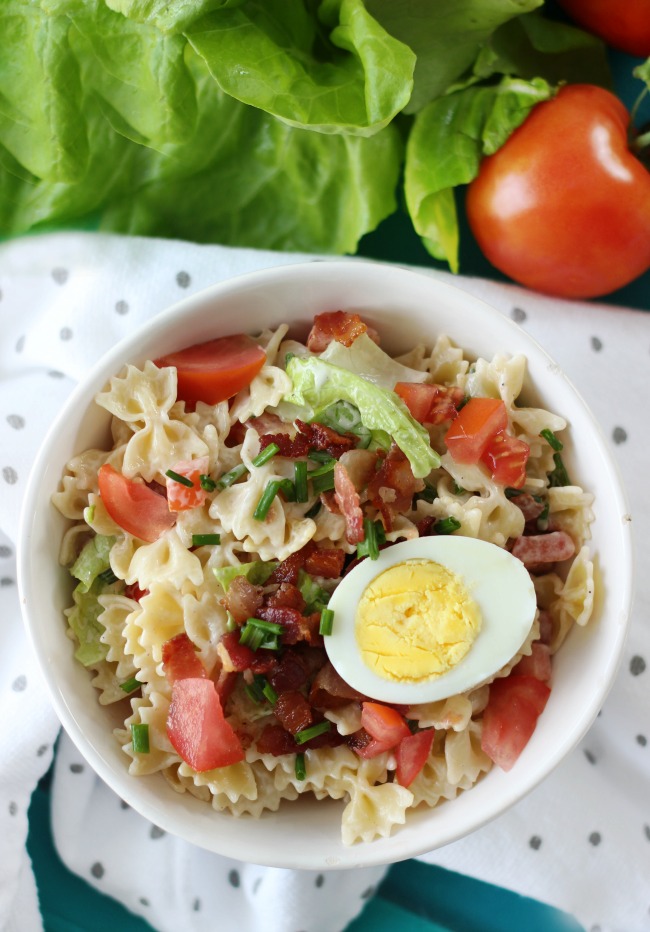 Because this salad has lettuce, it's best served right away. If you'd like to prep ahead of time, chop everything and leave it in individual bowls until serving time. Then toss it with dressing and you're good to go. You can also set it up salad bar style and let your family make their own pasta salad bowls. Either way it's delish!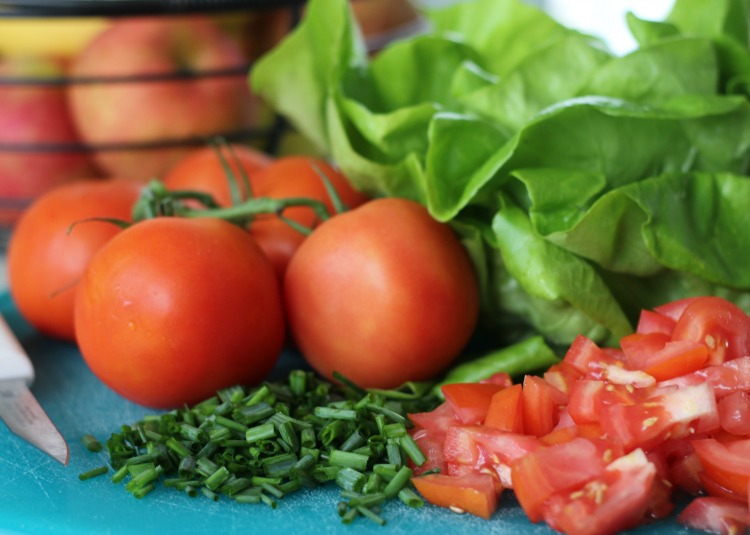 We've lived here in Virginia for over a year and just this week I noticed a HUGE sign over the produce section at Walmart that said: "Grown Close to Home". So I started looking at the produce in my cart and, sure enough, several items were grown right here in Virginia by local farmers. In fact, Walmart purchases fruits and vegetables directly from growers right here in my own home state. Who knew?
Classic BLT Pasta Salad Recipe
8 oz. dry pasta
12 slices of bacon, sliced into slivers (1 package)
3 medium tomatoes, chopped
1/2 c. chives, chopped
1 head of butter lettuce, torn into bite-sized pieces
1 c. ranch dressing
hard boiled eggs, optional
Prepare pasta. Drain and let cool. While pasta cooks, prepare bacon.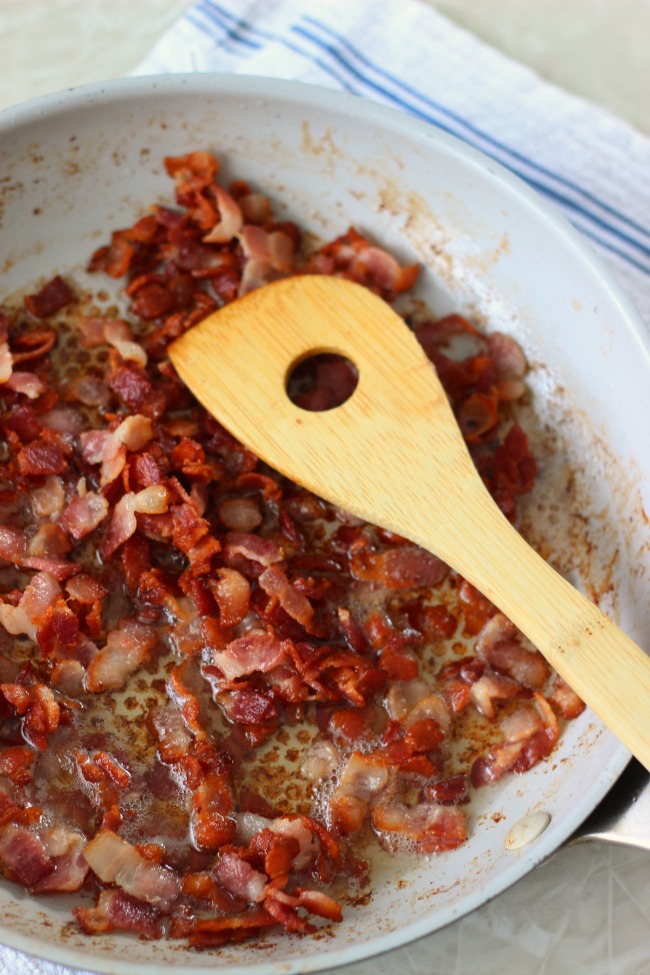 I like slicing my bacon into tiny slivers then pan cooking it until crispy. It cooks very quickly and it so delicious. DON'T even think of substituting bacon bits in this BLT pasta salad recipe! It's definitely worth using real bacon.
You'll want to get rid of most of that grease, so let the bacon drain on a plate with a few paper towels.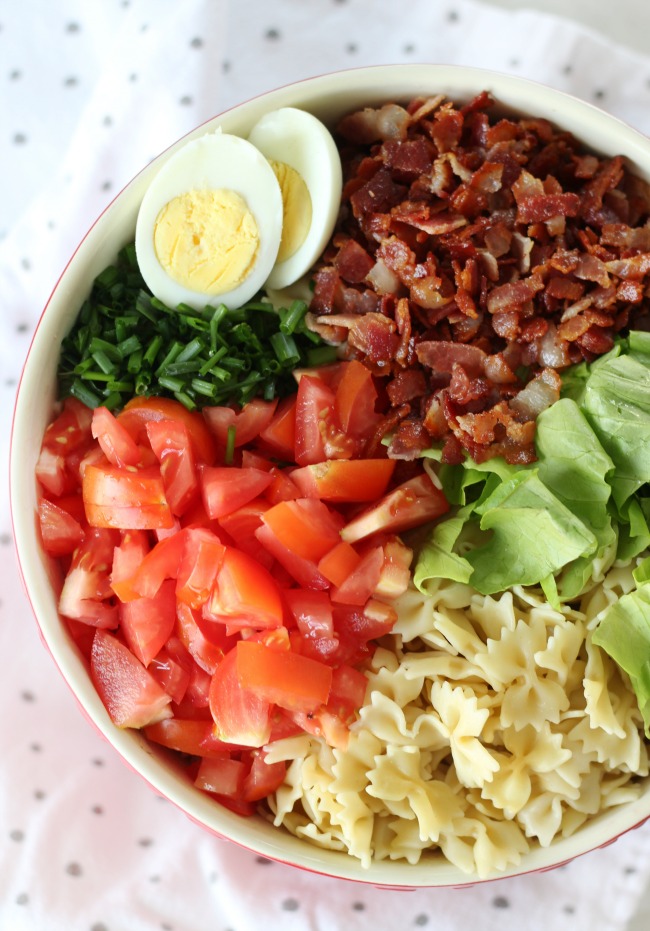 Place pasta, tomatoes, chives, bacon and lettuce into a large bowl. Toss with ranch dressing. If pasta seems dry, add more dressing right before serving. Add sliced hard boiled eggs on top.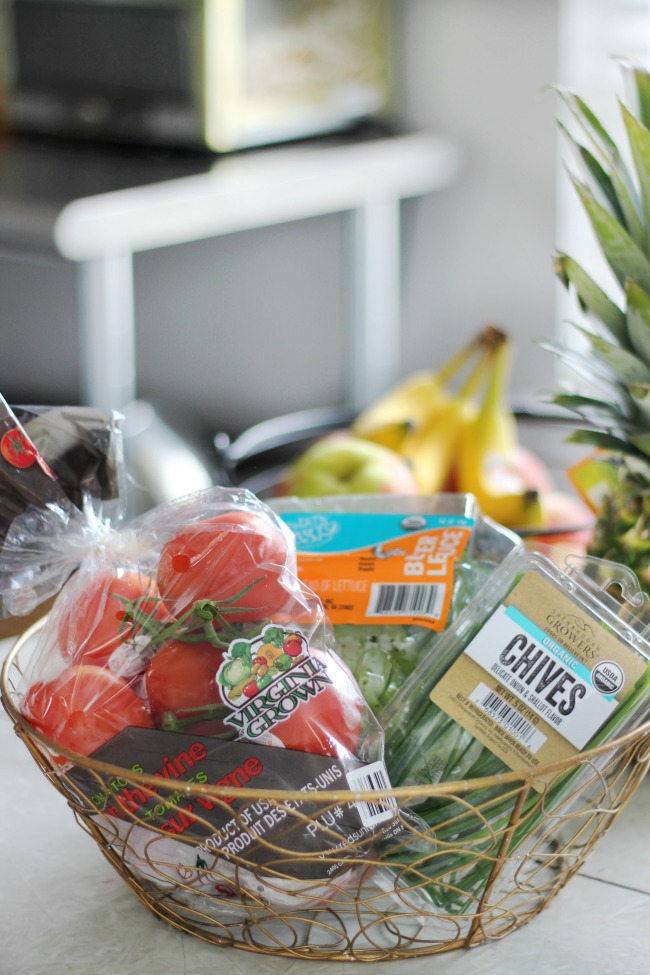 Walmart backs its fresh produce promise with a 100 percent money-back guarantee. If customers are not completely satisfied with Walmart's produce, they can bring back their receipt for a full refund. No questions asked and no need to bring back the produce. This is a great service to customers because sometimes you have to go home and slice into something to tell if it's fresh. I hate wasting produce and have many times in the past because it didn't hold to the "fresh by" date that was on the package.
And have you tried the grocery pick up service that Walmart has? This is probably the third time that I've put a plug in for it on my blog and that is because I use it ALL. THE. TIME. I have a two-year-old at home with me all day and he isn't a fan of sitting in a shopping cart for more than 3 minutes. Unfortunately, I haven't mastered shopping for a week for a family of 7 in under 3 minutes yet so instead, I place an order in the evening and pick it up after school drop off the next morning. And I don't know if this is standard at all Walmart stores, but the employees who run the grocery pick up service at mine are so friendly. Many of the ones here are seniors in high school or college students. It's nice to see that they are able to fit in both school and work into their schedules.
This is a sponsored conversation written by me on behalf of Walmart. The opinions and text are all mine.
Comments submitted may be displayed on other websites owned by the sponsoring brand.