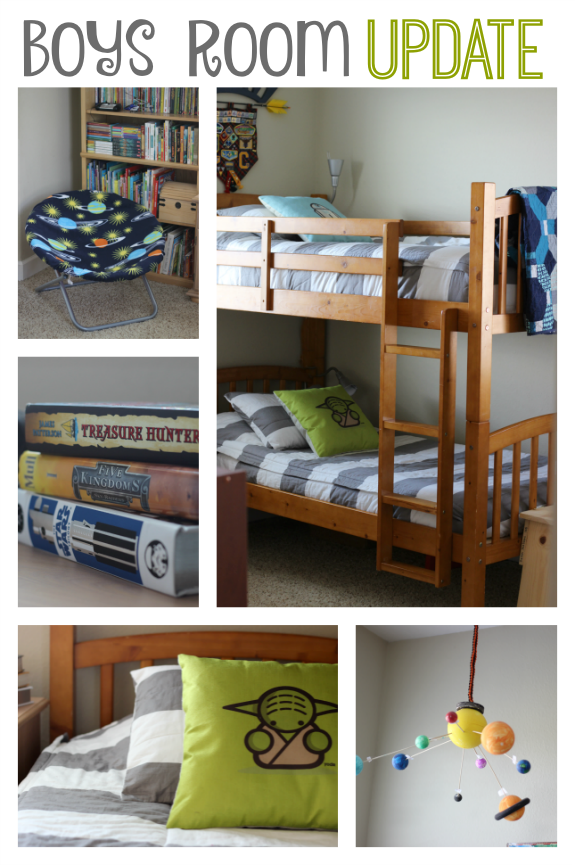 It saddens me every year to take the ornaments off of the tree, but once January rolls around it seems like some organization and freshening up is on order. In every room of the house. One of my favorite spaces right now is our boys' room! It is so fresh and clean and perfectly showcases their hobbies and interests.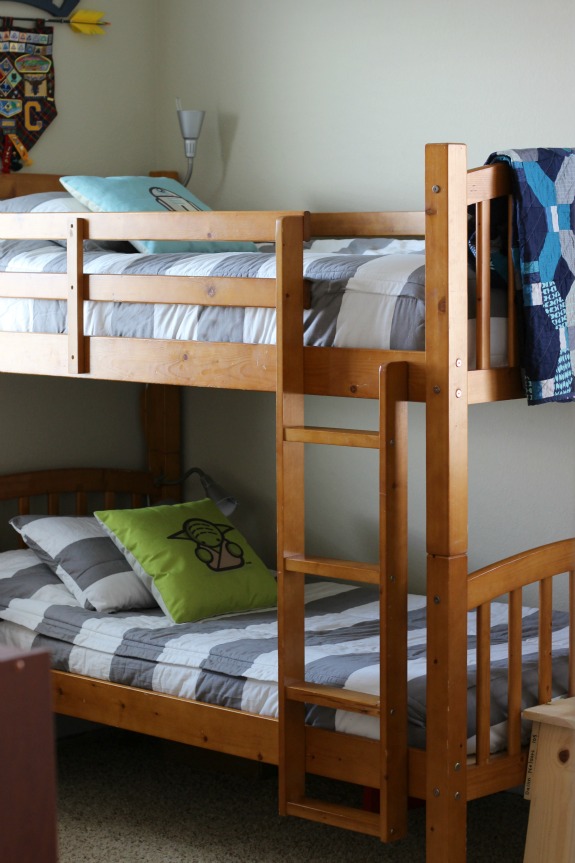 Their bedroom isn't themed, but it is a representation of the things that they love: reading, fishing, Boy Scouts, Cub Scouts, Star Wars, and science.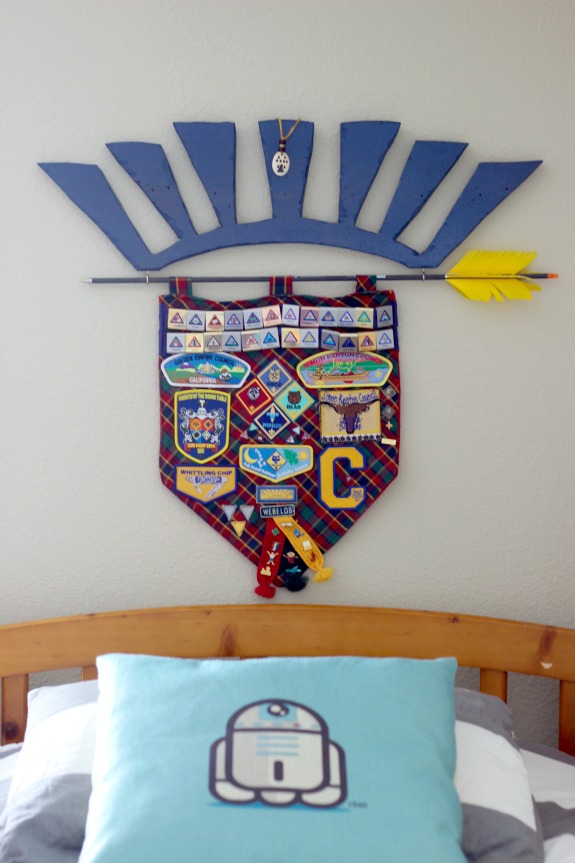 (Details on this Arrow of Light/CubScout Display here. )
Here are some of my favorite things in their room…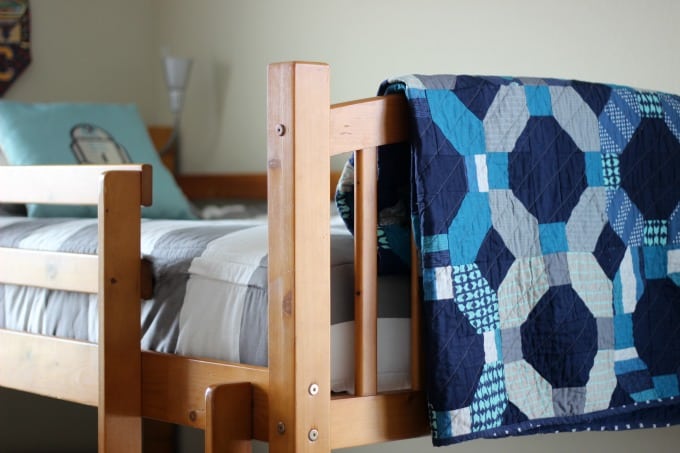 (I just realized I never shared this quilt! I made it a year ago for Dallin…details coming soon!)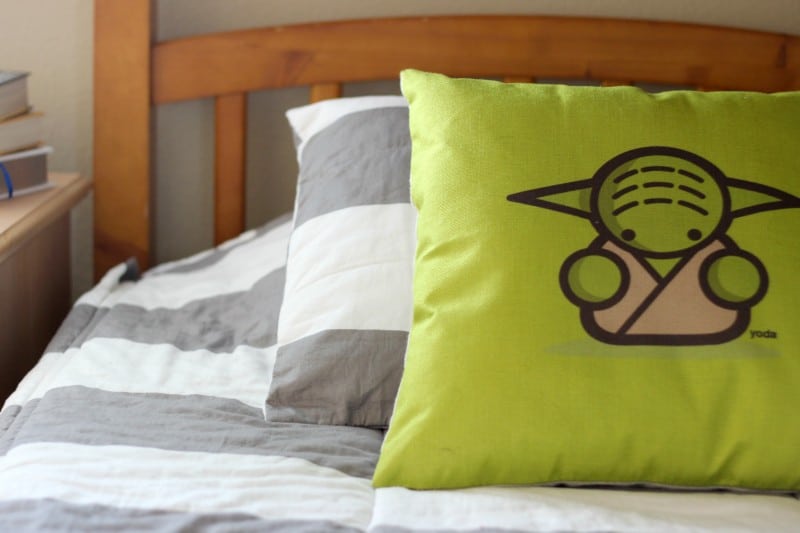 These Star Wars pillow covers are so cute and were a steal on eBay! I saw them on another online shop for $13+shipping but thought I might be able to get them cheaper if I looked around. Sure enough, they had every pillow from C3PO, Storm Troopers, R2D2, and Yoda on there starting at $3. I may have to go back and get a couple more.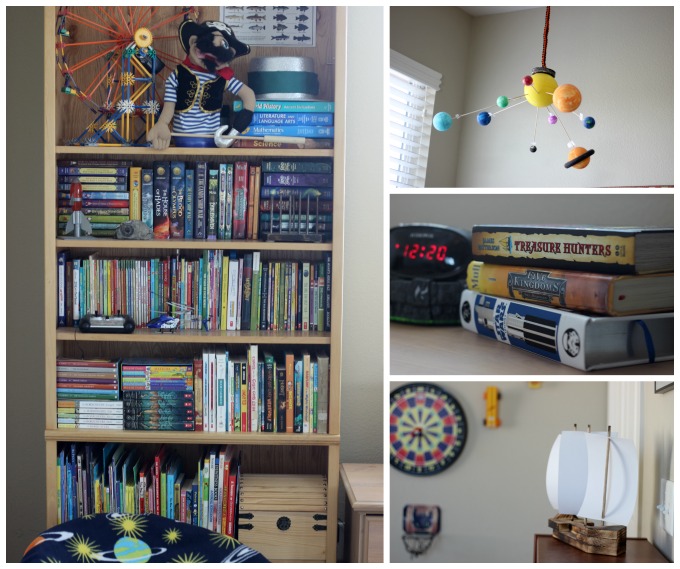 When I walk in their room I see all of the things that they love and little mementos from school plays and projects that they are proud of.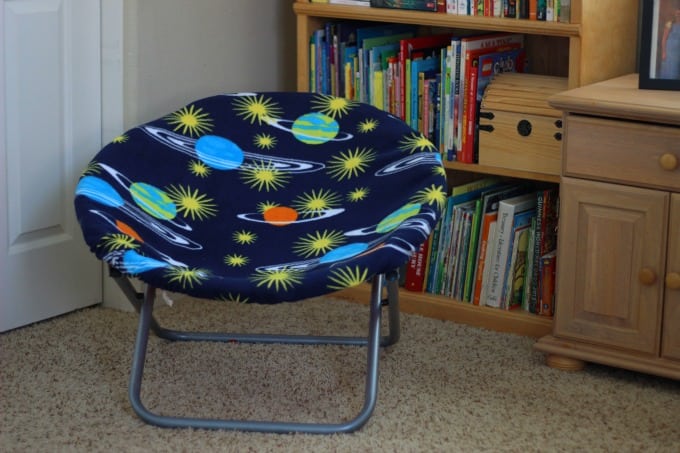 Both boys LOVE to read. They've had these reading chairs in their room for about 8 years and I gave them a quick makeover this week. These little mushroom chairs are great and last a long time, but you can't take the seat off of them to wash. So I decided to make slipcovers!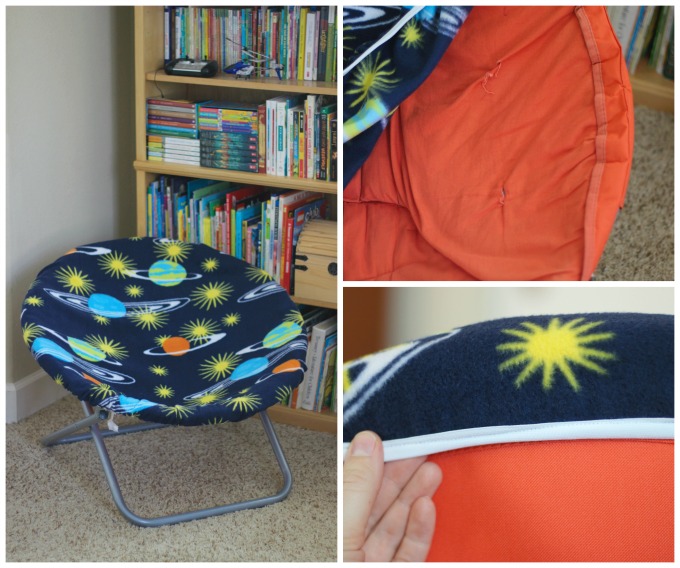 Now I can just pull the cover off and toss it in the wash if necessary and it will add to the lifespan of the chairs.
I cut out a large circle of fleece that was about 3″ larger than the chair. Then I sewed fold over elastic around the edges (like I did in this post). Voila! Slipcovers in under 15 minutes!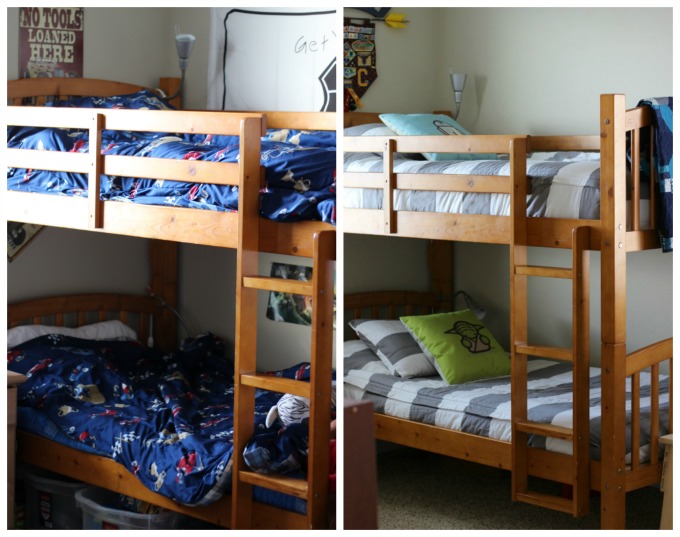 I spent a couple of hours going through the bins under their beds and getting rid of toys that they have outgrown. They were actually quite helpful and didn't mind passing on the toys to a local thrift store. We were able to put most of the remaining items and bins in their closet which made the rest of the room so much less cluttered, but the BIGGEST change to their room was the new bedding that I purchased for them.
Many might say, "Why bother even making the bed when you are just going to get in it again?" For me, it is a simple way to make even the messiest of room cleaner, it is nice to climb into after a long day, and it teaches the kids simple household tasks.  However, bunk beds are another story all together. They are not simple to make. It is impossible to make them look good in a reasonable amount of time, and always require a lot of tucking in which can be hard for kids.
Do you see the image above? That was not an exaggeration. It was how the boys' beds looked every time they made them. 
After a lot of research, I decided to buy bedding that zips together for the years that they are sleeping in bunk beds, but this style of bedding is great for all beds!
It has made such a difference. Now their beds go from unmade to made in just seconds—without tucking in blankets or sheets!
Let me start out by saying that I bought these with my own money. I did the research on my own, toyed with the idea for quite awhile, and decided that the investment was worth it for our family. I found two companies that made zip up bedding and ultimately chose Beddy's  because their zippers don't snag and the reviews were fantastic.
They can sleep with the sides of their beds zipped up if they want to, or leave them unzipped for a more traditional feel. There is a side panel that hangs down to keep them warm if they sleep with the beds unzipped.
Both of the boys said that they slept better with their new sets. Aaron (my 10-year-old) said that he didn't want to get out of bed the next morning because he was so comfortable so he went back to sleep!
I love walking into their bright and fresh bedroom. Here's to organizing and simplifying our home together—one room at a time!