Have you tried our
90 Minute Cinnamon rolls with Caramel Icing
? The dough is just perfect. I used that recipe to create some fun little bunny rolls for the kids to snack on during
General Conference
. I saw an idea in the Friend Magazine, but wanted to use my favorite dough recipe which is a lot quicker to make than the one in the magazine.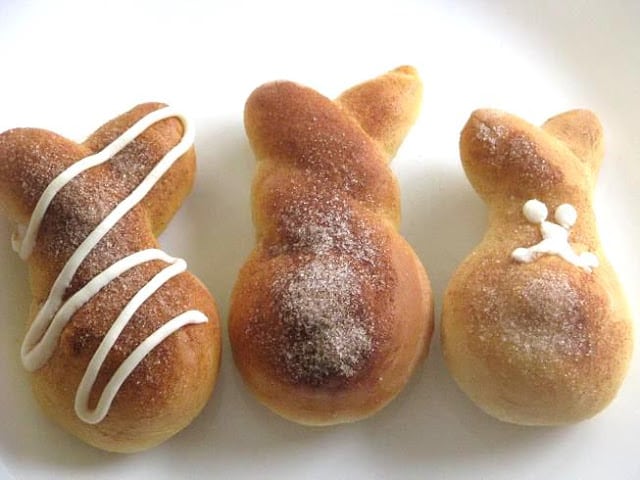 Ninety Minute Bunny Rolls
adapted from 90 Minute Cinnamon Rolls @ allrecipes.com
3/4 cup milk
1/4 c. margarine, softened
3 1/4 cups all-purpose flour
1 (.25 0z) package instant yeast
1/4 cup white sugar
1 egg
***
cinnamon/sugar
melted butter
Heat the milk in a small saucepan until it bubbles, then remove from heat. Mix in margarine; stir until melted. Let cool until lukewarm.
In a large mixing bowl, combine 2 1/4 cup flour, yeast, sugar and salt; mix well. Add water, egg and the milk mixture; beat well. Add the remaining flour, 1/2 cup at a time, stirring well after each addition. When the dough has just pulled together, turn it out onto a lightly floured surface and knead until smooth, about 5 minutes.
Cover the dough with a damp cloth and let rest for 10 minutes.
Divide dough into 2″ balls. Roll out each ball into a rope/snake shape. Bring the ends together and twist to form the ears. Place on a greased baking sheet. Break another ball in thirds and use a small piece of that dough to fill the hole that will be under the twist that you made for the ears. You won't even notice that there was a hole after the dough rises and bakes. Cover and let rise until doubled, about 30 minutes. Preheat oven to 375 degrees F.
Bake in the preheated oven 15-18 minutes, or until browned. Brush hot rolls with melted butter and sprinkle (liberally) with cinnamon/sugar.
Drizzle with icing (I used store bought vanilla frosting for the bunny rolls)
Serve warm.
I made some with faces, but I had so much cinnamon/sugar on my rolls (no complaints there!) and the icing didn't want to stick that well. I ended up drizzling most of the icing instead. It was just easier and the kids still noticed that they were bunny shapes!

You could easily make regular roll shapes and use the same method with the butter/cinnamon/ sugar.
They were a hit!