A not-so-spooky Halloween cupcake decorating party for kids! Each guest will take home their own tray of cupcakes to share with their family. A fun activity and party favor all in one! This post contains affiliate links.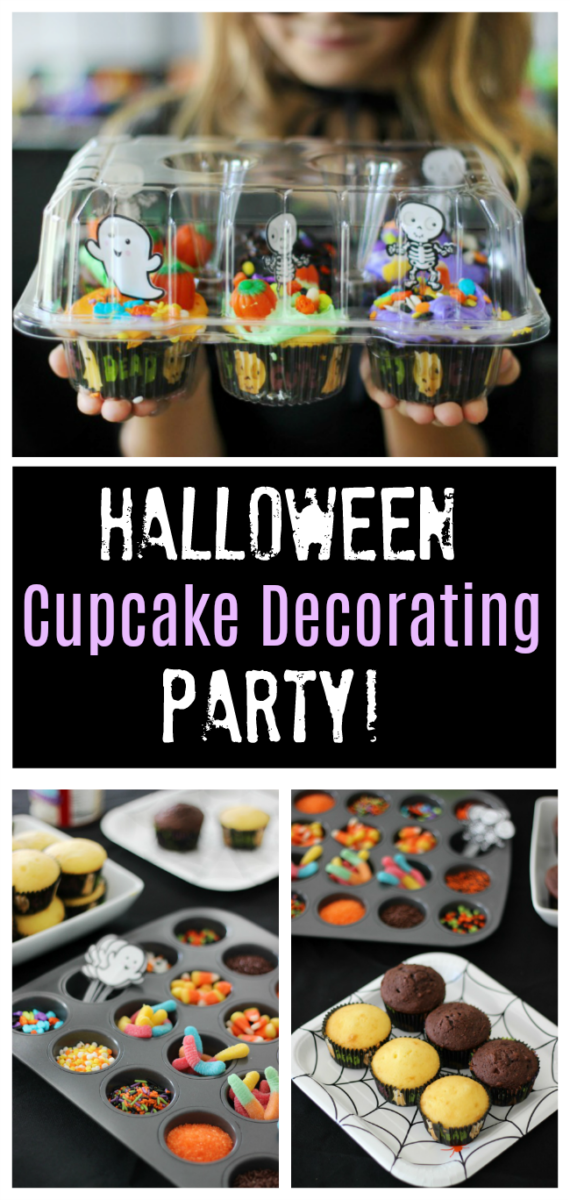 Our October baby asked for a Halloween birthday party this year. That was about as awesome as when our December baby asked for a Buddy the Elf birthday party three years ago. I mean, I didn't even have to decorate because the house already looked festive! Ruby's not-so-spooky Halloween party was so easy to put together and the girls had a fabulous time.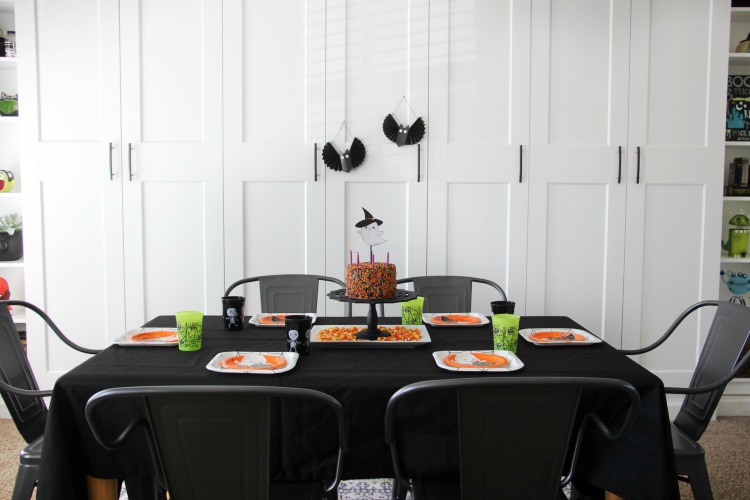 Ruby wanted to decorate cupcakes so I set out a black tablecloth that would hold up well to colored frosting and other messes.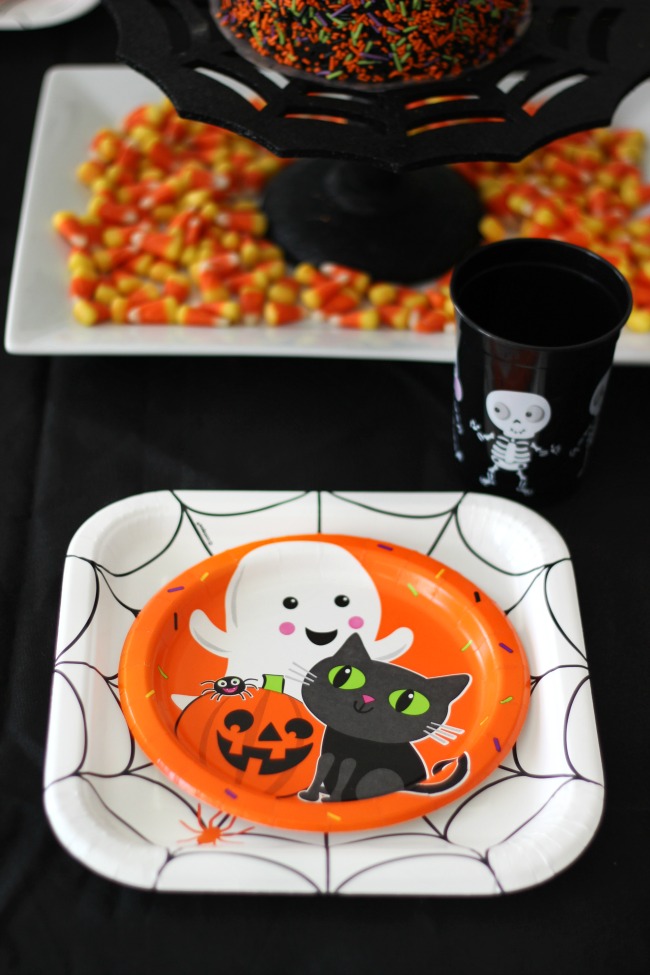 I found these darling plates at Walmart. We used the bottom one for lunch and cupcake decorating and the top one for cake. I also purchased those cute reusable cups for each guest to take home.
We served pizza for lunch and then moved onto the activity part of the party.
Halloween Cupcake Decorating Party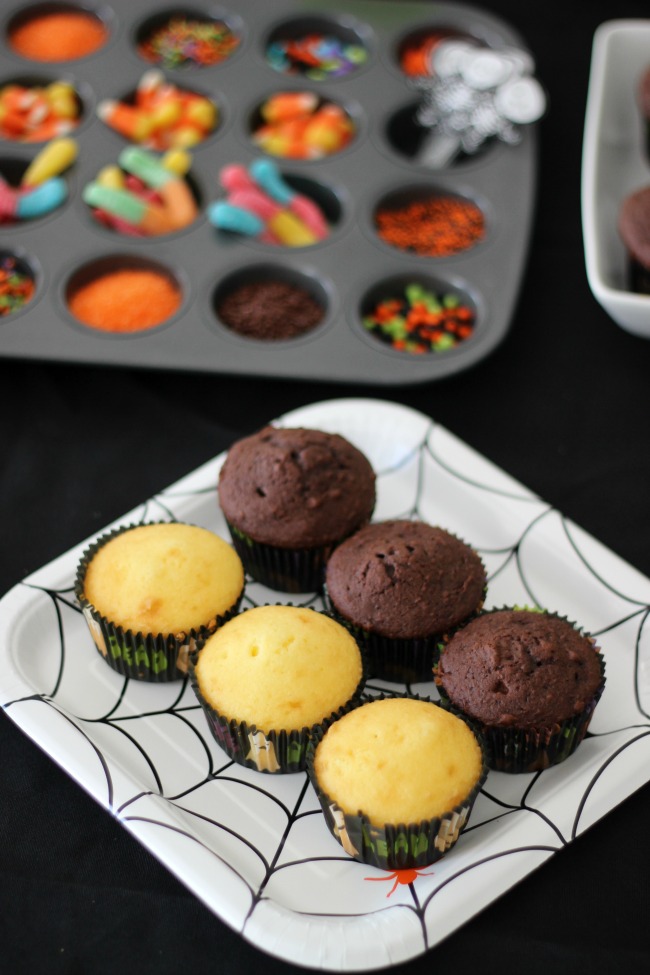 Step 1: bake cupcakes.
I made enough for each guest to decorate 6 cupcakes to take home. Half yellow and half chocolate.
Can you bake the cupcakes ahead of time?
ABSOLUTELY. Cupcakes freeze really well. You can make these days in advance!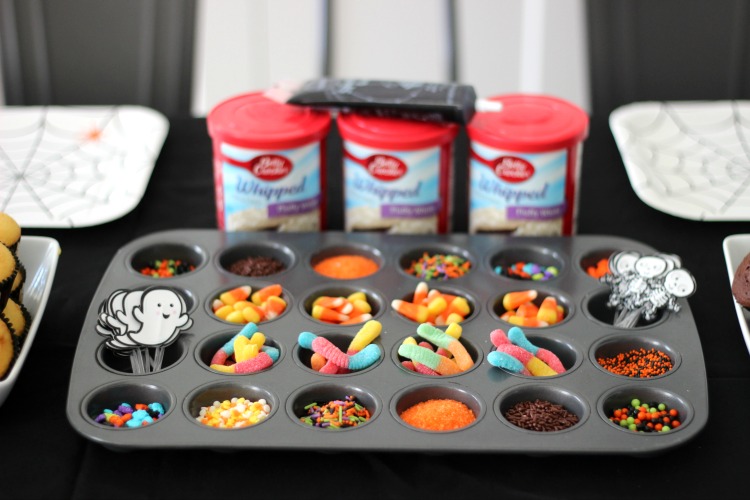 Step 2: Arrange Toppings In a Mini Muffin Tin For Easy Access
This mini muffin tin worked great for dividing up sprinkles and all of the guests could easily reach it from their chair. Having them take tiny pinches of sprinkles with their fingers really kept the mess down instead of having bottles of sprinkles for them to dump out.
Do you have a good homemade frosting recipe?
I usually use Wilton's buttercream frosting (add a bit of milk to thin it down enough for cupcakes) if I am going to make my own, but store bought frosting works great, too. That's what I used this time.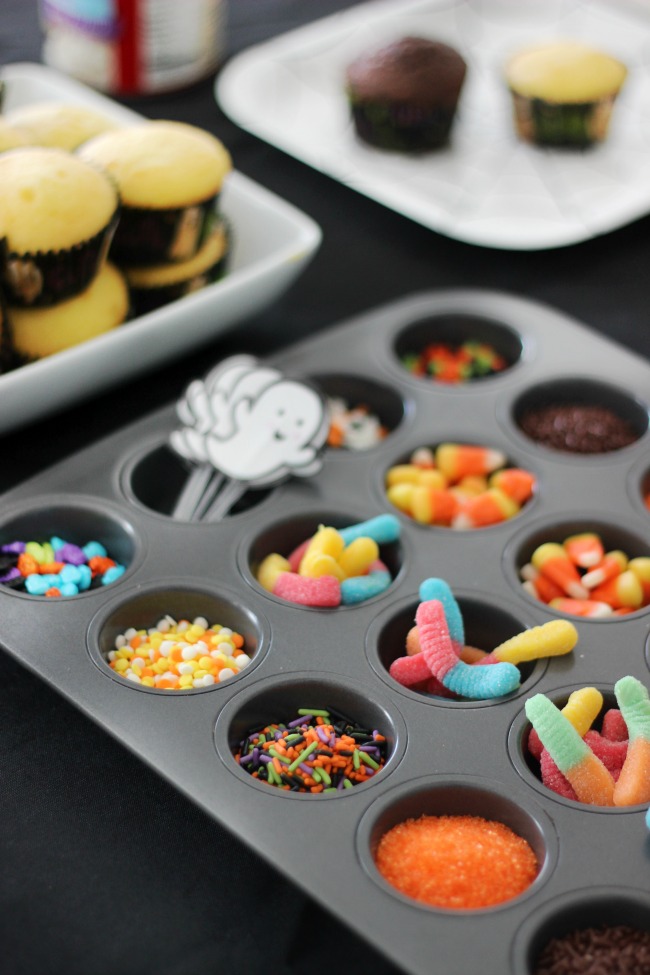 When all was said and done I had a lot of sprinkles left! The most popular cupcake decorating toppings were the ghost and skeleton picks and the candy pumpkins.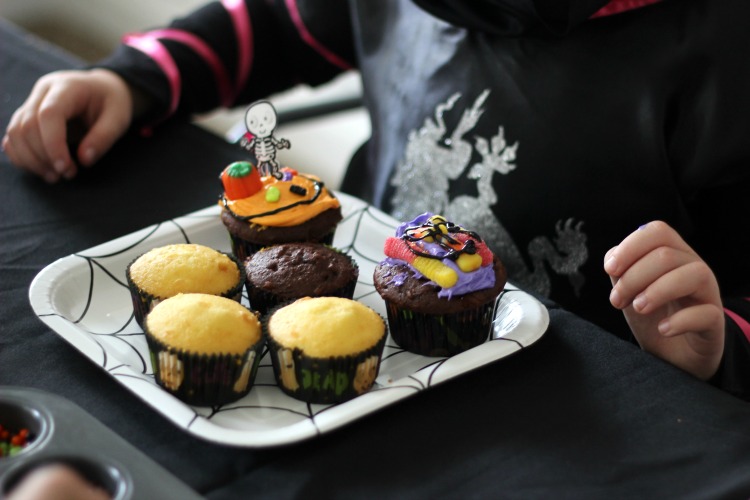 Step 2: Let the kids' creativity run wild!
The girls had SO MUCH FUN! And only one spoonful of frosting fell onto my floor. I'm calling that a win, for sure.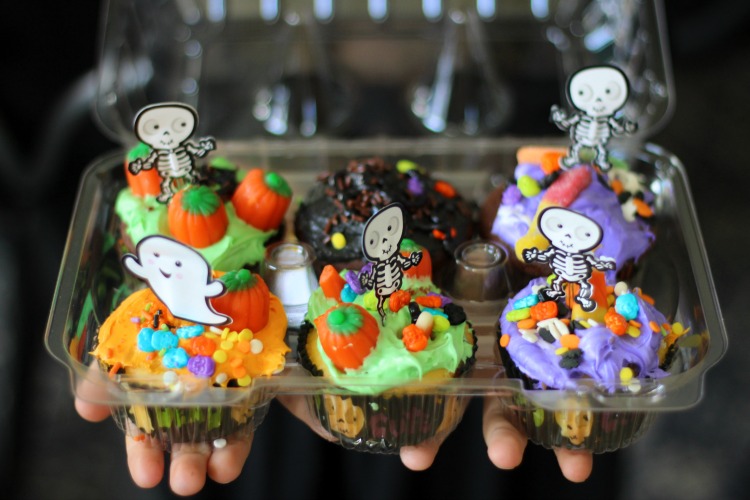 Step 4: Package the cupcakes in car-friendly containers.
Aren't these cupcakes darling? Each tray was colorful and super cute and completely loaded with sugar.
How long will the cupcakes stay fresh?
Cupcakes will last in their container for 2 days before the frosting begins to dry out. You can also freeze them.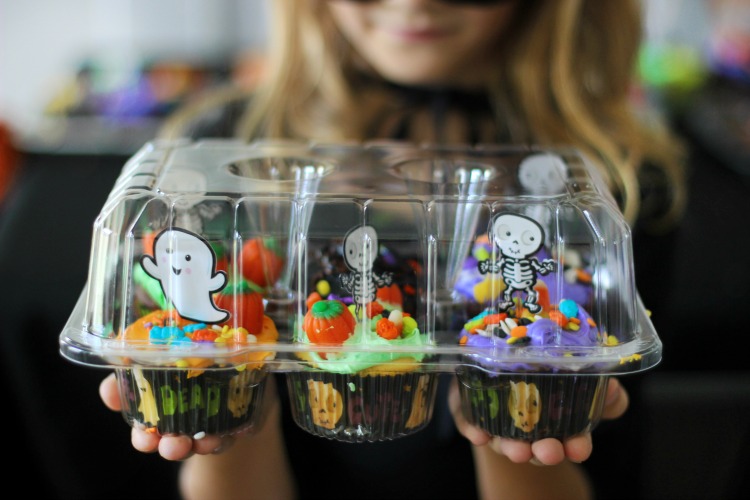 I thought the parents might appreciate having the cupcakes in these travel containers vs. sending them home on a paper plate. I bought a dozen from Amazon and they worked out great!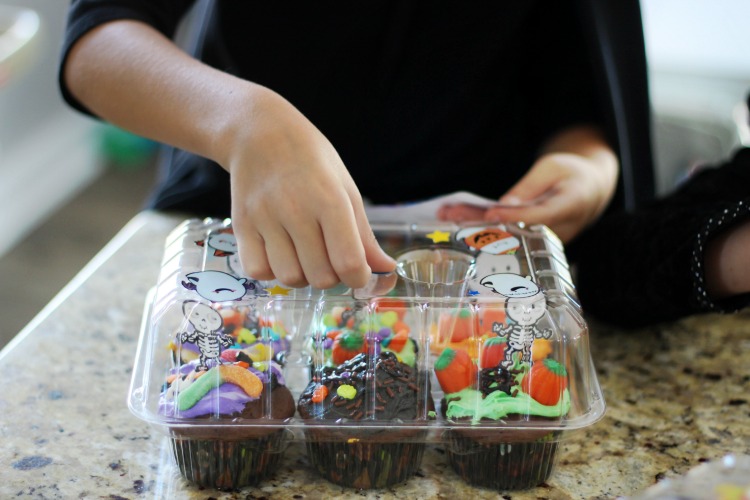 We had a little time before the parents arrived so I pulled out Halloween stickers and let them decorate their containers.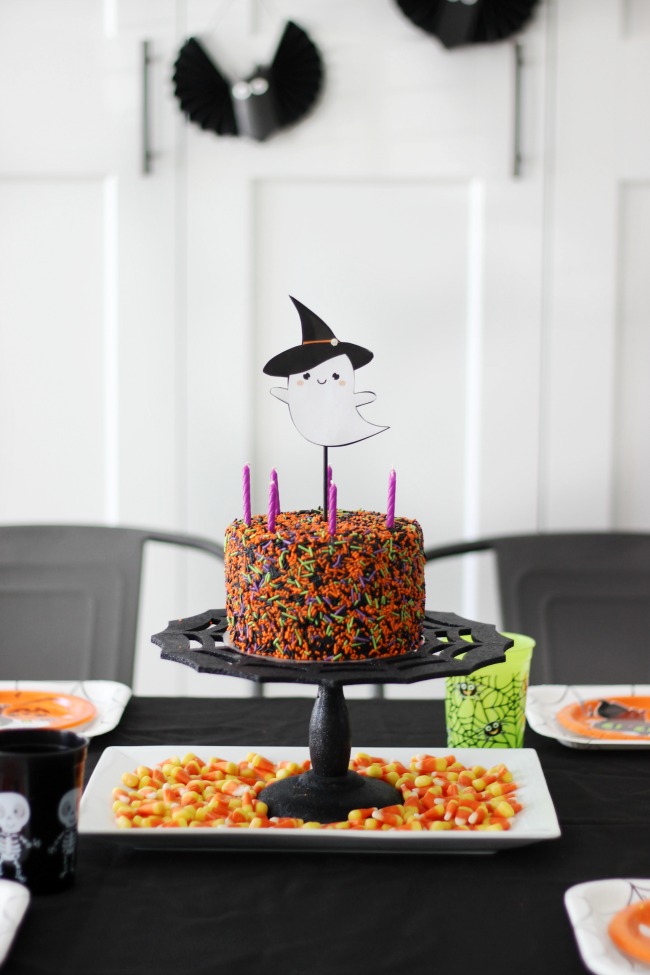 This was such an easy party to set up and host. And the girls all looked so cute in their Halloween costumes. Ruby dressed up like the Princess in Black. She loves that series!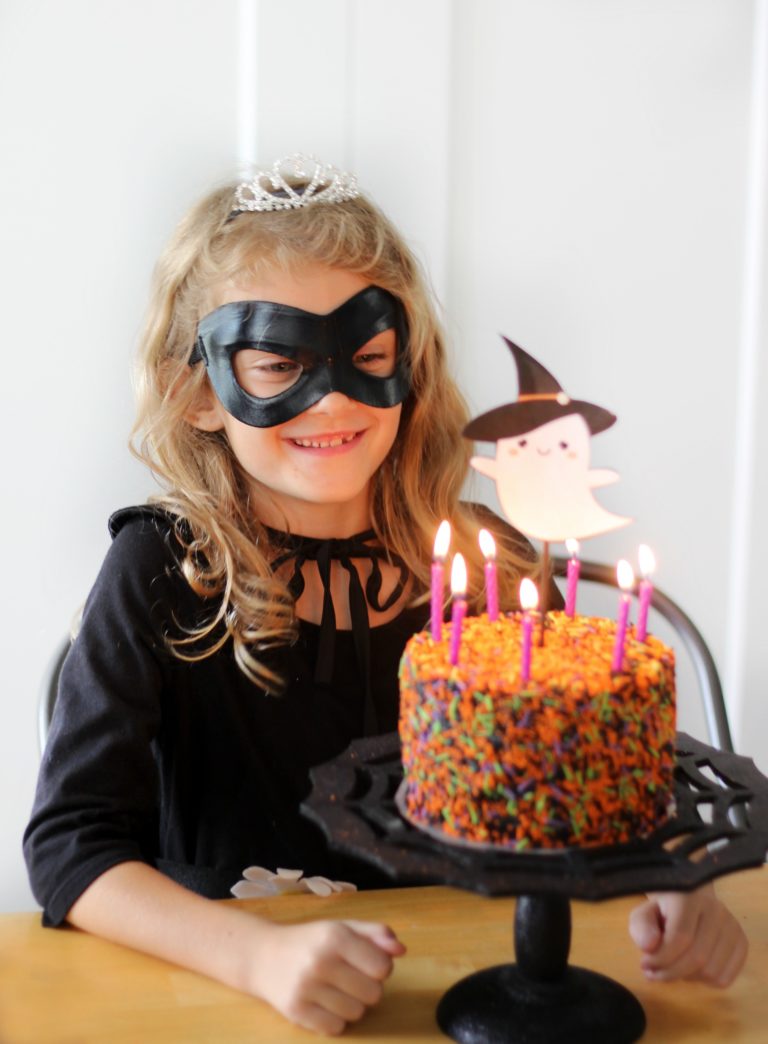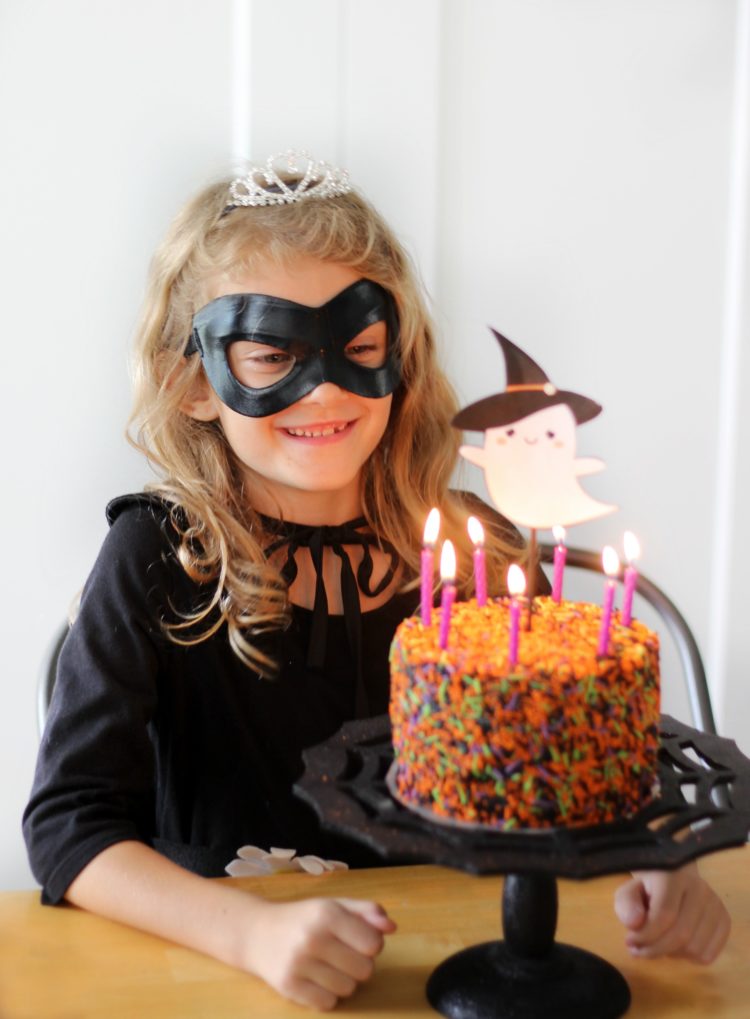 She asked for a red velvet cake and this was what I came up with. Since we were decorating cupcakes, having a sprinkle cake seemed appropriate!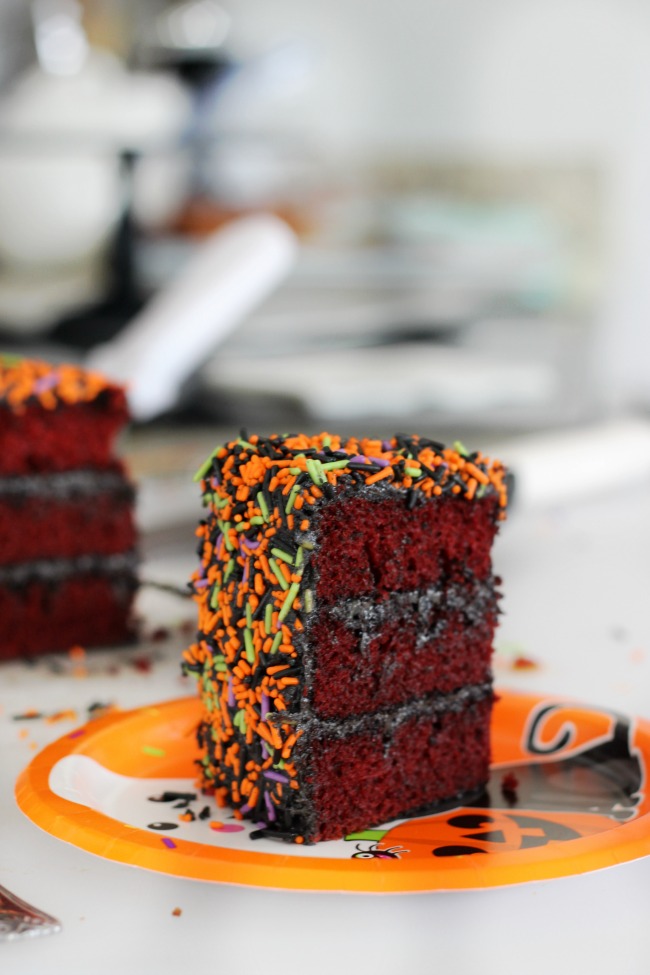 I made a tiny 3 layered cake with black chocolate buttercream frosting and covered the entire thing in Halloween jimmies.
Happy Halloween friends!
You might also like…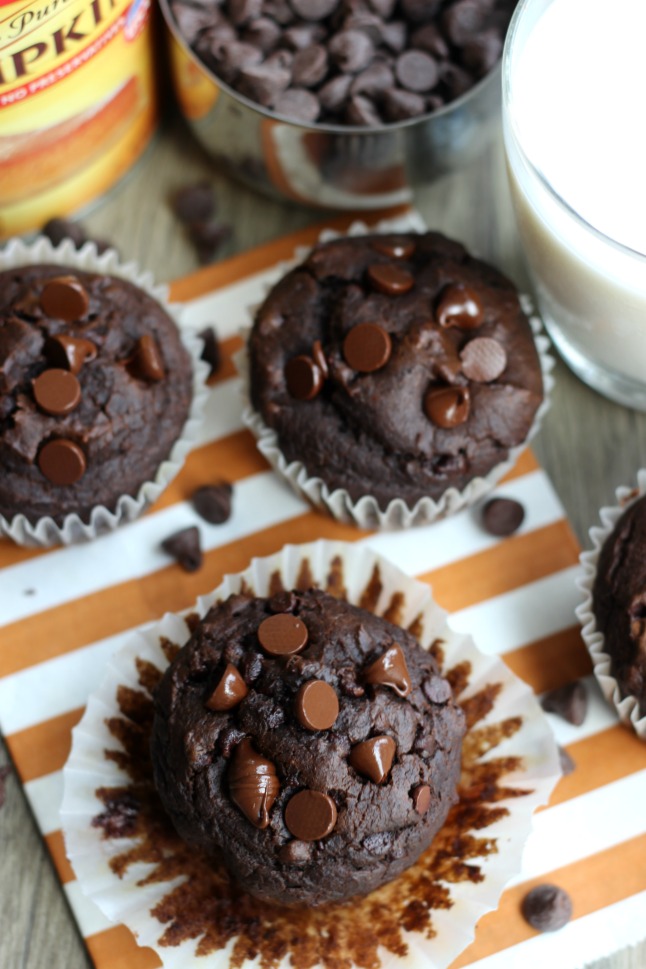 These chocolate pumpkin muffins combine pureed pumpkin, pumpkin spice, and chocolate in the best way possible.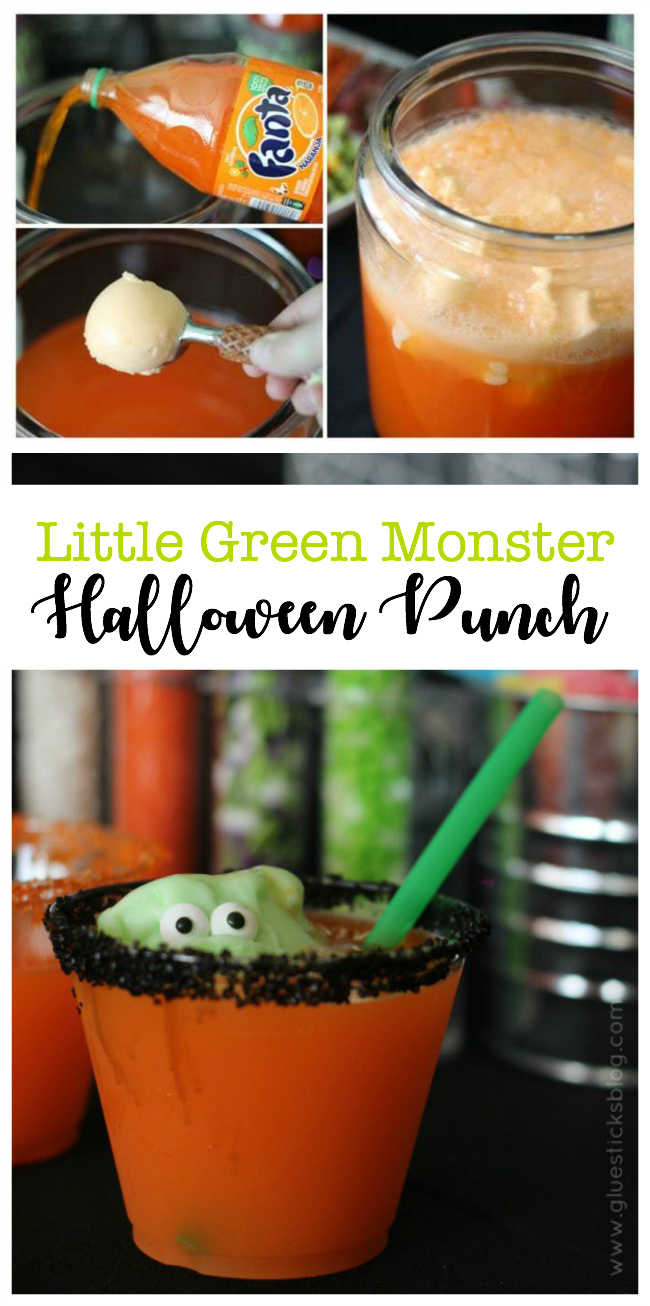 This little green monster Halloween punch is a show stopper! Sugar rimmed cups, a sherbet monster coming out of the punch cup, what more could you ask for?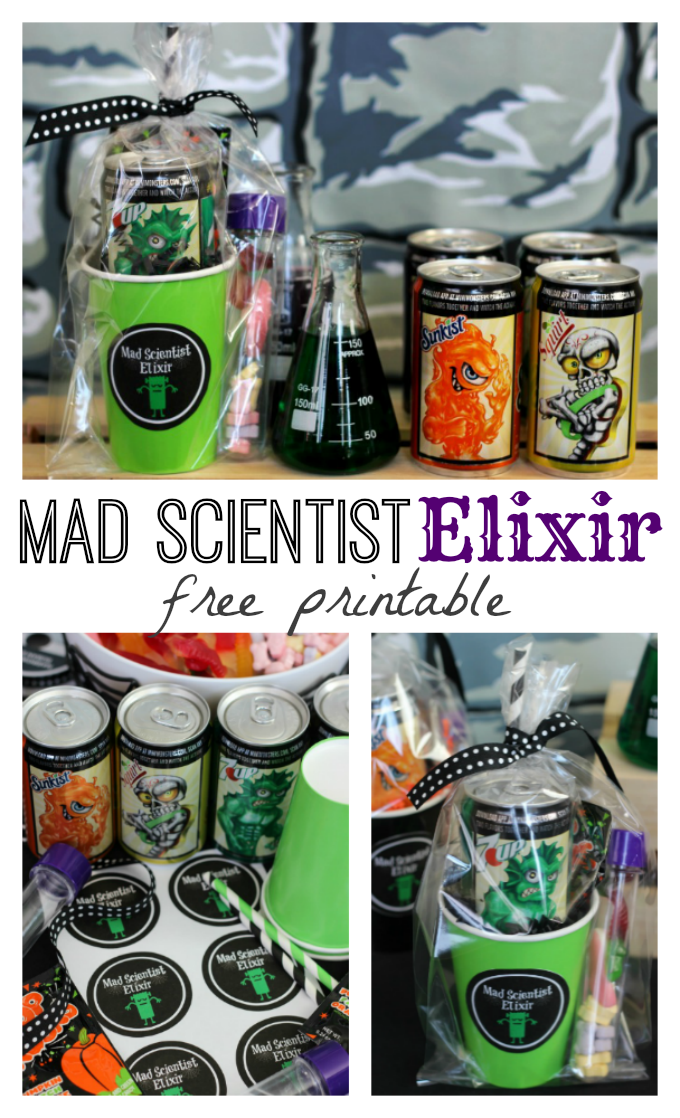 What do you get when you combine a mini can of soda and fizzing candy? A Mad Scientist Elixir that bubbles and is sure to unleash something frightful! These Mad Scientist party favors are sure to be a hit this year.