This post was most recently updated on March 11th, 2023
A free dinosaur pillowcase pattern available in travel, kid, or standard size! So cute and easy to customize. A great beginner sewing project. This post contains affiliate links.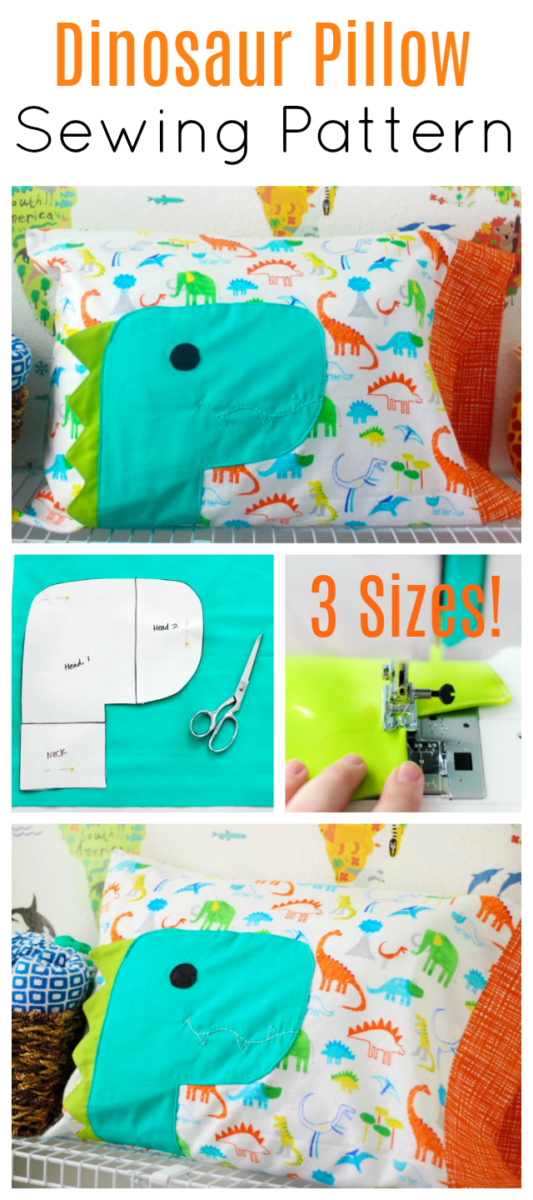 My 2 year old absolutely loves dinosaurs, especially the T-Rex. He has a little bucket of dinosaurs that he carries around with him at home, in the car, or to church. I decided to make a quick stop at Joann's to see if they had any cute dinosaur fabric to turn into a pillowcase and this dinosaur pillowcase pattern was born! I used this flannel for the main pillowcase, and calico and broadcloth for the band and dinosaur appliqué.
I decided not to stitch the spikes down and love how that looks. A fun little 3-dimensional element. Mac LOVES his pillow and says "Ow!" every time he touches one of the teeth. I guess I made them sharp enough, ha!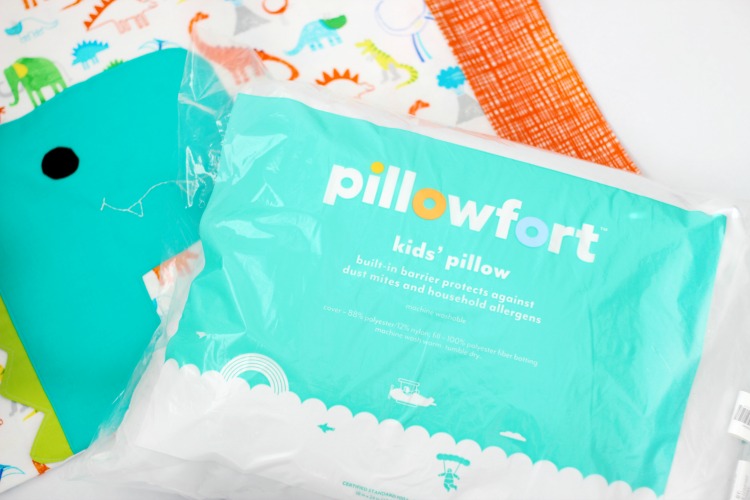 I didn't know that there was a pillow size in between a standard pillow and a travel pillow, but I found this kids pillow at Target! It is JUST the right size for kids. My dinosaur appliqué comes in one size and fits a travel, kids, or standard pillowcase. I've included yardage and cutting instructions for a pillowcase pattern to make all 3 sizes!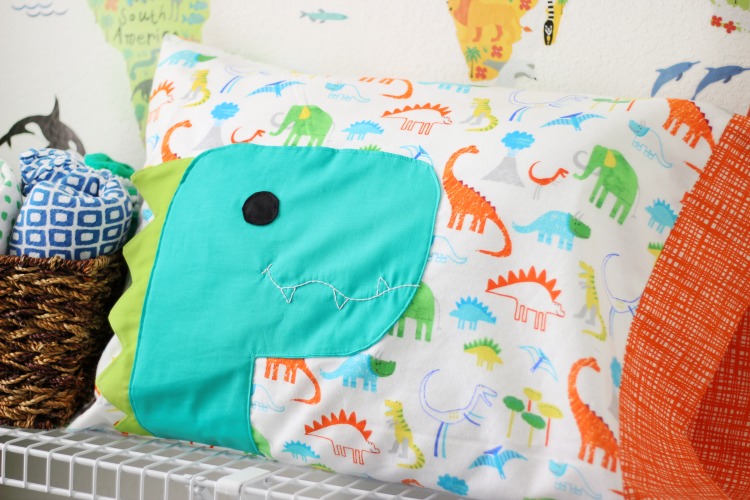 This pillowcase pattern is great for beginners, a quick and easy 1 hour project and that includes the dinosaur appliqué! Here are a few frequently asked questions before we begin.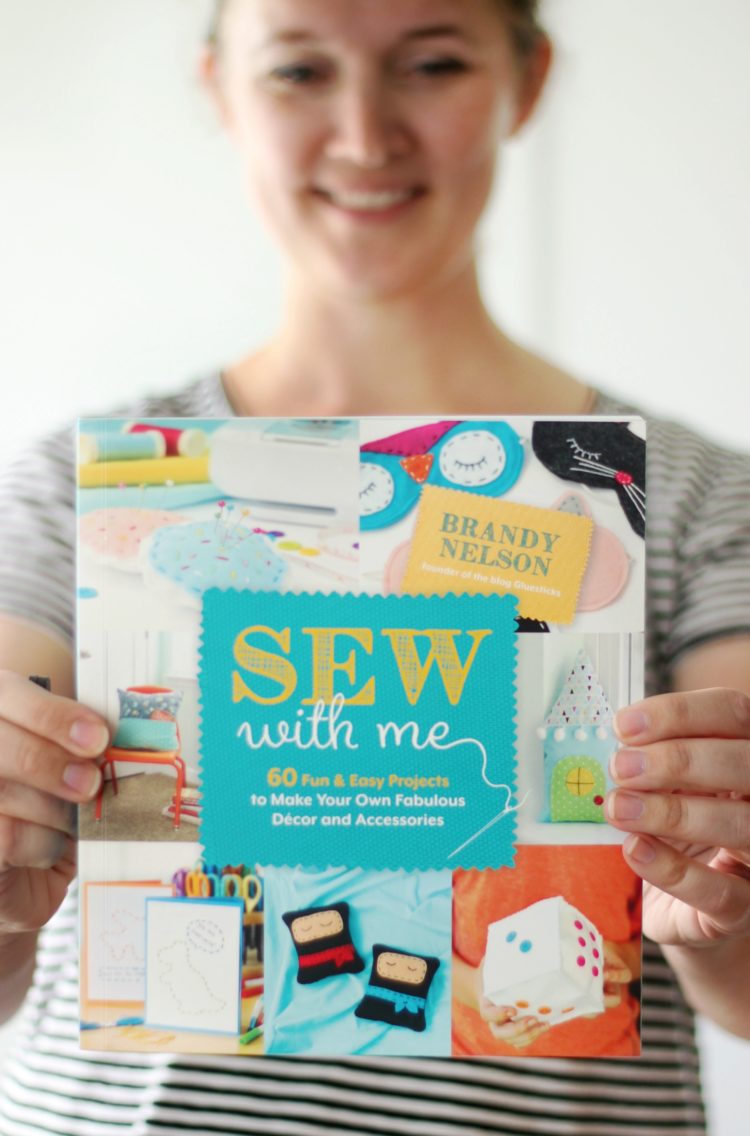 For 60 more sewing projects, check out my sewing book for kids!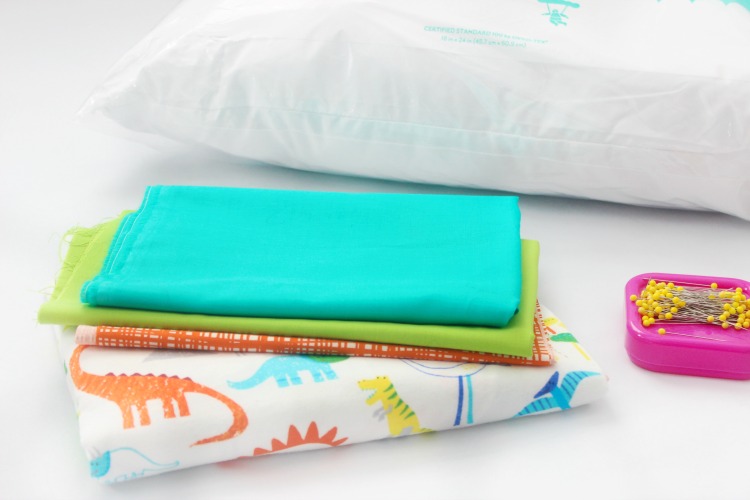 How much fabric should I buy to make a pillowcase?
As a general rule, 1 yard of fabric is plenty of fabric to make a standard pillowcase. If you are using a print that only goes one direction, like the dinosaur print that I used, you will need a bit more. See chart below.
Should I wash my fabric before sewing?
As a rule of thumb, yes. Do I always wash my fabric? Only when I am making clothing. This is because I'm lazy, ha! Actually for quilting I really like how the fabric shrinks a smidge with the first wash/dry. It makes the quilt so crinkly.
How long will it take to sew this pillowcase?
About an hour. If you are making this with a little friend allow for a bit more time for the hand stitching.
Let's get started!
Dinosaur Pillowcase Pattern in 3 Sizes!
Fabric Yardage
Travel Pillowcase Pattern
7/8 yard for non directional prints (1 yard for directional prints) for pillowcase
1/4 yard for band
Kids Pillowcase Pattern:
1 yard for non directional prints (1 1/4 yard for directional prints) for pillowcase
1/4 yard for band
Standard Pillowcase Pattern
1 yard for non directional prints (1 1/4 yard for directional prints) for pillowcase
1/4 yard for band
Dinosaur Applique
1/2 yard for dinosaur
scrap fabric for spikes and eye.
Note: the dinosaur appliqué is the same size, regardless of pillowcase size.
Additional Supplies:
Dinosaur Pattern (download here)
Pins
Pencil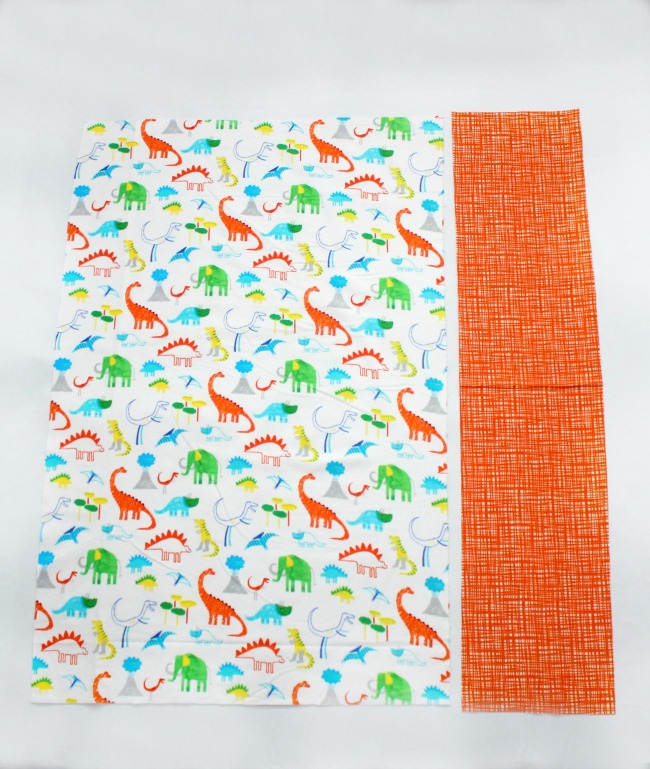 Fabric Cutting Chart:
Manufacturer pillow dimensions are in parenthesis.
Travel Pillow (14″ x 20″):
Cut 1 piece: 30″ x 20″ for pillowcase
Cut 1 piece 30″ x 8″ for band
Kids Pillow (18″ x 24″):
Cut 1 piece 38″ x 24″ for pillowcase
Cut 1 piece 38″ x 8″ for band
Standard Pillow (20″ x 28″):
Cut 1 piece 42″ x 28″ for pillowcase
Cit 1 piece 42″ x 8″ for band.
Directions:
Cut 1 piece for the pillowcase and 1 piece for the band.
Fold the band piece in half with the right side of the fabric facing out. Iron across the fold.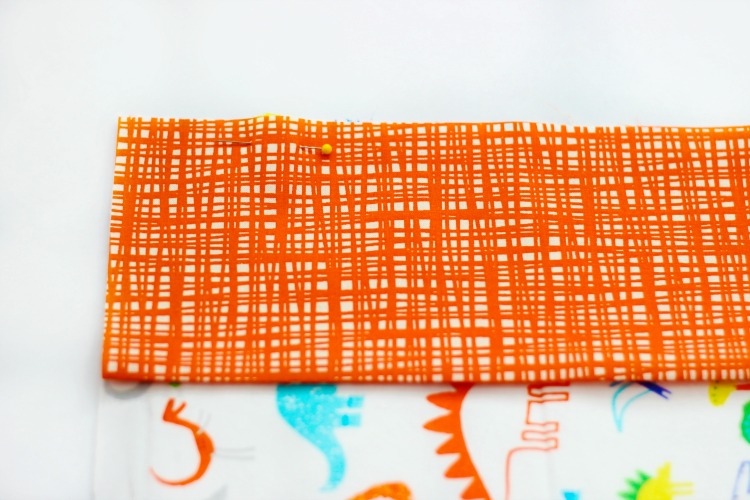 Pin the band to the pillowcase along the long edge, matching edges. Sew in place using a 3/8″ seam allowance.
Press seam.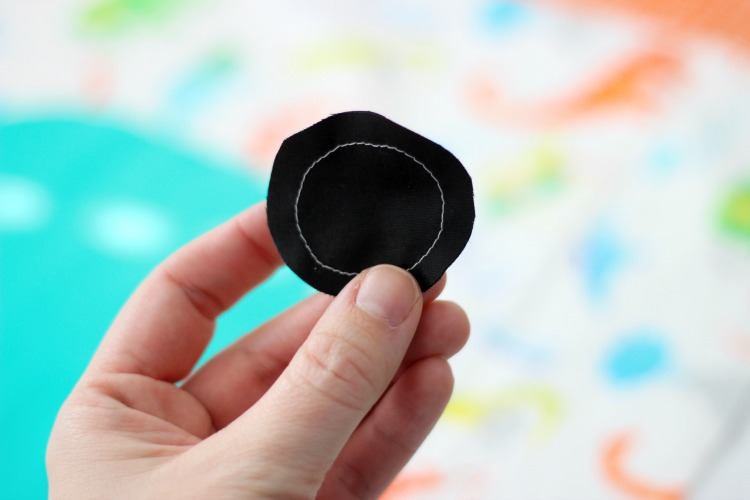 Cut 2 eye pieces.
Place one eye piece on top of the other and stitch a 1/4″ seam all the way around.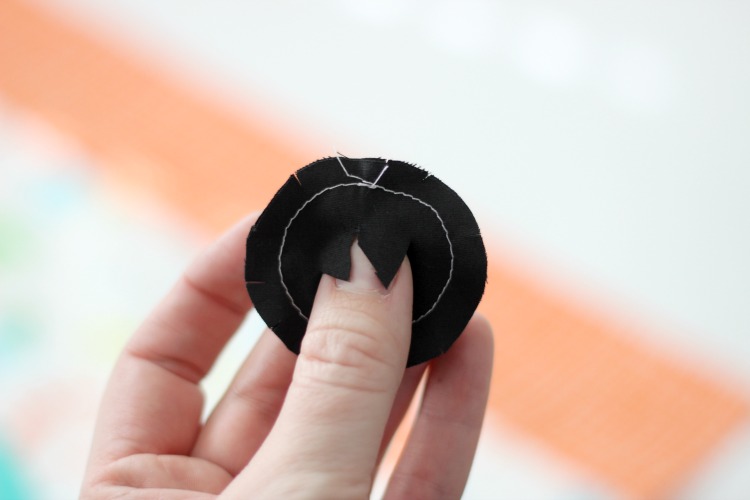 Add a few clips along the curve so that when you turn it right side out it will have a nice rounded edge.
Carefully cut a slit through ONE layer, just large enough to fit your thumb. Turn the piece right side out. Iron the eye flat.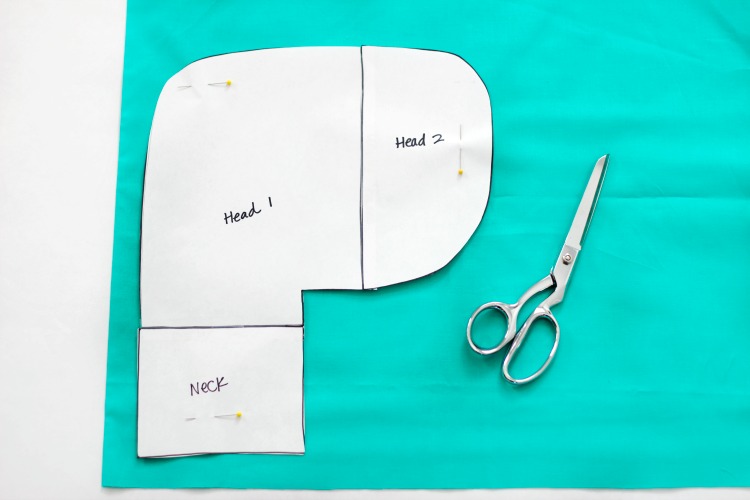 Cut 2 dinosaur pieces and 2 spike pieces.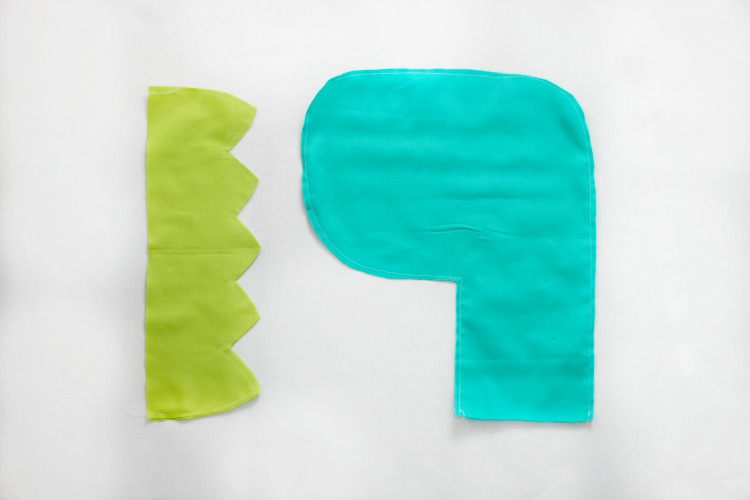 Place right sides together and sew across the top, spikes, and bottom of the spike piece, leaving the flat edge open.
Place right sides together and sew around the dinosaur piece, leaving the bottom open.
Clip corners and curves.
Turn both pieces right side out and iron flat.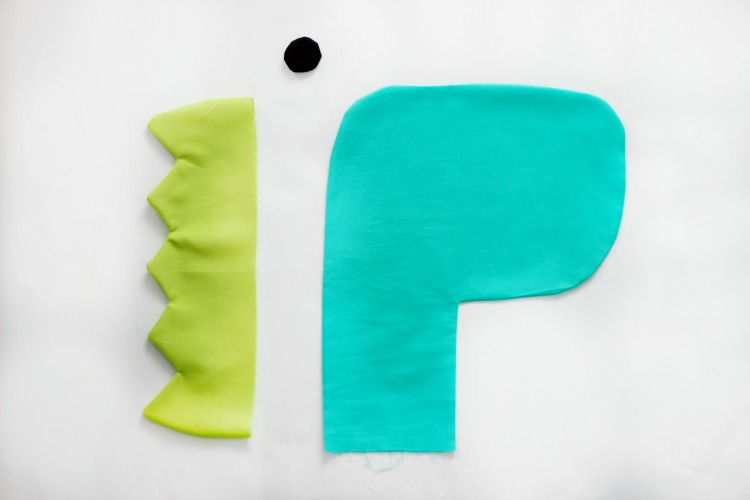 You should now have 3 pieces. A long spike piece, a dinosaur head, and one eye.
Sew the eye onto the dinosaur.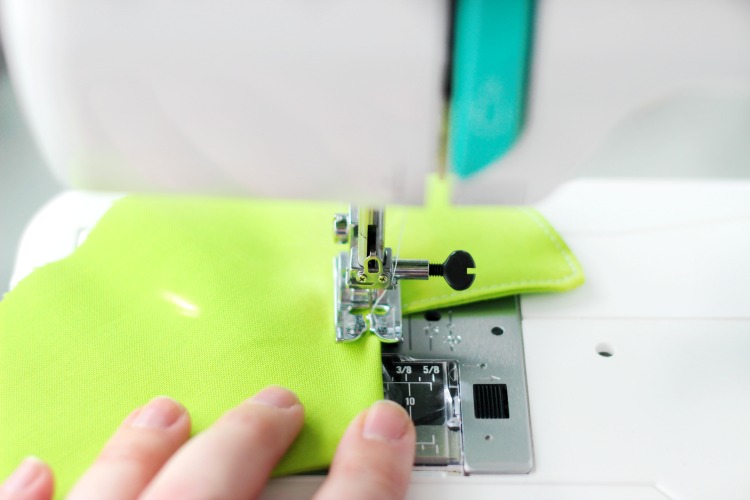 Top stitch close to the edge of the dinosaur spikes (1/8″ seam allowance). This will create a nice finished edge.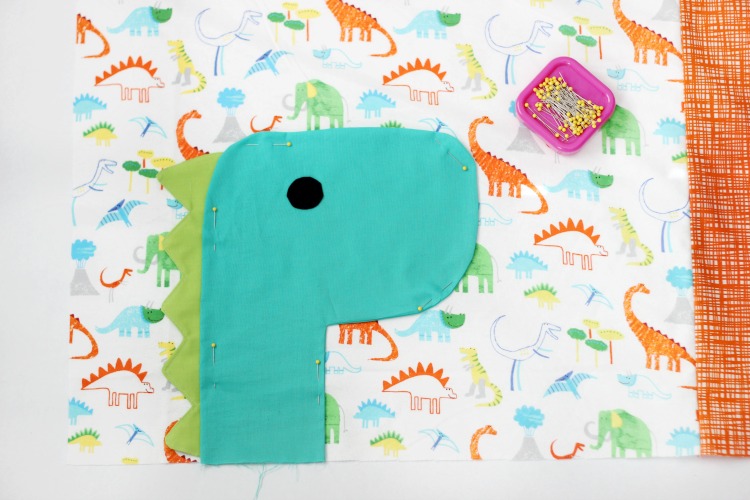 With the band on the right, place the pillowcase piece onto your work surface.
Lay the spike piece on top of the pillowcase and place the dinosaur over the spike edge, overlapping the edge about an inch. Pin into place.
Sew a 1/8″ seam around the dinosaur.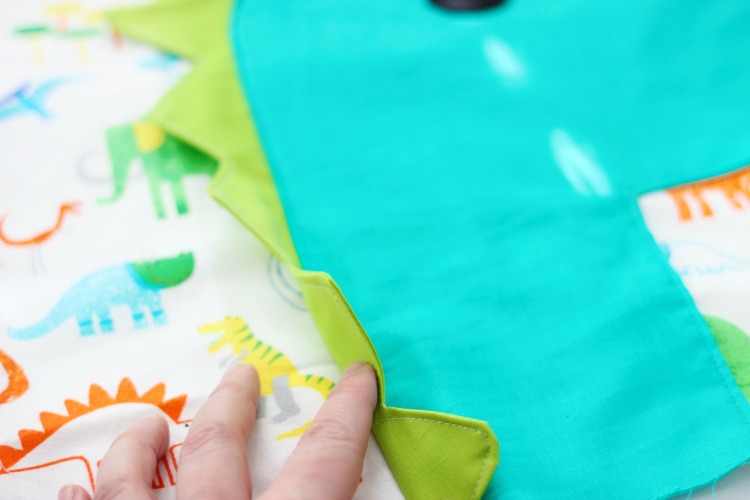 You can sew the spikes down if you'd like, but I like having them flap!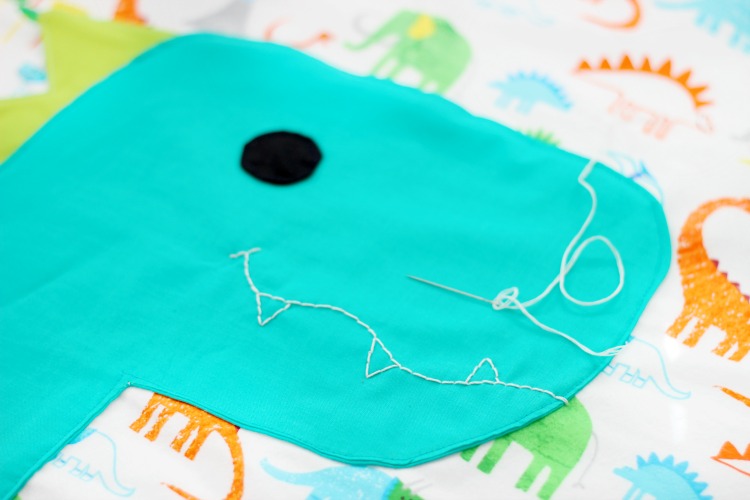 Use a pencil to draw a mouth onto the dinosaur. Hand stitch, using a back stitch, with embroidery floss.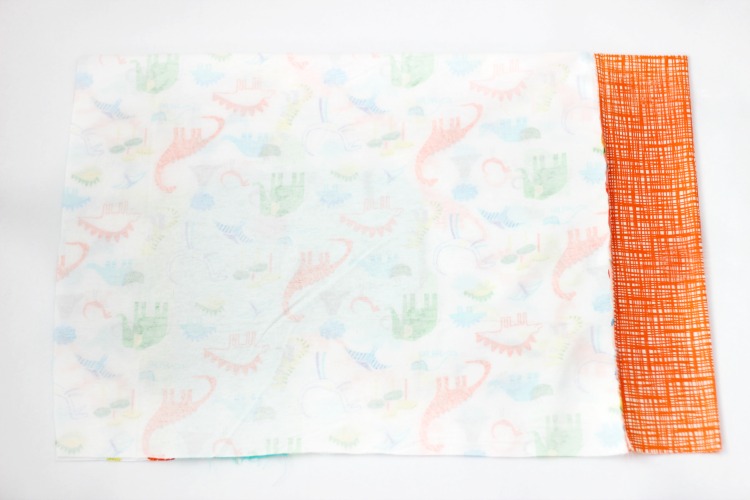 Fold the top of the pillowcase piece down to meet up with the bottom edge. Pin into place.
Sew the left side and bottom edge using a 3/8″ seam allowance.
Clip corners and turn right side out.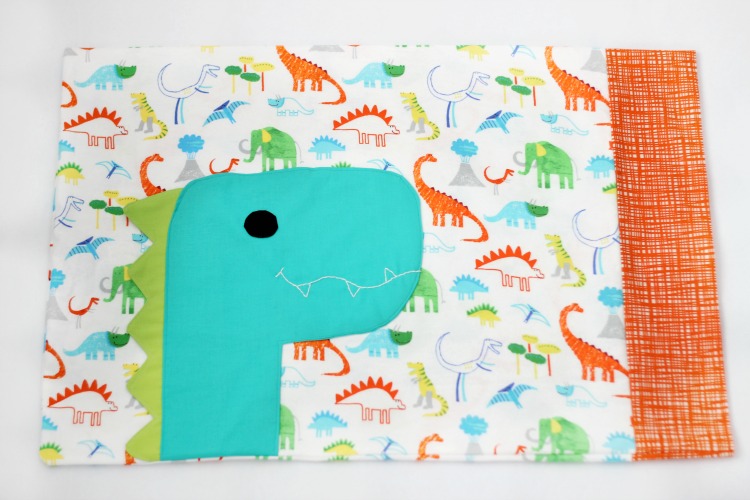 Ta-da! You now have a darling dinosaur pillow with flappy spikes!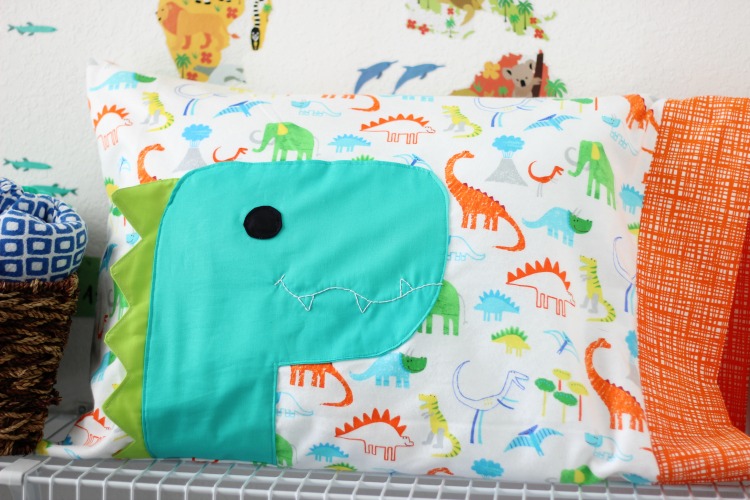 If you liked this pillowcase pattern you might also like…