This doorway puppet theater is made to hang with a tension rod! It also folds up for easy storage and provides hours of imaginative play! DIY one today and let the show begin! This shop has been compensated by Collective Bias Inc. and it's advertiser: All opinions are mine alone. This post contains an affiliate link.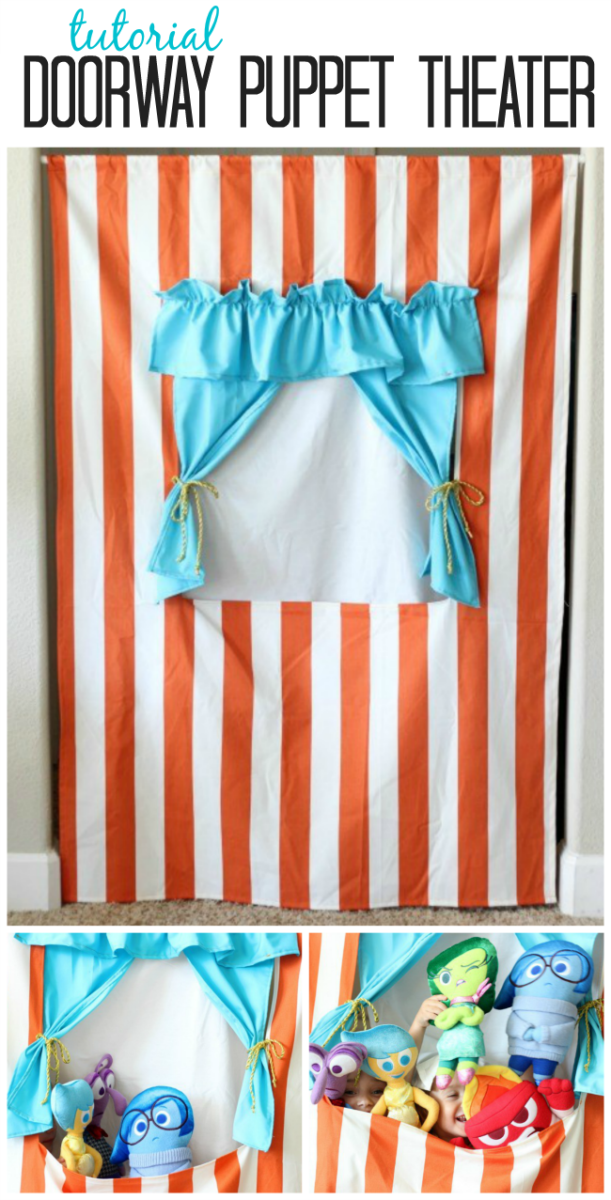 My girls love to put on a good show. Dancing, singing, magic, theater; it doesn't matter. If you are willing to be an audience member they'll have a show to share with you. My sister made them a doorway puppet theater years ago, but it was beginning to fall apart. It was time for a bold and bright update so I got busy!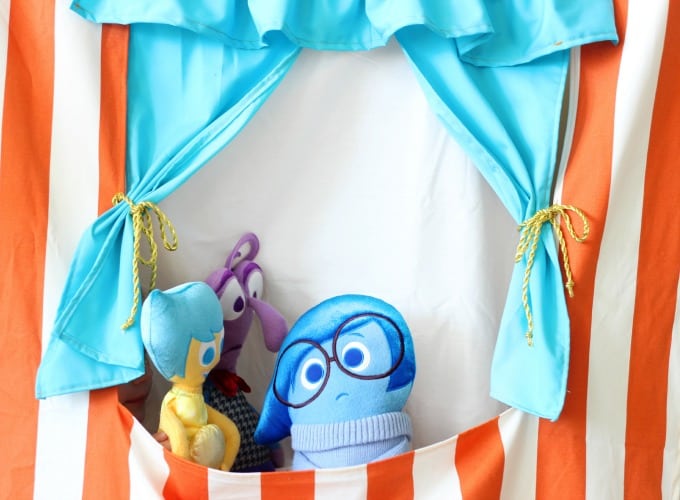 They broke in their new doorway puppet theater with
plush toys
from our new favorite movie, "Inside Out." Have you seen it yet? We saw it on opening day and absolutely loved it. Even from the second row (I would not recommend sitting in the second row of a movie theater…ever. Motion sickness anyone? Ha!).
Inside Out sparks so many emotions and thought-provoking conversations with children. Every baby begins with Joy, but then Sadness, Anger, Disgust, and Fear make their appearance and create the different emotions and reactions to everyday life. I loved the movie because it shows how they all work together to bring out the best in each person. We can't live life with Joy alone. There is a part to play for every emotion. Even Fear and Sadness because they keep us balanced, and keep us safe.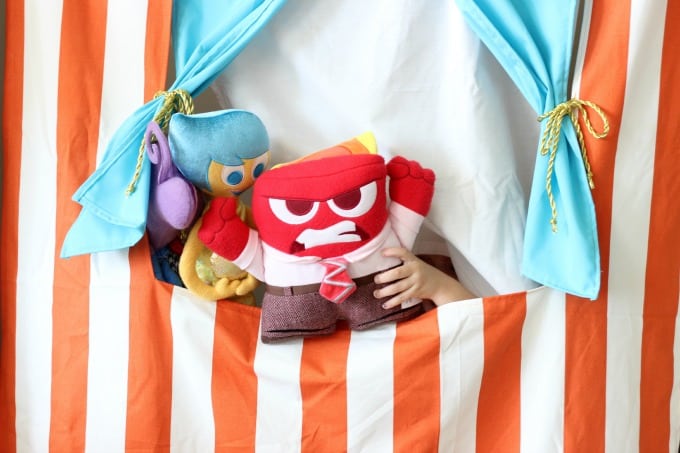 Having seen the movie, the girls immediately knew and recognized the emotions when we spotted the plush toys at Walmart. They had so much fun planning their puppet show, and each emotion definitely played their part. Joy was happy, Sadness was sad, Disgust was annoyed, Fear was scared, and Anger was mad. These characters, mixed with imaginative play, are such a great way for the girls to practice different emotional situations in a fun way!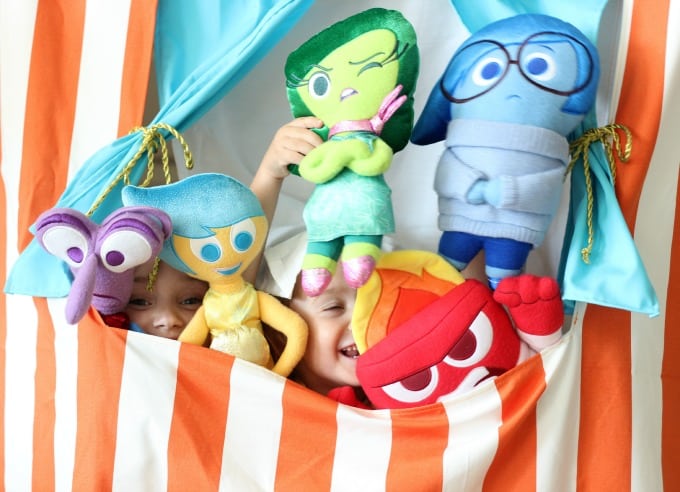 Ruby's favorite character is Disgust, but she can't always remember her name and often calls her "Gross". It cracks me up every time! At one point all of the emotions were working together and the puppet show got kind of crazy. Isn't that how it would be if we were feeling joy, sadness, anger, fear, and disgust ALL AT ONCE? I can't even imagine!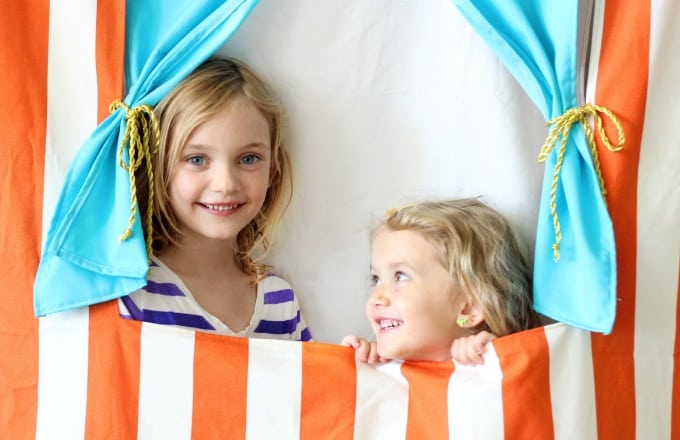 It's healthy for them to play together, learn to share, use manners, and work as a team. Every time they put on a show, periods of Anger and Sadness occur, (being bossy, not sharing, not taking turns, etc.) but it always ends with Joy. It's how they learn and grow! Another way that they learn about emotions is through music. Ruby especially likes the song,  "
If You're Happy and You Know It
".
You can use a doorway puppet theatre to help your kids sort through their big emotions too.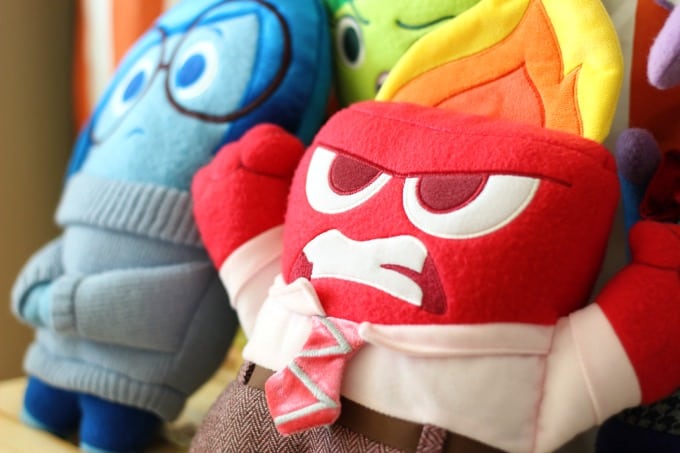 I'm a very compulsive person. When I get an idea in my head I have a hard time focusing on anything else. That's exactly what happened with this theater. I had the idea around 8pm one night. At 9pm I went in my craft room and found some fabric. By 11pm the theater was finished. My husband came home from work that night and said, "I didn't even know you were planning on replacing the other one." Yeah, I didn't either…until that night! The girls were thrilled to wake up to a brand new puppet theater. I even got a big hug from Kaylee. I took down some measurements as I made mine in case you'd like to make one too!
How to make a Doorway Puppet Theater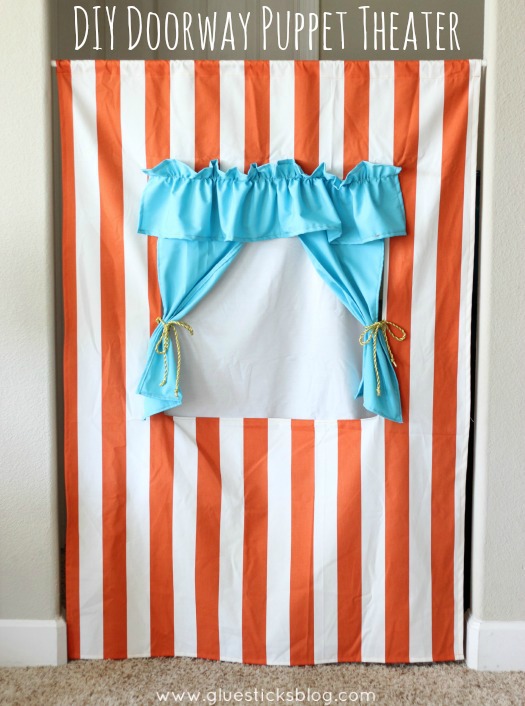 Supplies to make a doorway puppet theatre:
2 yards fabric for main
1-yard coordinating fabric for curtains and ruffle
22″x27″ fabric scrap for the window backing
Ribbon 2 (30″) pieces
Thread
Tension Rod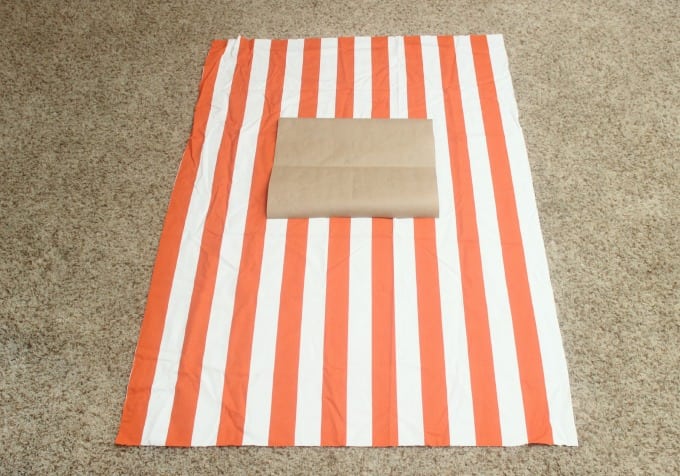 Cut your main piece for the puppet theatre to the width of your doorway and 60″ tall.  A sturdy home decor fabric, corduroy, light denim, or duck cloth would work best. My doorway was slightly wider than an average door (42″). Just measure the spot you are planning on using the puppet theater the most and go with that measurement.
Measure 26″ up from the bottom of the main piece and mark it with a pin.
Cut a 20″x20″* square out of a newspaper or a paper bag to use as a pattern and place that on your main fabric for the window. Center the square and line up the bottom of it with the pin.
*If your doorway is a lot narrower than mine, you can adjust the window for the doorway puppet theatre to be smaller if a 20″ window seems too wide.  Ex: Cut an 18″ window and adjust the curtains, etc. to reflect the smaller measurement.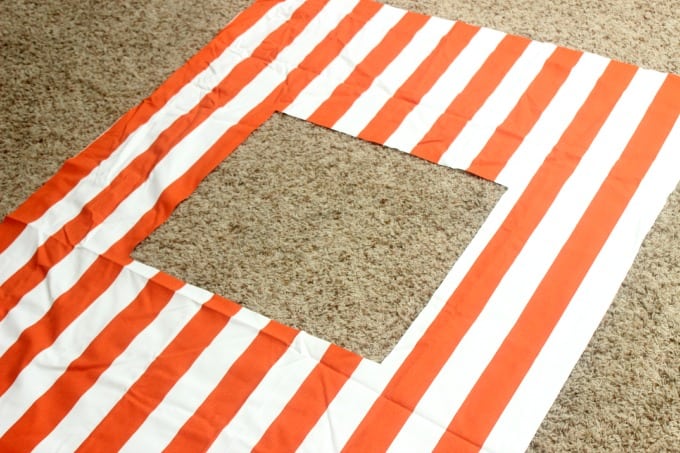 Draw around the square with a pencil and cut out. I pinched the fabric in the center of the square and made a slit with my scissors. Then I used that to make my way around the entire square.
Now it's time to hem and finish the inside of the doorway puppet theatre window!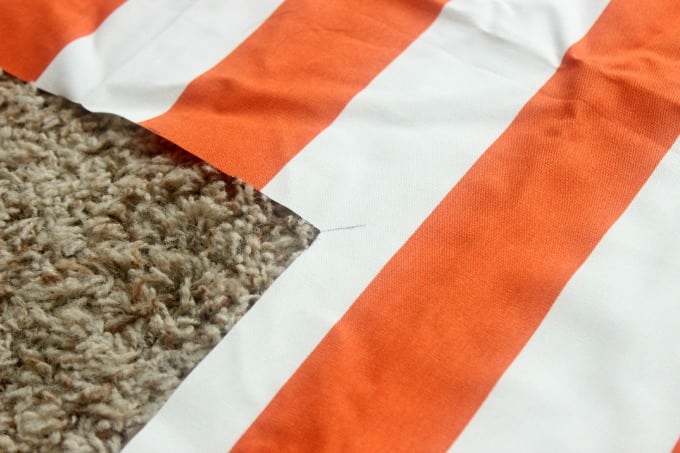 Cut a 1″ diagonal slit in each corner.
Fold each flap over 1/2″ and press. Fold once more, press, and pin in place.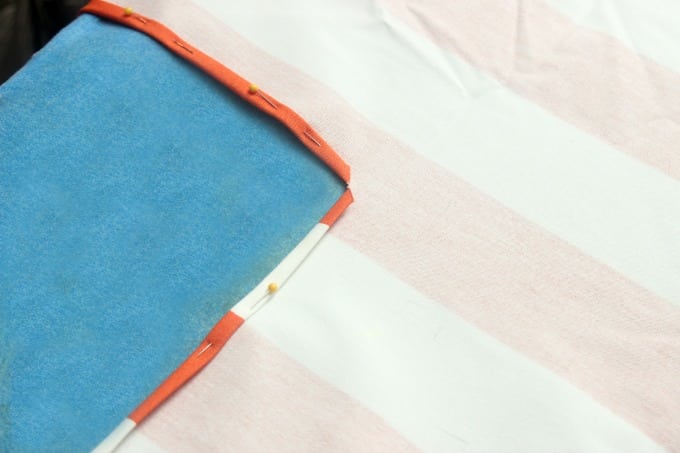 Sew each flap down, completing the hem around the entire window.
Now to finish the bottom and the sides!
Fold the bottom and sides of your main piece 1/2″ and press. Fold again, pin, and sew all 3 sides.
Ready to finish the top of the doorway puppet theater?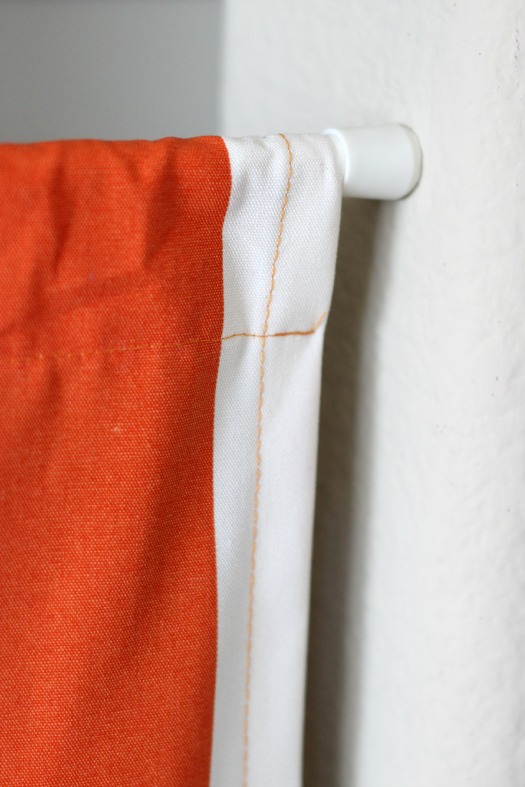 Fold top 1/2″ and press. Then fold down another 2″, press the fold and sew to create a casing for your tension rod.
Finishing Touches to make your doorway puppet theatre stand out:
Doorway Puppet Theatre Curtains
Cut 2 (12″x24″) rectangles. Double hem 1/2″ on all 4 sides.
Set aside.
Window Backing
The window backing is just a solid piece of fabric (I used white) to hide the kids behind the window! It hangs down behind and the kids hold their puppets up in front of it.
Cut out a  22″x27″ piece of fabric. Hem all 4 sides with a double 1/2″ hem.
Now it's time to sandwich the main fabric, window backing and curtains.
Turn your main fabric over so that the right side is facing down.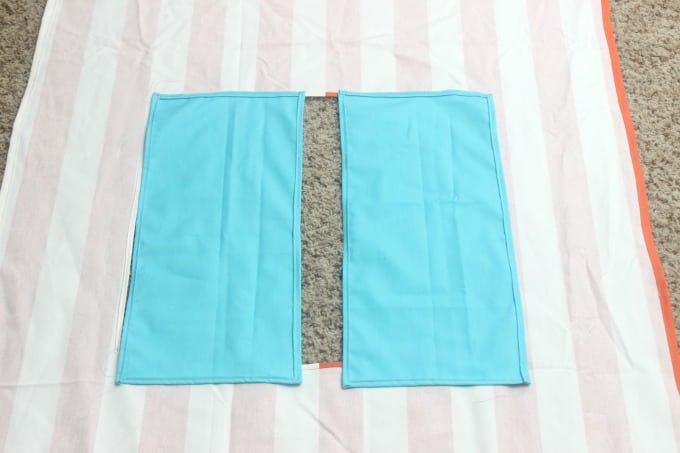 Place each curtain piece on the window, overlapping the top edge by 1/2″.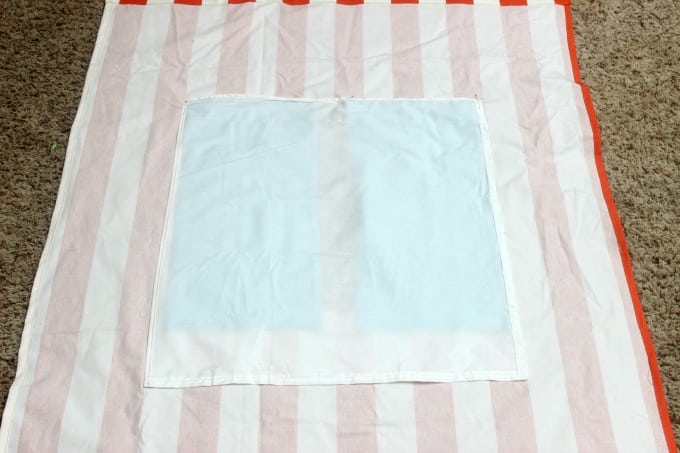 Place your window backing fabric on top of your curtains, matching top edges and pin.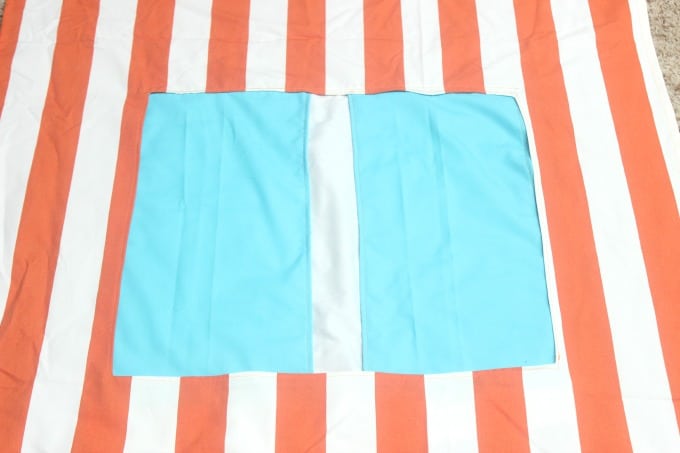 Sew across the top. This is what it looks like when you turn it over. You can add ribbon or cording to tie the curtains and stop here….or you can add a ruffle across the top!
Doorway Puppet Theatre Window Ruffle
Cut out a 42″ x 10″ strip of fabric. Double hem all 4 sides 1/2″.  Create gathering (basting) threads by setting your machine to the widest stitch (my setting was a 4) and sewing 2″ from the top 2 times, leaving a few inches of thread on the ends for pulling the gathers. If that doesn't make sense, you can check this out.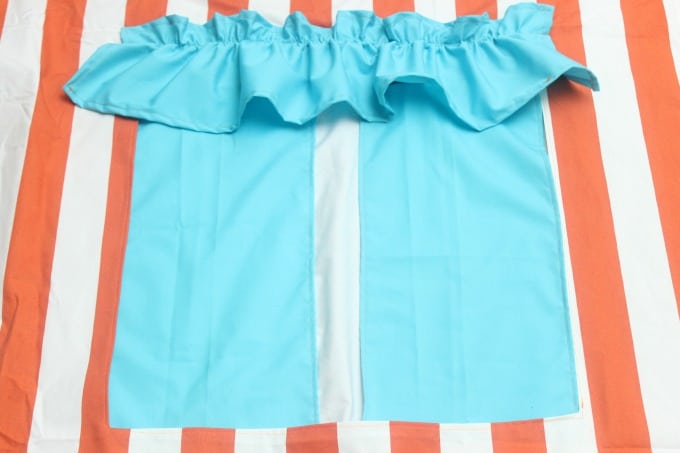 Pull gathering strings and continue to pull and spread gathers evenly until your ruffle is the 2″ wider than your window. Pin Ruffle to the front of the puppet theater, matching the gathering stitches with the stitches on the main fabric below. Sew ruffle on top of puppet theater. Remove basing threads by pulling or using a seam ripper if necessary.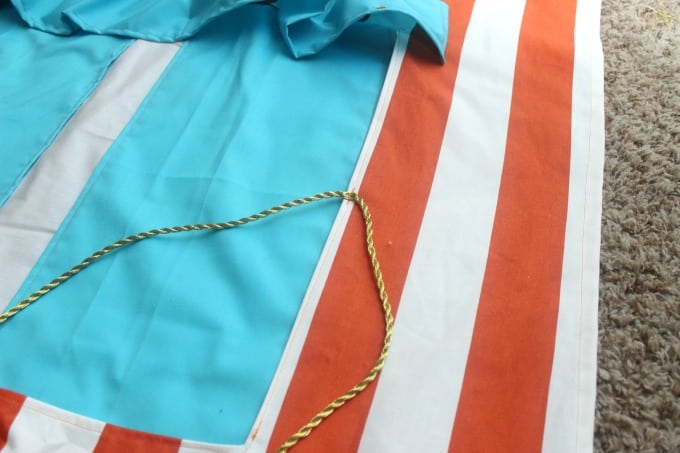 Stitch ribbon/cording to theater midway down the window.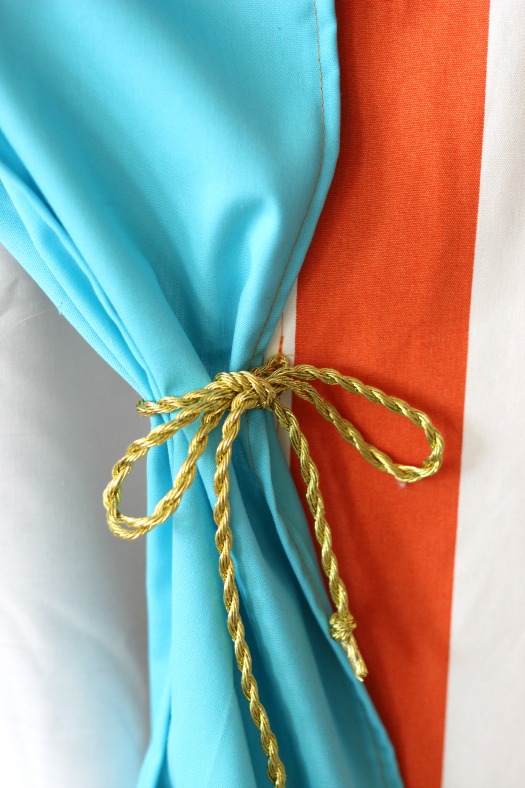 Tie the curtains with ribbon and hang the doorway puppet theatre with a tension rod.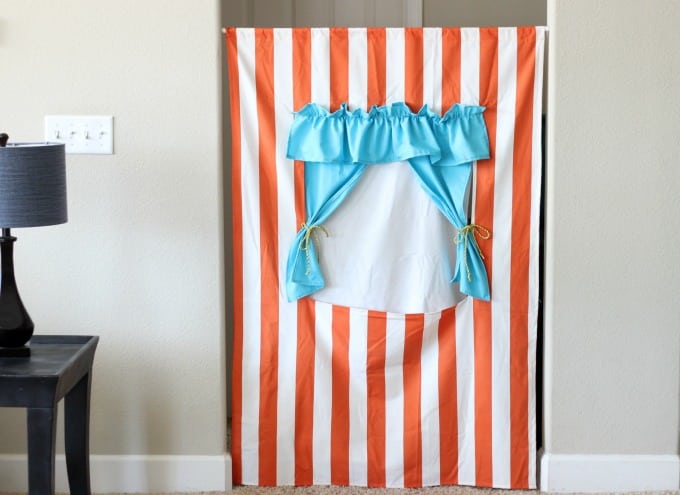 Now you have a darling doorway puppet theater!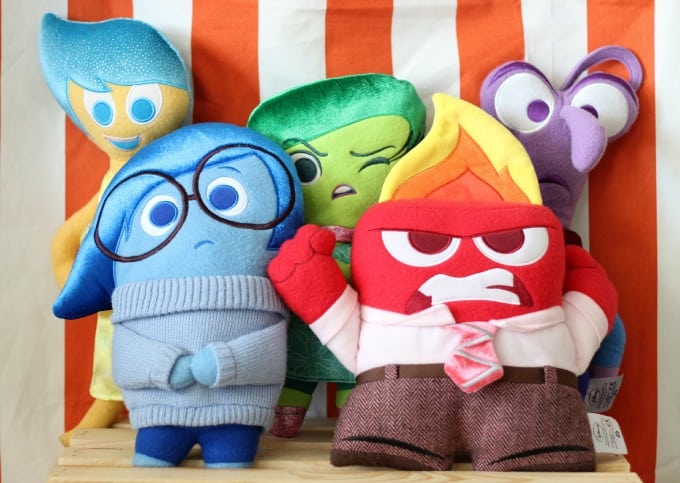 If you liked this doorway puppet theatre quick sew tutorial you might also want to check out:
2 Sewing Projects For Messy Eaters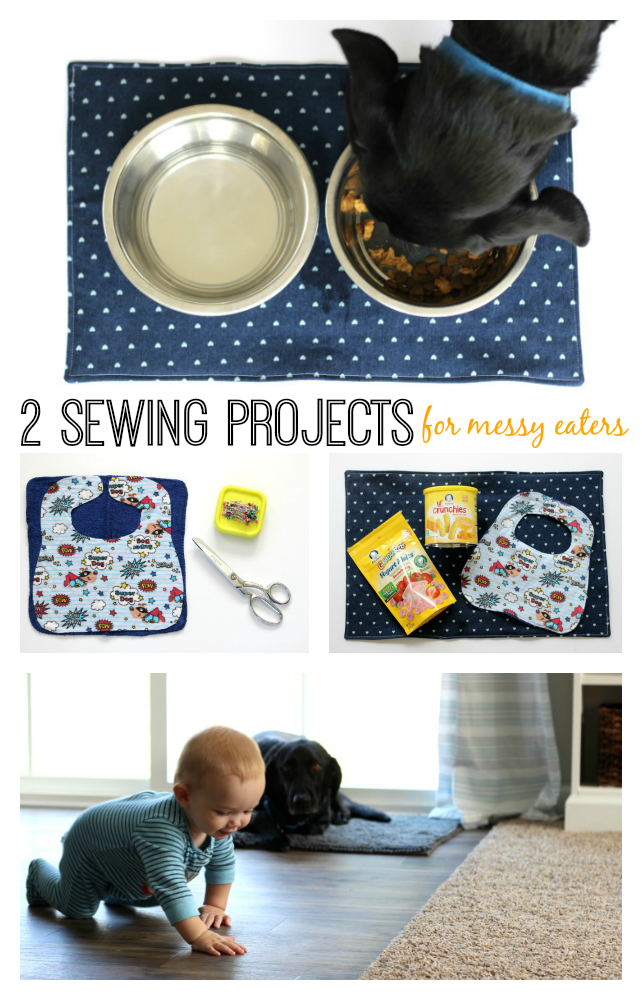 10 Minute Teddy Bear Sleeping Bag