This Downton Abbey motion picture party is simple, beautiful, and brimming with delicious European treats! The perfect dessert spread to enjoy with girlfriends while watching the motion picture! This post is part of a social shopper marketing insight campaign with Pollinate Media Group® and Universal Pictures Home Entertainment http://my-disclosur.es/OBsstV
Who else has been anxiously awaiting the release of the Downton Abbey DVD? I wasn't able to see it while it was in the theater and couldn't wait to see how the movie tied into the series. If ever there was a time to have a girl's night with friends…THIS IS IT.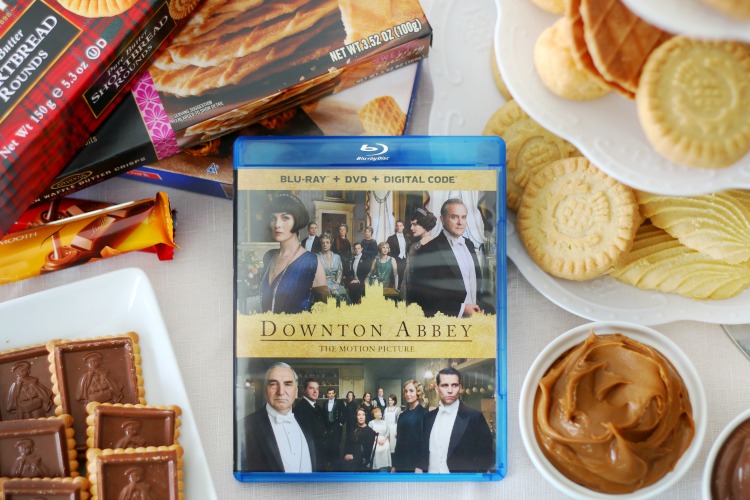 And if ever there was a time to raid the European cookie and chocolate section at the grocery store…THIS IS IT.
Downton Abbey Motion Picture Party
I had so much fun putting together this dessert spread for our Downton Abbey motion picture party. Is it authentic to England? Not quite, but it is elegant and feminine and absolutely delicious. Let's scroll together through all of the elements, shall we?
Savory and Sweet Snack Board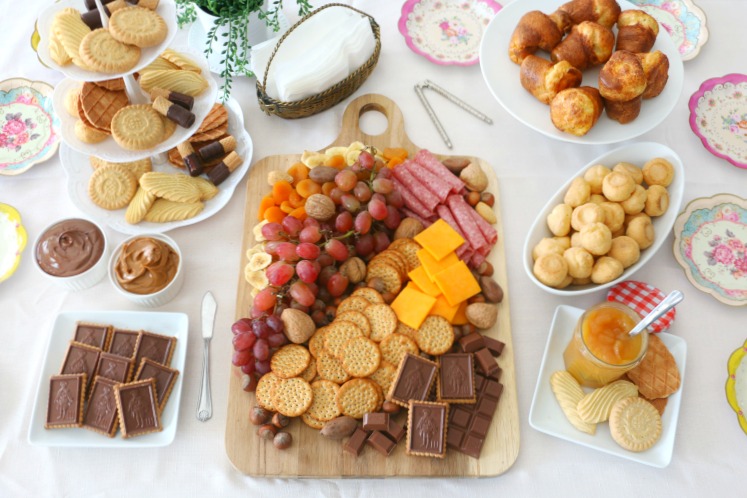 It would be incredibly easy to go crazy on the sweets, and I kind of did, but I also wanted to add a savory element to the party. I did this through dried salami, cheese slices, nuts and crackers. Combined with dried apricots and fresh grapes, it perfectly complemented the variety of chocolates.
Homemade Popovers are Perfect for a Downton Abbey Themed Party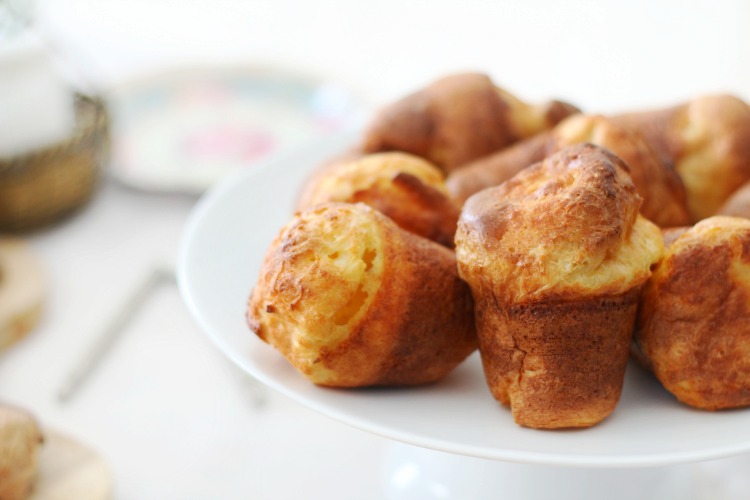 Have you ever had popovers? They are super yummy and very simple to make! Combine eggs, milk, salt and flour and bake in a popover pan. About 15 minutes into baking they puff up super high and start to brown. They are light and hollow on the inside.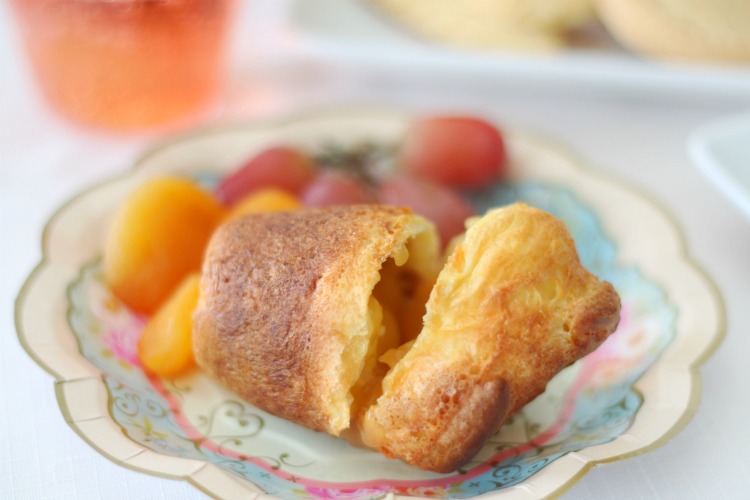 Popovers are similar to Yorkshire Pudding, which is an English side dish. Our family loves them. I made a batch and served them a variety of spreads, but they are also delicious with butter and honey. Here is a simple popover recipe that you can follow from Betty Crocker.
Spreads: Lemon Curd, Cookie Butter and Hazelnut Chocolate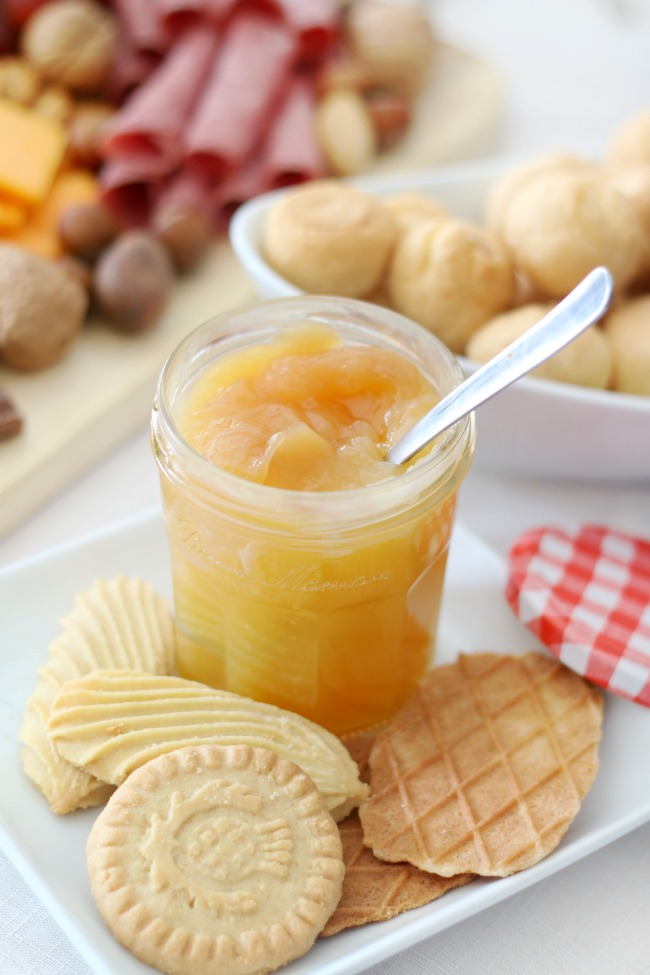 Years ago a friend gave me a jar of lemon curd and Scottish shortbread cookies as a Christmas gift. Lemon curd has been one of my favorite treats ever since. Nothing packs a punch of lemon flavor like lemon curd. Homemade lemon curd is easy to make, but I opted for a cute jar of store bought curd for this dessert spread.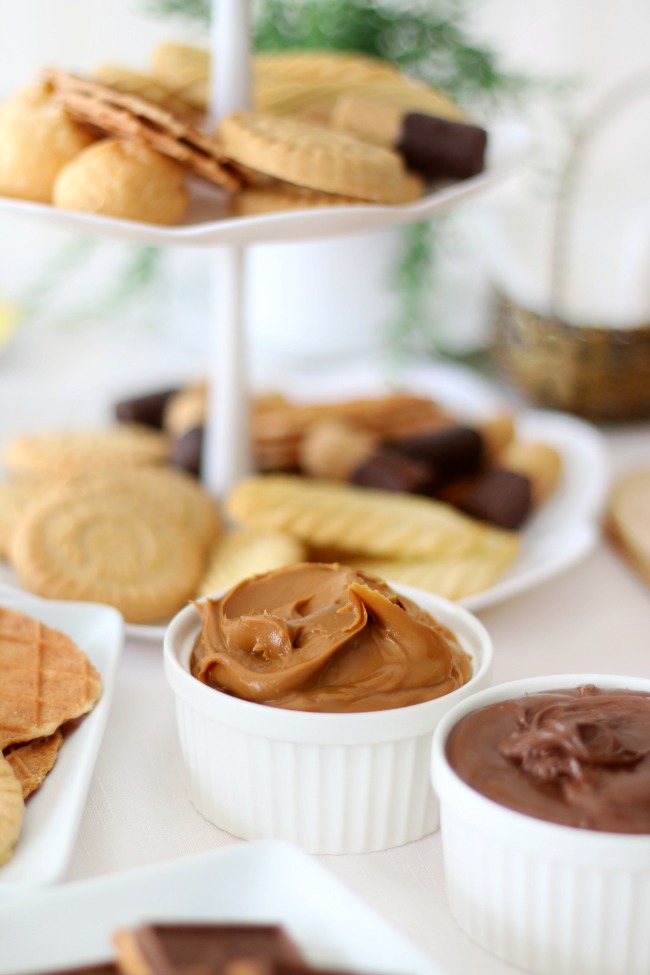 And, of course, cookie butter and chocolate hazelnut spread. Always a must on shortbread cookies.
European Cookies and Shortbread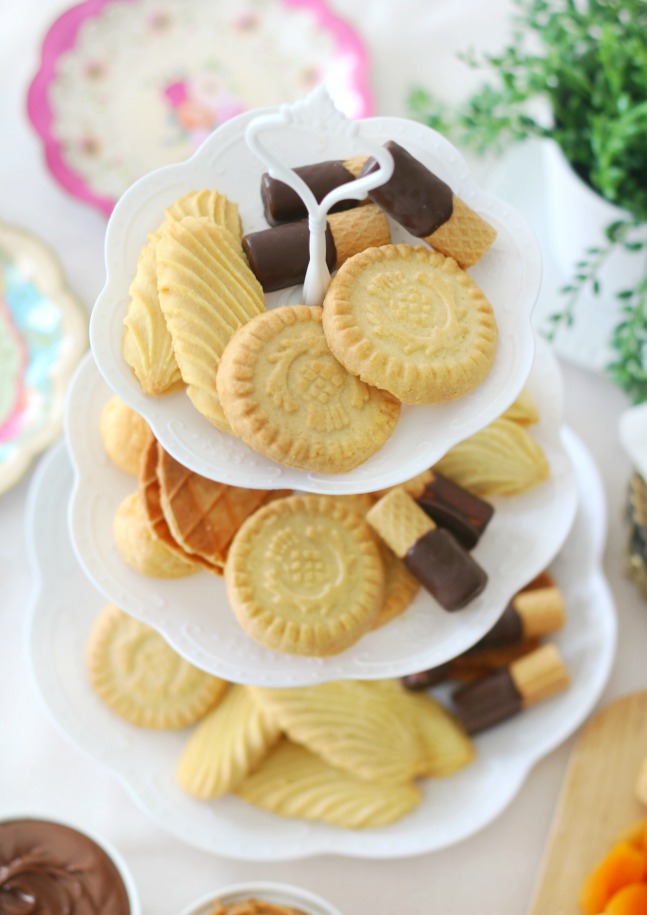 I found a variety of European cookies and treats at my local grocery store and arranged them on a pretty tiered tray (fyi: it's a plastic tray and easily disassembles for storage. Perfect for tea parties and showers!)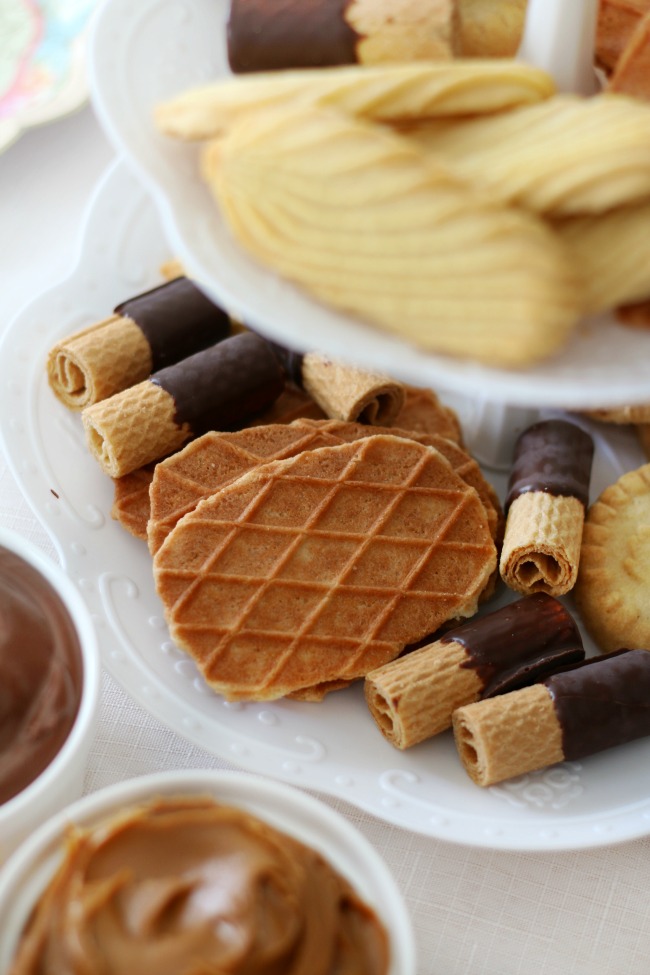 We had a great time sampling the different kinds. The top favs were the waffle cookies and Scottish shortbread cookies.
Variety of Chocolates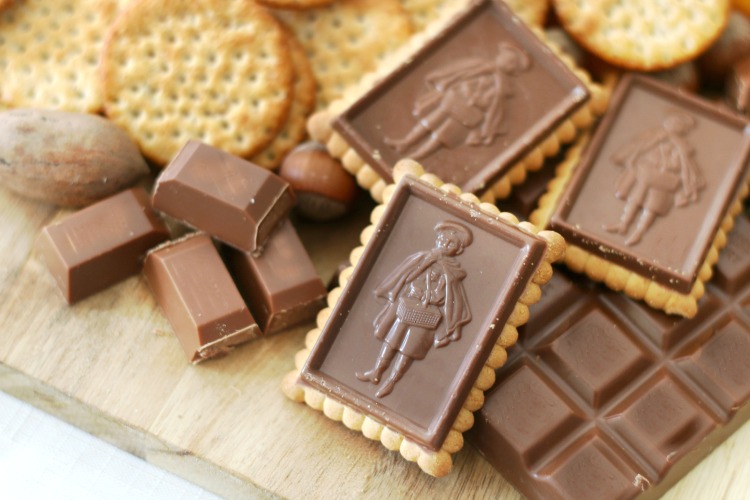 This may or may not have been my favorite part to put together. A variety of delicious and decadent European chocolates.
Sparkling (Non Alcoholic) Rose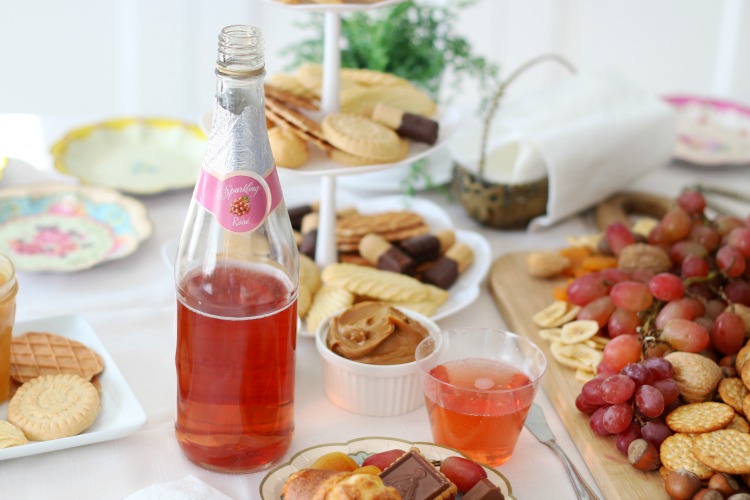 Obviously tea would be the clear choice to serve at an English themed party, but I actually don't care for the taste of tea and was going to serve lemonade. Then I saw this sparkling grape rose that was just too pretty to pass up.
Downton Abbey Trivia Printables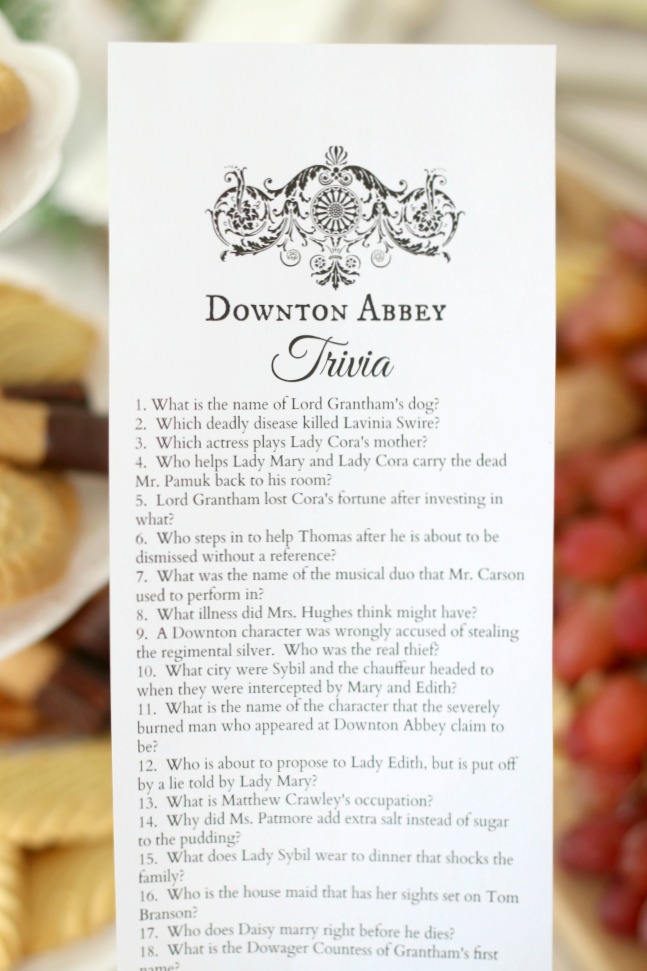 I printed out copies of this Downton Abbey trivia printable from Make Life Lovely and it was a lot of fun to go through.  You could even put together a few prizes for the top 3 winners!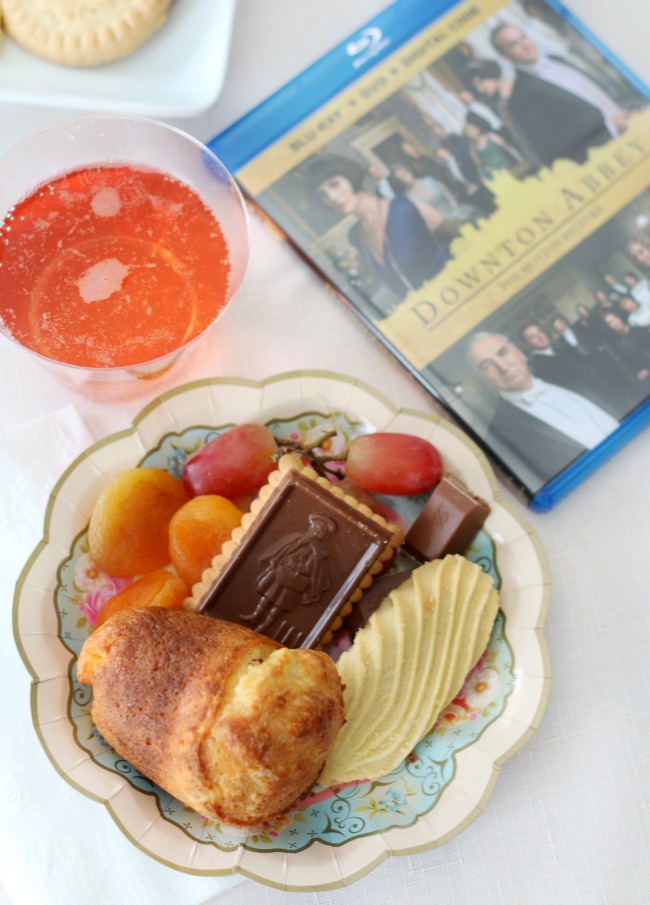 I mentioned above that the tiered tray that I used was plastic, and guess what? The fancy little plates are made out of paper.  I told you this party was super easy to put together, and even easier to put away once the movie is over.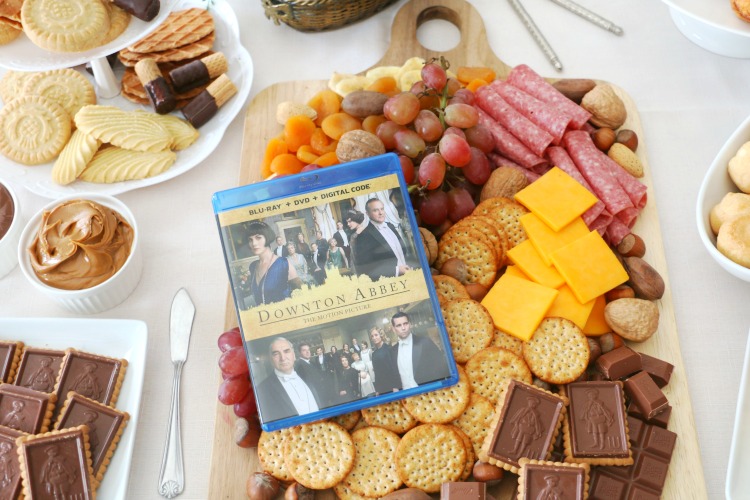 Downton Abbey The Motion Picture DVD
I won't share the details of the movie, for those who haven't seen it yet, except to say that I loved it and felt that it tied in beautifully to the series finale. All of our favorite characters returned and were in full form, especially Granny (Violet Crawley) with her quick whit and sarcasm.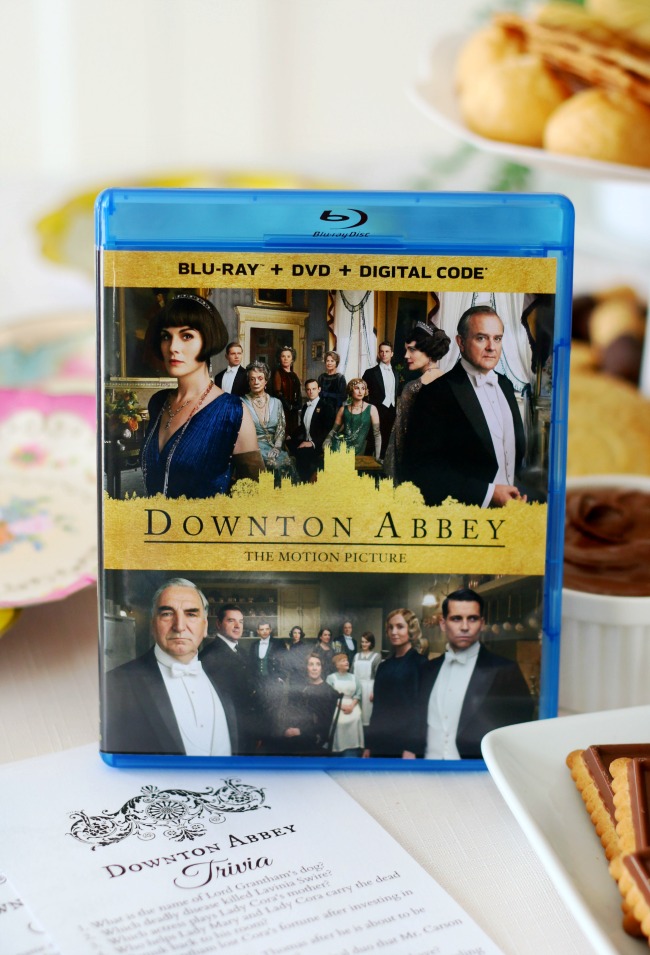 You can find the Downton Abbey DVD at your local Walmart or on Walmart.com, and be sure to pencil in a date for your Downton Abbey motion picture party before your calendar fills up!