This post brought to you by Huggies and Kleenex. All opinions are 100% mine.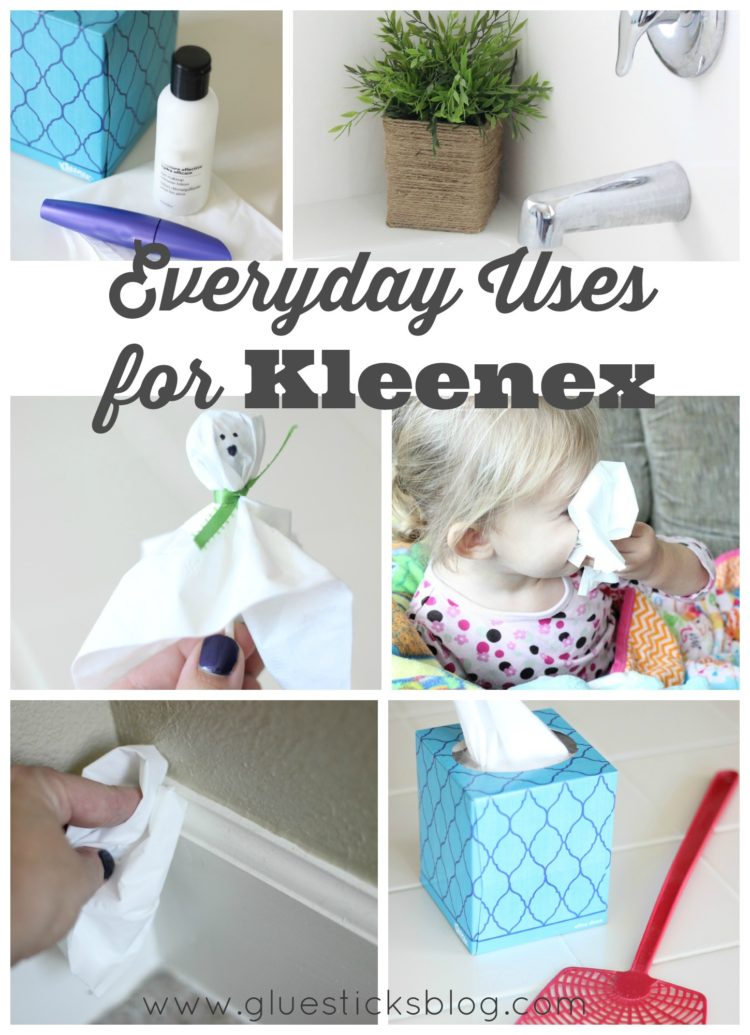 We all know that Kleenex® Ultra Soft Tissues work great for wiping noses, but what else do you use them for in your home? When I got to thinking about it I realized that I use them for many random tasks as well! I posed the same question to my FB readers and here are a couple of the responses I received!
"Our kids use it to make ghosts.. Usually in October, but not always. They have also used them for simple parachutes to fly very small objects off of our banister. I have also been known, once or twice, to use an entire box of tissues to keep a very fussy toddler occupied while cooking dinner."
"I used Kleenex® when I was younger to protect the ends of my hair when using curlers. A few years ago at Mother's Day, I ran out of tissue paper in the classroom for making paper flowers, so I used Kleenex out of desperation! The flowers looked beautiful, but actually reminded me of soft snowflakes….so during the holidays that year I make Kleenex® flower/snowflakes and strung them on yarn to make a garland. We also clumped them together on a wreath!"
Great ideas! My favorite thing about Kleenex is that it is soft, versatile, and inexpensive.
 6 Everyday Uses for Kleenex® Ultra Soft Tissues in our Home: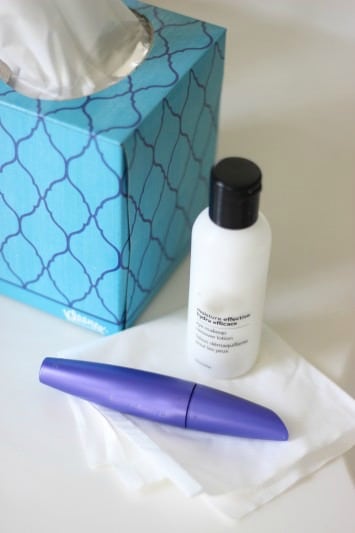 1. Eye Make Up Removal. Toilet paper just doesn't cut it for sensitive areas like the eyes. I much prefer Kleenex® Ultra Soft Tissues with my favorite eye make up remover.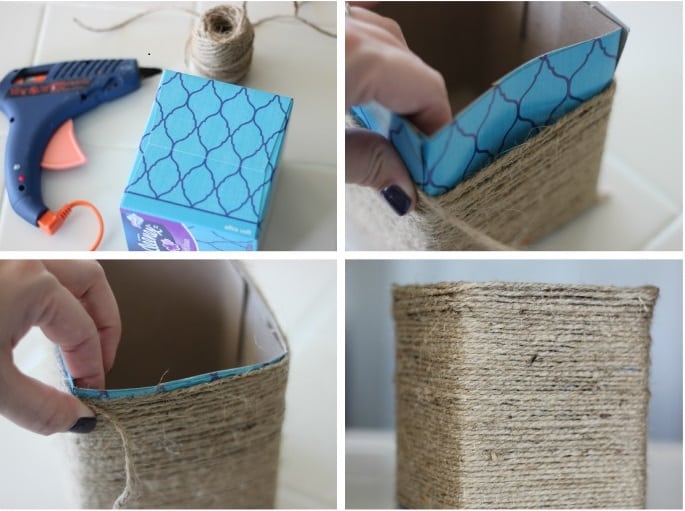 2. Up-cycled crafts! Dioramas, kids craft projects, home projects. Kleenex® Brand boxes are great for many DIY crafts.  If you would like to see how I created my twine wrapped decor box, keep reading!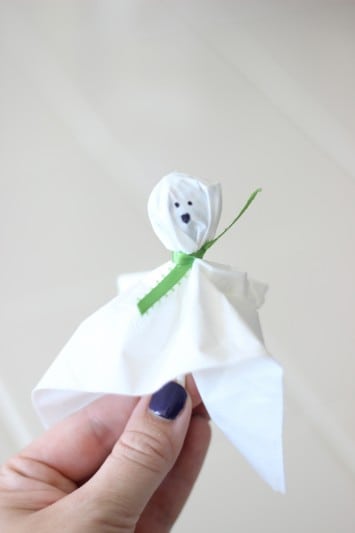 3. Halloween Ghost Pops. It isn't Halloween without Kleenex® Brand Ghost Pops. We make them every year and the kids usually come home from school/preschool with one or two. So easy and so fun!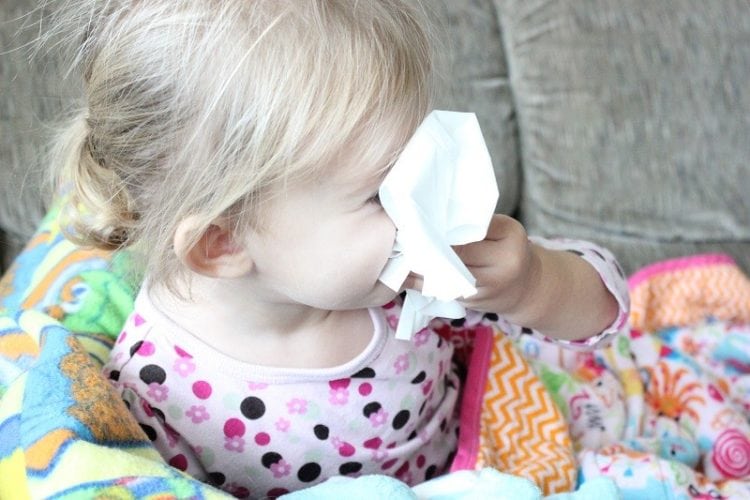 4. Cold, Flu, and Allergies. Kleenex® Ultra Soft Tissues work great for wiping noses because it doesn't leave dust behind or make allergies worse and is also soft on little noses.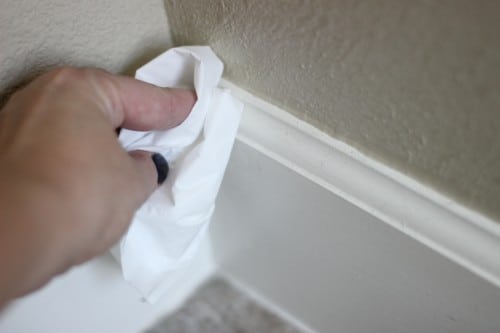 5. Dusting Baseboards and Bathroom Floors. Kleenex® Ultra Soft Tissues work great for trapping dust, lint, and hair that collects on the baseboards and floors in the bathroom.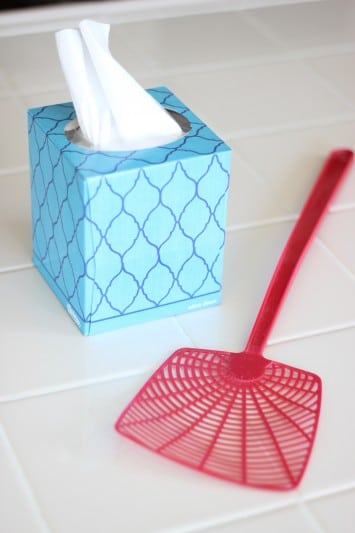 6. Wiping up Small Spills. Or smashed things….like bugs.
Twine Wrapped Kleenex® Box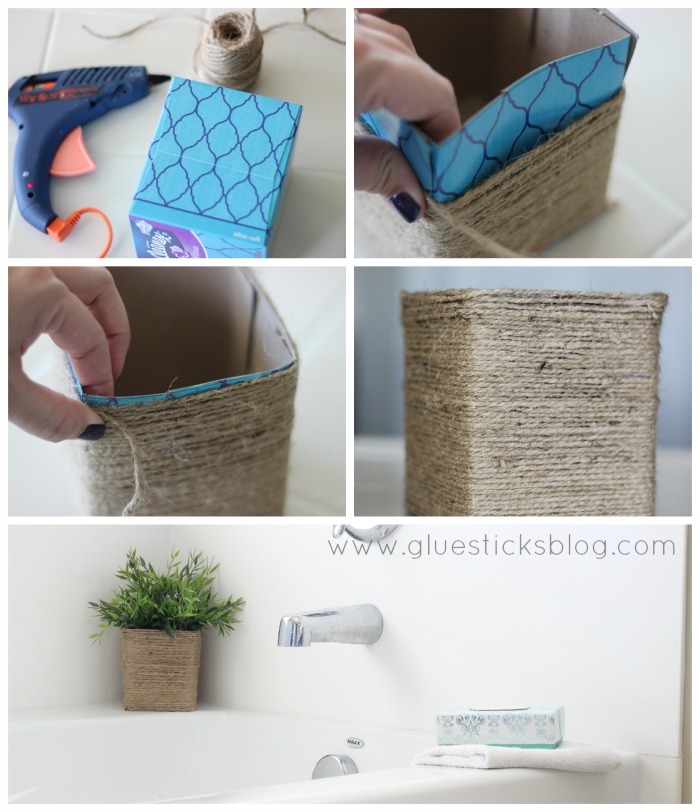 This twine wrapped Kleenex® box was very simple to make. A great upcycled project!
I added it to our master bathroom. If we used this tub often, it wouldn't be a good idea to have a cardboard box sitting there, but the tub and shower are seperate and we never use the tub!
Begin by cutting the top of the box off. Start at the center where the tissue hole is and trim around the edge.
Begin at the very botttom of the box and run a long line of hot glue along the entire side. Carefully lay your twine/jute on the glue. Press until it begins to set. Begin wrapping your box (TIGHTLY) with twine. It is important to check your work to make sure you can't see any of the Kleenex® box underneath.
You can add a little more hot glue every now and then, but basically you will just be wrapping the box until you get to the top.
When you reach the top, run a line of hot glue around all 4 sides and keep wrapping and applying glue until you have a nice finished edge.
Wrap, glue, wrap glue. That's it!
We buy our Kleenex Ultra Soft Tissue by the 12 pack at Sam's Club. I like the smaller boxes (cubes) because they don't take up as much space on the counter, but they offer both in these bundles. Did you know that you can purchase items like this using their FREE Online Ordre Pickup Service? Just one more way they make shopping there easy. Unless you have four children who want to sample everything 🙂