Make a set of felt makeup to add to your little lady's dress up box! A compact, lipstick, makeup brush, and eye shadow. All made from felt!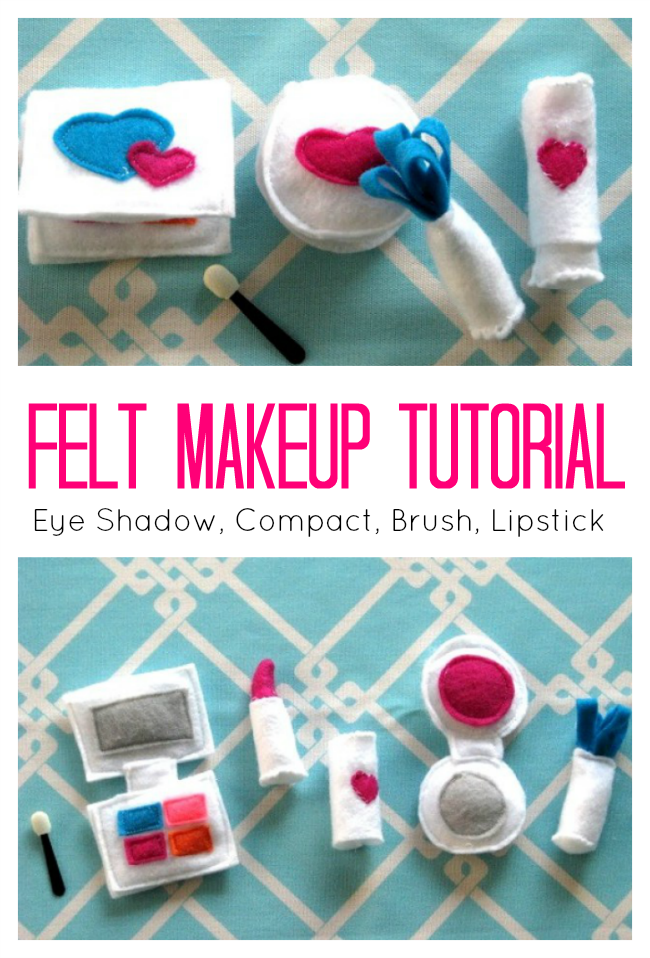 Kaylee loves watching me get ready in the morning and always wants me to put my makeup on her. Um….she's not quite 3 years old yet, a bit too young for that. I had a hard time finding anything that would be age appropriate for her. Do they not make fake plastic makeup anymore? Maybe I just didn't look in the right places because all I could find was pretend "real" makeup and what a mess that would be.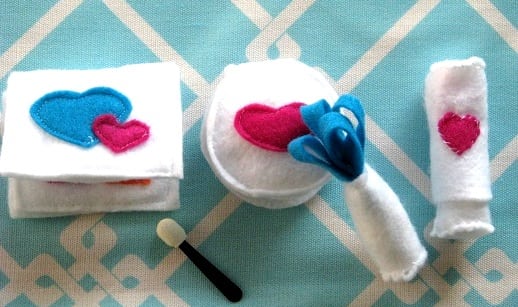 I did a google image search for "felt makeup" and a pattern on etsy popped up.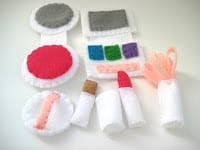 I didn't want to spend any money, so I just looked at the photo and re-created it to the best of my abilities and this is what we came up with! She liked the little eye shadow applicator from a pack I had in my bathroom, so we just kept it, but it would have been easy to make one to match out of felt as well.
Felt Makeup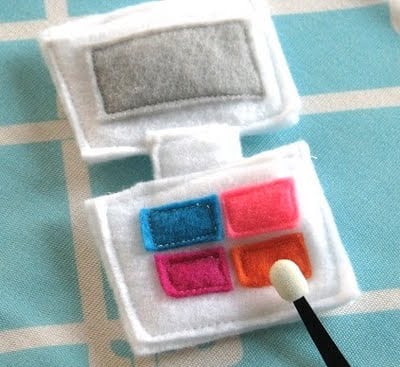 The eye shadow was pretty simple. 4 rectangles cut from felt and another strip to connect the two sections. I sewed the accessories and decorative touches on first, then sewed the backs on them while sandwiching the connector piece in between.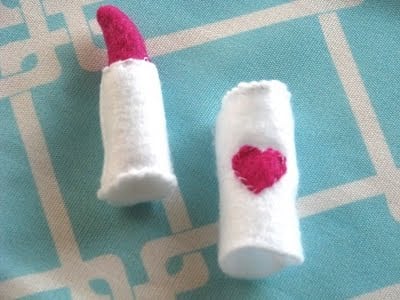 For the lip stick, cut out a rectangle and sew up one side. Stuff the inside with fiber fill and then cut out a small circle to hand stitch to the bottom, creating a tube shape. The lipstick shape needs a little work, lol, but I just cut out a cone shape, sewed it up, turned it right side out, added a little stuffing and hand stitched it to the top of the tube. The cap was made using the same technique, just a little wider so that it would slide over the lip stick tube.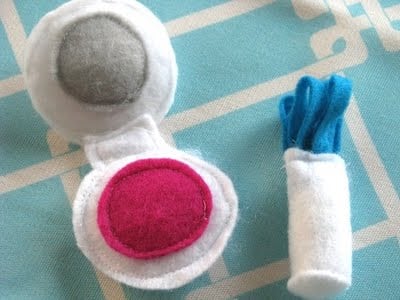 The blush was made using the same 4 pieces technique, plus a connector that I did with the eye shadow. Just cut out circles. I also padded the centers with a little fiber fill. And the brush was done the same as the lipstick.
To make the loops for the brush, cut a piece of felt in a rectangle shape. Fold it in half and cut slits along the fold, but not all the way to the edge. About 3/4″ away from the edges. Keeping it folded, fold it in half again and you will have the loops. Stuff inside the tube and stitch across the top. Confusing enough?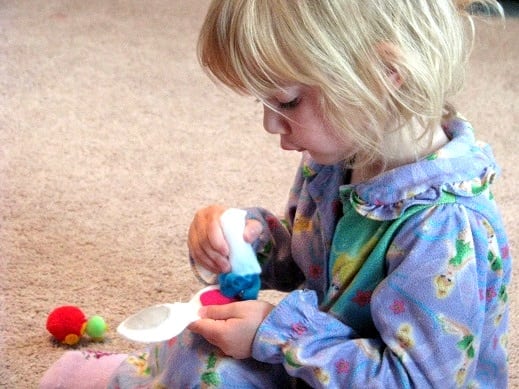 She brought it downstairs with her this morning first thing and pretended to put it on in her jammies. Doesn't she look pretty? Such a little natural beauty.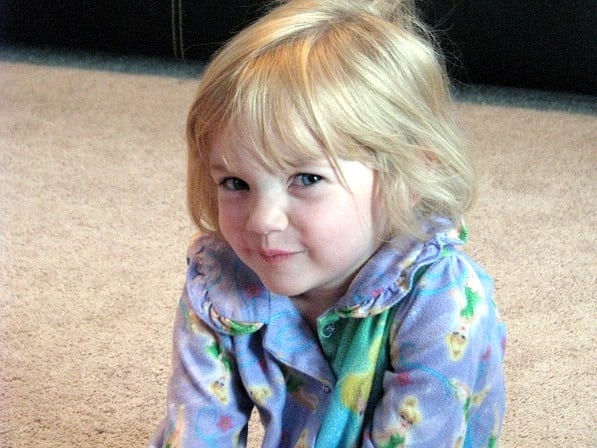 I couldn't find any tutorials for making felt makeup. Etsy was the only thing that popped up and there were a few patterns and pre-made sets available. Hopefully my instructions weren't too confusing, feel free to ask me questions!
*** For a no-sew pretend makeup idea, check this out. She created pretend makeup using nail polish and empty make-up containers.***