Be the mom who greets her kids after school with hot fresh cookies using our soft baked freezer chocolate chip cookies recipe. It's easy to have cookies whenever you'd like when you freeze the dough ahead of time. Just pop into the oven and bake!
When I was younger I'd see commercials of a mom pulling a fresh batch of chocolate chip cookies out of the oven as the kids got home from school. She'd serve them with a glass of milk and I'd think, "I am GOING to be that Mom."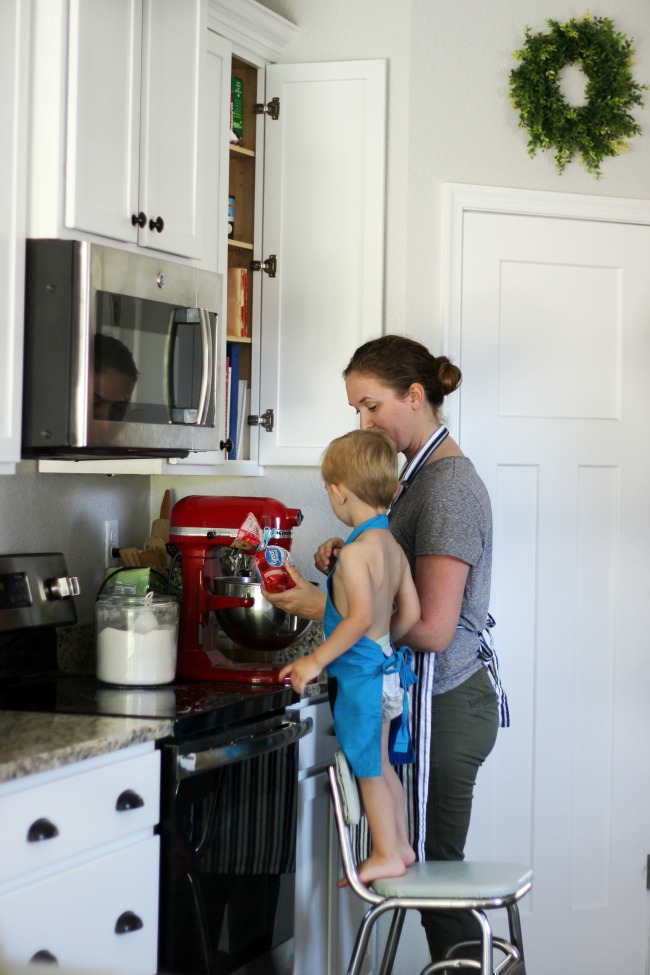 So glad he's wearing his cookie monster apron to keep his birthday suit clean! 😉
Am I that Mom? Sometimes, haha! I love baking cookies and try to make them weekly with the kids. Sunday night is the night that we usually pull out the cookbook and make up a big batch of cookie dough.
Years ago my sister shared how she freezes cookie dough balls so that she can make hot cookies anytime she wants. I had frozen baked cookies in ziploc bags before, but hadn't tried cookie dough. I tried it and it is such a time saver!
I'm of the opinion that if you are going to trash the kitchen to make a pie, you might as well make 2 pies…or 4. If you are going to take the time to make a loaf of bread, why not make 2? And if you are going to bake up a batch of chocolate chip cookies, why not make a double batch and freeze half of the dough? It doesn't take that much more time, but saves you so much time in the long run! Here is how to freeze other baked goods like pies and rolls.
How to Make Freezer Soft Baked Chocolate Chip Cookies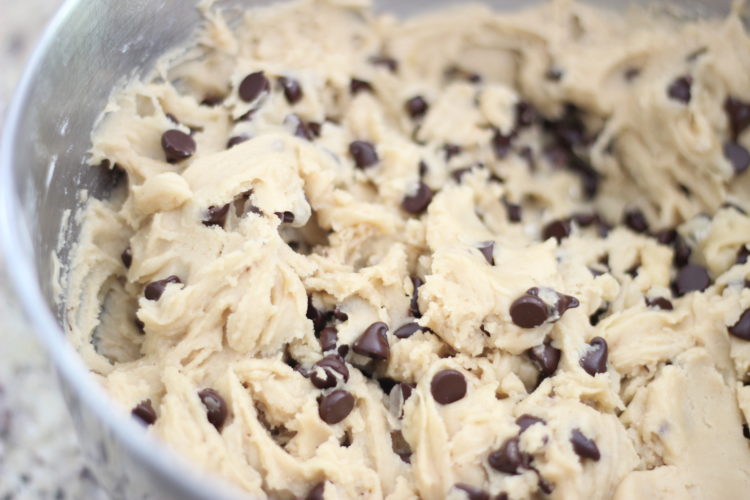 Step 1: Make a batch of your favorite cookie dough recipe.
Scroll down for my soft baked freezer chocolate chip cookie recipe, it's a GOOD ONE. The cookie dough is like fudge, so yummy, and makes 5 dozen cookies! Make half today and freeze the rest of the dough into dough balls!
Here are 3 more cookie recipes that you'll definitely want to make sometime!
Irresistible Peanut Butter Chocolate Chip Cookies 
Fudgy Chocolate Pumpkin Cookies
Old Fashioned Iced Oatmeal Cookies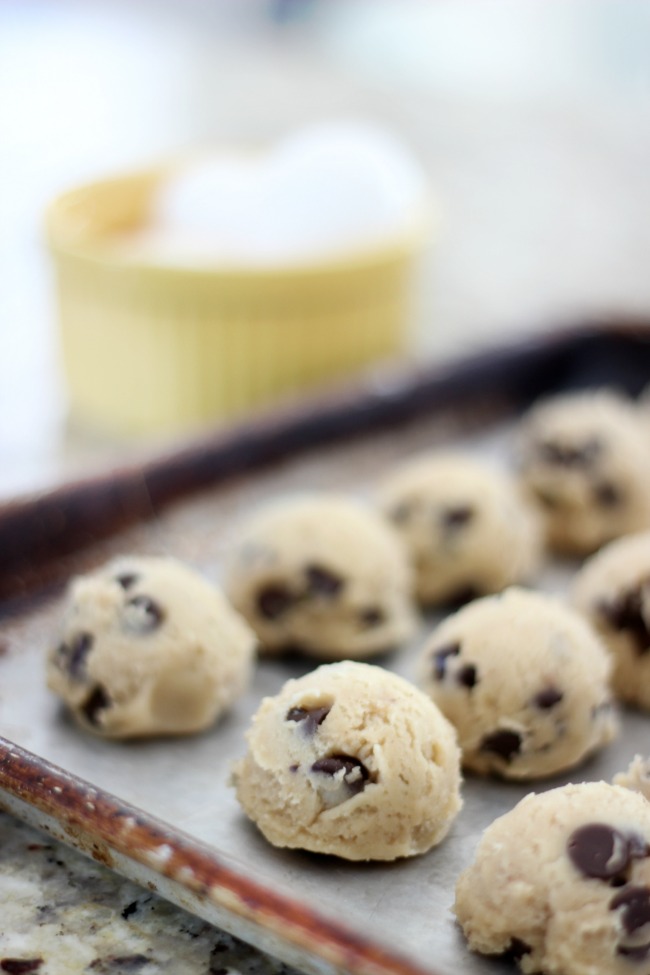 Step 2: Line a cookie sheet with cookie dough balls and freeze over night.
Step 3: Place the dough balls into gallon sized freezer bags.
How long can you freeze cookie dough?
You can freeze the cookie dough balls up to 3 months.
How do you bake frozen cookie dough?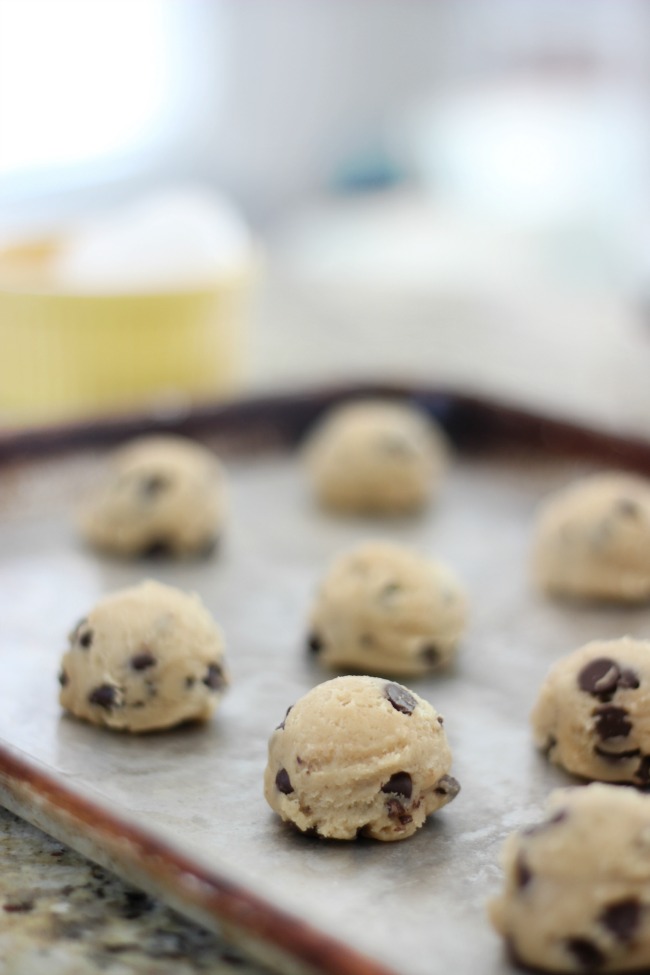 NO THAWING NECESSARY. To bake, simply fill a tray with 12 cookie dough balls and bake 2-3 minutes longer than you would for thawed cookie dough. (These ones bake fresh for 11 minutes and frozen for about 14  minutes).
Delicious and fresh cookies every time! The recipe below is so yummy and makes 5 dozen soft baked chocolate chip cookies. Make half today and freeze half for another day!
Soft Baked Chocolate Chip Cookie Printable Recipe
Soft Baked Freezer Chocolate Chip Cookies
Ingredients
1 1/2

c.

melted butter

(3 sticks)

1 1/2

c.

white sugar

3/4

c.

brown sugar

packed

1

T

vanilla

3

eggs

1

tsp.

salt

(I use Kosher)

1 1/2

tsp.

baking soda

5

c.

flour

3

c.

chocolate chips
Instructions
Combine melted butter and sugars and beat until smooth.

Add eggs, one at a time, and mix just until incorporated.

In a separate bowl combine flour, salt and baking soda.

Mix the dry ingredients into the wet ingredients. Stir in chocolate chips.

Use a cookie scoop to scoop out a dozen cookie dough balls. Place on a baking sheet.

Bake for 11 minutes. Cook on baking sheet.
Here are a few more tips on freezing cookie dough from Sally's Baking Addiction.