This recipe for homemade Amish white bread yields 2 loaves of perfectly soft white bread. Perfect for sandwiches, toast, or eating fresh from the oven with butter. It has been a family favorite for years! This post contains an affiliate link.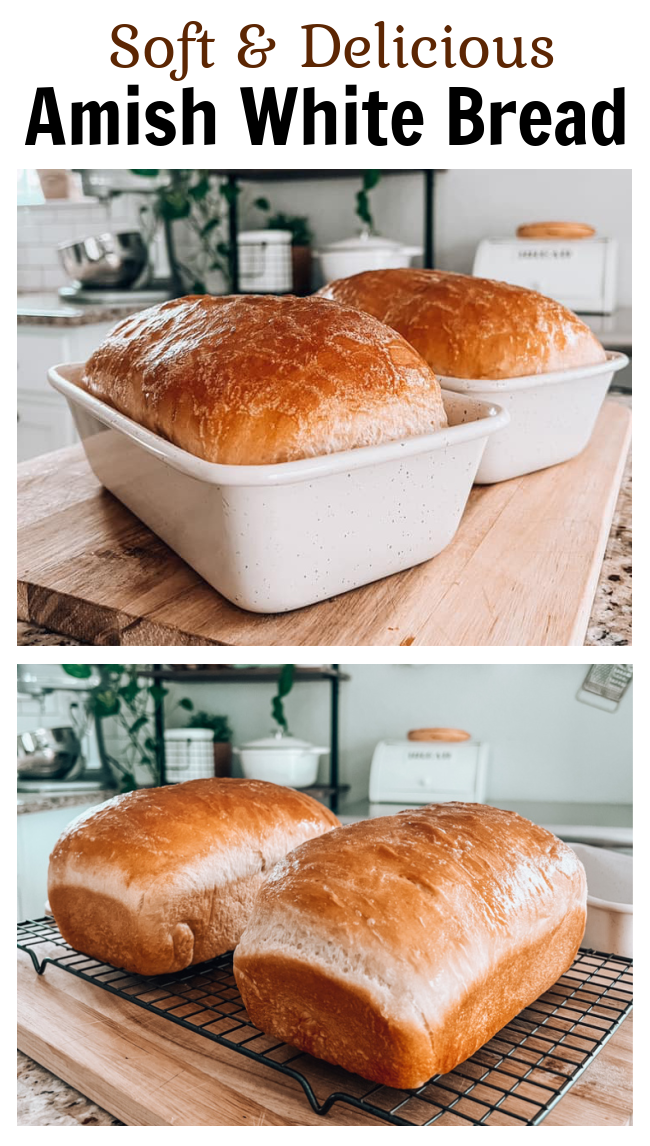 Watch our step by step video!
I used to enjoy trying new bread recipes, but lately, I've had a few flops! Like totally. Tasted really yeasty, didn't brown, didn't rise. After waiting 3 hours to see if my hard work paid off only to have it fail is frustrating. So I've decided to just stick with the bread that has been foolproof for me. The recipe that I memorized a decade ago. Homemade Amish white bread is absolutely delicious and I've been making it for years. I usually use white flour, but it is amazing with half whole wheat as well.
How to make white bread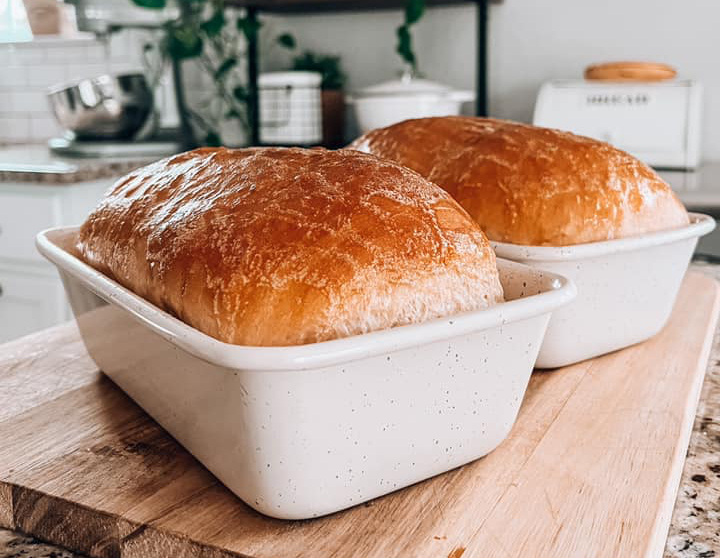 The recipe makes 2 loaves. I like making my bread dough using my kitchen-aid and dough hook, or by hand with a dough whisk.
This one is my favorite
and is the one that I used in the video above! You can also use a wooden spoon.

Then I let the dough rise in the oven that I've preheated for 1 minute so that it is warm, but not hot. Make sure to turn the oven off before placing the bowl of bread dough inside.
My version uses quite a bit less sugar than most Amish white bread recipes. I also brush my loaves with butter when they first come out of the oven (while they are still in the pans). This gives them a nice soft crust.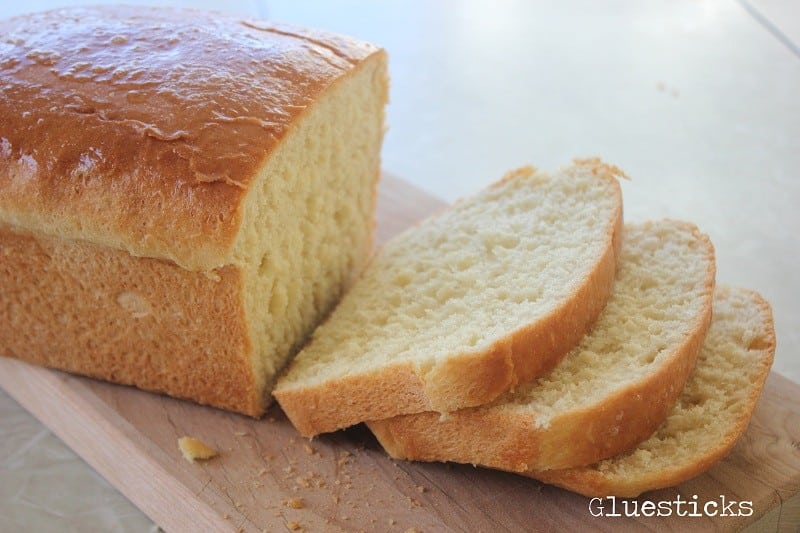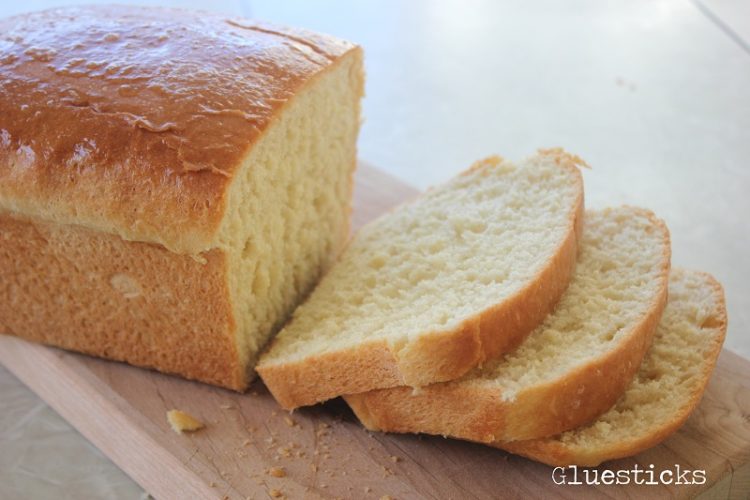 Scroll to the bottom for some frequently asked questions on bread making.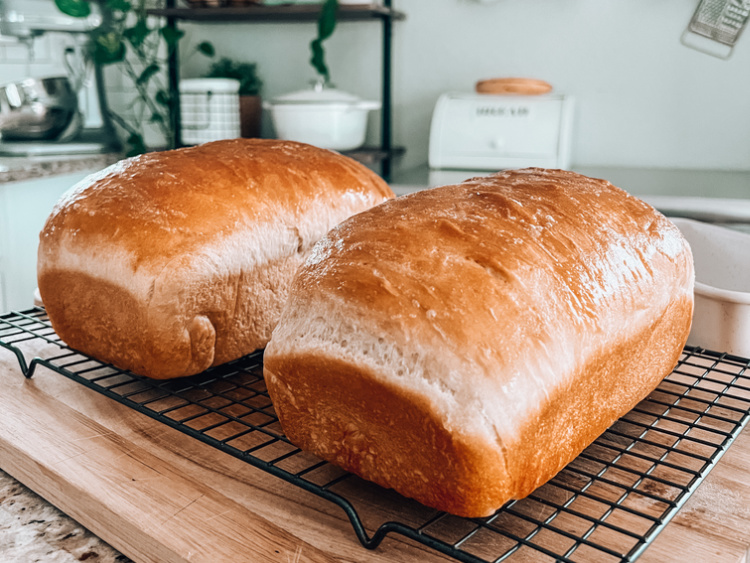 Amish White Bread Recipe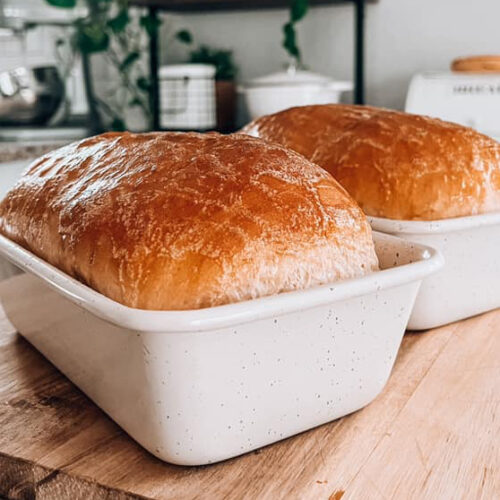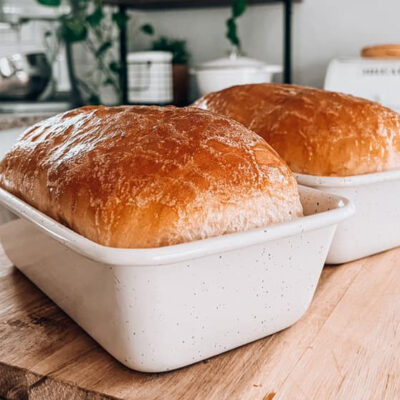 Homemade Amish White Bread
This recipe for homemade Amish white bread yields 2 loaves of perfectly soft white bread. Perfect for sandwiches, toast, or eating fresh from the oven with butter. It has been a family favorite for years!
Print
Pin
Rate
Ingredients
2

cup

warm water

1/4

cup

sugar

4 1/2

teaspoons

active dry yeast

2 packets

1 1/2

teaspoons

salt

1/4

cup

vegetable oil

5 1/2

cup

flour

bread flour or all purpose flour

butter for brushing on finished loaves
Instructions
In a large bowl, dissolve the sugar in warm water, and then stir in yeast. Allow to proof until it looks like a creamy foam on top of the water (about 5 minutes).

Mix oil into the yeast mixture. Mix salt and flour (1 cup at a time) in with the wet ingredients. Stir until a soft dough forms. Scrape sides of the bowl then dump dough onto a lightly floured surface.

Knead dough until smooth (3-5 minutes) until smooth and elastic.

Place in a oiled bowl, and turn dough to coat. Cover with a damp towel.

Punch dough down. Divide dough in half.

Shape into loaves, and place into two greased 9-inch loaf pans. You can either pat dough into a loaf shape or roll the dough into rectangle and tightly roll up into a loaf shape and pinch the ends to seal seams.

Allow to rise for 30-40 minutes.

Bake at 350 degrees for 30 minutes.

Brush with melted butter (or run a stick of butter across the top of each loaf) while in pans.

Cool 5 minutes and then remove bread from bread pans and cool on a rack.

Wrap in plastic wrap or store in a plastic bag.

Makes 2 loaves.
Notes
If you are using yeast packets, use 2.
Wrap bread in plastic and store at room temperature 3-4 days. Bread freezes well and can also store in the freezer to thaw at a later date.
Nutrition
What is the best kind of flour to use?
I always use bread flour or all-purpose, whichever one I have on hand. My favorite brand is King Arthur. You can use all white flour or a mixture of white and wheat flour. I have not used this recipe for 100% whole wheat bread, but I'm sure you could.
What is the best way to proof yeast?
I like putting 1/2 c. of the warm water into a small bowl with the yeast and 1 tsp. of sugar. Give it a stir. Place a small plate on top and let it sit for 5 minutes. When you go to add the rest of the ingredients make sure to subtract the 1/2 c. of water and 1 tsp. of sugar that you already used for the yeast proofing.
Can you Use Instant and Dry Active Yeast Interchangeably?
For the most part, I use whatever yeast is available. Most of the time it's the instant yeast that comes in a large package from Sam's Club. When I use dry active yeast I add 10-15 minutes to the rise time. Technically you do not need to proof instant yeast, only dry active yeast, but I've gotten so used to proofing my yeast that I proof it for every recipe.
Where is a good place to let the dough rise?
A warm place is a perfect place for yeast to do its thing. I preheat my oven for 60 seconds then shut the heat off. I place my bowl of dough with a damp cloth or plastic wrap (that has been sprayed with non-stick cooking spray) covering it inside my oven.
2 More homemade bread recipes that you Will love!
This post was updated in 2020 to include a step by step video!