This fresh strawberry pie is so easy to make and is absolutely delicious! Make your own pie crust or use a pre-made graham cracker crust. It's up to you! I like using the same crust recipe that I use when making my banana cream pie.
It's strawberry season here in Virginia and we've been busy. We made a giant batch of
strawberry freezer jam
and have been eating strawberries like they are going out of style.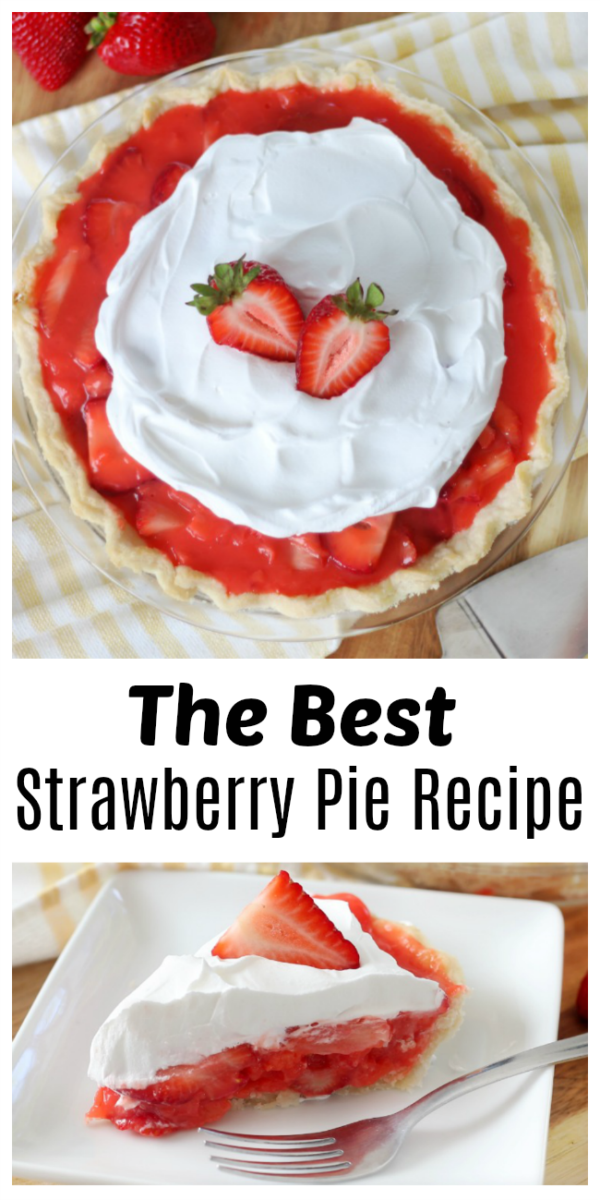 Watch our step by step video!
My friend, Stephanie, brought me a fresh strawberry pie years ago and shared the recipe with me. This pie is so delicious and full of strawberry flavor. I worked at a restaurant that made strawberry pies every summer, but I never cared for the glaze that they used on them. They looked so pretty, but tasted funny. This strawberry pie recipe is so much better. Definitely a keeper!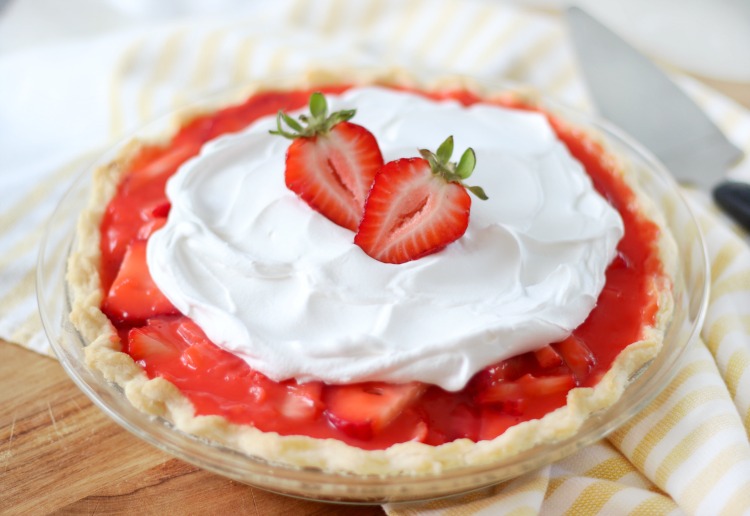 Pie Crust Options
You have several options for pie crust with this recipe.
Homemade Pie Crust (you can find the recipe that I use in my banana cream pie post)
Store bought pie dough
Freezer pie crust
Graham cracker pie crust
My personal favorites are homemade crust and graham cracker crust, but you can use whatever you'd like! If you make your own crust make sure to bake it, and let it cool before adding the strawberries and glaze.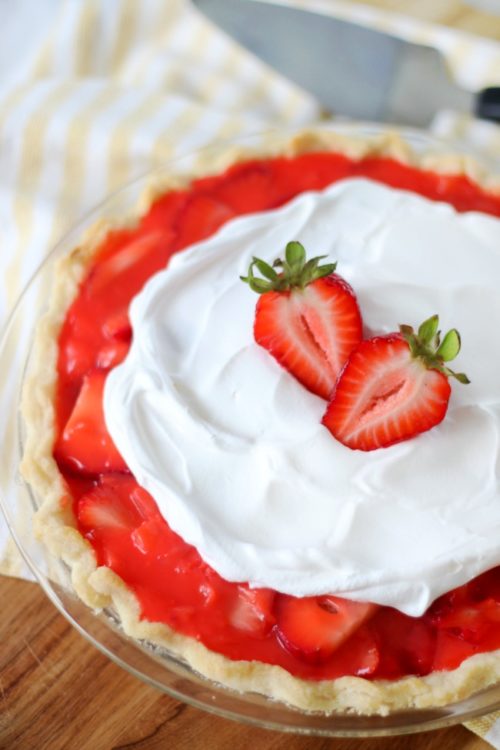 How To Make Strawberry Glaze
The strawberry glaze is made from fresh strawberries, crushed pineapple (yes, pineapple!), sugar-free strawberry jello and vanilla (cook and serve) pudding mix. The smaller boxes of jello and pudding are what you are looking for, not the family sized ones. If you can't find the cook and serve pudding you can use instant. I accidentally picked up instant pudding mix the last time I made this and didn't realize it until after I had made the pie. It was still delicious.
Don't waste the juice from that can of crushed pineapple. Drain it out of the can (there's only about 1/4 of juice) and mix it with water until you have 1 1/2 cups. Then you'll add that to the rest of the glaze ingredients in a saucepan and bring to a boil. You'll want to stir it constantly for a minute or two, or until it thickens then set it aside for 10 minutes to cool.
Now all that's left to do is slice up a pound of strawberries and fold them in with the glaze.
Let's take a second to talk about the pineapple in this pie. If you aren't a fan of pineapple, don't worry. You can't really taste it, and the texture blends with the strawberries.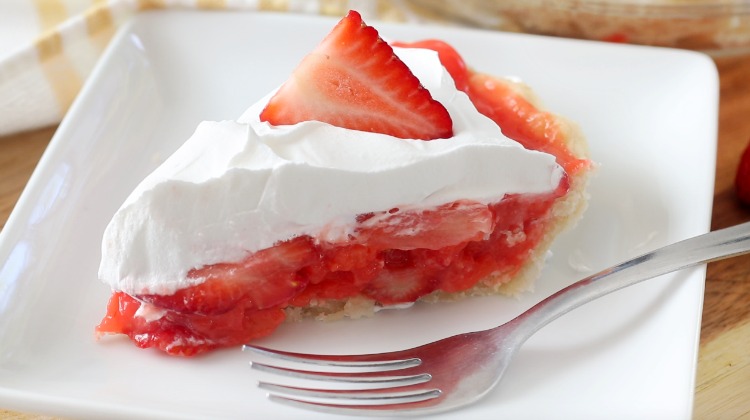 Once your pie crust has been filled with the delicious pie filling, place it in the refrigerator until it has had a chance to set up completely, about 2 hours.
How To Serve Fresh Strawberry Pie
Before serving, add a giant scoop of whipped cream to the top of the pie and spread around. You can garnish the pie with sliced strawberries, or garnish each individual piece with a slice or two of strawberries.
Store any leftover pie in the refrigerator.
Fresh Strawberry Pie Recipe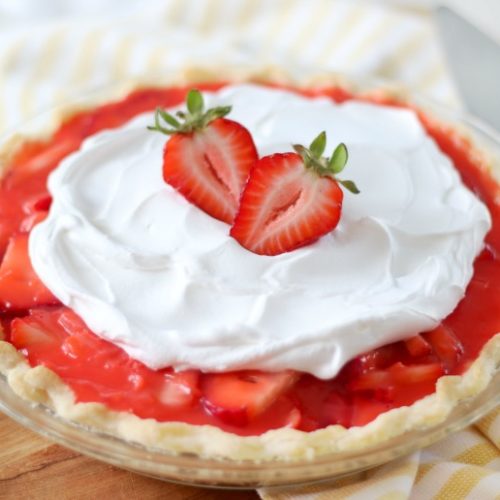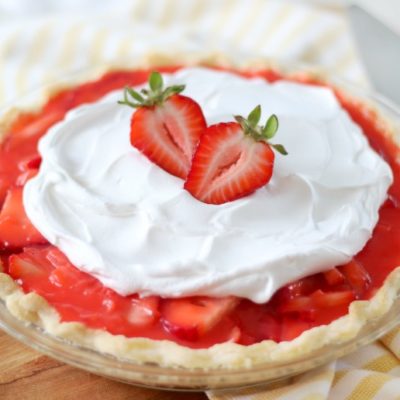 Fresh Strawberry Pie
This fresh strawberry pie is so easy to make and is absolutely delicious! Make your own pie crust or use a pre-made graham cracker crust.
Print
Pin
Rate
Ingredients
8

oz.

can of unsweetened crushed pineapple.

water

1

pkg of cook-n-serve vanilla pudding mix

3 oz.

1

pkg of sugar-free strawberry gelatin

0.3 oz.

1

lb.

fresh strawberries

1

pie crust

whipped cream
Instructions
Keep the juice you drain from the pineapple. Add water to it to make 1 1/2 cups. Transfer to saucepan.

Whisk in pudding mix and gelatin until combined. Bring to boil; cook and stir for 1-2 minutes or until thickened.

Stir in pineapple. Remove from heat; cool for 10 minutes.

In the meantime, slice strawberries. Add them to the pudding/gelatin mixture. Toss gently to coat.

Pour into pie crust. Chill 2 hours.

Top with whipped cream.
Notes
May be made with graham cracker crust or homemade crust.
Nutrition
Welcome! I'm Brandy, mother to 5 darling kiddos and a cute black lab named Toby. My husband is in the Coast Guard so we've lived all over the place, turning each house into a home. I love baking, sewing, making cute things with my kids, and sharing what I've learned with all of you!