Make your own homemade Yum Yum Sauce when you're cooking up a stir fry or yummy fried rice at home. This is it, folks! THE famous Japanese steakhouse sauce that they serve at hibachi restaurants! Your fried rice, chicken, hibachi vegetables, and shrimp will never be the same! 
Sometimes called Japanese shrimp sauce, Benihana Yum Yum sauce, or hibachi shrimp sauce, this is the authentic yum yum sauce you've been looking for ever since enjoying it at your local Japanese steak house! This post was updated in 2020 to include a step by step video.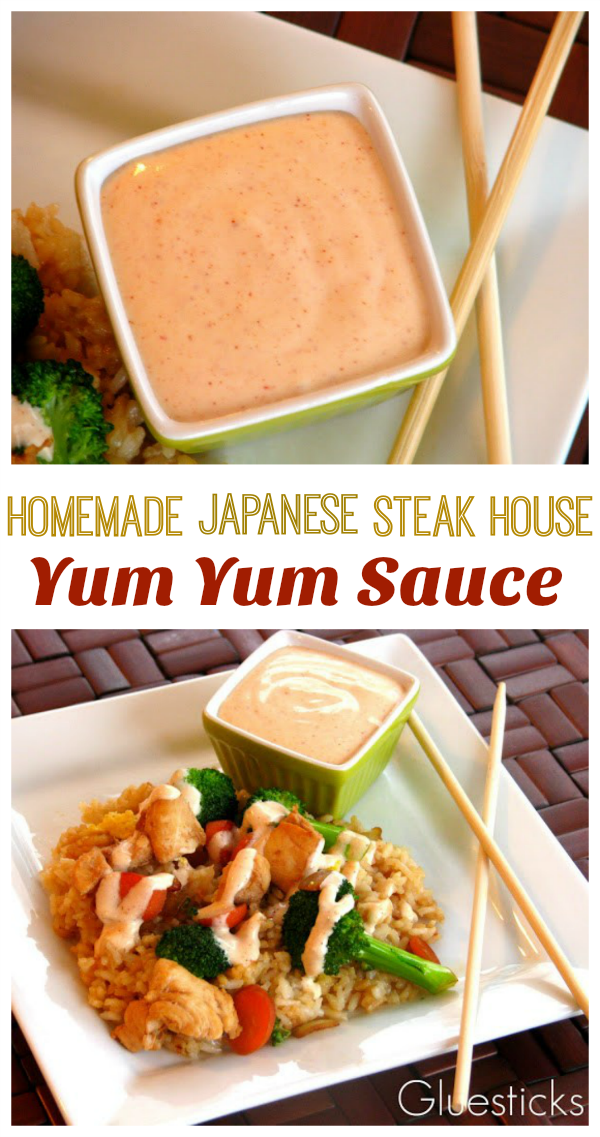 Watch our step by step video!
Every time we go to our favorite Japanese hibachi restaurant I take notes on how they fry up the rice, meat, veggies, etc. They keep the pan HOT, use only soy sauce to season, and cook everything quickly to sear the outside and keep the inside tender. Got it. But they don't divulge the ingredients for the Yum Yum sauce which really makes the meal.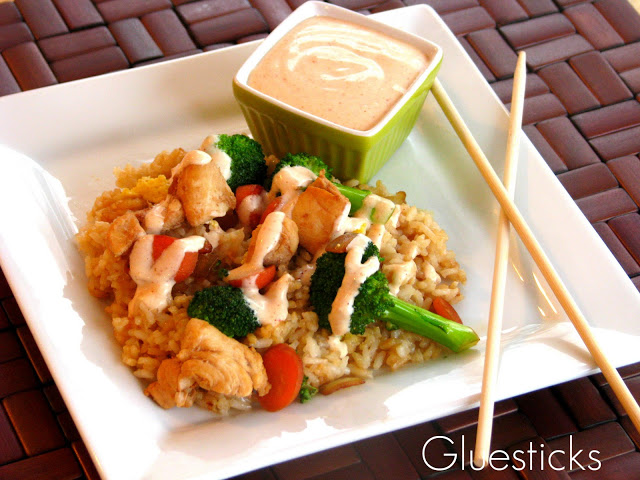 Have you tried Yum Yum sauce before? It is also called Japanese White Sauce at some restaurants.
Our favorite place serves it in a small bowl like ranch salad dressing. They have a ginger-type vinaigrette dressing and yum yum sauce which has a creamy base. You can use it on your salad, you can dip seafood and sushi into it and you can also pour it over fried rice. That's our favorite way to enjoy it. In fact, we can't even eat fried rice without it so it was imperative that I find a copycat recipe to use at home. It's addictive, you've been warned.
The Best Yum Yum Sauce
(scroll down for printable recipe)
I found this homemade yum yum sauce recipe several years ago and IT. IS. SPOT. ON. And while we miss the show of our chef dicing veggies at a ridiculous speed, stacking onions and lighting them on fire, and the other fun elements of the table show, it is nice to have a more affordable option to enjoy at home.
Yum yum Sauce Ingredients
1 cup mayonnaise
1/4 cup water
1 teaspoon ketchup or tomato paste
1 Tbsp. melted butter
1/2 teaspoon garlic powder
1 teaspoon sugar
1/4 teaspoon paprika
Directions
Mix ingredients together and refrigerate overnight (at least 6-8 hours). Thin with a tiny bit of water if desired before serving. For a spicy kick, add a drop of sriacha sauce or a dash of cayenne pepper.
Note: DO NOT use light mayo or Miracle Whip.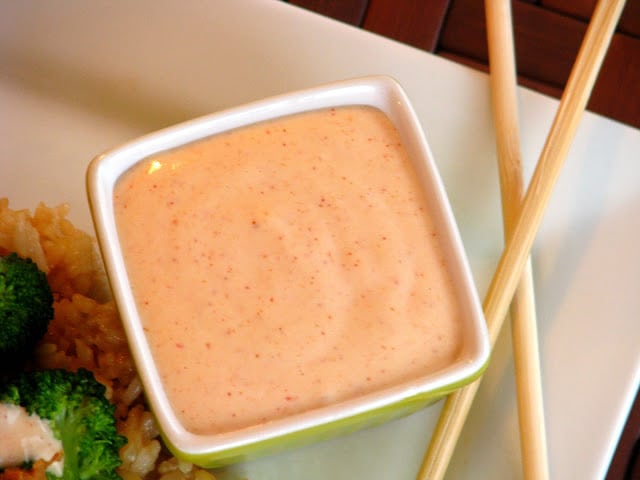 At Home Chinese Take Out Recipes
I love making take-out style dishes for my family at home. Our favorites are our homemade chicken chow Mein, hibachi style fried rice and our homemade egg rolls. We even have a recipe for fortune cookies, too!
Scroll down for some FAQ on making yum yum sauce.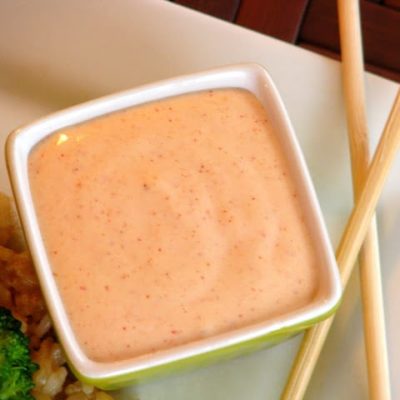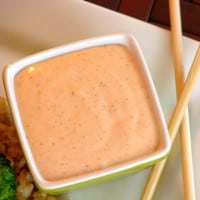 Homemade Yum Yum Sauce
Make your own homemade Yum Yum Sauce when you're cooking up a stir fry or yummy fried rice at home. This is it, folks! THE sauce that they serve at the Japanese Steakhouse restaurants!
Print
Pin
Rate
Ingredients
1

cup

mayonnaise

1/4

cup

water

1

teaspoon

ketchup or tomato paste

1

Tbsp.

melted butter

1/2

teaspoon

garlic powder

1

teaspoon

sugar

1/4

teaspoon

paprika
Instructions
Mix ingredients together. Cover and refrigerate overnight.

*Do not use light mayo.

*Make sure to refrigerate at least 8 hours.
Notes
Drizzle over chicken, shrimp or fried rice.
Nutrition
Can I use light mayonnaise in this Yum Yum sauce recipe?
You can, but it won't taste as good. We've had it both ways and it is definitely better with regular mayonnaise (mayo).
How long should I wait before using the Yum Yum sauce?
6 hours or overnight. The flavors need time to really meld before using. The longer you chill it the better.
How long will the Yum Yum sauce keep in the refrigerator?
It will stay fresh in the fridge 5-7 days in an airtight jar. Store-bought yum yum sauce lasts longer because of the added preservatives, but tastes nothing like the real deal.
What can I dip in Yum Yum sauce?
Dipping shrimp, drizzled over salad, as a dipping sauce for French fries and sweet potato. It would be delicious on a hamburger too!