This is the easiest strawberry freezer jam recipe! No cooking, just stirring! Strawberry jam in under 30 minutes. Strawberries, sugar, and instant pectin. Double or triple the recipe to make up to 6 (8 oz.) jars at a time. This post contains affiliate links.
This strawberry jam goes PERFECTLY with our English muffin bread and Amish white bread!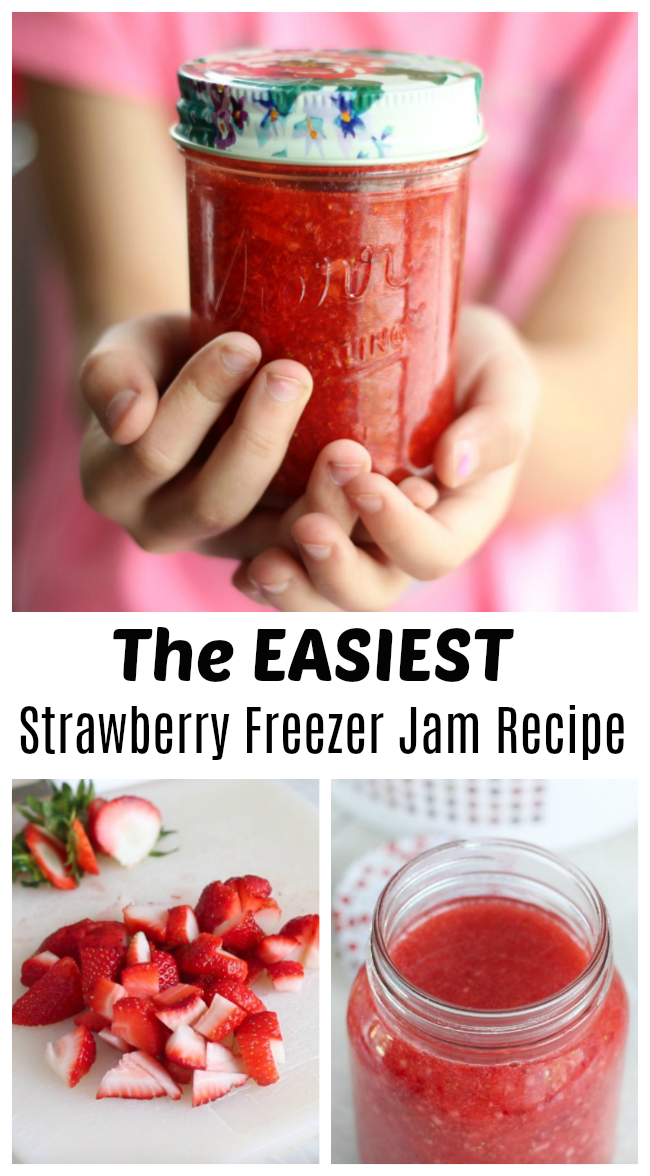 Watch Our Step By Step Video!
It's strawberry picking season! I told my kids that I was going to pick strawberries last week and asked if any of them would like to come. They all wanted to come! So we made a fun afternoon of it. There is a farm just around the corner from us with a large field of strawberries, farm animals, and a play area for the kids. We picked 15 pounds of berries and will probably be back for more.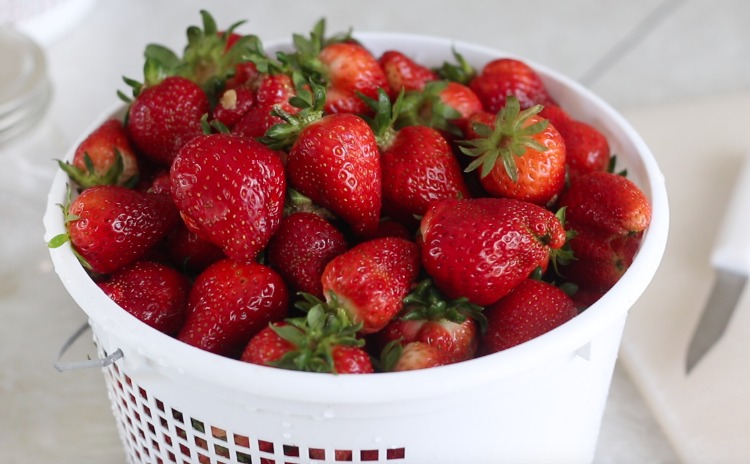 Did we eat 15 pounds of fresh berries in a week? No. We ate 5 lbs of fresh berries and used the other 10 lbs. to make batches and batches of our favorite freezer jam recipe.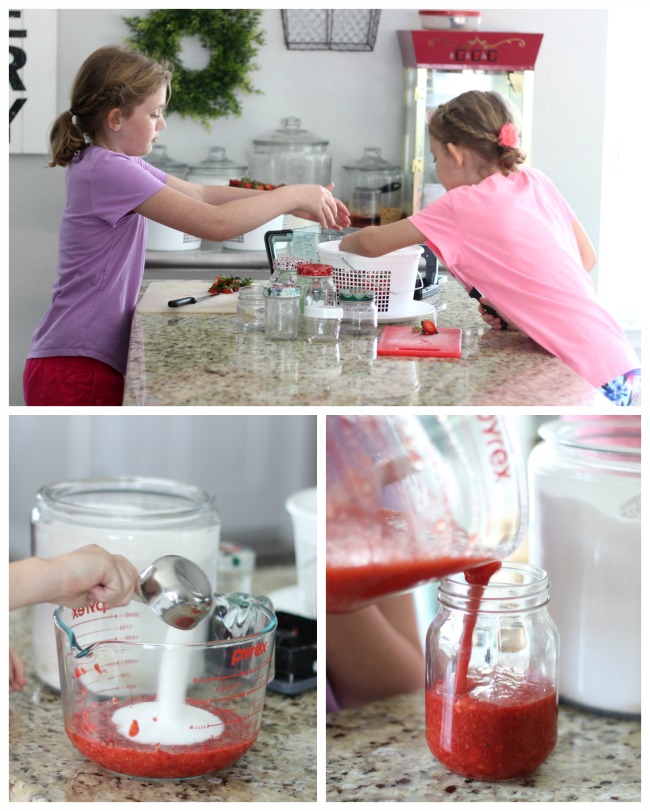 Homemade Strawberry Freezer Jam
If you've ever been intimidated by jam making you've come to the right place. This strawberry freezer jam recipe is about as easy as it comes. No cooking, no heating, just berries, sugar and instant freezer pectin.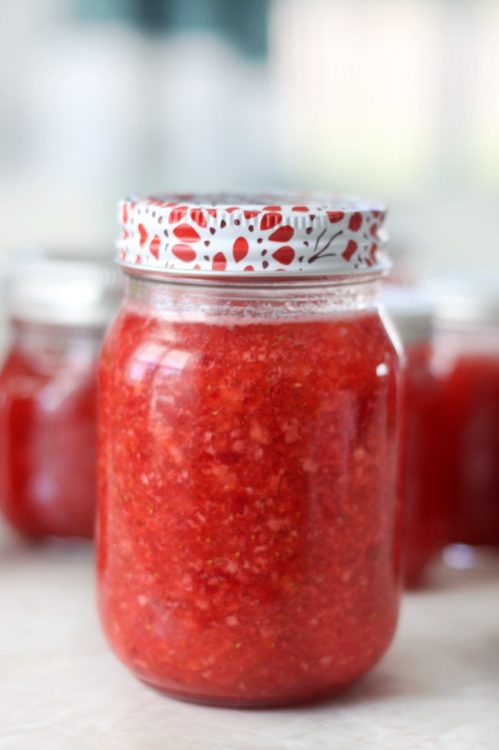 The Difference Between Cooked Jam and Freezer Jam
Freezer jam must be stored in the freezer or refrigerator (once opened). It does not have a shelf life.
Cooked jams taste delicious, but they do not taste like fresh fruit because they've gone through the canning process. They have a great shelf like. You can make a batch and have it last a couple of years on the shelf.
I've made both many times and always go back to freezer jam. You can make a batch start to finish in about 30 minutes with only a few ingredients and supplies.
Is Freezer Jam Supposed to be Runny?
Freezer jam, by nature, has a much softer consistency than cooked jam. It also tastes like fresh fruit. It may not seem like your jam is setting up, but don't worry, it will thicken as it chills in the refrigerator. Any bottles that come from the freezer and thaw in the refrigerator will thicken as well.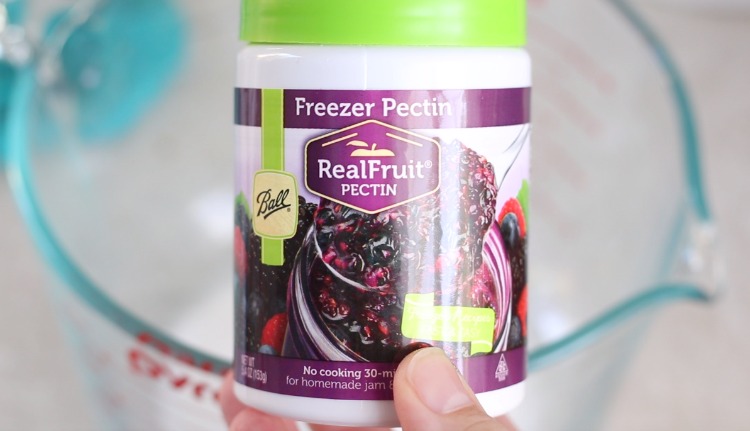 What Pectin To Use To Make Freezer Jam
I've used several different kinds of pectin products over the years and really like the RealFruit Instant Pectin by Ball. You simply mix it with sugar then add strawberries. Most of the other kinds require you to heat with water over the stove. I've used the Ball Instant Pectin and the Ball Freezer Pectin. One has a green label and the other has a purple lable. They are the same product. They both say that they create delicious freezer jams in 30 minutes.
Heating it isn't hard, but if I can cut out a step and still end up with a delicious product I'm all for that.
How Many Jars Will One Batch of Freezer Jam Make?
You can make a single batch, double batch, or a triple batch it's up to you. One batch will make about 2 cups of jam, or 1 pint.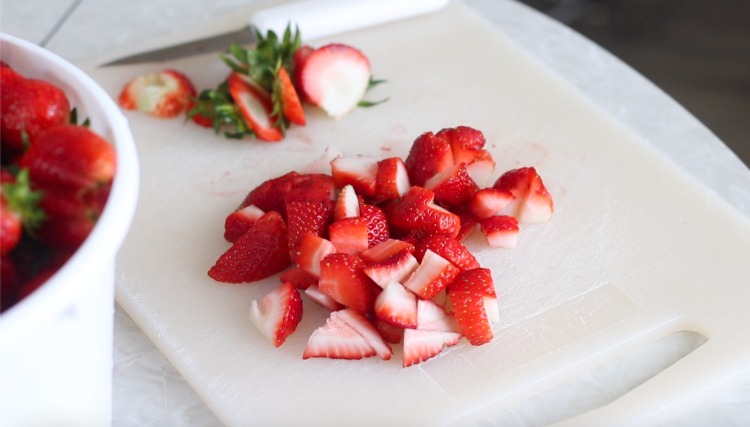 How to Prepare Strawberries to Make Freezer Jam
After washing and cutting off the stems you can chop the strawberries into tiny pieces and mash with a potato masher until they are the desired consistency or you can pulse them in the blender. I like pulsing them in the blender. I make sure not to puree them completely, always leaving some chunks. You can cut the strawberries in half or quarter them. I always cut them into small pieces. You will need 1 2/3 c. of mashed strawberries for every pint of jam.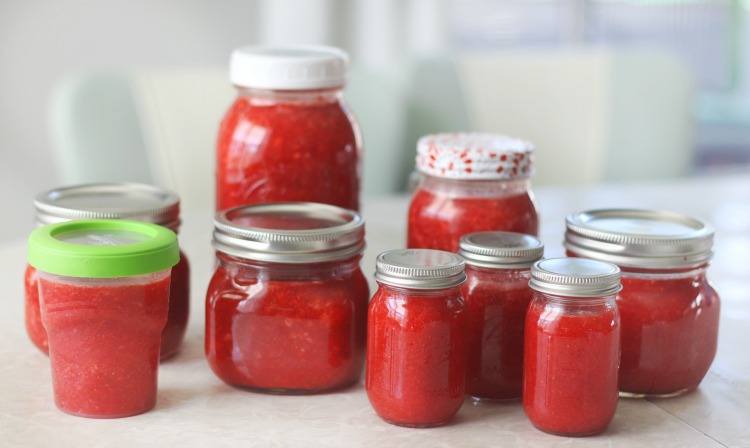 What Jars or Containers To Use To Make Freezer Jam
Plastic or glass? You can use either one! I always have jars on hand so I usually use those and a few plastic freezer jam containers. Whatever you choose, make sure they are okay to put in the freezer.  Do you see those TINY jars in the front? We saw those at Target and couldn't pass them up. They aren't intended for home canning, but work fine for freezer jam. They hold 4 oz. Mac (my 3 year old) has his own little jar of jam and loves it.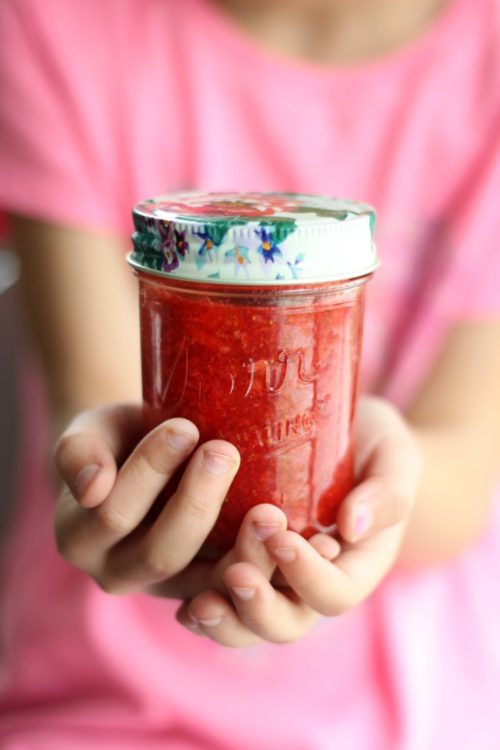 The EASIEST Strawberry Freezer Jam Recipe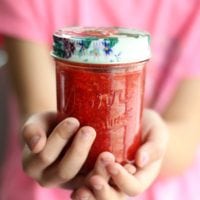 The EASIEST Strawberry Freezer Jam Recipe
This is the easiest strawberry freezer jam recipe! No cooking, just stirring! Strawberry jam in under 30 minutes. Strawberries, sugar and instant pectin. Double or triple the recipe to make up to 6 (8 oz.) jars at a time.
Print
Pin
Rate
Equipment
blender

freezer safe jars with lids

bowl

knife

cutting board

spoon
Instructions
Prepare Strawberries
Rinse strawberries. Cut the tops off and cut each berry into small pieces. Place berries in a blender and pulse a few times to break them down.
Mix Strawberries with Sugar and Pectin
Mix sugar and pectin together in a bowl. Pour strawberries over sugar and pectin.

Stir for 3-5 minutes. This may seem excessive, but is essential to make sure that the sugar is evenly distributed and reacting with the strawberry juice. You don't want gritty jam.
Freezing
Pour into clean, sterile, containers. Add lids.

Let sit on the counter for 1 hour. Store in the freezer for up to a year and in the refrigerator up to 4 weeks.
Notes
I used glass jars for my jam because I have an entire cupboard full of them. Plastic containers are great for freezer use as well. You do not need to use canning lids (the kind with a ring and top) since you will not be processing these in a canner. Simple screw on lids are easier to open and close anyway!
Because it is made from fresh fruit, and not cooked, the jam will not last as long in the refrigerator as cooked jam. We have a large family (7) so a 16 oz. jar will go pretty quickly. If you have a smaller family it is best to make 4 or 8 oz. jars. To thaw a frozen jar simply place the jar in the refrigerator for 24 hours.
Nutrition
Serving:
1
Tbsp
|
Calories:
45
kcal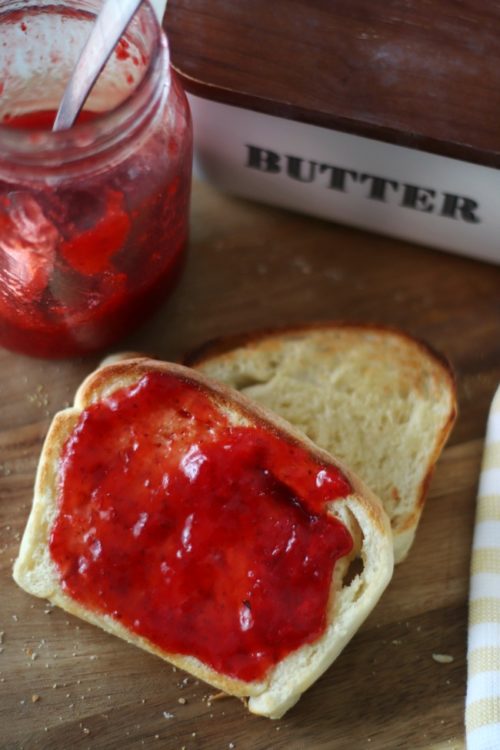 We like using our freezer jam on pound cake, waffles, and our absolute favorite English muffin bread recipe (it makes the BEST toast!).