This post was most recently updated on February 25th, 2020
Carefully selected fruits and Chocolate Bars are arranged to create a chocolate dessert board, perfect for your next gathering with friends and family! This post has been sponsored by Mars Wrigley Confectionery.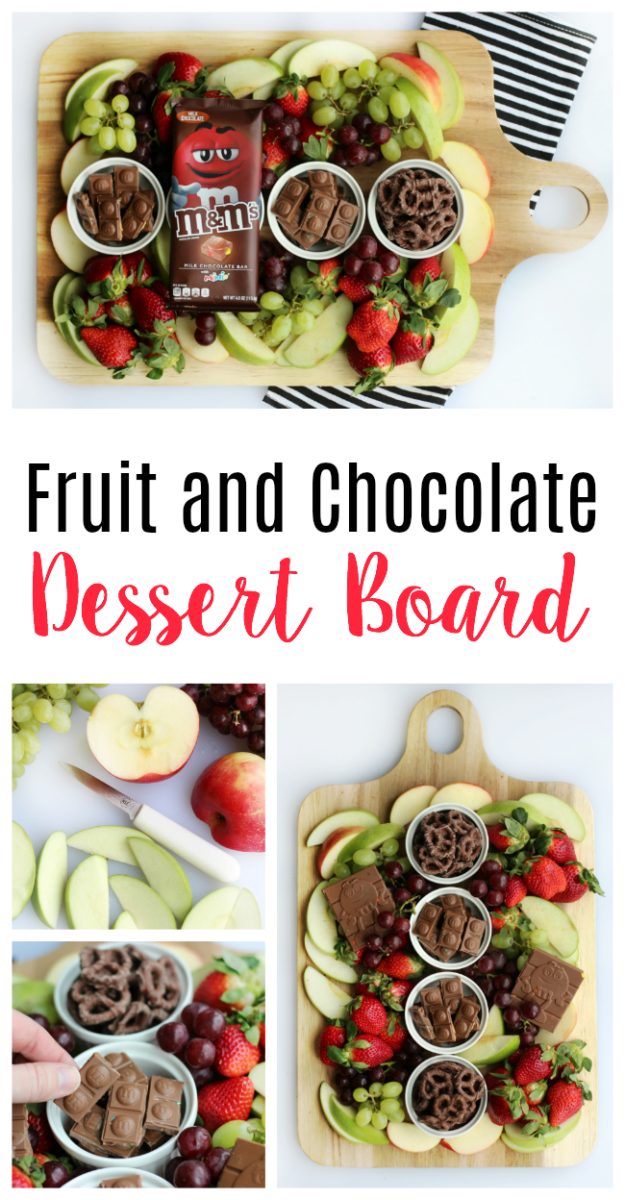 Are you on the charcuterie board train, too? I simply can't get enough of them! They typically contain dried meats, cheeses, olives, pickles, and a variety of bread and crackers. Because of the variety that each spread contains, they make the perfect snack boards for gatherings because there is something for everyone! We typically have one on Christmas day instead of having a large dinner. Everyone looks forward to it and enjoy grazing throughout the day as we play games and relax.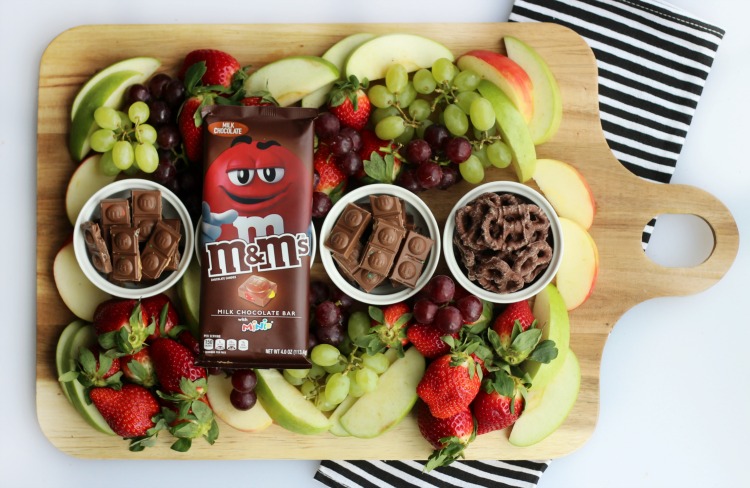 I thought it would be fun to create an everyday after-dinner version using fruit and chocolate! Honestly, this would be lovely to serve at a bridal shower or a girls night, too!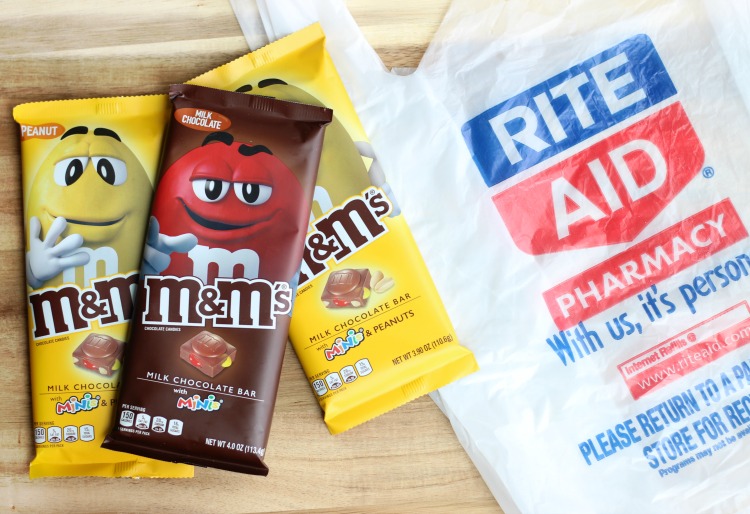 There is a Rite Aid across the street from Mac's speech therapist, so we stopped by to pick up some items for our board. I like shopping at Rite Aid for any project that involves candy because they have a bigger selection than most grocery stores.
I found these new M&M'S® Chocolate Bars in the candy aisle and decided to use them as our main feature on the board. They are perfect because they combine creamy chocolate plus a bit of crunch from the candy shell and nuts, depending on the flavor that you select. I grabbed both M&M'S® bars flavors: Milk Chocolate with M&M'S® Minis and Milk Chocolate with M&M'S® Minis and Peanuts. I also picked up a bag of chocolate pretzels for a sweet and salty combo and a variety of my favorite fruits.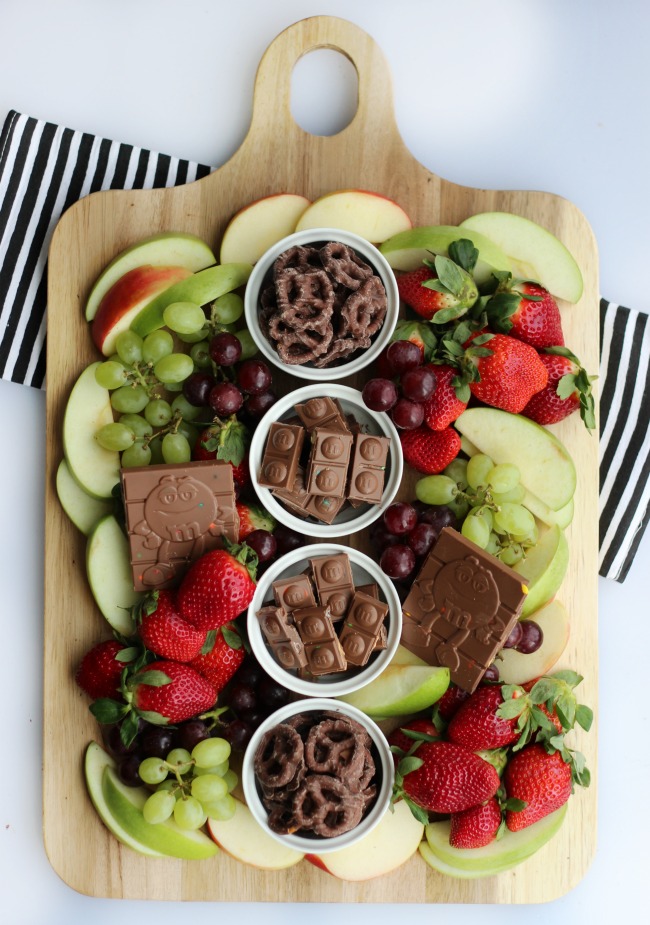 You'll need a large platter or cutting board to serve everything on for your chocolate dessert board. I use this cutting board for everything! You can find them at most home stores and they are very affordable. The size will depend on how many you plan to serve.
Fruit and Chocolate Dessert Board
serves 12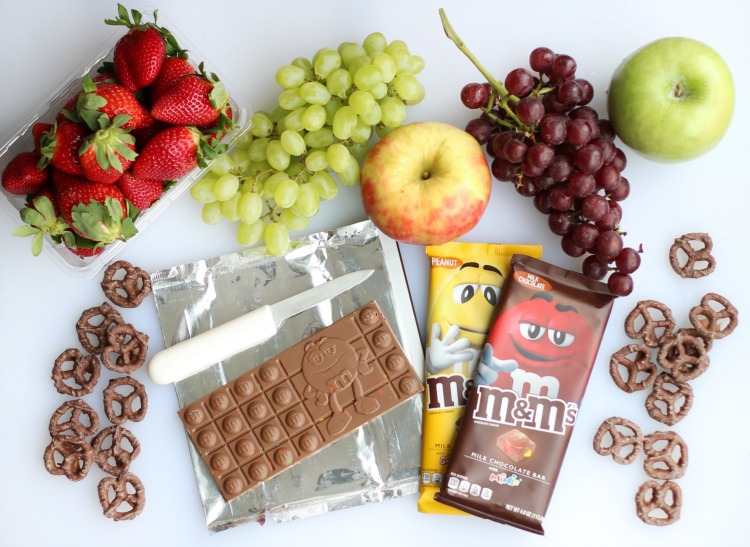 Ingredients
2 dozen strawberries
2 apples
1 1/2 cups grapes
3 dozen chocolate pretzels
3 M&M'S® Chocolate Bars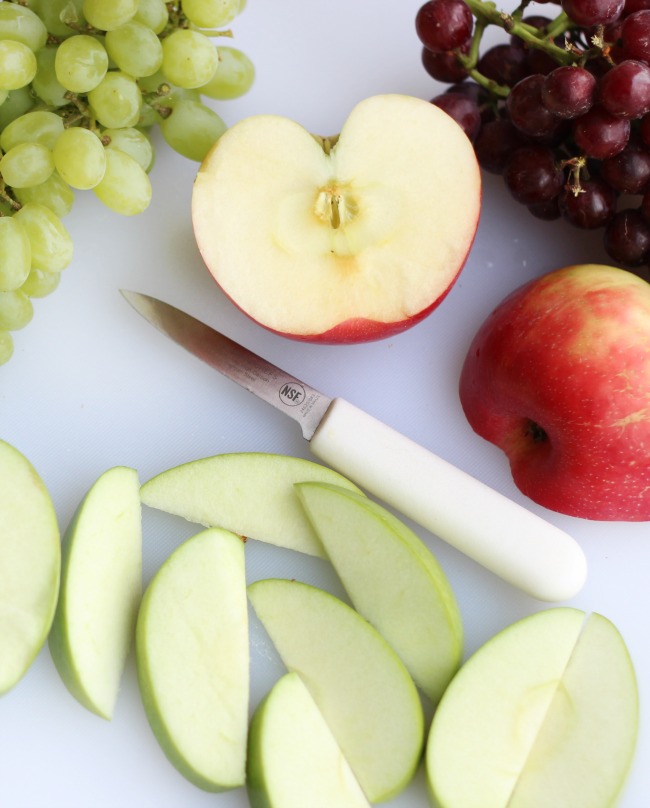 Instructions
Wash and dry your fruit. Slice each apple into 8 sections.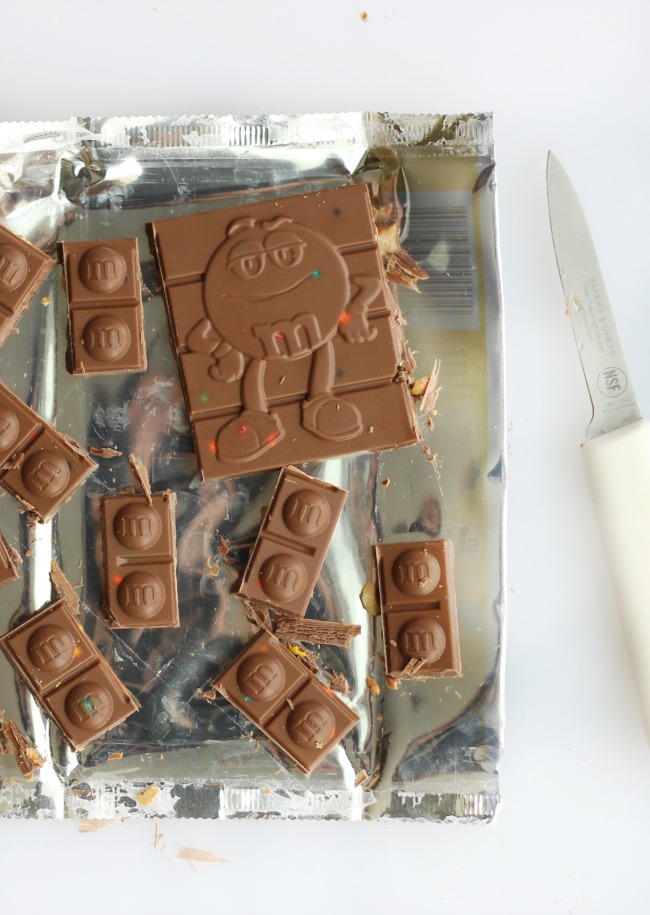 Break each chocolate bar into small sections.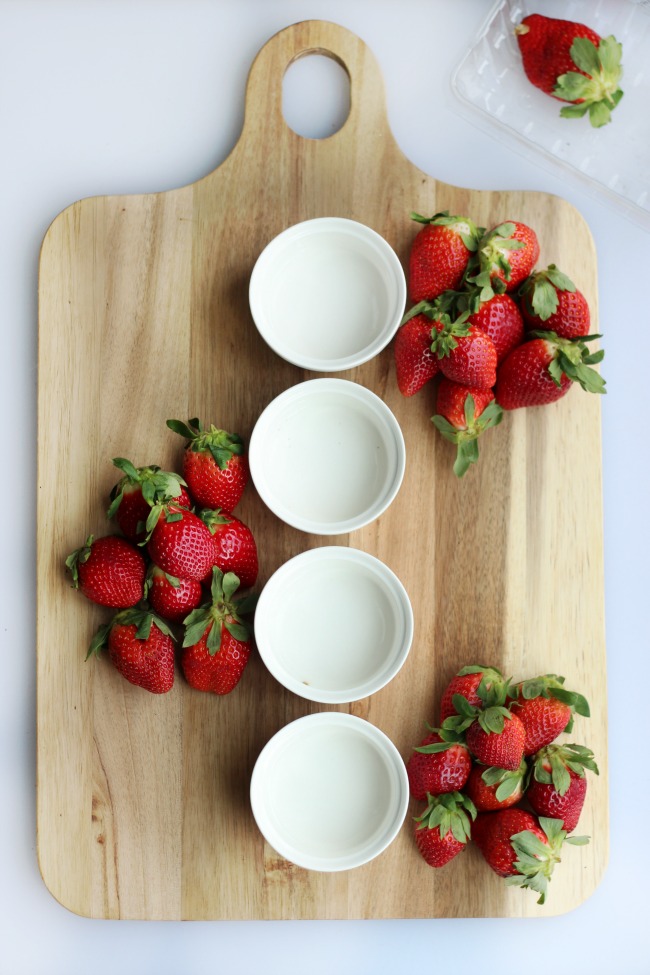 Start by arranging the fruit. Dividing the strawberries into groups evenly distributes the pops of color throughout the board.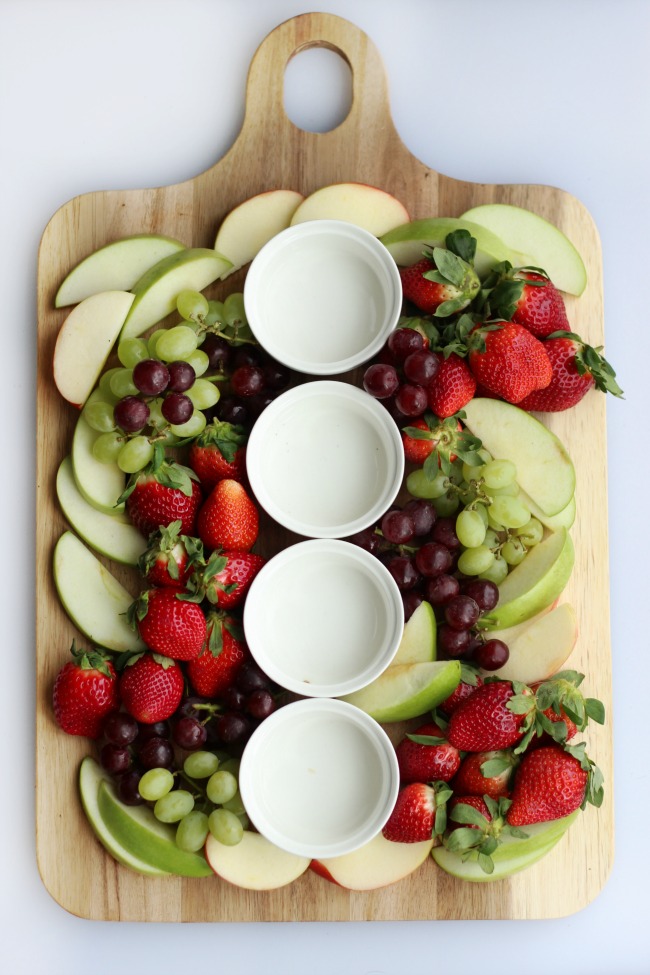 Add grapes and apples to fill in the sections around the strawberries.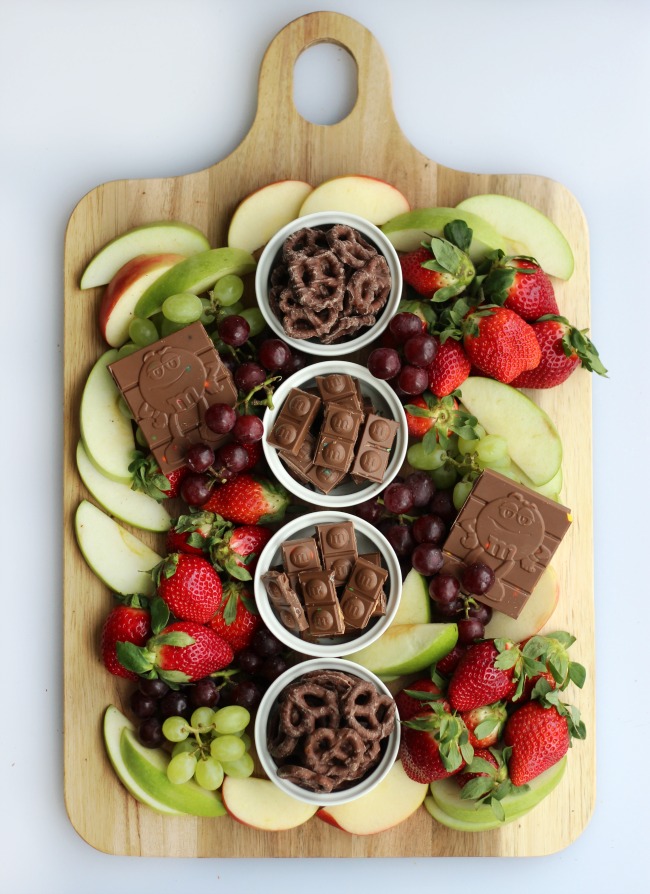 Use ramekins or small bowls to separate the chocolate and pretzels from the juicy fruit. You could also include a small ramekin of dipping chocolate for the strawberries and apples!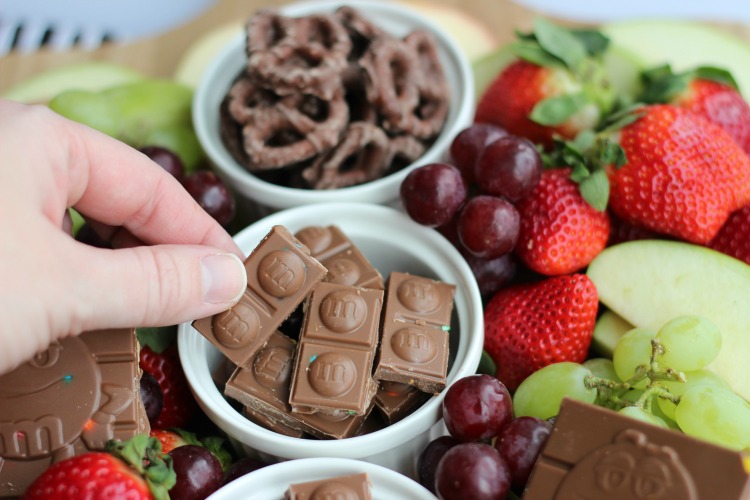 What would you add to your dessert board?
More Easy Dessert Recipes You'll Love
Irresistible Peanut Butter and Chocolate Chip Cookies: Soft and chewy, even after a couple of days, these peanut butter chocolate chip cookies are simply irresistible!
Homemade Chocolate Eggs: Create deliciously filled chocolate eggs using a few ingredients! With raspberry, peanut butter, or caramel in the center. YUM!