Make a Kermit the Frog puppet with this easy hand puppet pattern! You an use it to create so many fun characters out of felt! A quick sewing project for beginners. This post contains affiliate links.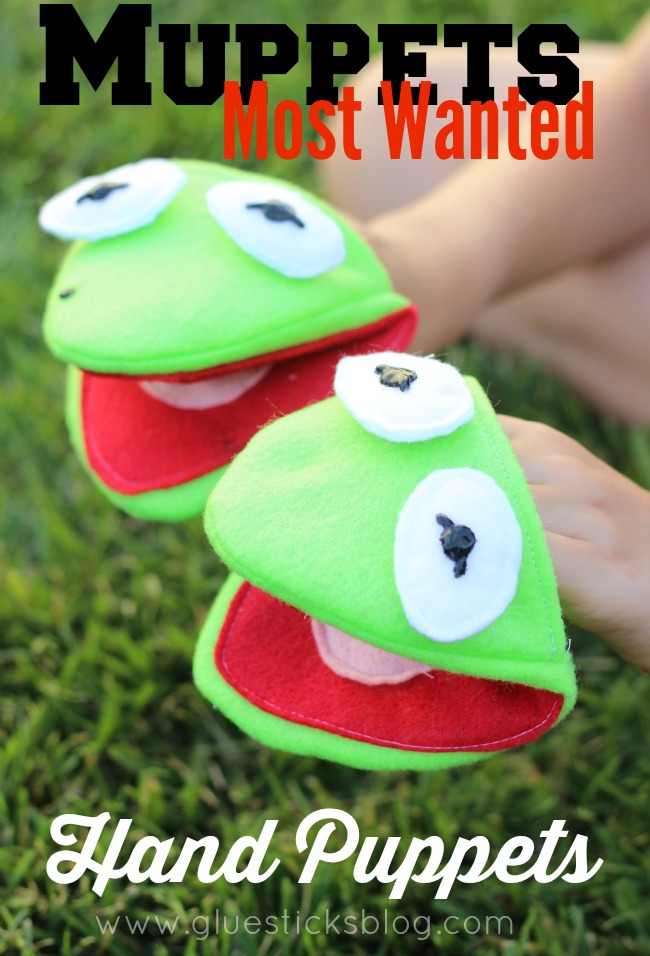 Is it Kermit? Or is it the worlds number one criminal, Constantine? It's easy to get them confused which is how Kermit ends up behind bars in "Muppets Most Wanted"!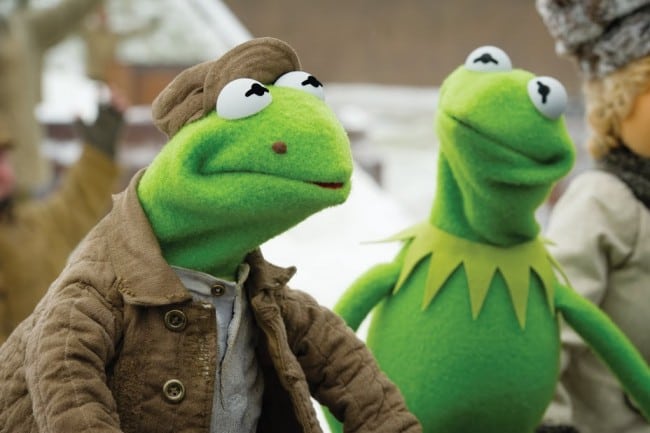 Will Constantine get away with his nefarious scheme? Will Kermit escape in time to save the day?
These little hand puppets are so easy to make and you can use this hand puppet pattern to make all different kinds. Try your hand at different animals, monsters or people! Today we are focusing on everyone's favorite frog and his doppelganger.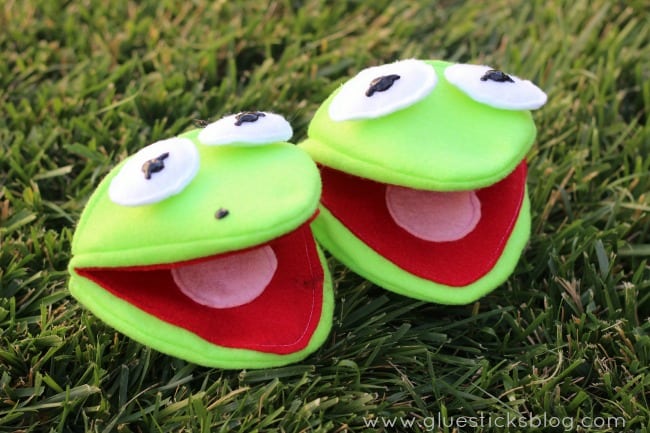 I think all of the muppets are fun, and hilarious, and classic, but Kermit has always been my favorite.
Hand Puppet Pattern: Kermit & Constantine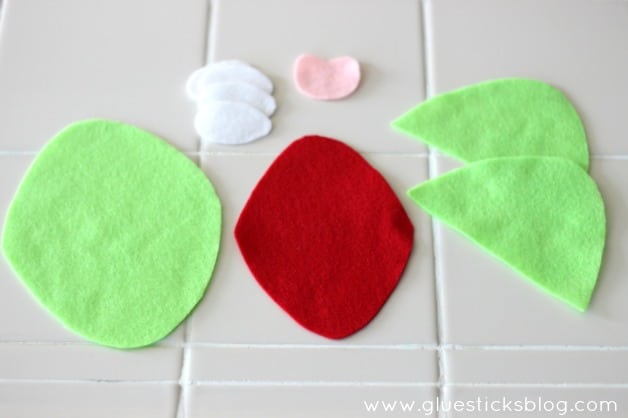 Supplies needed for this hand puppet pattern: bright green, red, and white felt, fabric paint, pins, sewing machine, needle/thread, scissors.
You can print out your hand puppet pattern pieces here. Once your pieces are cut out, you will need to cut one of the green body pieces (the largest pattern pieces) in half. Then you will have the same pieces shown in the photo above.
1 body
2 small green pieces
1 mouth
1 tongue
4 eyes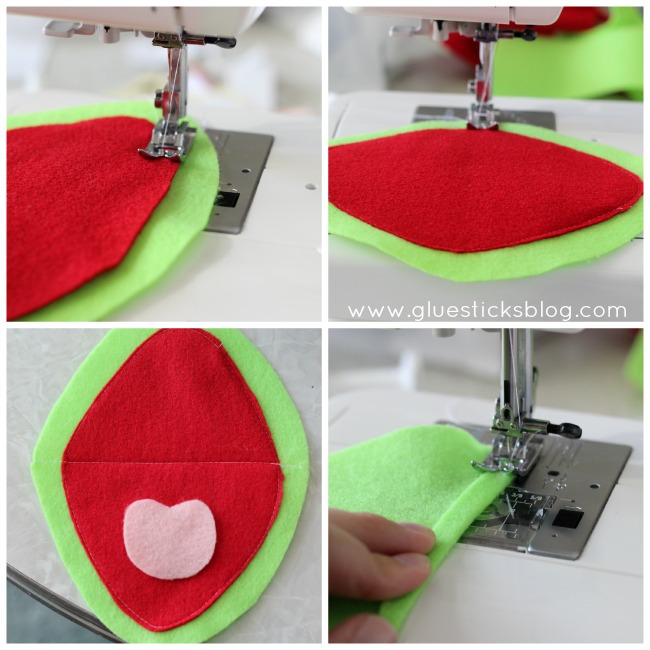 1. Center the red mouth piece on top of the body piece. Stitch in place.
2. To sew a crease for the puppet, stitch across the center.
3. Center the tongue piece below the center fold stitch. Sew into place.
4. Fold over the flat edge on each smaller green piece and hem 1/4″.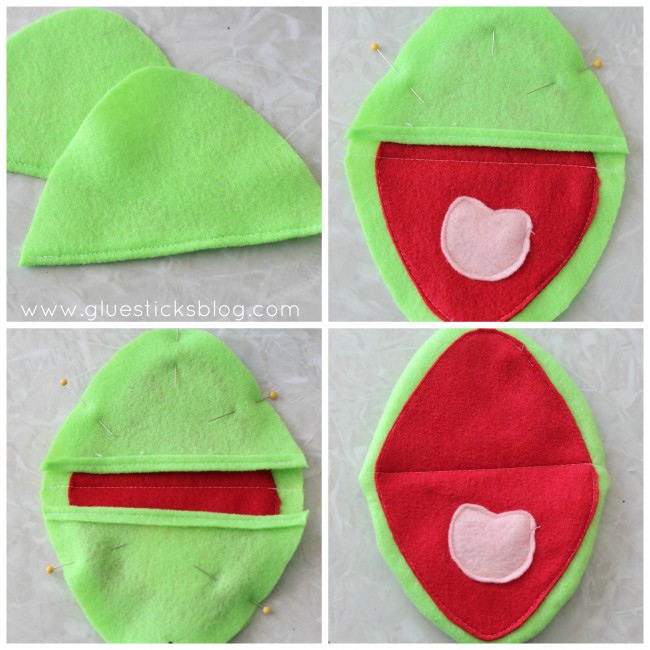 5. Once hemmed, the small green pieces will look like the photo above.
6. Pin (right sides facing) one of the green pieces on top of the body/mouth piece.
7. Repeat with remaining piece, lining it up with the edge of the body/mouth piece.
8. Stitch around the unfinished edges. Turn right-side out. The photo above shows it right side out.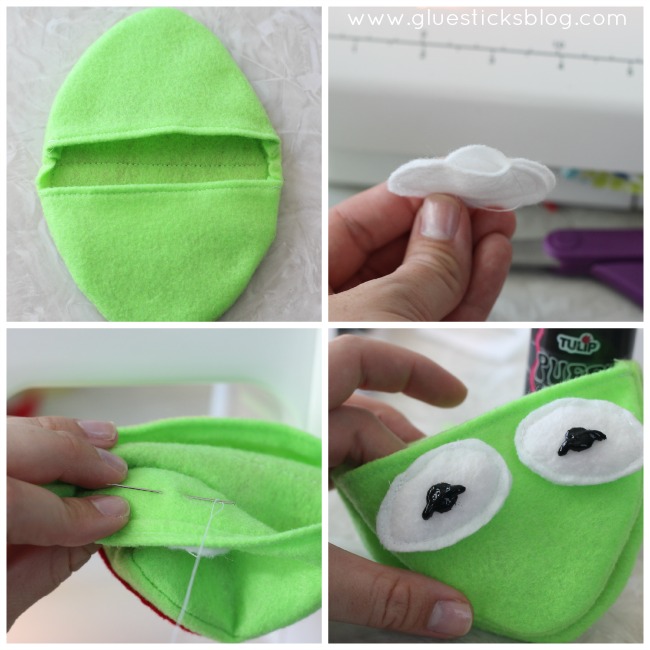 9. The photo above shows the other side.
10. Take 2 eye pieces and stitch close to the edge, leaving a small opening to stuff. Fill with a small amount of polyester fiber fill. Stitch closed. Repeat for the other 2 eye pieces.
11. Decide where you want your eyes to be and hand stitch into place, stitching through top piece of puppet.
12. Create the pupils using fabric paint. Add a mole for Constantine. Let dry.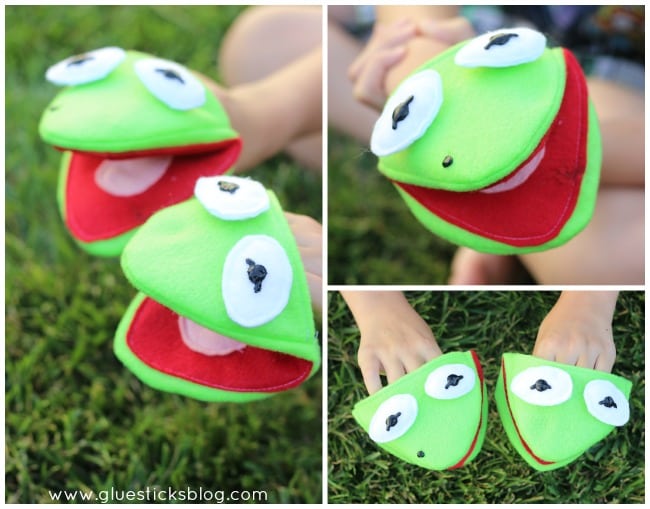 The kids think these little guys are awesome and since they are made from soft felt, it is easy to move the mouth around to make the same facial expressions Kermit makes when he is unsure or scared. So fun!
You might also like…