Make a felt flower box for kids for imaginative play! Kids can plant, pick, and re-plant their beautiful flowers over and over again!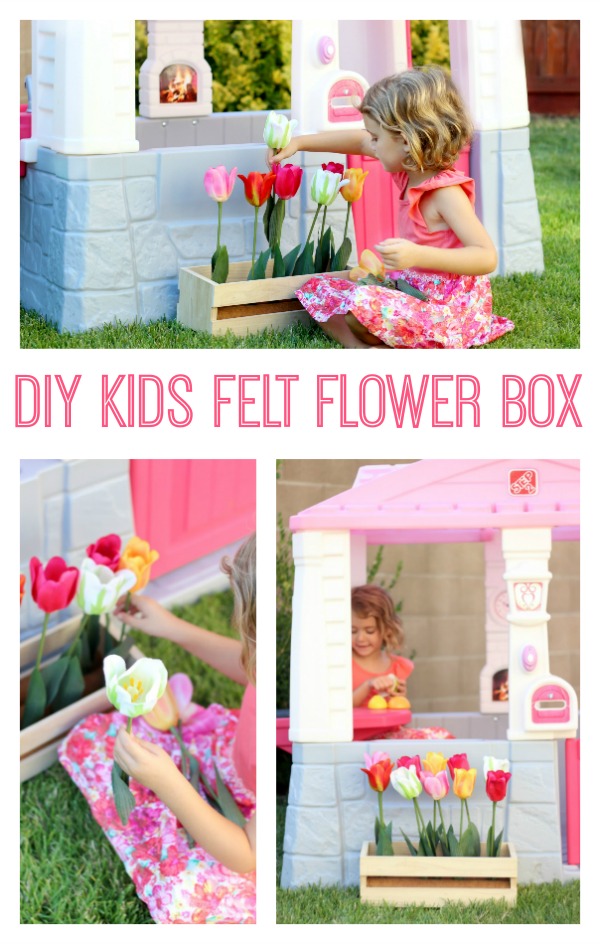 My girls LOVE flowers and picking flowers. They have their own flower garden in the backyard, but we decided to make one that can be used all year long and fits perfectly in front of their playhouse.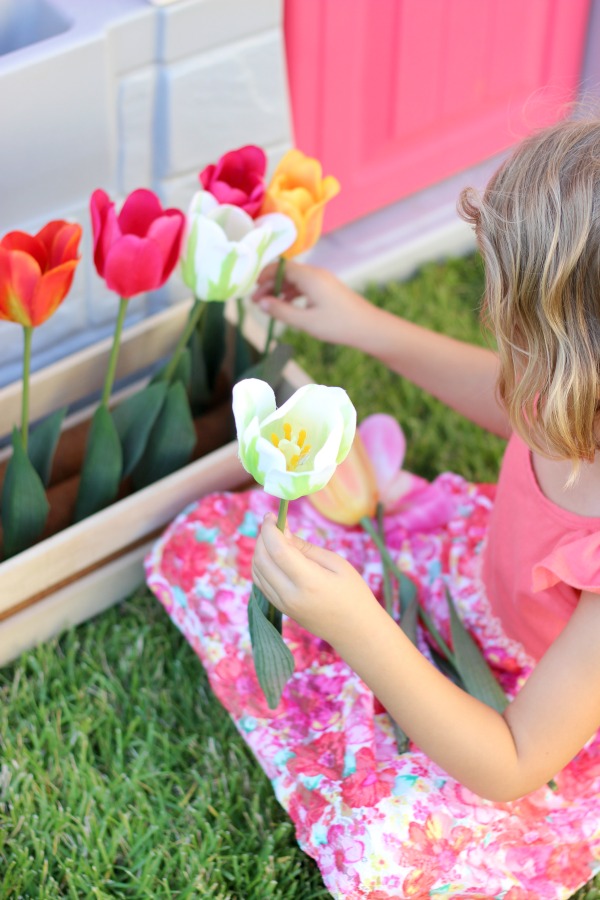 We used paper rolls and wrapped them with felt to create rows of "dirt". Then we purchased a variety of silk flowers for them to "plant". They can do this over and over! The tulips I purchased had really long stems. I trimmed them with wire cutters to fit into the box and repositioned the leaves.
Make a Felt Flower Box for Kids
Supplies: 
crate
paper towel rolls or wrapping paper rolls
silk flowers
felt
hot glue
scissors
Cut paper rolls to the length of your crate.
Cut strips of felt the same width as your paper roll. Run a line of hot glue on one end and roll felt around the paper roll.
Repeat with remaining paper rolls until you have enough to fit snugly into the crate. You can adjust how much felt you roll around each paper towel roll if necessary.
Note: we used this same technique of felt rolling to create this super cute earring box!
You can glue the bottom of the rolls into the crate, but mine were snug enough to leave as is.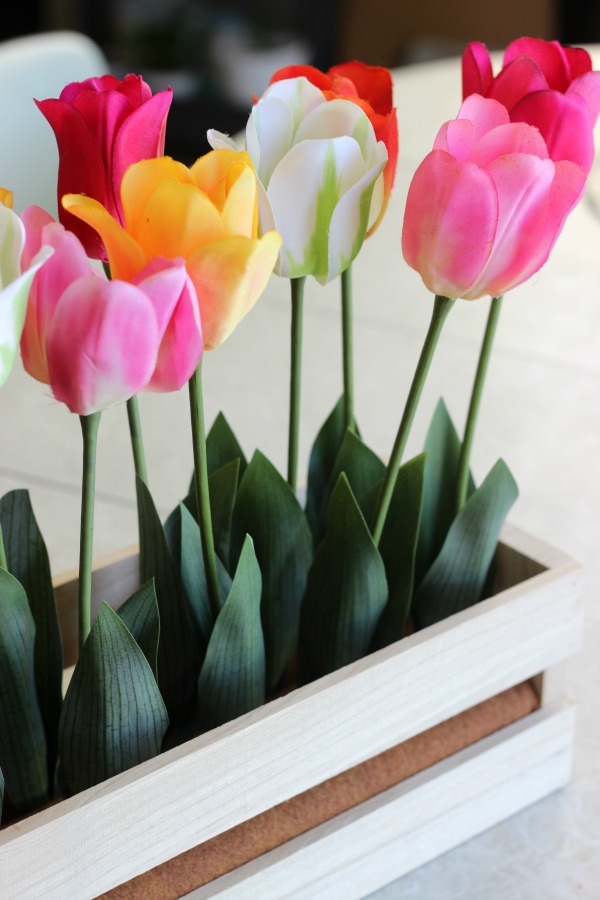 "Plant" silk flowers in between rolls of felt! Since they are removable, the kids can plant over and over, redesigning their flower box and switching up the variety of stems!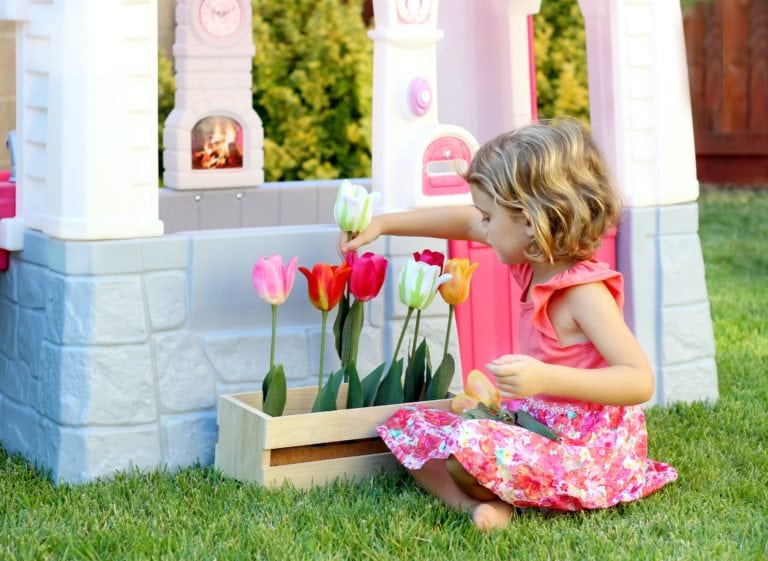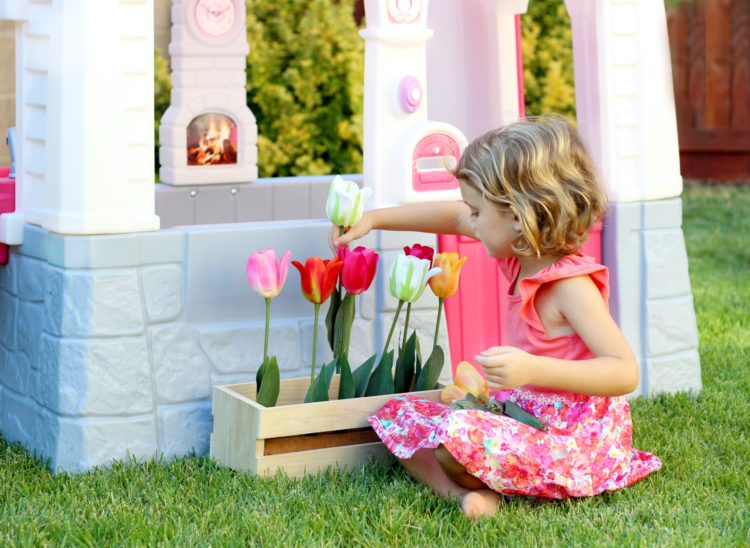 What a nice pop of color against her Happy Home Cottage & Grill from Step2. This darling playhouse is smaller than some that we have had in the past, but is still large enough for two children to play comfortably. I like that it is lightweight and takes up very little space. It is the perfect "first" playhouse for any child.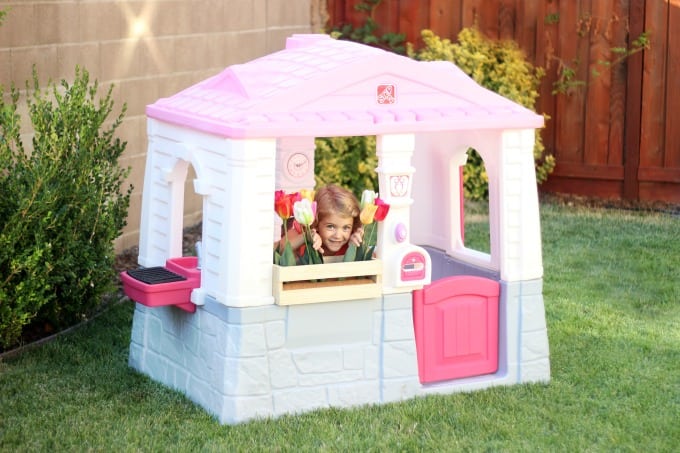 Thank you Step2 for letting me review this item as part of the Step2 Ambassadorship program.
If you liked this make a felt flower box for kids you might also like…
Welcome! I'm Brandy, mother to 5 darling kiddos and a cute black lab named Toby. My husband is in the Coast Guard so we've lived all over the place, turning each house into a home. I love baking, sewing, making cute things with my kids, and sharing what I've learned with all of you!