Wow, MORE snow days! 9 more inches and another 2 tonight. Then another snow storm this weekend! Needless to say, there's been a lot of Wii playing, projects, reading to the kids, and a little time for myself…to blog while the kids watch a movie 🙂
This little project was SO MUCH FUN! Our sweet friend, Saydria, turned 8. We went over for cake and ice cream last night and brought her this little purse with accessories.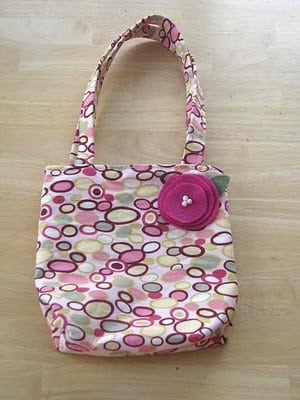 After the kids went to bed the other night I went through my fabrics and found this pink one that I had used when I was selling baby shoes. There was just enough to make a small purse. I don't have a pattern to share for this one since I just cut it out without any measurements and sewed it up, but here is a
tutorial
for a handbag with the same kind of boxing on the bottom so that the bag can stand up.
It is such a cute style and QUICK to sew up!! I used fusible interfacing in the straps and on the bag to make it sturdy. She is hoping that it will be big enough to put her new scriptures in.
The flower is just 3 pieces of felt scraps cut into circles with 3 small craft beads for the center and a felt leaf. Super easy. I added the flower the next morning while Kaylee "helped" sort through beads to put in the center. She had a lot of fun sorting and throwing.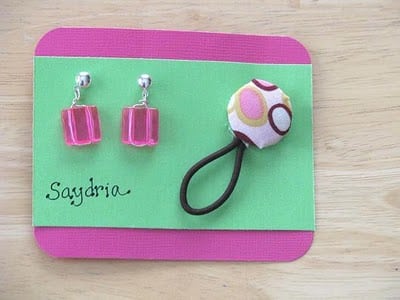 I haven't mastered my small tool skills yet, lol. Don't look too closely at the wire on the earrings, and hopefully Saydria's mom, Stephanie, won't either. She makes lots of jewelry.
The fabric button hair tie was another quick project…2 minutes. I used
this tutorial
when I made them with the young women at one of our Wednesday night activities.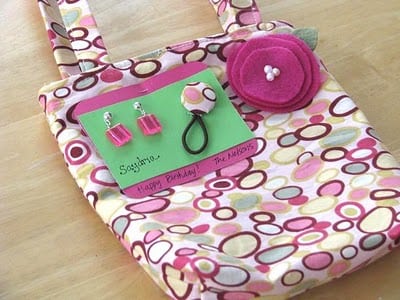 And here it is! A custom gift out of the supplies I already had on hand and I didn't have to go to the store with 3 kids in the snow. Even better.
Lori, from
LIFE AS LORI
, featured this project in her favorites on Feature Saturday! Thank you Lori!