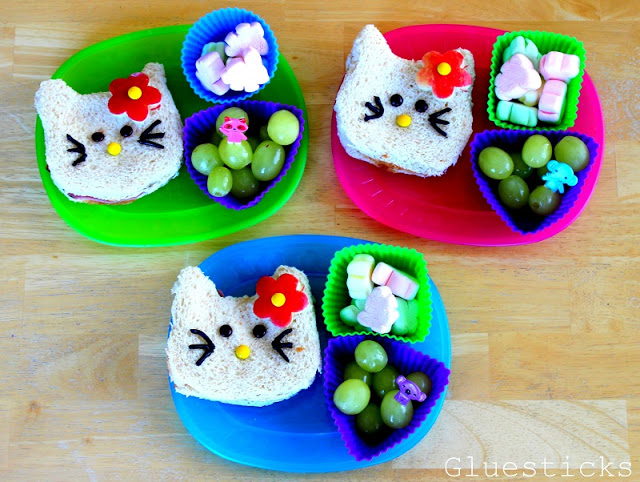 So I've really been having fun trying to makes lunchtime fun. Especially when friends come over. It doesn't take long to make the sandwiches. The tedious part is searching the cupboards for things to use and the clean-up. So I might as well make them when lots of kids can enjoy them…if I'm going to put the effort into it anyways!
The boys have been enjoying time at Cub Scout Day camp with Derrick this week. Kaylee is always the one left behind and doesn't have as many play dates. So we decided to do a very last minute invite to a couple of friends for lunch and see if anyone could come! Two were available to play and she was so excited.
So I thought for 3 little girls, a Hello Kitty lunch would be fun. The sandwiches look like pretty little cats, not so much Hello Kitty. At first I couldn't figure out why, but I think I should have put the whiskers closer to the edges of the sandwich and not in the center….But the girls loved them and shouted "It's Hello Kitty!!!" when they saw their plates. So I'll call it a success!
I made the sandwiches, then used a knife to cut out the bread around the ears. Kitchen scissors worked well to cut out the round head. Then I used mini M&Ms for the eyes, nose, and flower center,  and a slice of apple (peel facing out) for the flower.
The whiskers are black icing from a tube that I had, but pretzels would have been fun too or maybe some fruit leather strips.
A little cup of grapes and another of spring shaped marshmallows and they were set!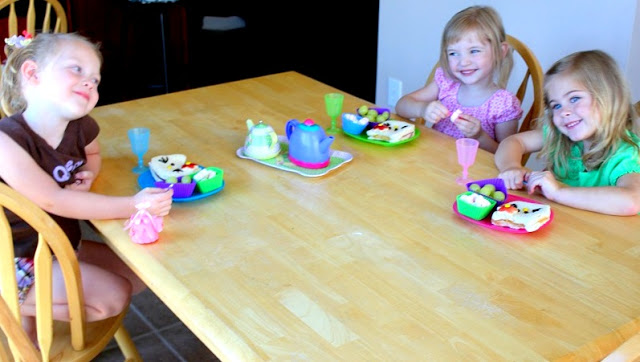 Kaylee set up a little tea party and the girl shad a wonderful afternoon playing together!
You can my attempt at Angry Bird Sandwiches here.