Make your own chocolate candies in 3 easy steps! These delicious and decadent caramel chocolates are easy to make and perfect for holiday gift giving! This post contains affiliate links.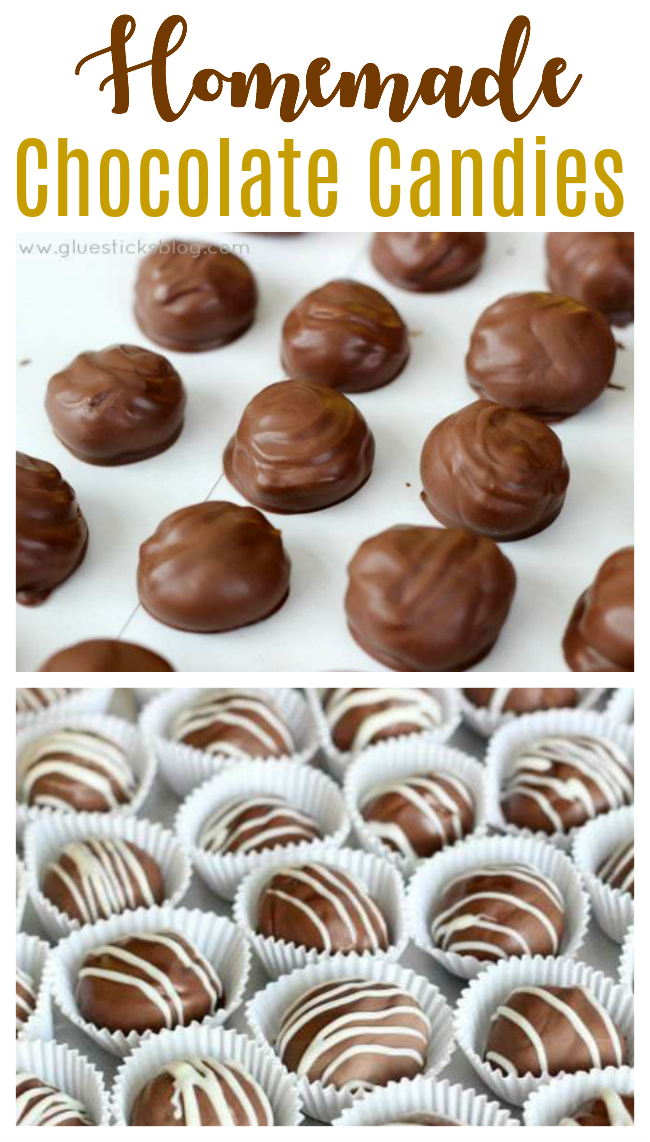 What would you make with a 5 lb. brick of delicious caramel? My husband would probably eat it plain and it would be delicious that way, but I ordered it to make homemade chocolates to bring to church for Mother's Day. And you don't have to use caramel. You can also use this delicious peanut butter and rice crispy filling to make my white chocolate peanut butter truffles. The technique is the same, just a different filling! SO EASY, basic ingredients and incredibly addicting! They are made with peanut butter, powdered sugar and rice crispies cereal. The easiest homemade chocolates you'll ever make. For one more option, visit this post and I'll show you how to fill them with peanut butter or raspberry filling to make chocolate eggs for Easter!
Okay, back to that brick of caramel…
3 Step Chocolate Candies With Caramel Filling: Roll, Dip, and Set.
These homemade chocolates came together so quickly. Within a couple of hours, I had over 100 of them packaged up and ready to take to church for Mother's day on Sunday. These would also be great for Christmas gifts. Let me show you how easy it is to create your own box of chocolates. They are so fun to customize! Choose dark or milk chocolate, drizzle with chocolate on the top or sprinkle with a bit of sea salt. Any combination will result in a rich and creamy dessert that will rival your favorite candy store.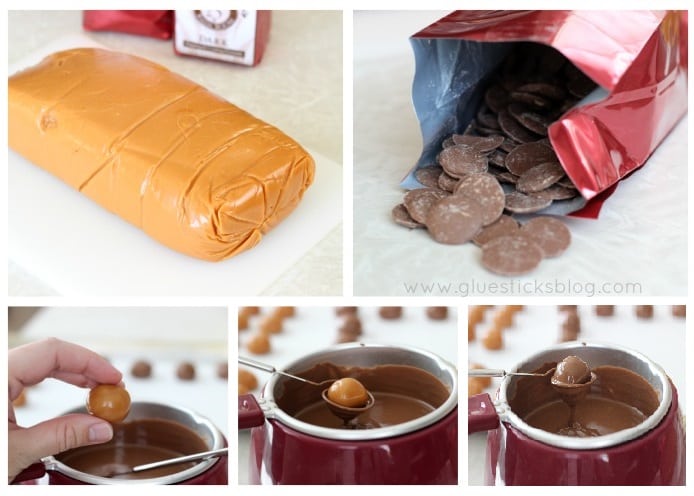 3 Step Homemade Chocolate Candies with Caramel Filling
Ingredients:
Caramel (this is a 2 lb. container)
Melting Chocolate (1 bag)
Drizzling Chocolate (optional)
Supplies:
Small rubber spatula
waxed paper
Small Candy Cups
Melt your chocolate in whatever method you choose. Double boiler, chocolate melting pot, or microwave. All melting chocolates come with instructions for the best methods to use. I used my melting pot. I love it because it keeps my chocolate at the perfect temperature for dipping.
Roll
Start out by breaking off a piece of caramel and rolling it into a small 1″ ball.
Dip
Drop the caramel ball into the chocolate and scoop out with your dipping tool/fork. Gently tap on side of the pot to allow excess chocolate to drip off.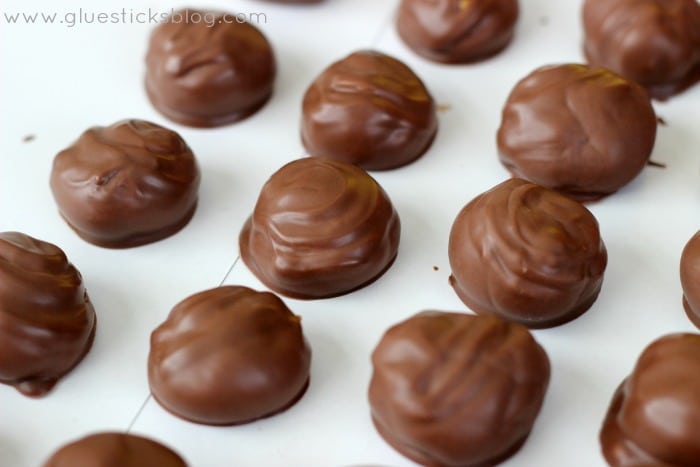 Set
Line your baking sheets or cutting board with a nonstick surface for the chocolate to set up on (waxed paper works great). Sprinkle with sea salt, if desired. Refrigerate chocolates for 10 minutes or until hardened.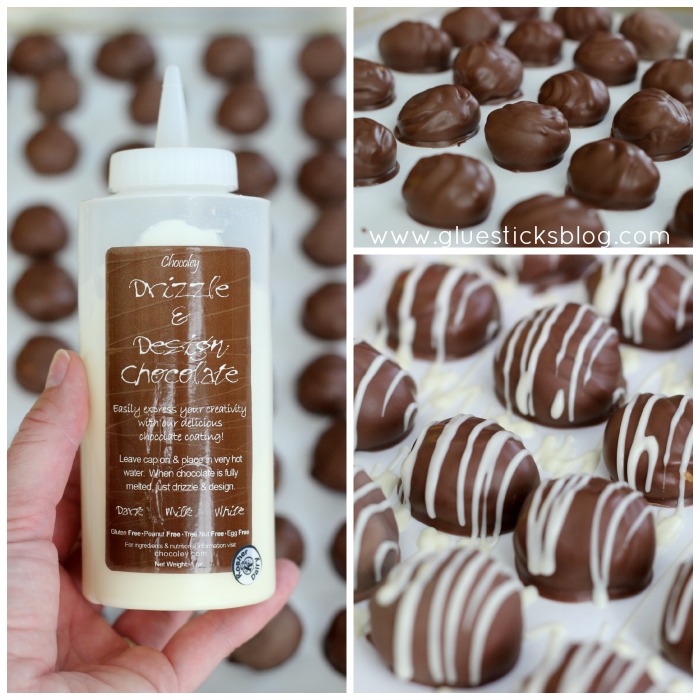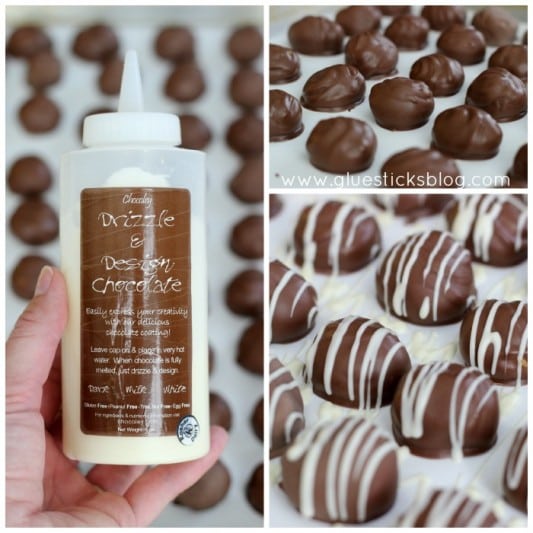 Drizzle with dark or white chocolate (optional). I simply warmed up the bottle and quickly did a zig-zag across each truffle. I think that was my favorite part!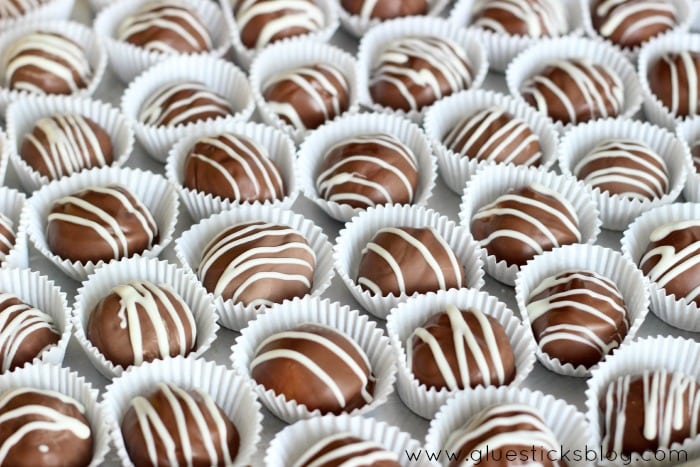 Once the drizzle sets, place your chocolates in individual candy cups and store in an airtight container.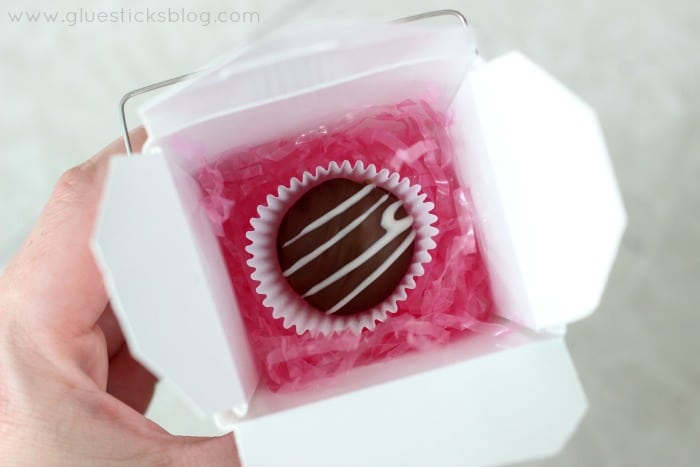 The kids are going to decorate tiny Chinese take-out boxes on Sunday and pick out a truffle to give to their moms for Mother's Day. We have 100 children at our church so we wanted something simple for them to do. I think they will be excited to take a chocolate to their mom.
You might also like…