Make homemade rock candy with these tips and tricks and answers to frequently asked questions. A fun science experiment and treat for kids!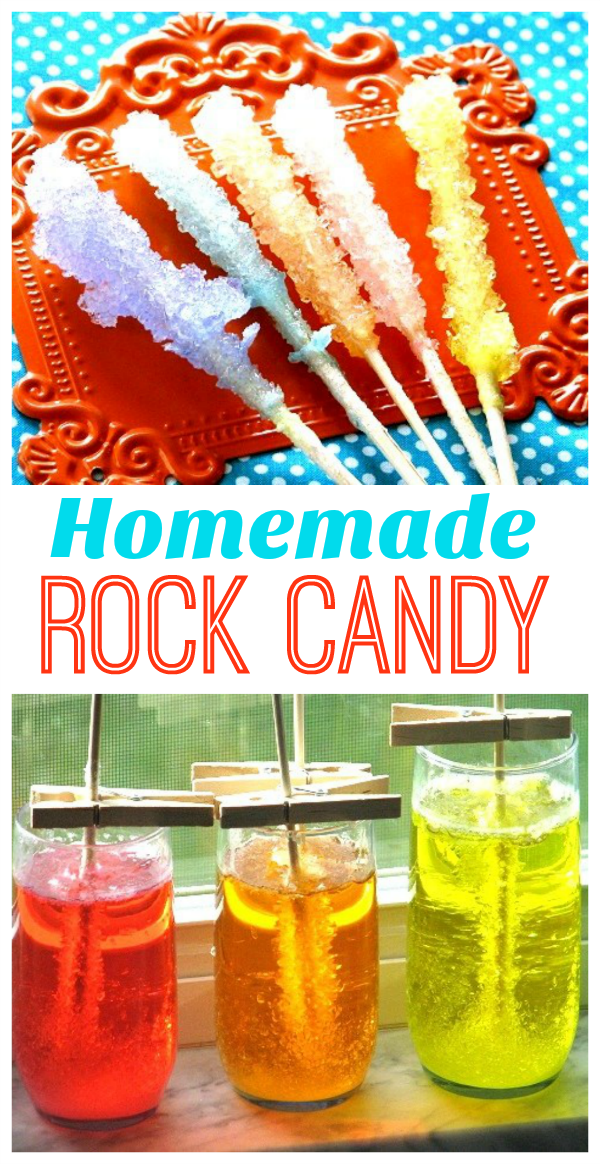 With summer here and knowing that moms are looking for fun activities for kids, I decided to share how we make rock candy!  This is an oldie but goodie post here on Gluesticks.
Homemade Rock Candy is easy to make, it just takes patience.
There are so many variations using string, sticks, etc. It's a beautiful science project and sweet treat all in one. It does take time, and the end results can vary. We found that some colors grew really well and others didn't grow as much. There's a science to it and that's all part of the fun! Scroll to the bottom for some frequently asked questions for making rock candy.
My son has a batch growing on our window sill right now as a little project for Cub Scouts. He used a string and didn't color his sugar water, but the result is the same as the rock candy we made before. For us, it is more fun to watch the crystals grow than to actually eat it.
To make homemade rock candy on a stick, watch this video tutorial or scroll down for written directions!
I've also included more tips and frequently asked questions at the end of the post.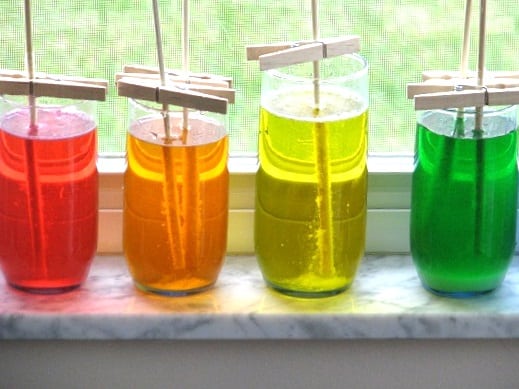 Homemade Rock Candy
Make homemade rock candy with these tips and tricks and answers to frequently asked questions. A fun science experiment and treat for kids!
Print
Pin
Rate
Total Time:
7
days
30
minutes
Equipment
funnel

glass jars

clothespins

large pot
Ingredients
Sugar

lots of sugar

Water

Food Coloring

concentrated for brighter colors

Wooden Candy Sticks or Bamboo Skewers

flavoring

optional
Instructions
Trim down your skewers to a reasonable size to fit in whatever jars or cups that you will be using. You'll also want to get rid of the point. Dip them in water, then roll in sugar.

Let the sticks dry completely and set aside. This will give the sugar a base (something to stick to when it starts to crystallize).

Mix equal parts of water and sugar in a pot on med-high heat until dissolved. Then continue to add sugar until you have 2:1 - 3:1 ratio. It will get to a point where it won't dissolve any more.

Allow your syrup to cool for a few minutes and ladle into your jars using a funnel to catch spills. It is still very hot at this point.

Add food coloring and flavoring if you'd like.

Attach a clothespin to each skewer (the ones you dipped in sugar and let dry) and place in the cup.

Place your jars in a warm location with lots of natural light and watch the crystals grow!
Notes
1.We used the tips that we trimmed off of our skewers and dipped them into concentrated food coloring paste, then swirled the skewer into our hot syrup mixture. You can use liquid food coloring, but I like the paste better. We did not flavor our homemade rock candy.
2.We used 18-20 cups of sugar and 8 cups of water and it made a lot. So you can definitely half the recipe or create as little as you like as long as you keep the same sugar/water ratio. You are making a nice, sticky, sugary syrup. Mix until mixture starts to simmer.  You do not need it to a rolling boil or bring it to a certain temperature with a candy thermometer. Easy.
3.Make sure the skewer isn't touching the bottom or sides of jar/glass. They need room to grow. Since our glasses were narrow, one skewer seemed to work out best, but we added two in a few of the colors.
Nutrition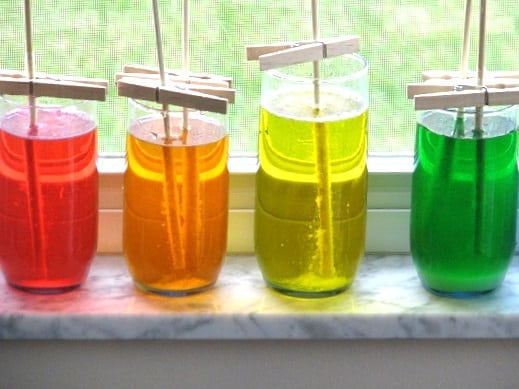 It only takes 7 days to make homemade rock candy and it's so much fun to watch and see the changes each day!
Note: the photo above is on day 1. You can see that there is a bit of sugar build up from when we dipped them in water and then let them dry in sugar as well as on the bottom of the glass. I had no fear of insects or little fingers messing with them so I did not cover mine. I do not know if covering them would alter the process at all.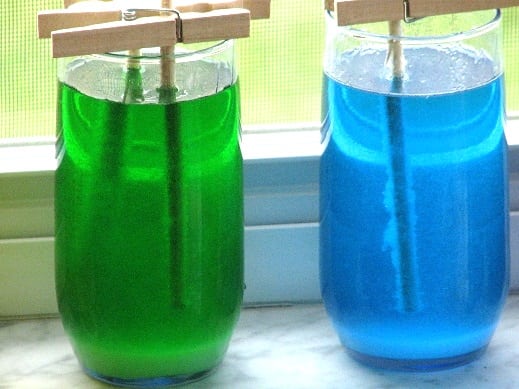 Day 3. More crystallization.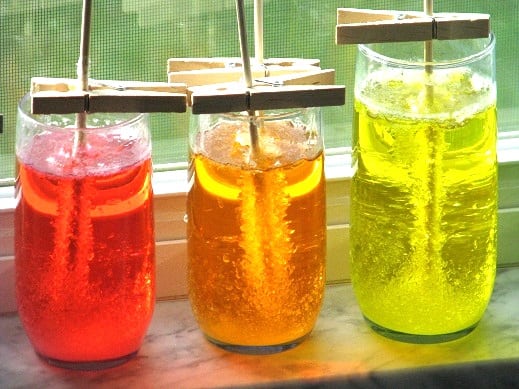 Day 5. The syrup is crystallizing on the bottom of the glasses as well.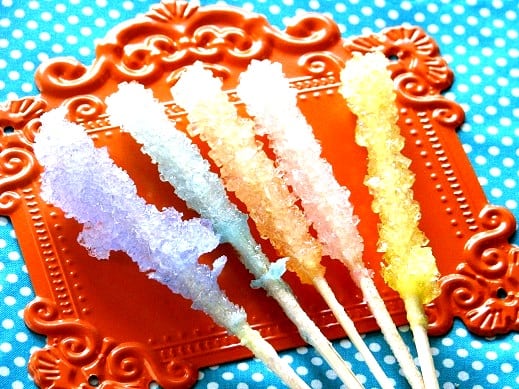 Day 7. DONE! We had a great time watching them grow and sampling the finished product.
Frequently Asked Questions:
Can you make more than one stick of rock candy in each jar?
If you attempt to do more than one skewer/jar, use a wide mouth jar. The orange glass had two skewers and both turned out GREAT, but a couple of the other glasses with 2 were a bit smaller than the rest of the single stick glasses.
How do you drain the rock candy?
Hold the lollipop over the jar or paper towels to let most of it drip off and then set it on a cookie sheet to dry.
There will be crystallized sugar in the bottom of your jars/glasses. Just run them in hot water and chip it out with a butter knife. It comes out pretty easily.
Do different colors grow faster than others?
And as you can see in the photo, they didn't all grow at the same rate. The purple one was the biggest we had. So there are obviously many variables to doing this which makes it such a great science experiment.
How long will rock candy last?
The shelf life for rock candy, if kept in a dry location, is 1 year.
Can I use a disposable foam cup for making rock candy?
Nope. It has to be glass, and it's easier to watch the crystals grow in a clear glass jar!
Why didn't my rock candy grow crystals?
If after a couple of days you don't see any sugar settling on the bottom of the glass, it means that there most likely wasn't enough sugar when you started. Just reheat your syrup to a simmer and add a bit more. Pull your skewers out and just roll the sticky skewers in more sugar and let it sit while you reheat your syrup. Is this frustrating to do? Yep. I know, because I've done it before!
Can you re-use rock candy syrup to make more crystals?
This is probably the most asked question that readers have e-mailed me over the years. I have not tried to re-use the syrup, but I don't see why you couldn't add another stick (covered in dry sugar) into it and grow another more. It might be worth reheating it to test and make sure that it is still saturated, but you have nothing to lose except a bit of time.
Here's are a few more tips for making homemade rock candy:
Make sure your glass/jars are clear and CLEAN.
Make sure your sugar ratio is AT LEAST 2:1-3:1 When I said it will get to a point where it will not dissolve anymore, that does not mean that it will be gritty and super thick. It will still look like a clear syrup, but a little cloudy. That is when you will know that it is a saturated ratio. Just make sure you bought extra sugar so that if you get to a 2:1 or 3:1 ratio and it is still dissolving super quickly that you can add a little more.
Place in a WARM, SUNNY location. I made this last batch in September when it was still 80+ degrees. I'm not sure if the time of year has anything to do with it or not.