This shop has been compensated by Collective Bias, Inc. and its advertiser. All opinions are mine alone. #FallIntoClean #CollectiveBias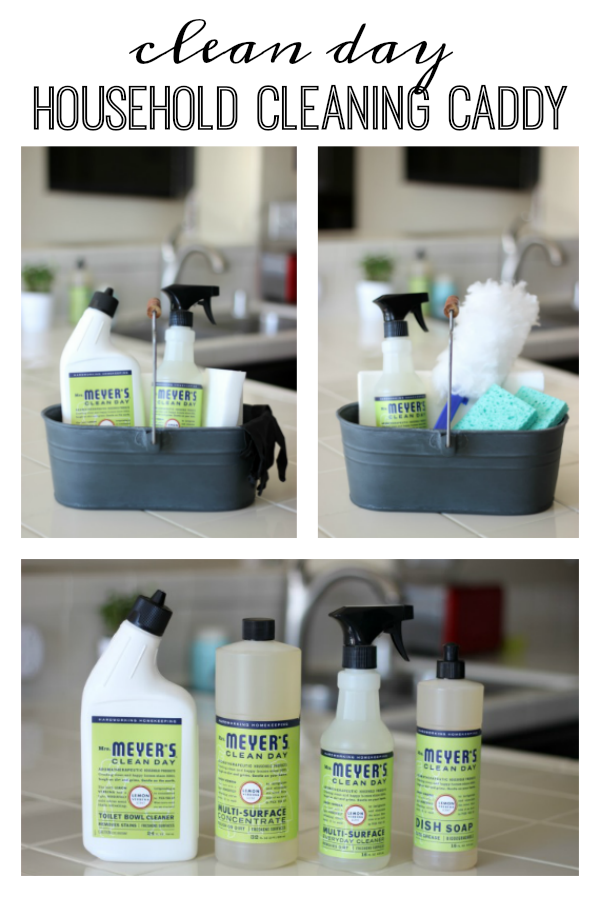 Tidy up your home this back to school season using these basic household cleaning caddies. One for your bathrooms and another for the main living area of your home.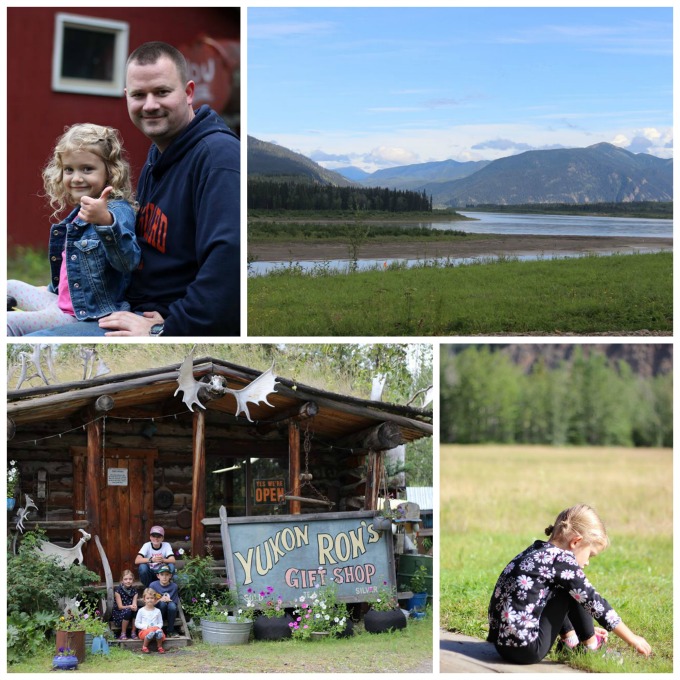 As much as I hate to admit it, our summer has come to a close. We've spent weeks traveling to Alaska, Idaho, Oregon, spending time with friends, camping, and making memories. As soon as one trip ended it was time to unpack, do laundry, and pack for the next one. These are the summers that will be remembered fondly in the years to come.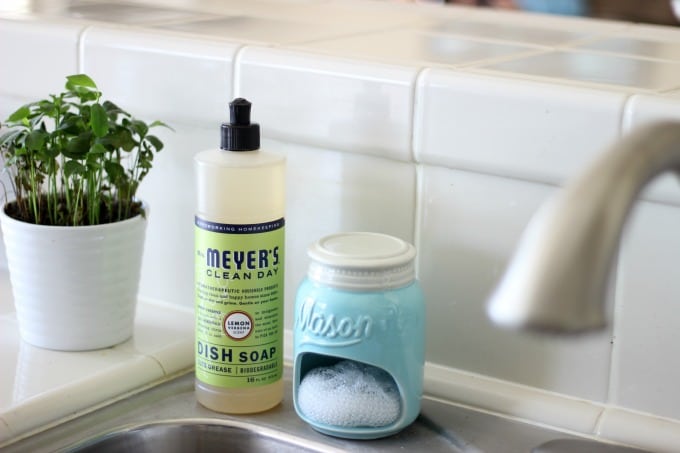 Now that our summer travels are over it is time to switch gears and think about getting the house clean and organized. All four kids are in school which means that our mornings and afternoons are swamped with homework, endless paperwork to fill out, lunch prep, and carpools. Before this happened I dedicated a little time to get my house in order to start the school year out on a fresh note.
We live in a two-story home with 2 bathrooms upstairs, one downstairs, and hard surfaces and living areas on both floors. Nothing is worse than trying to carry several products at a time so to make things a bit simpler, so I created these household cleaning caddies!
Household Cleaning Caddy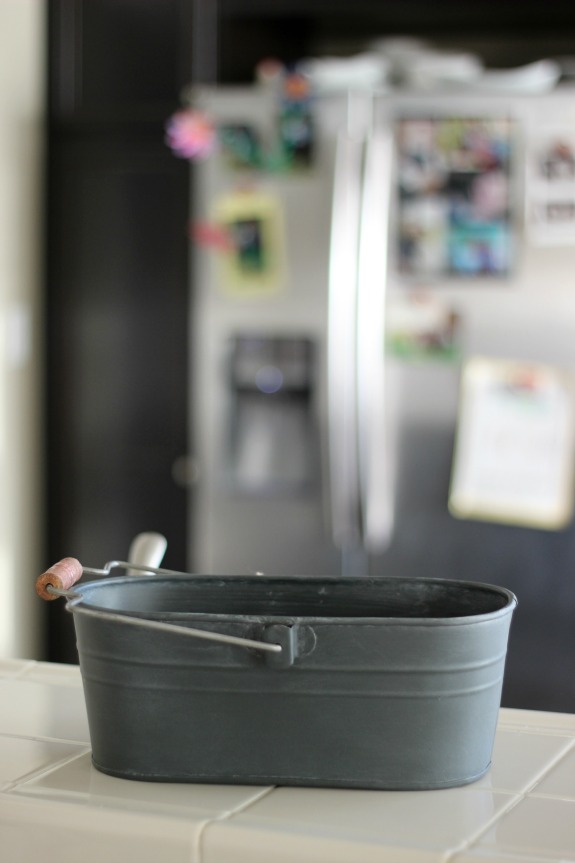 Supplies:
Bucket or container with handle
Mrs. Meyer's Clean Day® products
Dry Cloths
Dusting Cloths
Sponges
Rubber Gloves
Trash Bags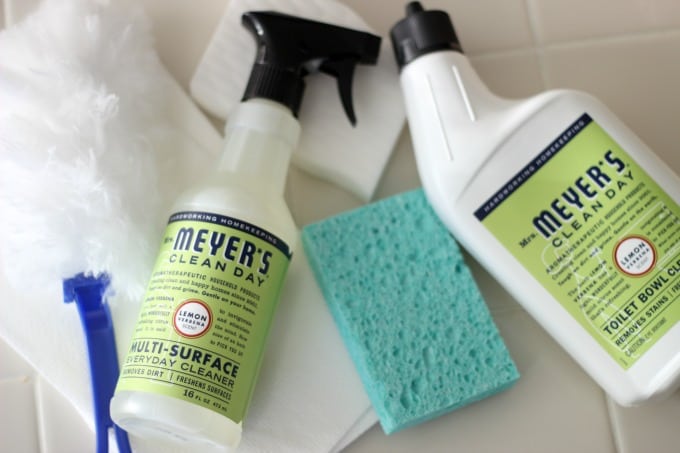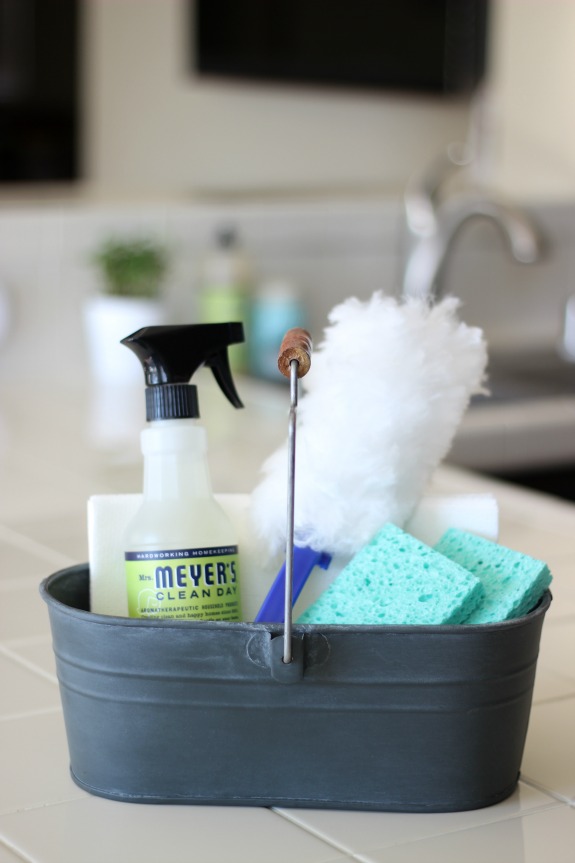 The caddy above is great for general cleaning and dusting. It includes two sponges, a dusting wand, dry cloths and Mrs. Meyer's Clean Day
®
Multi-Surface Everyday Cleaner in Lemon Verbena scent.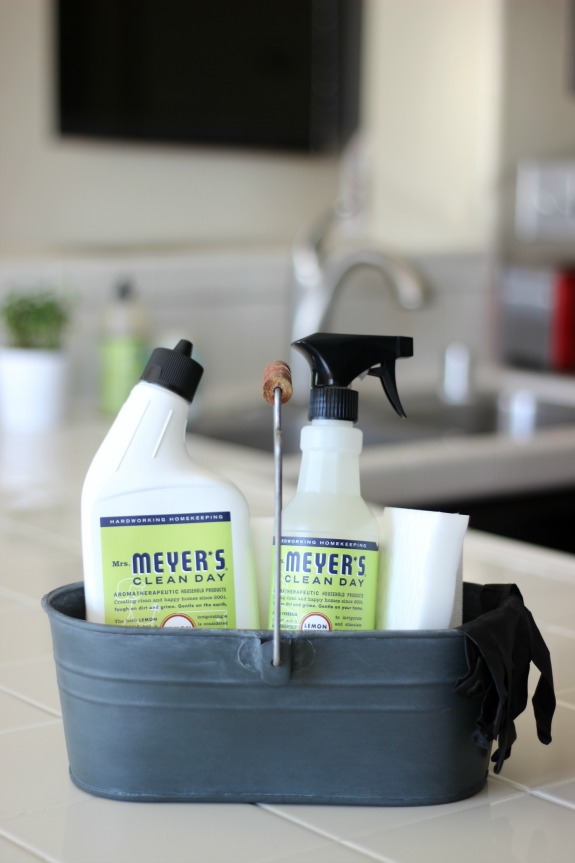 The second caddy is for the bathroom with rubber gloves, dry cloths, a porous sponge, a small trash bag, Mrs. Meyer's Clean Day
®
Multi-Surface Everyday Cleaner in Lemon Verbena scent, and Mrs. Meyer's Clean Day
®
Toilet Bowl Cleaner in Lemon Verbena scent.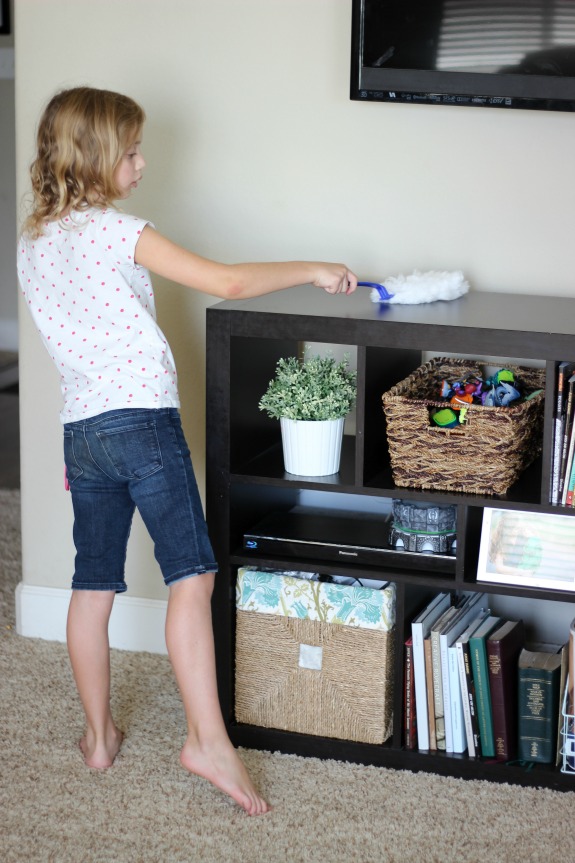 The girls love dusting. I remember that being my favorite chore at their age too! I filled one of the caddies with dusting cloths and this little brush so that they can take care of the bookcases, end tables, and windowsills.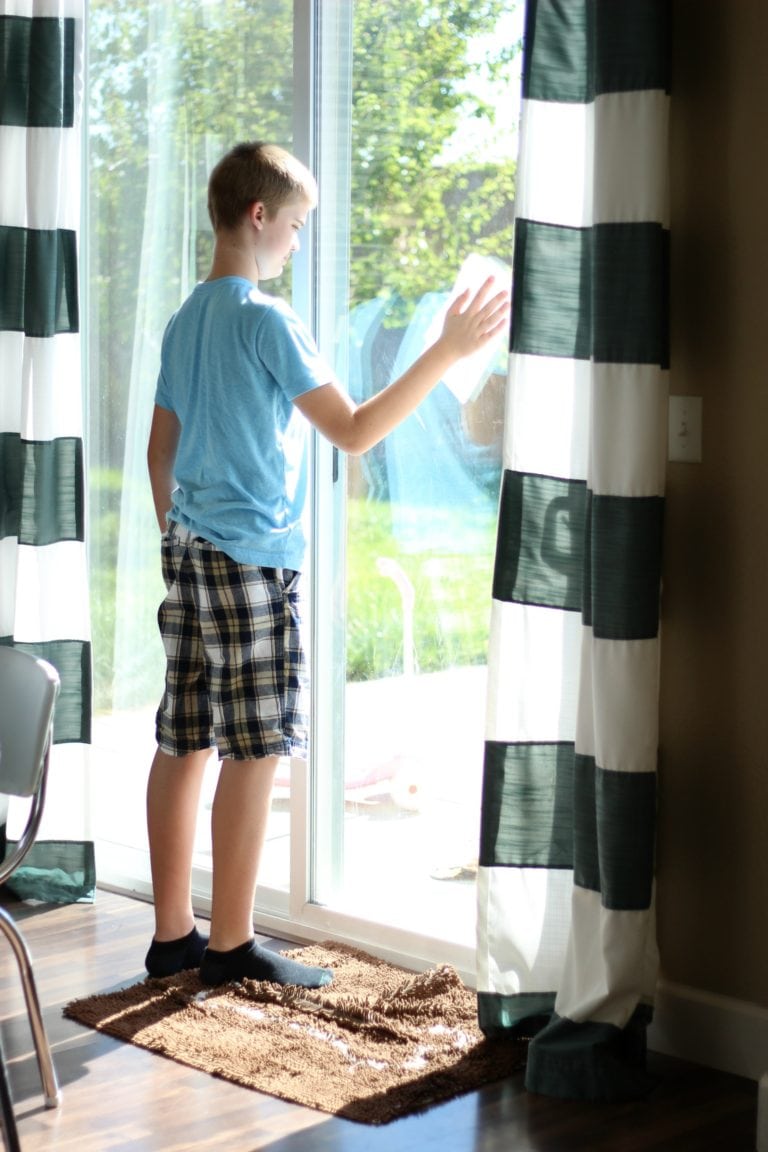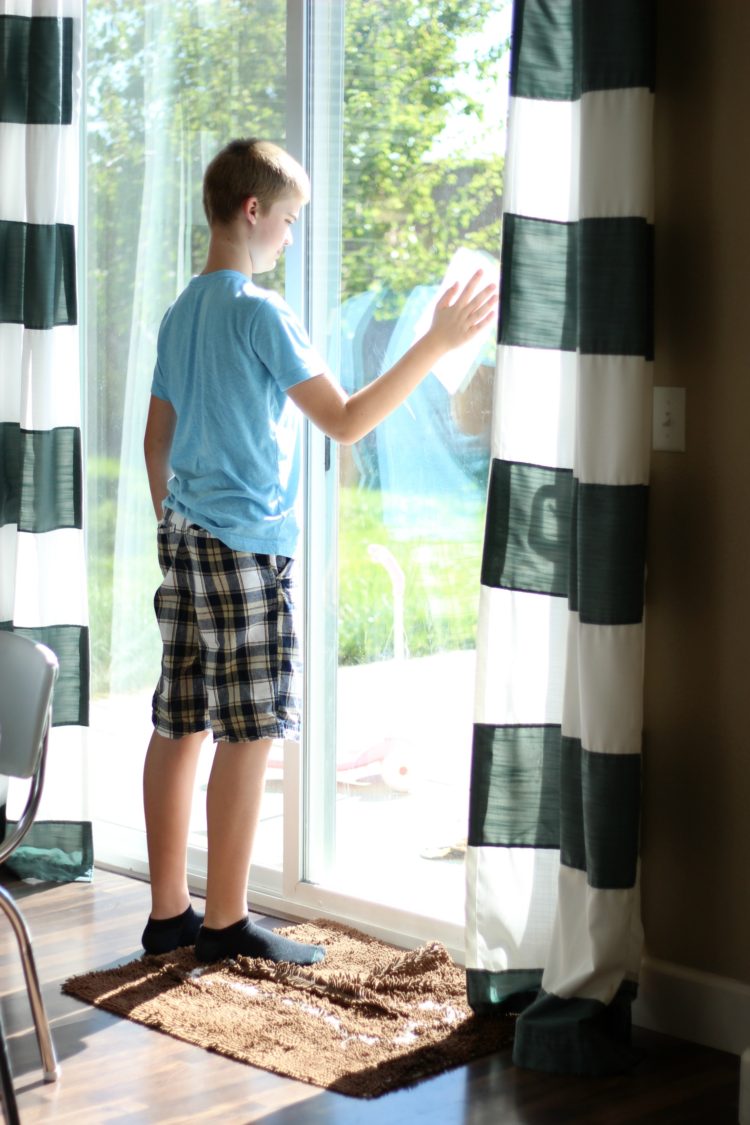 The boys help keep our sliding door free of fingerprints and paw prints. Just a bit of vinegar in a spray bottle gets the job done. They also help with vacuuming, taking out the trash, and sweeping the floor.
A few chores that all 4 kids do together are emptying the dishwasher and picking up their own clutter. Sometimes I'll make piles of their belongings at the bottom of the stairs and have them put them away upstairs, but either way, they are responsible for their own toys and clutter.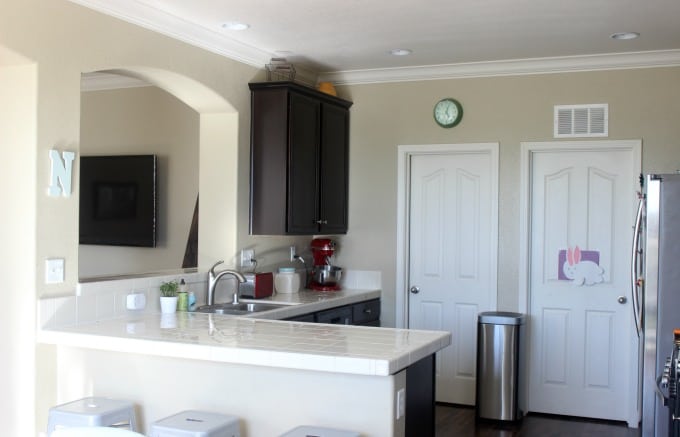 It felt so good to start the new school year on an organized note. 
Mrs. Meyer's Clean Day
®
believes that the world would be a better place if everyone was a homemaker – and we all can be, we just have to get over the hump of "perfection" and try. Your home is what you make it. There is no right and wrong, just what you enjoy coming home to! Our home is often filled with clutter and craft projects in lieu of fancy throw pillows and perfectly staged tabletops and I wouldn't have it any other way!
So try something new, make a mess, and make your home your own.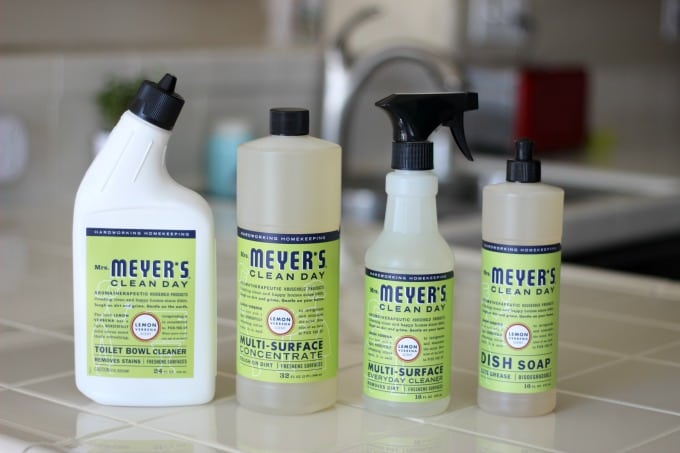 You'll notice that I have a thing for lemon scented cleaning products, ha! More specifically, the Lemon Verbena scented product from Mrs. Meyer's Clean Day
®
. My favorite is the Mrs. Meyer's Clean Day
®
Multi-Surface Everyday Cleaner in Lemon Verbena scent. I like products that serve many functions instead of having one for the kitchen, one for the bathroom, one for counters, and one for sinks. This one cleans them all! I also love the Mrs. Meyer's Clean Day
®
Multi-Surface Dish Soap in Lemon Verbena scent. It makes the kitchen smell heavenly—and my hands too.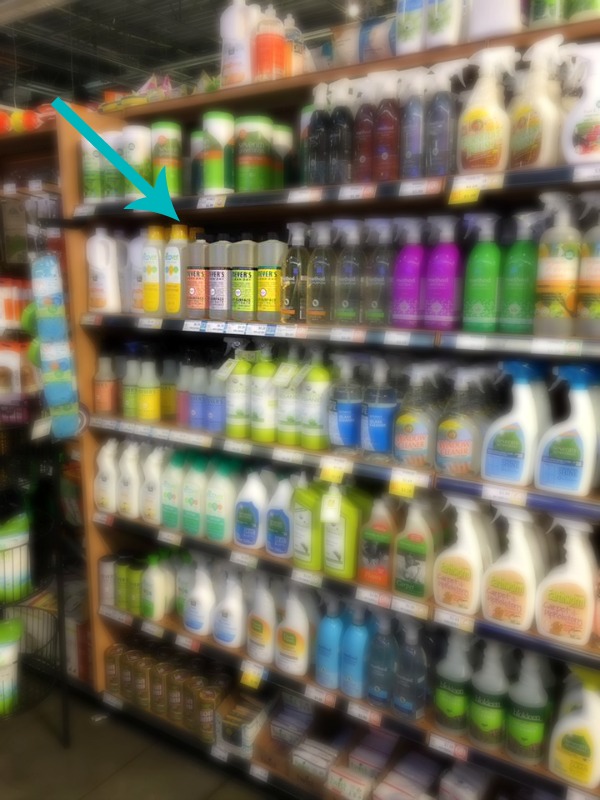 You can find Mrs. Meyer's Clean Day
®
products in many stores, but I found mine at Whole Foods Market the last time I was there.  They come in a variety of scents. They are made with essential oils and plant-derived ingredients and are packaged in beautiful bottles that are recyclable, BPA free, at least 30% post-consumer recycled material. They are also free of artificial colors, ammonia, phthalates, chlorine bleach, parabens, and phosphates and never tested on animals.
Whole Kids Foundation is dedicated to helping kids eat better and enjoy it. Founded by Whole Foods Market, this nonprofit organization is guided by the same values, principles, expertise and standards for quality ingredients, food production methods and nutrition.
Mrs. Meyers Clean Day® is a proud sponsor of Whole Kids Foundation and will donate $1 to Whole Kids Foundation for each of the first 25,000 cleaning products purchased between 8/24/16- 9/13/16. This offer is valid on all scents of Mrs. Meyers Clean Day® Multi-Surface Spray, Dish Soap, Multi-Surface Concentrate, Toilet Bowl Cleaner and Auto Dish Soap.
Find more ideas, inspiration, and info about Mrs. Meyer's Clean Day® on Facebook, Twitter (@MrsMeyersClean), YouTube, Pinterest, Instagram and their blog!