Old fashioned peach cobbler is a mix between a cobbler and a deep dish pie. Baked in a 9 x 13″ baking dish, it's big enough for the whole family! This post has been sponsored by Collective Bias and its advertiser. All opinions are my own.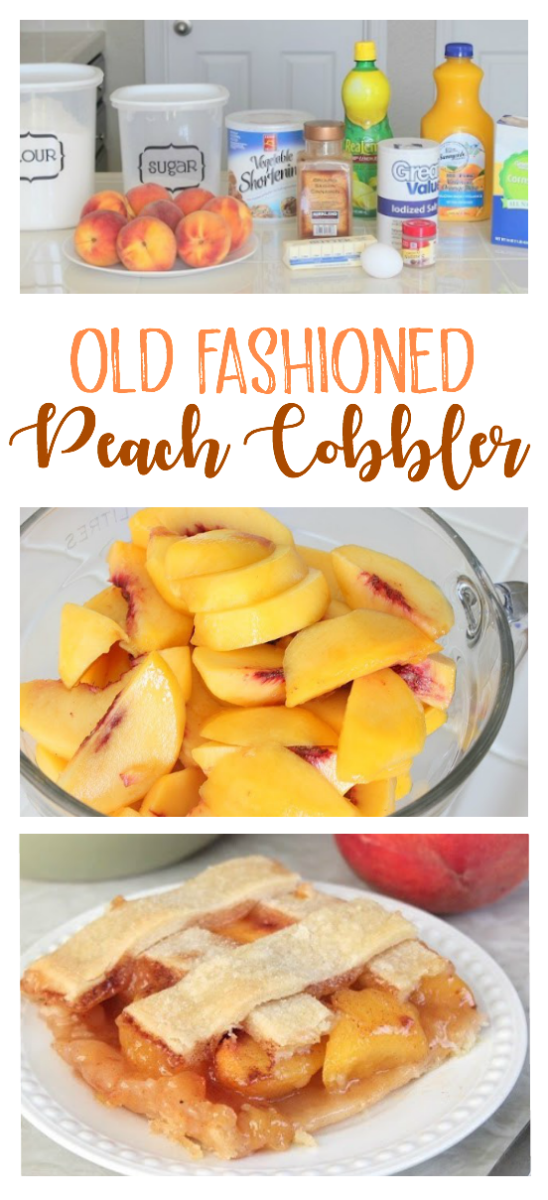 I am a summer fruit junkie. I just can't get enough of the bold flavors of peaches, nectarines and any sort of berries. My kids are the same way. It's like candy for them and so it is a win win situation when I find a great sale on fruit! I am so excited to share our favorite dessert with you today. Ruby and I made a trip to our local Save Mart Supermarket to purchase the ingredients that we needed to make an Old Fashioned Peach Cobbler. It is a mix between a cobbler and a deep dish pie, baked in a 9×13 casserole dish. It's a nice, big, dessert. Plenty to feed the entire family.
Old Fashioned Peach Cobbler
Crust:
2 1/2 cups flour
3 T. sugar
1 tsp. salt
1 c. shortening
1 egg
1/4 c. cold water
Filling:
3 lbs. fresh peaches (about 9 large ones)
1/2 c. orange juice
1/4 c. lemon juice
1/2 c. butter
2 c. sugar
1/2 tsp. nutmeg
1 tsp. cinnamon
3 T. corn starch
Topping:
1 T. sugar
Don't these peaches look delicious?! You'll just have to trust me as there isn't a scratch and sniff feature on blogger, but they were so delicious and perfectly ripe.
Peel and slice your peaches and set aside. In medium bowl, combine your flour, sugar, and salt. Work in the shortening using a pastry blender or (if you are like me) using a fork until your mixture resembles coarse crumbs. In a small bowl whisk your egg in with the cold water. Add egg and water to your crumb mixture and work with hands to form a ball. Chill 30 minutes. Preheat oven to 375 degrees.
Roll out half of the dough to 1/8″ thick and place in a 9×13 baking dish, covering the bottom and halfway up the sides. I find that just rolling out a big piece to cover the bottom and then pressing it up the sides works well. As you can see mine is pieced together in areas. This is fine since you will not even see the bottom crust after it is baked.
Bake bottom crust for 20 minutes at 350 degrees or until golden brown.
In a large saucepan, mix the peaches, juices and butter and cook until butter is melted. Mix sugar, nutmeg, cinnamon and cornstarch together in a separate bowl and add to the peaches in the pan. Remove from heat and pour into casserole dish.
Roll remaining dough out into strips and lay them over your cobbler in a criss cross fashion. I like doing the classic lattice top on pies, but with the super saucy filling, it isn't possible to do that with this one. The dough gets all sticky. So I just lay the crust on top in strips and it works great.
Sprinkle top with 1 T. sugar.
Bake at 350 degrees for 40-50  minutes or until crust is golden brown.
The filling will appear runny, but will thicken as it stands and cools. Cool at least an hour before serving. 2 hours is perfect.
My husband isn't big into sweets or pastries, but he absolutely loves this one. It made me feel like a million bucks when he told me it was "SO good." I have only made it with fresh peaches, but I'm thinking I will make it again with apples in the fall.
You might also like…