Felt apple and worm preschool peek-a-boo activity. An easy sewing project, but can also be glued instead of sewn.

Kaylee was missing her big brothers while they were at school so we came up with a fun little craft. A felt apple and worm with a peek a boo slot for the worm to slide in and out! She thought it was hilarious and it was so easy!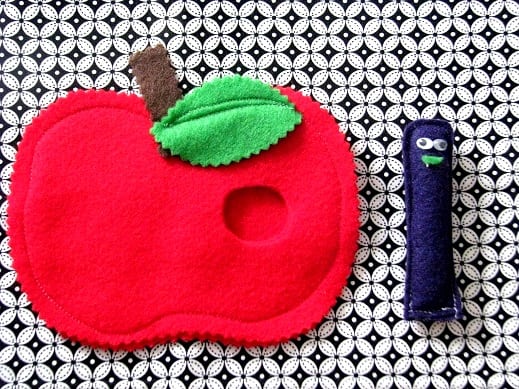 Felt Apple And Worm Peek-A-Boo Preschool Activity
The book that we used is no longer available online to print, but here is what it said inside. You could easily print this out onto a paper and have the kids draw their own apples.
My Apple Book
I like to eat red apples.
I like to eat green apples.
I like to eat yellow apples.
I like to eat sweet apples.
I like to eat sour apples.
But I don't like to eat THIS apple!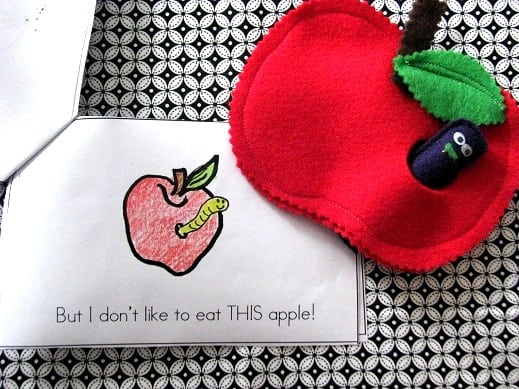 Every time they say, "But I don't like to eat THIS apple" they can pop the little worm through the hole and the giggling will commence.
How To Make a Felt Apple and Worm
Felt is the easiest fabric to work with because it sticks to itself, minimal pins required. It also doesn't fray so you don't need to hem it either. If you are learning about apples with your kids, this apple and worm is a great little project to make together.
No Sew Version
If you don't feel like sewing this apple and worm, no problem! You can use hot glue or fabric glue for the entire thing. I just always go to my sewing machine for fabric projects. It's habit!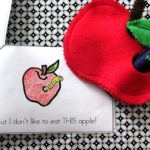 Print
Felt Apple and Worm Preschool Activity
Felt apple and worm preschool peek-a-boo activity. An easy sewing project and activity poem to learn all about apples in preschool.
Equipment
sewing machine

scissors or pinking shears

hot glue gun and glue
Materials
felt scraps

craft eyes

thread
Instructions
Apple
Cut out (with pinking shears) two apple shapes from red felt, along with a stem and a leaf.

Lay the leaf and stem on top of the two layers and sew all the way around.

Cut out a hole in the center of the apple (through both layers) for the little worm to pop through.
Worm
Cut out two rectangles out of felt. Draw a worm shape on the top piece, then sew over your drawing.

Trim closely around the seam line. Stuff with batting, then sew up the bottom. Hot glue on craft eyes and a little mouth if desired.

On the back side of the apple, hot glue a strip of felt to make a flap. The worm slides under the flap.
Kaylee was excited to share her book and little worm toy with Aaron when he came home from school. She told him the story and he thought it was hilarious when the little worm popped through the apple as she said, "But I don't like to eat THIS apple!"
3 More Felt Activities For Kids
Welcome! I'm Brandy, mother to 5 darling kiddos and a cute black lab named Toby. My husband is in the Coast Guard so we've lived all over the place, turning each house into a home. I love baking, sewing, making cute things with my kids, and sharing what I've learned with all of you!