A darling DIY Christmas tree advent calendar that kids can sew using a needle and thread, and a collection of other EASY holiday projects that kids can sew! This post contains affiliate links.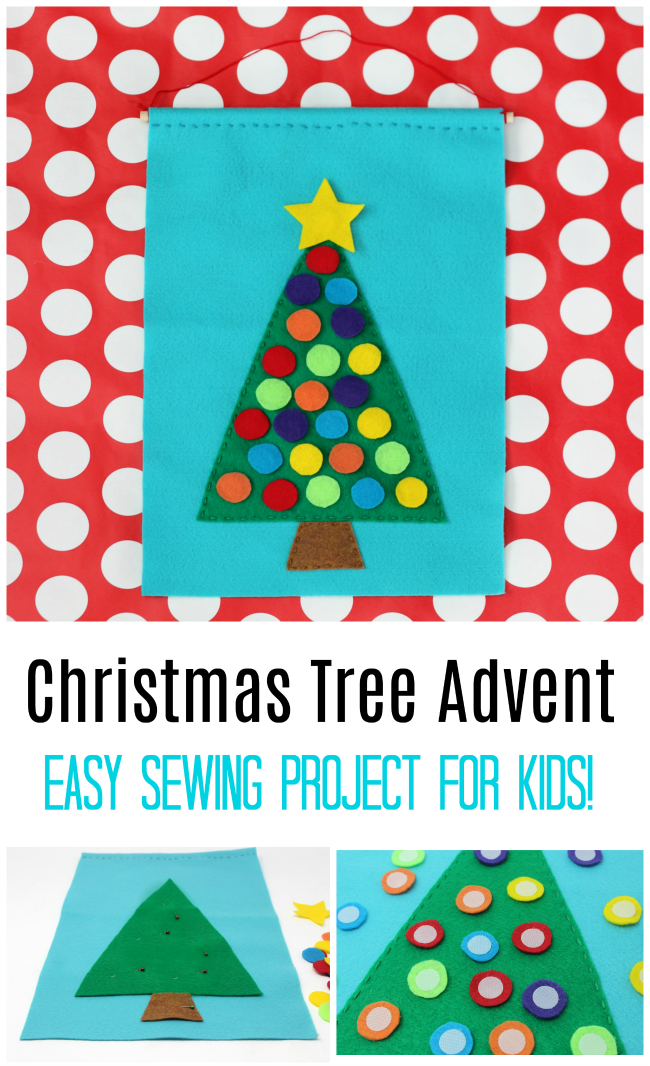 Count down the days until December 25th with this colorful Christmas tree advent calendar! Starting on December 1st, add one ornament every day until Christmas Day when you finally get to add the star to your tree!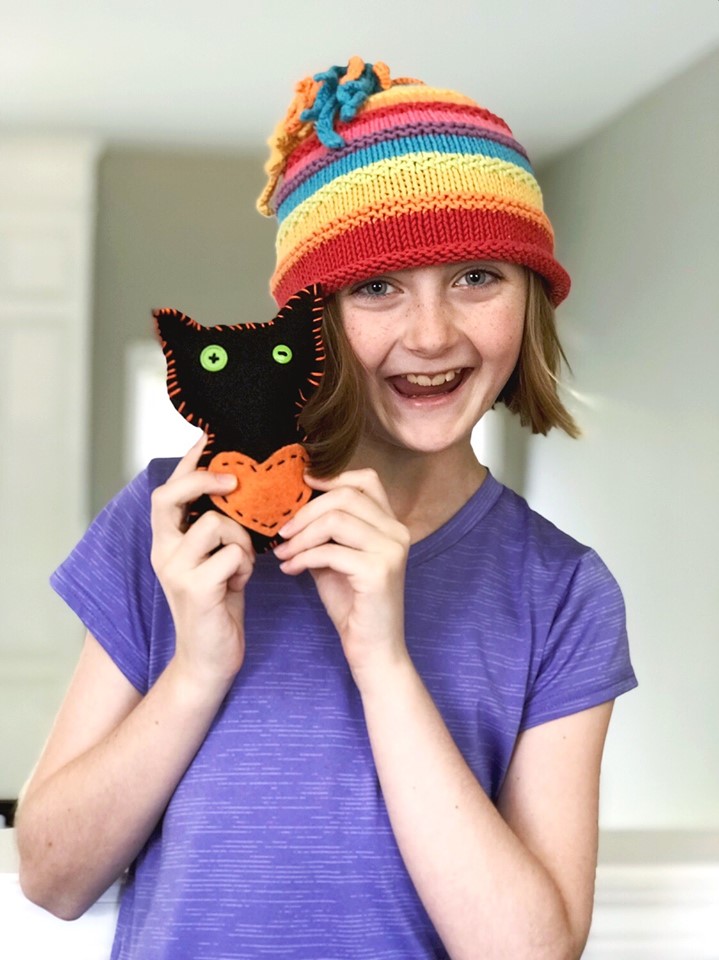 My friend, Tiffany from Peanut Blossom, recently sent me a photo of her daughter holding a felt cat that she had hand stitched together after receiving a copy of my book. Here is the caption that she sent with the photo:
"My 9 year old is homeschooling with me for the first time. Public school absolutely shattered her confidence, it was heartbreaking hearing some of the comments coming from her this week: "I'm stupid. I can't do this."
Yesterday, I gave her your sewing book and told her to flag the projects she wanted to do.
She picked the Halloween kitty. We went to Michael's and I picked up tons of felt for her. I cut some small shapes so she could practice the stitches before she started the full project
She just finished that little pillow ALL BY HERSELF. She's starting the kitty this afternoon. I hear her say: "I'm so crafty. I feel so good about myself. I can totally do something harder now."
Friends, this is what it is all about! Sewing is one of the most basic life skills, and a simple hand stitched seam is a great place to start. If that seam happens to turn into a cute little cat or a heart softie—even better!
Sewing teaches kids confidence, creativity, and hand-eye coordination.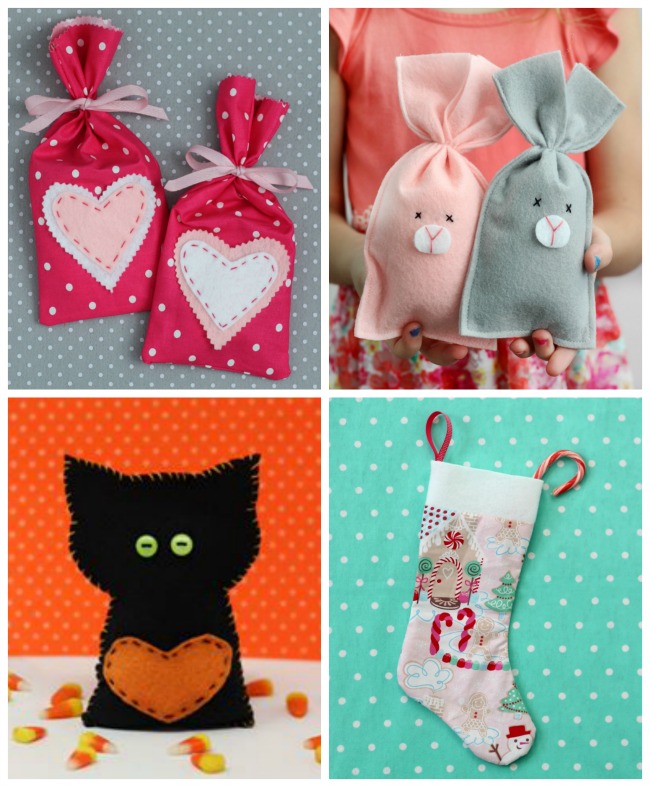 (All of these projects are included in "Sew With Me" with cut out templates and step by step instructions!)
What kind of projects are simple enough for kids to make?
Simple straight line projects or hand stitched projects are great for kids! Would you believe that the cute black kitty above was stitched 100% by hand? No sewing machine involved! If your child is ready to try some basic straight seams, the Valentine's Day bags or Felt Bunny Pouches are a great start! A bit more advanced (not hard, but can sew around a curve)? Then the mini stocking is the perfect project!
Sew With Me would make a great Christmas gift, along with a sewing kit!
What supplies do kids need when learning how to sew?
A basic kids sewing kit can be as simple as a shoe box filled with:
Can you recommend a good sewing machine for kids?
If you are looking for a sewing machine for kids, I would avoid any sewing machine marketed towards kids, ha! Santa brought my daughter a kids' sewing machine (in the photo above) one year and it lasted a couple of months before shutting down completely. I would recommend a basic machine, either a Brother or Singer. This is the one that she has now and she loves it. 
What kind of fabric is best for kids sewing projects?
I like using felt when teaching kids how to sew. It doesn't fray, it is easy to cut, and it is sturdy. It is also super inexpensive! Head to Joann's, Walmart or Michael's and grab a stack, in a variety of colors, for a few bucks and your crafty kiddo will be set for quite awhile.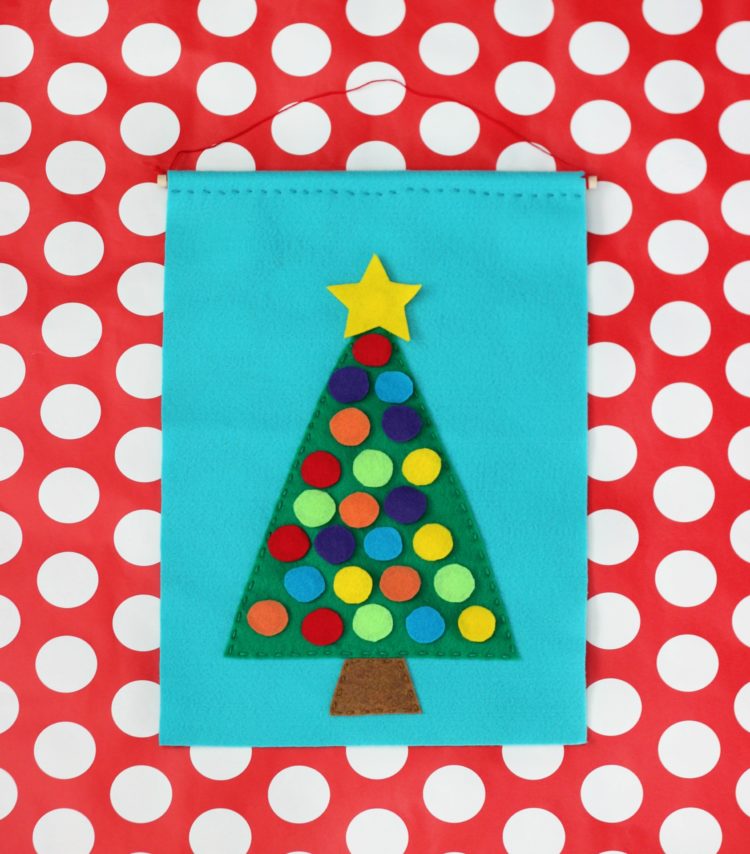 DIY Christmas Tree Advent Calendar That Kids Can Sew
And now, without further ado, the perfect holiday sewing project for kids! This DIY Christmas tree advent calendar is just one of 60 projects that you will find in "Sew With Me", my sewing book for kids! Enjoy this sample project with printable template. A darling holiday sewing project for kids that you can use every year during Christmas!
DIY Christmas Tree Advent Calendar Supplies:
green felt for the tree
brown felt for the tree trunk
yellow felt for the star
6 colors of felt scraps for ornaments
1 (12"x18") sheet of blue felt for the background
embroidery thread in a variety of colors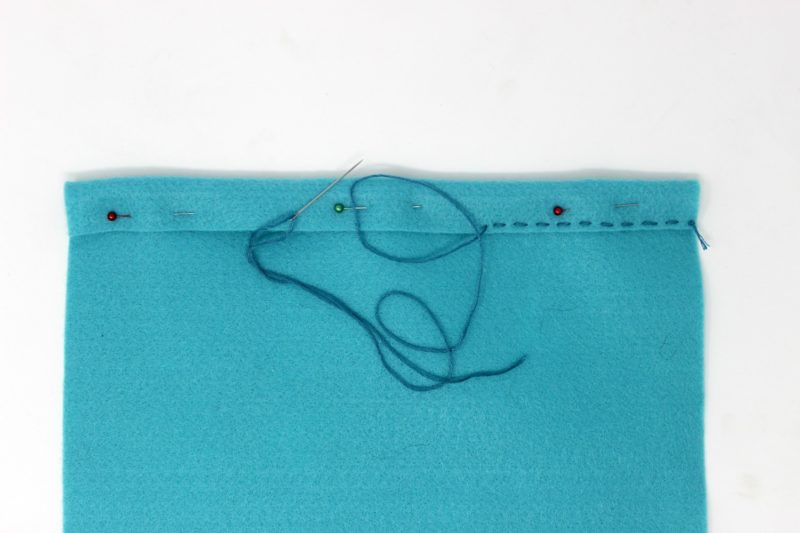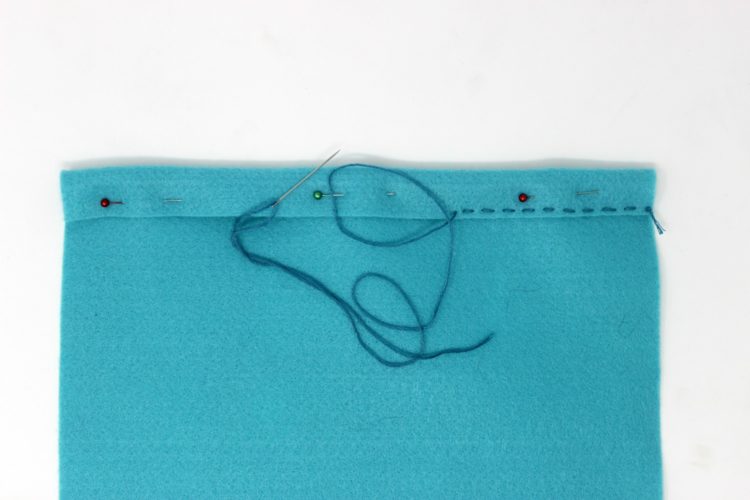 Instructions
Using the cutting templates, cut out one tree, one tree trunk, one star, and twenty four ornaments. This is a great project for using up felt scraps.
Note: You can cut 4 ornaments from each color of felt or any combination you'd like as long as you end up with 24. Set these aside.
Tip for cutting the ornaments: cut one ornament using the cutting template then cut the rest using the first ornament that you cut as a template. Felt sticks to itself and won't slide around or be as awkward as a paper cutting template. You can also cut two ornaments out at a time by folding your felt scrap in half if you feel comfortable doing that.
Fold the top edge of your background sheet of felt down 1". Add a few pins to keep it in place.
Thread a needle with matching embroidery thread and stitch across the bottom using a running stitch.
Tie a knot in the thread and cut.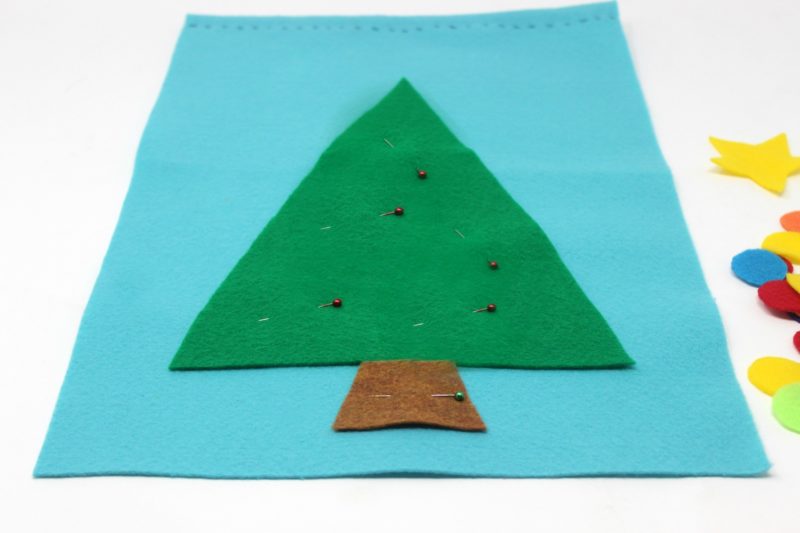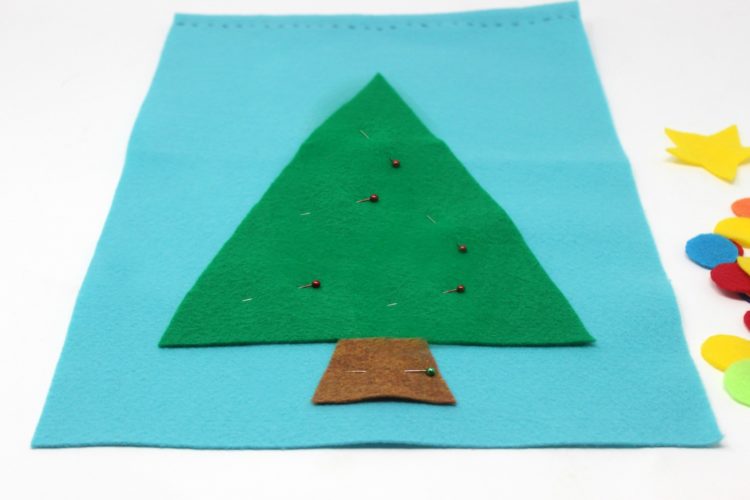 Arrange the tree and tree stem on the felt background, making sure to leave room at the top for the star. Place pins all around to keep the felt in place.
Thread a needle with matching thread and stitch the tree stem to the background.
Tie a knot at the thread and cut.
Thread a needle with matching thread and stitch the tree to the background.
Tie a knot at the thread and cut.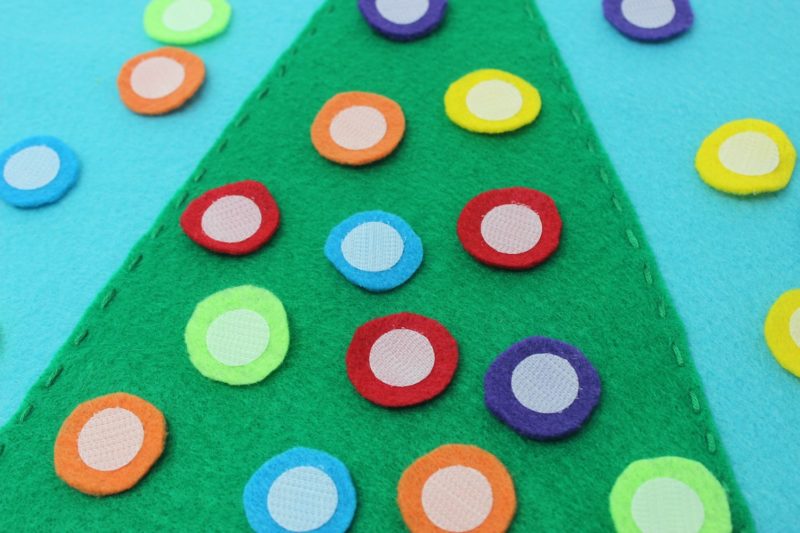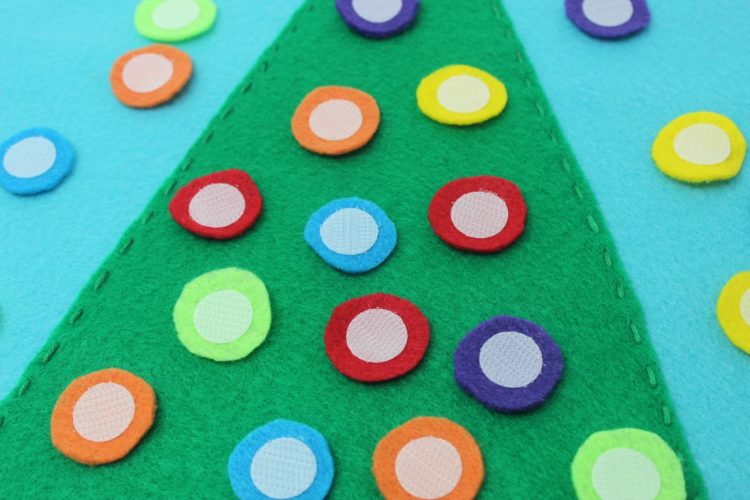 Velcro comes in two pieces; a soft side and a scratchy side. For this project, we are only using the scratchy side.
Place a scratchy stick on Velcro dot onto the back of each ornament and one on the back of the star.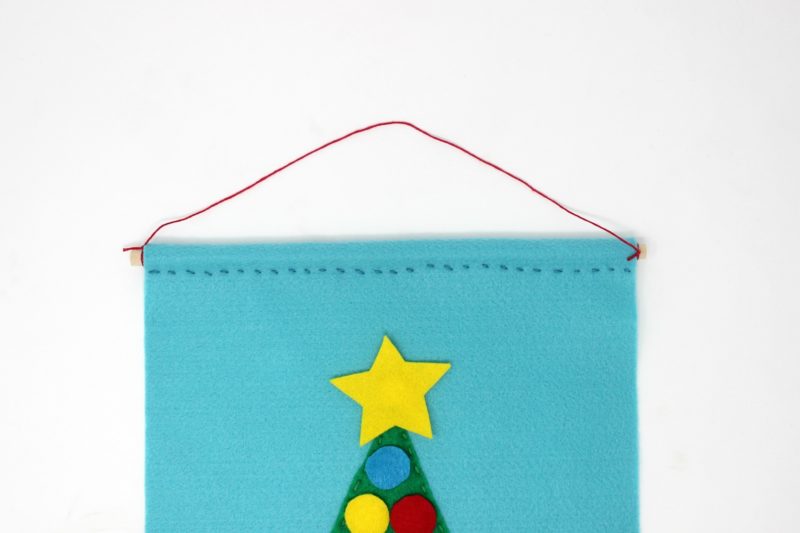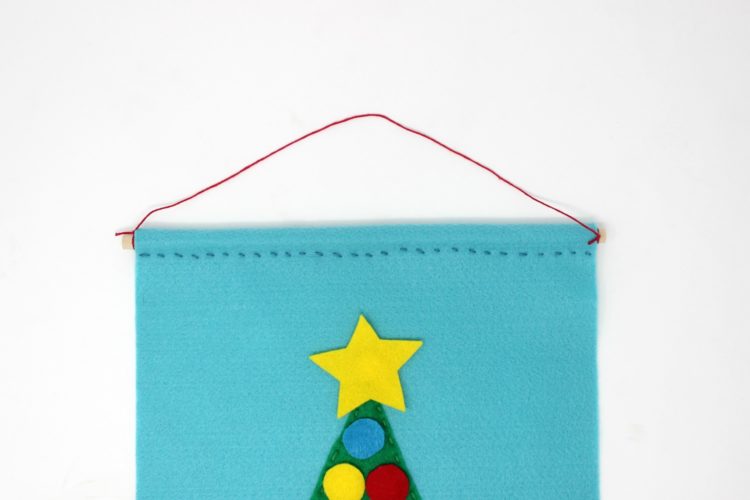 Slide a dowel through the top and tie a long piece of embroidery thread to each side.
Store ornaments and star in a plastic baggie to keep them from getting lost.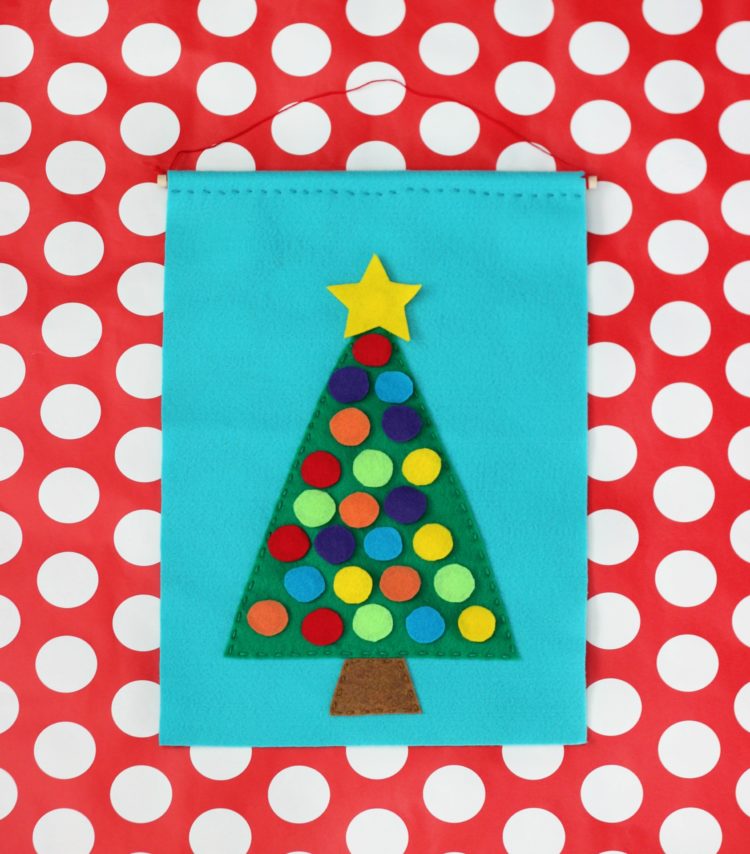 What are some other sewing projects that kids can make?
10 Minute Wire Headband Tutorial
Easy Teddy Bear Sewing Pattern/Tutorial
Welcome! I'm Brandy, mother to 5 darling kiddos and a cute black lab named Toby. My husband is in the Coast Guard so we've lived all over the place, turning each house into a home. I love baking, sewing, making cute things with my kids, and sharing what I've learned with all of you!