Sweet, tart, flaky and buttery. These lemon raspberry turnovers filled with homemade lemon curd are to die for! If you love lemon you might also like our lemon sugar cookies, blueberry lemon scones or lemon thumbprint cookies!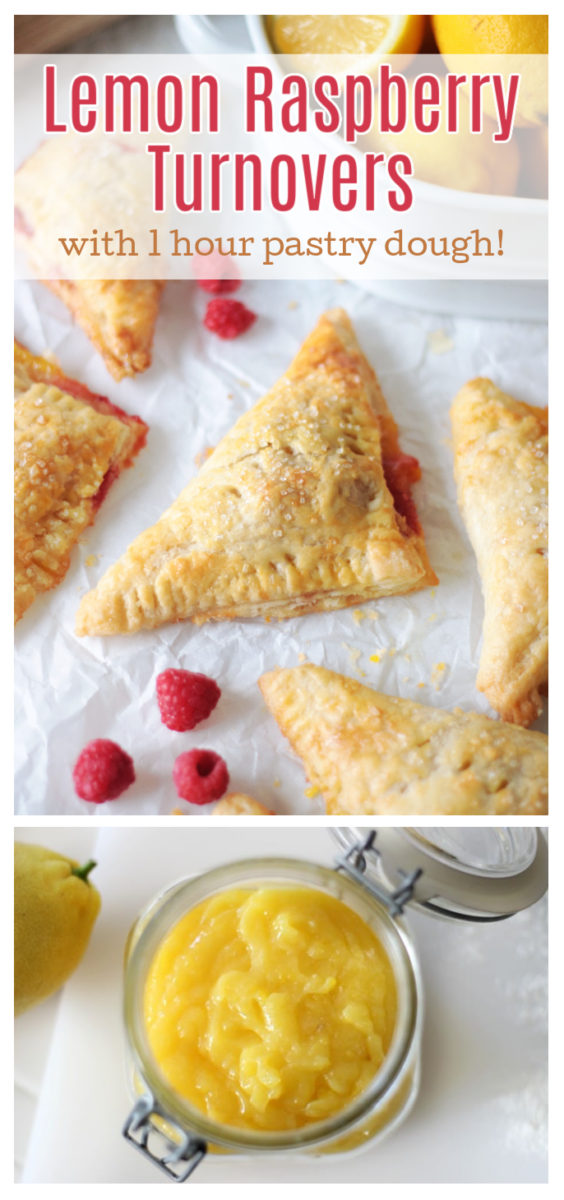 Watch our step by step video!
Lemon Raspberry Turnovers
Homemade lemon curd, fresh raspberries and our one hour puff pastry. Mix them together and what do you get? Lemon raspberry turnovers. The combination of sweet and tart is amazing, and you won't believe how flaky these turnovers are!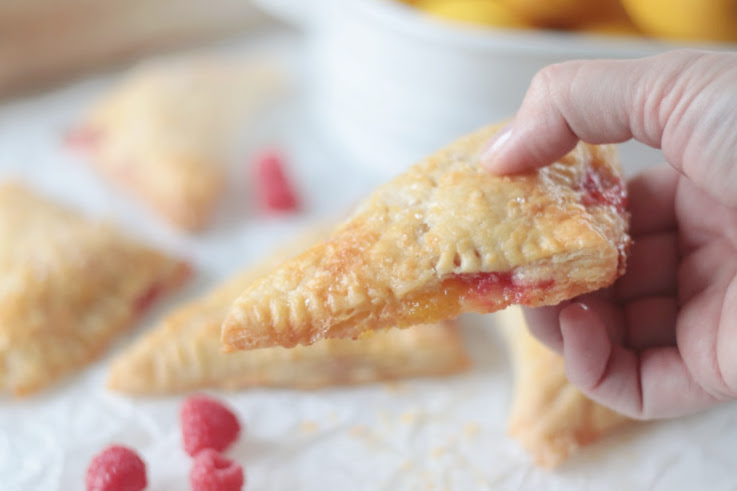 Quick 1 Hour Puff Pastry Dough
What makes this pastry dough different than traditional puff pastry dough? For starters it comes together in an hour instead of 6 hours. This is because you only roll it out and press the butter into the dough one time. With traditional puff pastry you roll the butter into the dough then proceed to fold and roll it every hour or so. Each time you fold the dough it creates more layers of butter that will bake up tall and flaky in the oven. With quick puff pastry, you get the same crispy flaky texture, but less layers.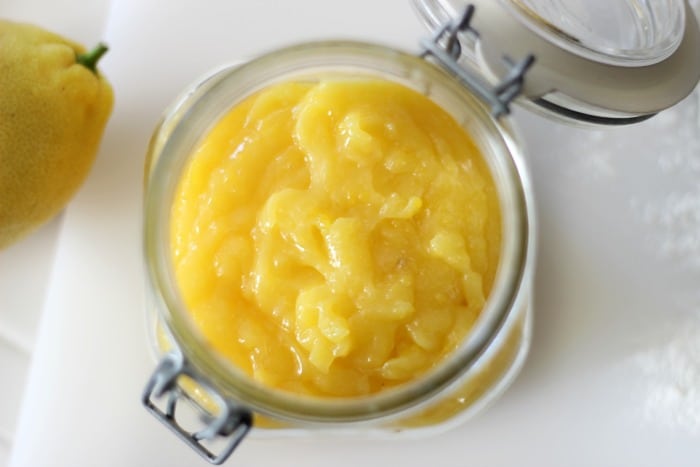 Homemade Lemon Curd
If you haven't made your own lemon curd before you should totally try it! It takes a little over and hour, and most of that time is spent with the curd chilling in the refrigerator. It is inexpensive, only requires 5 ingredients and tastes better than store bought lemon curd (but you can use store bought as well!). I love that it is so much brighter when you make it yourself. Just look at that yellow color! The yellow comes from the egg yolks in the curd, not the lemon juice 😉
Click here for my lemon curd recipe and step by step video!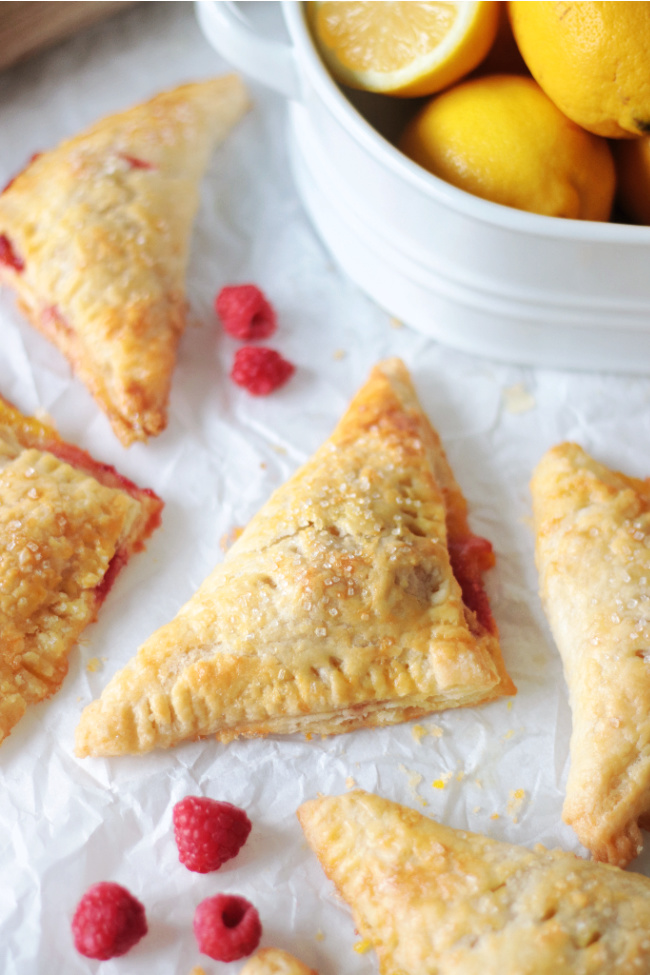 How to Make Lemon Raspberry Turnovers
(Scroll down for printable recipe without photos)
Ingredients
1 1/4 cups COLD butter (2 1/2 sticks)
2 cups flour
1/2 cup COLD water
1 teaspoon salt
Egg Wash
1 egg
1 Tbsp. water
coarse sugar (for sprinkling)
Directions
There are 3 things to remember when making puff pastry:
1: Use COLD BUTTER
2: Don't over-work the dough
3: Refrigerate Dough
If you have a food processor, follow the instructions in this post. If not, scroll to see how I make mine by hand.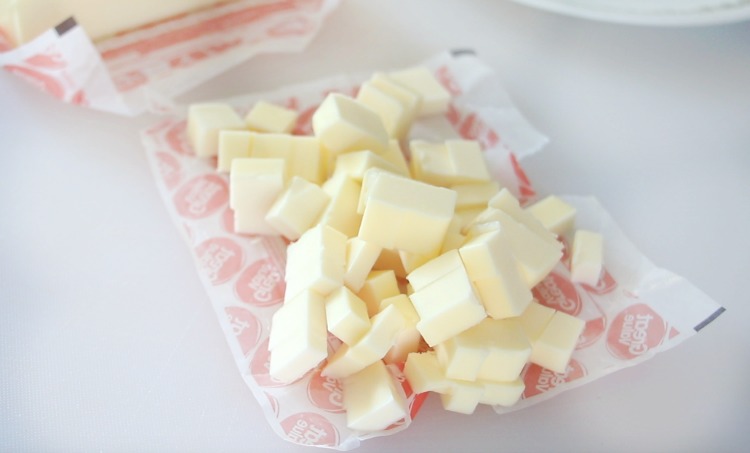 We're going to start out with 2 sticks of COLD BUTTER. Chop it into tiny pieces and place it back into the refrigerator.
Grab a half stick of COLD butter (4 Tbsp.) and chop it into tiny pieces. Add it to 2 cups of flour in a mixing bowl, and use a pastry cutter to blend until it resembles coarse sand.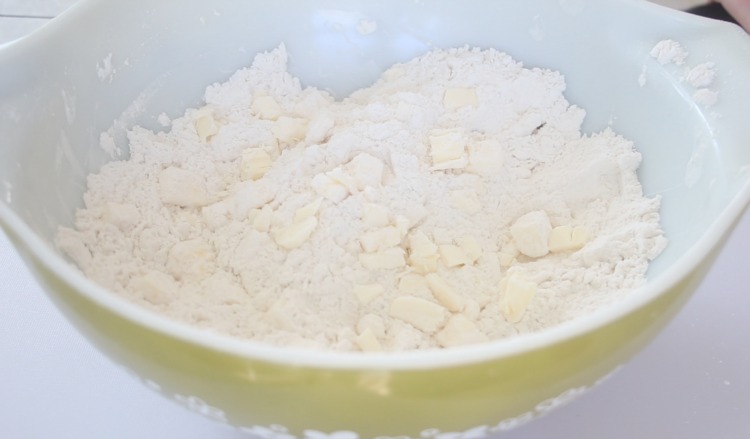 Remember the 2 sticks of butter that you chopped and refrigerated? Pull that out and toss with the flour mixture. Don't cut it in with the pastry cutter. Just coat with flour.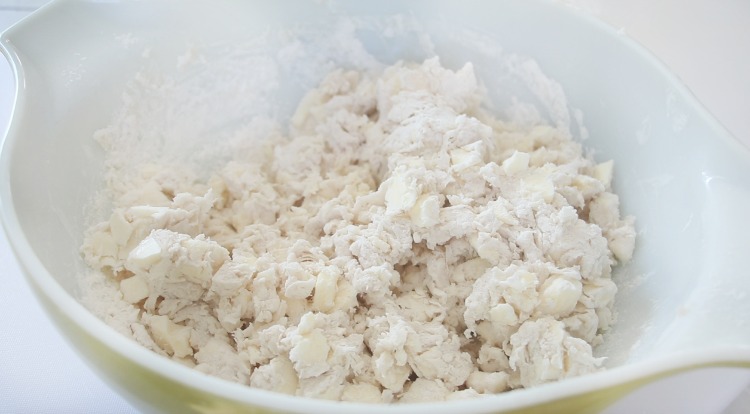 Mix 1/2 c. cold water and 1 teaspoon of salt together and pour into bowl. Blend until all water has been absorbed and a rough dough has formed. I use my pastry cutter to do this. Gently mix and press. It doesn't have to look like a ball of dough, just make sure there isn't a lot of dry flour on the bottom of the bowl.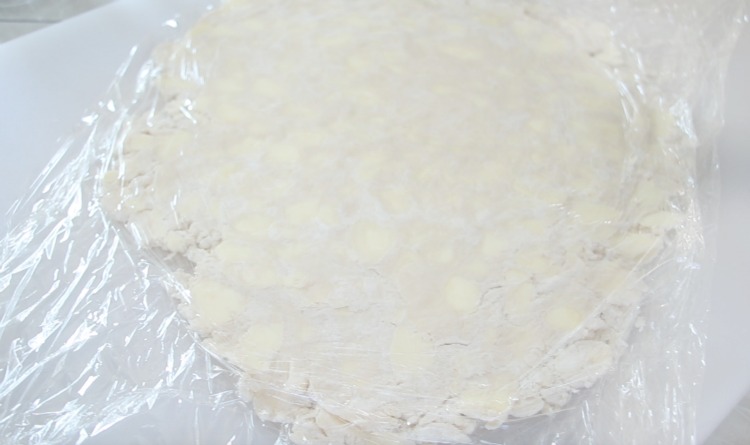 Roll dough out between two pieces of plastic wrap. It doesn't need to be perfect, you are just pressing all of those butter cubes into the dough. It might still be a little crumbly along the edges. That's fine.
Remove the plastic wrap and use your hands to shape dough into a ball on a floured surface. Flour your hands to avoid the butter sticking to it.
Roll out dough to a 6″x18″ rectangle (see image above). Cover the rolling pin in flour to prevent any butter from sticking to it. Fold dough into thirds like you would a business letter. It should now resemble a 6″x6″ square—or close to it.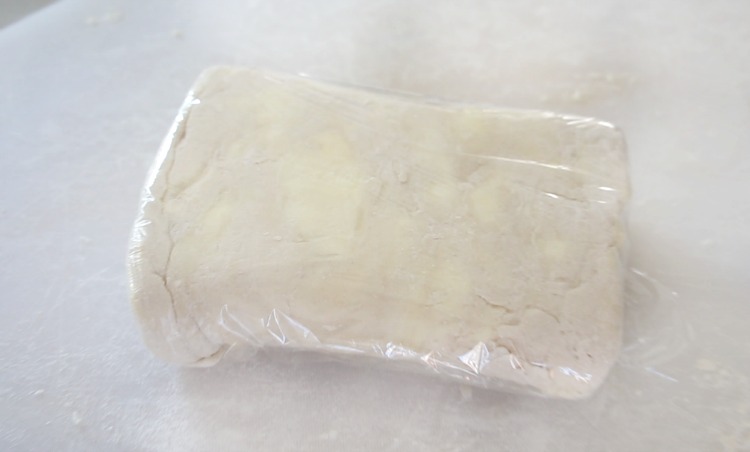 See? Mine isn't a perfect square, but it is folded into thirds.
Wrap with plastic wrap and refrigerate for 1 hour.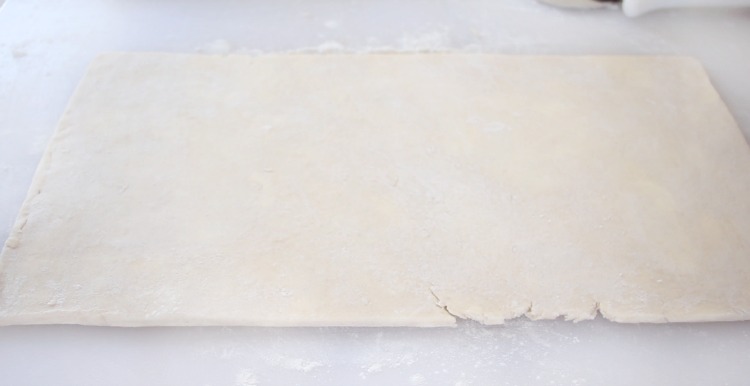 When the dough has had time to chill, place on a floured surface and pound with a rolling pin to make it a bit softer. Watch my video to see how I do this. Then roll out to a long rectangle, 1/4″ thick. My rectangle was about 11″x22″ and I trimmed it down with a pizze slicer to 10″x20″.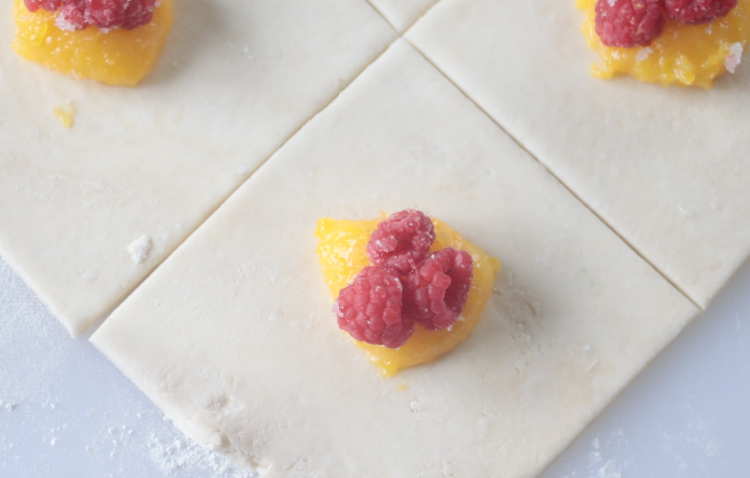 Slice the dough into 5″ squares. Pour a small amount of filling onto each square (2-3 teaspoons of lemon curd + 3 fresh raspberries tossed in sugar).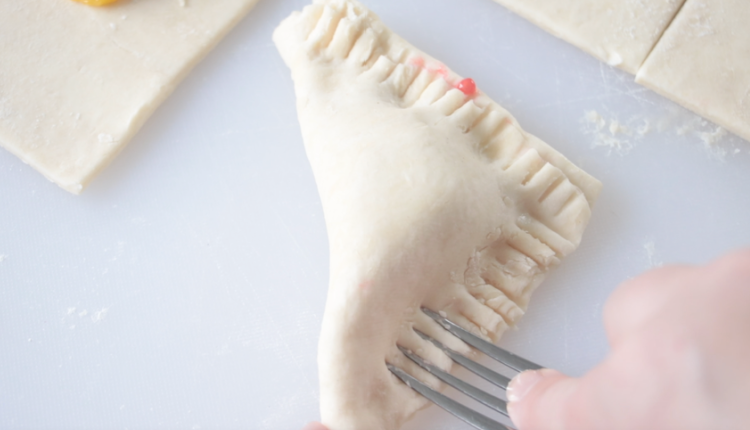 Dip your finger in water and run it along the edges. Fold the turnover on a diagonal and press down with your fingers to seal. Then press down along the edges with a fork.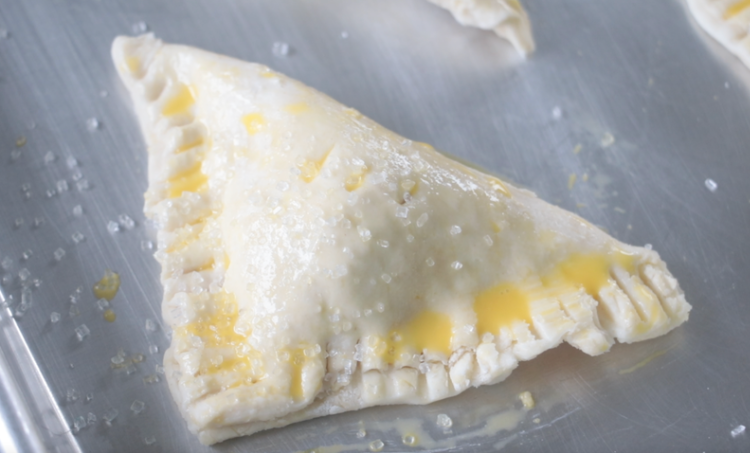 Use a sharp knife to make a few slits on the top for venting. Place turnovers on an ungreased baking sheet or a baking sheet lined with parchment paper.
Brush turnovers with an egg wash and sprinkle with coarse sugar. I use clear sugar sprinkles.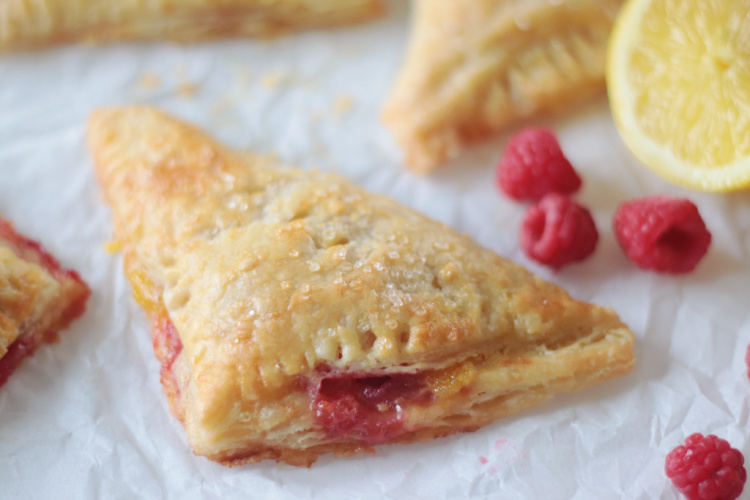 When baked for 22-24 minutes they puff up and turn golden. The filling stays HOT for quite awhile. Let them rest a bit before serving. So yummy! This recipe makes 8 (5″) turnovers.
Lemon Raspberry Turnovers Recipe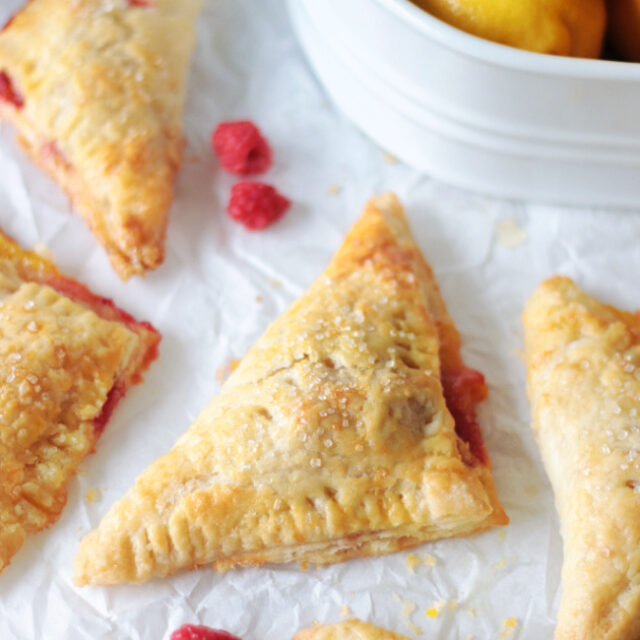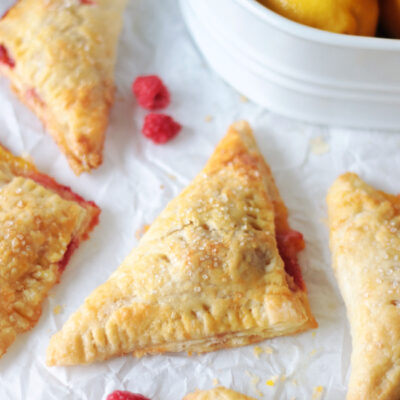 Lemon Raspberry Turnovers
Sweet, tart, flaky and buttery. These lemon raspberry turnovers filled with lemon curd are to die for!
Print
Pin
Rate
Ingredients
Puff Pastry
1 1/4

cups

cold butter

2 1/2 sticks

2

cups

flour

1/2

cup

cold water

1

teaspoon

salt
Filling
1/2

cup

lemon curd

(recipe linked)

1/2

cup

fresh raspberries

1

Tbsp.

sugar
Egg Wash
1

egg

1

Tbsp.

water

coarse sugar
Instructions
Cut 2 sticks of butter into small pieces. Place on plate and refrigerate.

Cut the other 1/2 stick of butter into small pieces. Add to mixing bowl with 2 cups of flour and use a pastry cutter or two butter knives to blend. Should resemble coarse crumbs/sand.

Add refrigerated butter cubes to flour mixture. Toss to coat with flour. DO NOT cut in with pastry cutter.

Mix cold water and salt together. Add to bowl. Mix until water has been absorbed and a rough dough forms. Use hands or pastry cutter to mix dough. Dough won't look completely formed and there will be butter chunks, and that's okay.

Dump dough onto a piece of plastic wrap. Place a second piece of plastic wrap on top and press with hands to flatten. Roll with a rolling pin until butter has flattened and dough is flat across the top.

Remove plastic wrap and place dough onto floured surface. Flour hands to prevent dough from sticking and form dough into a ball. Flatten slightly with hands into a disc shape.

Cover rolling pin with flour to prevent butter from sticking and roll dough into a 6" x 18" rectangle. Fold dough into thirds, like a business letter.

Wrap dough in plastic wrap and refrigerate for 1 hour.

Toss fresh raspberries with 1 Tbsp sugar. Set aside.

When dough has refrigerated for 1 hour, preheat oven to 400 degrees.

Flatten dough on floured surface by pounding with rolling pin a few times. Roll out until dough is 1/4" thick. Trim edges of dough to a 10" x 20" rectangle. Cut into 8 (5 inch) squares.

Add a small amount of lemon curd (about 1 Tbsp) to the center of each pastry square. Add 3 raspberries. Dip finger in water and run along the edges of the pastry.

Fold pastry in half (diagonally). Press down with fingers. Press fork around the edge of each pastry to seal. Place turnovers onto ungreased baking sheet or baking sheet lined with parchment paper.

Mix egg with 1 Tbsp. water to create an egg wash. Brush over turnovers and sprinkle with sugar (I use coarse sugar sprinkles).

Bake for 22-24 minutes, or until golden brown.
Notes
Tips for making puff pastry: Do NOT over mix/work dough. Use COLD butter. Use COLD water. Never use margarine. Make sure dough refrigerates for at least an hour.
Nutrition