This little apron is perfect for a budding chef. Use our kids apron sewing tutorial to make a fabric apron with a scalloped edge sized 2T-10 years! This post contains an affiliate link.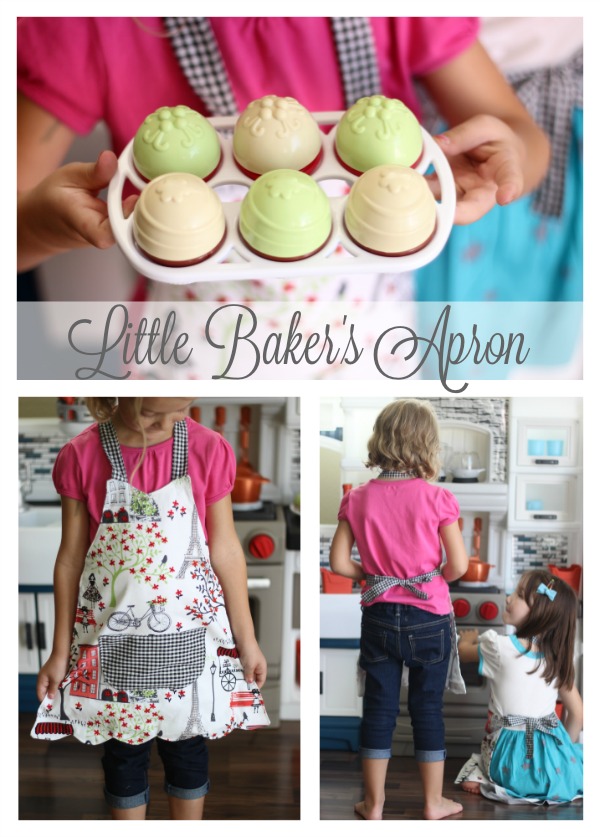 Ruby is my little kitchen helper. When she sees me getting bowls and ingredients out, she's right there with here apron asking to help. And for only being four years old, her egg cracking skills are top notch.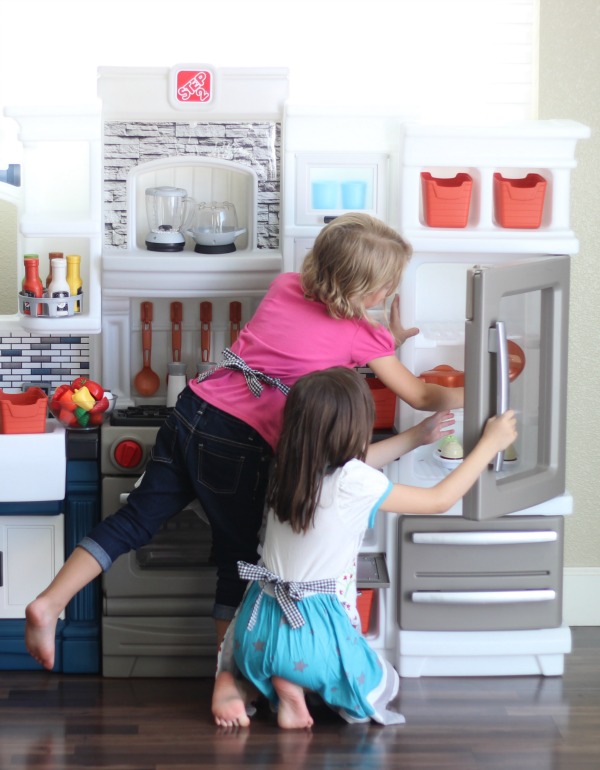 Her tiny puppy apron that she's had since she was two was too small so we made her a new one. Perfect for being my assistant or to wear while she is in her own kitchen.
If you aren't into sewing, no worries! Here are two fun "no sew" kitchen crafts by my friends, Christie and Jillian! But if you'd like to try out our simple kids apron sewing tutorial, keep reading!
No Sew Monogrammed Kitchen Towels
For 60 more sewing projects, check out my sewing book for kids! And here is an adorable toddler Cookie Monster apron to make for a Sesame Street fan in your home!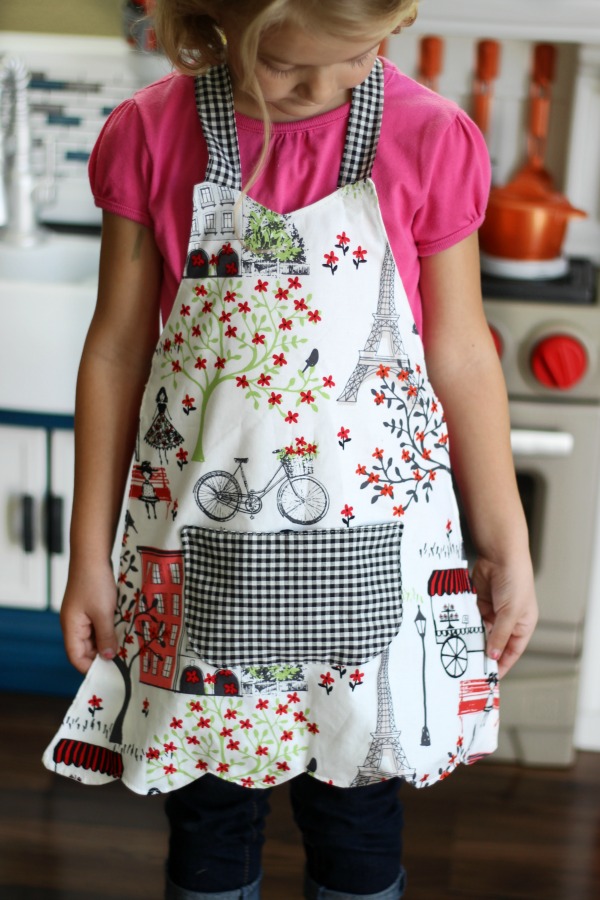 Little Baker's Kids Apron Sewing Tutorial
gluesticksblog.com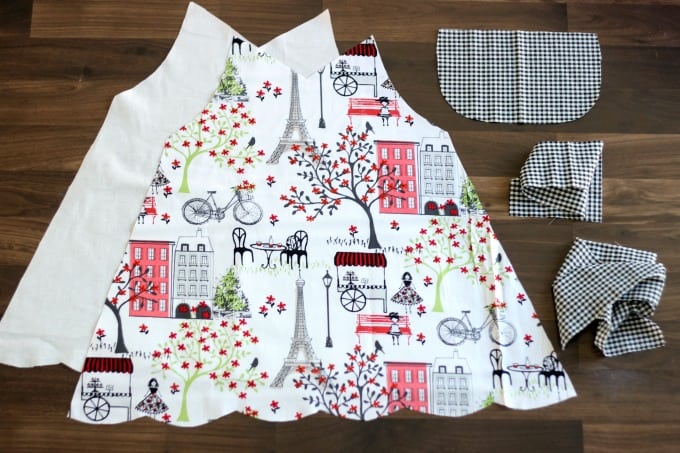 (pattern pieces: two apron pieces, front and back, 2 pocket pieces, 1 neck band, 2 waist ties)
I don't know how to use pattern programs so I made a quick diagram with measurements to make this apron in two sizes.
You can download the diagram. Feel free to add inches to the length if needed for the larger pattern. It just depends if you want it to hit above/below the knee. For a boy apron, just cut out as shown. For a girl apron with a scalloped bottom, cut out following the dashed lines on the diagram.
Time: 1 hour
Seams: 1/4″
Skill level: Beginner
PDF pattern diagram: click below to download
Supplies:
fabric for outer (I always just buy a yard)
fabric for lining
thread
measuring tape
iron/ironing board
sewing machine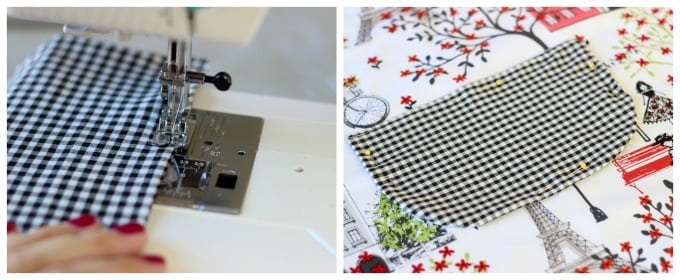 Pocket:
1. Sew your two pocket pieces together (right sides facing), leaving a few inches on the top to turn right side out.
2. Clip curves and turn right side out. Tuck ends in where you turned it right side out and pin. Top stitch the top of the pocket piece, catching the tucked ends into the seam.
3. Center the pocket onto the apron front and pin into place. Stitch pocket onto the apron by sewing around the sides and bottom.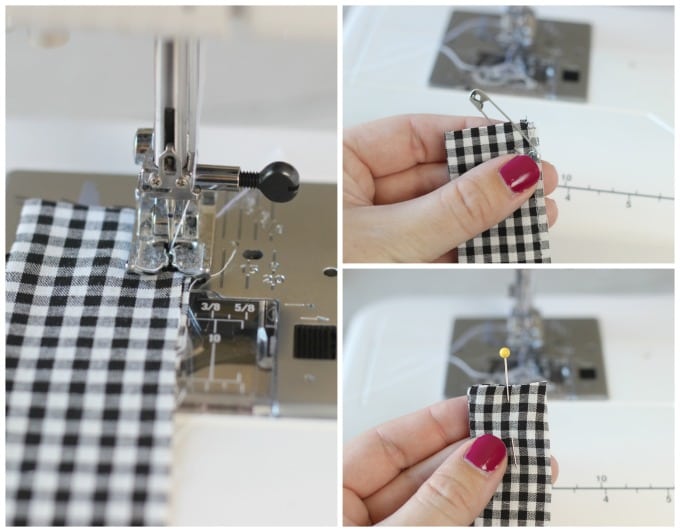 Waist Ties:
4.Fold waist ties in half and sew the side seam. Use a safety pin to turn the strap right side out. Press.
5.Fold one of the ends inside about 1/2″ and pin.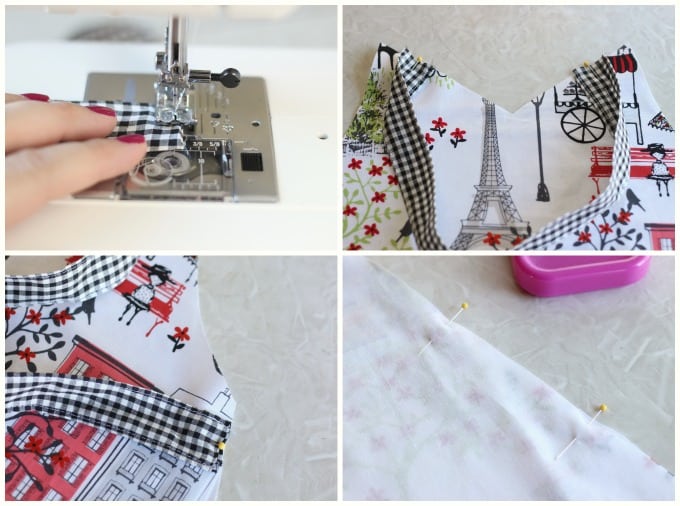 6. Stitch the end closed. Top stitch all the way around the entire tie. Repeat for the other tie.
Neck Strap:
Make the same way as the waist ties, but leave ends open. Top stitch all the way around.
7. Pin neck strap to apron front about 1/2″ away from edges.
8. Pin the raw edge of each waist tie to apron front just below the arm opening.
9. Place apron lining on top of the front apron piece, right sides together, sandwiching the neck strap and waist ties in between. Pin all the way around, leaving a 4″ gap on the side of the apron for turning right side out.

10. Stitch apron all the way around using 1/4″ seam allowance, stopping at the 4″ opening. Clip curves, especially around the scallops if making a girl apron and trim corners. Turn right side out. Press.
11. Fold over opening and pin. Top stitch around the entire apron.
Welcome! I'm Brandy, mother to 5 darling kiddos and a cute black lab named Toby. My husband is in the Coast Guard so we've lived all over the place, turning each house into a home. I love baking, sewing, making cute things with my kids, and sharing what I've learned with all of you!