Make a Cookie Monster apron for a toddler using this quick and easy cookie monster toddler apron tutorial! There's even a pocket to keep a measuring spoon…or a cookie! It's Cookie Monster's mouth! Toddlers love helping in the kitchen. Make them a cute little apron to keep their clothes clean! It also doubles as a costume for dress-up time! This post contains affiliate links.

Mac is the biggest Sesame Street fan in the family. And so, of course, I completely cater to that because I think the characters are adorable too. I put Mac down for his morning nap and thought, "We should make cookies when he wakes up." He LOVES helping me in the kitchen. Then I thought, "He'd probably like an apron. I'll put of cleaning the bathrooms and make him an apron during nap time instead." HA! And that is exactly what I did. Anything to procrastinate bathrooms, am I right?
I went looking for red fabric to make an Elmo apron, but came up short. I did have some of this royal blue and it was a no brainer. Cookie Monster, OF COURSE. I had enough blue for the front, straps, and neck straps, but not for the back. Not a big deal, I just used a darker blue for the back. I also used black fabric with white polka dots for the mouth and eyes because, again, that is what I had.
Like always, I took photos along the way to share this toddler apron pattern with you and I'm glad that I did because I think it turned out pretty cute!
And check out the pocket…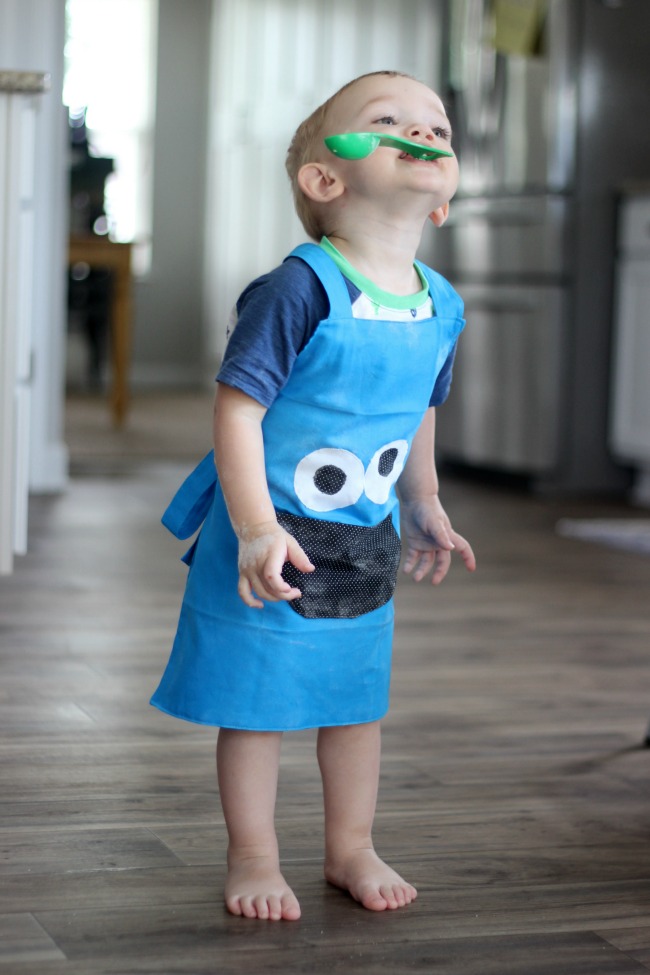 It's Cookie Monster's mouth! Just the right size to hold a measuring spoon or two, or a cookie.
Mac instantly recognized Cookie Monster and giggled. He quickly got flour all over it and then went outside and climbed into his wading pool, fully clothed. Needless to say his Cookie Monster apron is all broken in!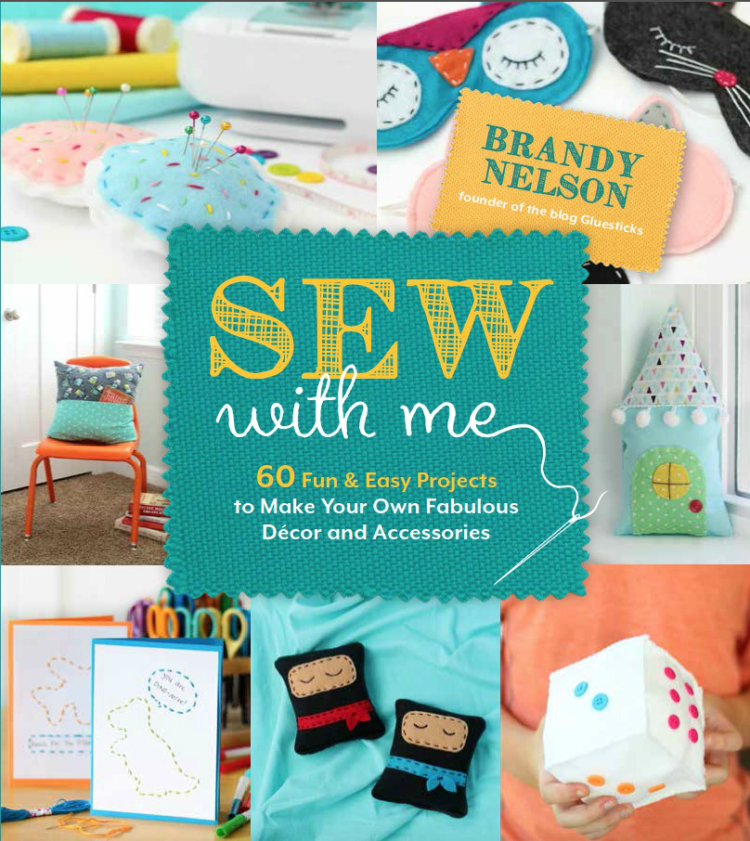 2 other toddler aprons that you will LOVE!
Cookie Monster Toddler Apron tutorial
Time: 1 hour
Skill level: Beginner
Size: 18m-3T
Finished size: 15.5″ width x 16.5″ length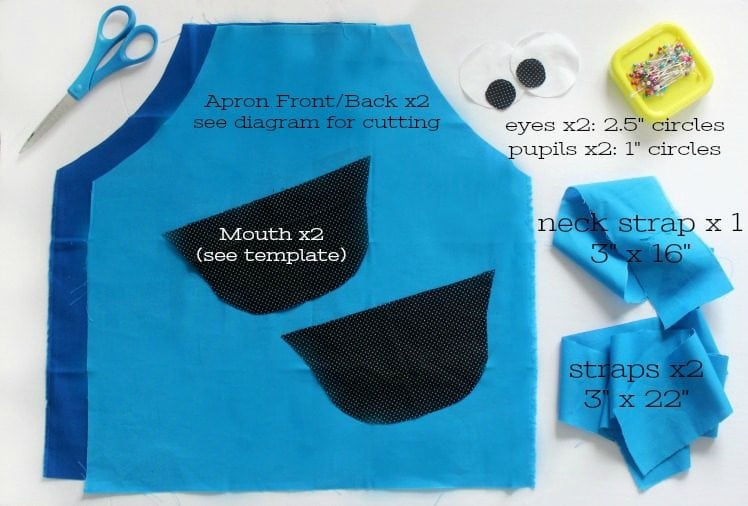 To Make A Cookie Monster Toddler Apron Pattern You will need:
2 pieces of fabric that are 17″ wide and 18″ tall (apron front/back)
2 mouth pieces (pocket) cut from template
2 (2.5″) circles for the eyes
2 (1″) circles for the pupils
2 straps that are 3″ wide and 22″ tall
1 neck band that is 3″ wide and 16″ tall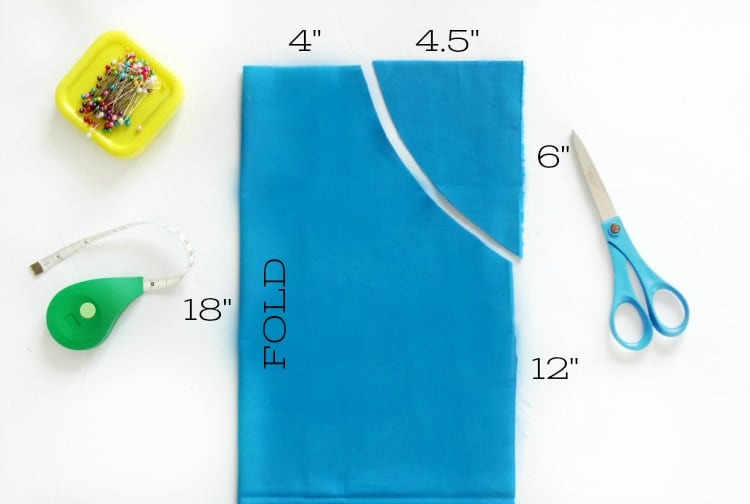 To create the apron shape, fold the front piece in half. Mark 4″ on the top and 6″ on the side. Draw a curved line connecting the two markings and trim. Repeat for the back piece.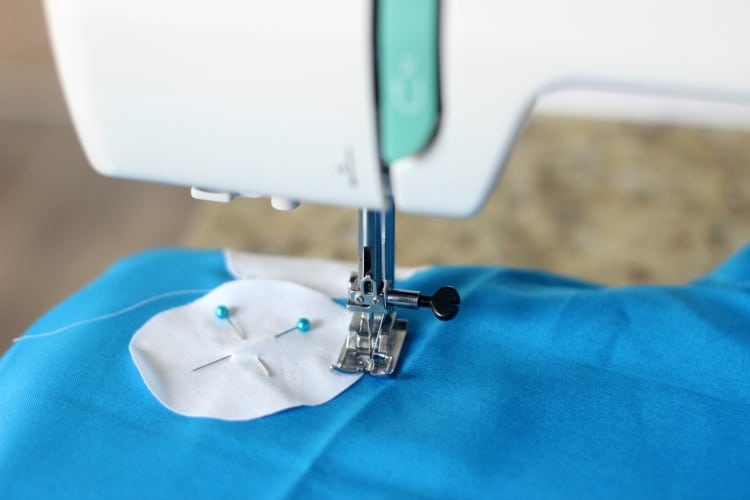 2. Decide the placement of the eyes and use a zig zag stitch to attach them to the apron front. Repeat for the black pupils.
3. To make the pocket, stitch both mouth pieces together with the right sides of the fabric facing each other. Use a 1/4″ seam allowance. Leave a small opening along the bottom to turn it right side out.
4. Clip the corners and curves close to the seam, but do not clip the stitches.
5. Fold the opening edges closed and pin to keep it in place. Iron seams flat.
6. Place the pocket onto the apron front and pin into place. Top stitch around the sides and bottom, leaving the top of the pocket open.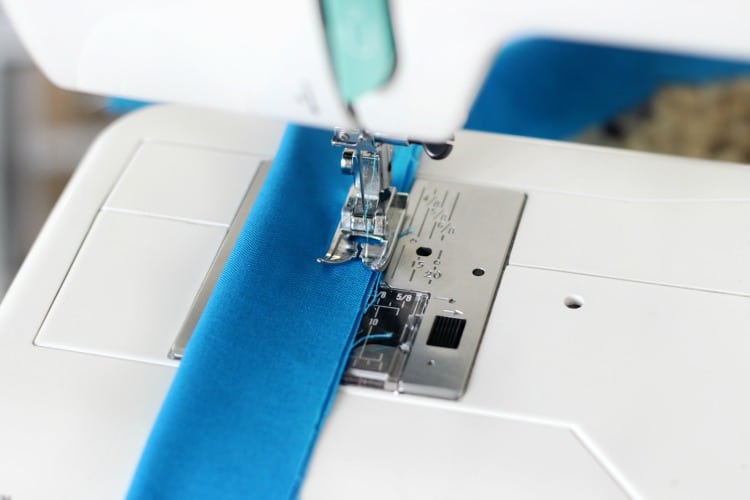 7. Fold the neck band in half so that it creates a long tube.
8. Stitch the side seam using a 1/4″ seam allowance.
9. Turn the neck band right side out and press. Leave the ends open and the edges raw. Top stitch using a 1/8″ seam allowance on the sides (again, leaving the ends open).
10. Fold the straps in half so that they create long tubes. Stitch each side seam using 1/4″ seam allowance. Turn right side out and iron.
11. Fold one end over so that it has a finished edge. Repeat for the other strap.
12. Top stitch around all 3 finished sides, using a 1/8″ seam allowance and leaving the other end open with a raw edge.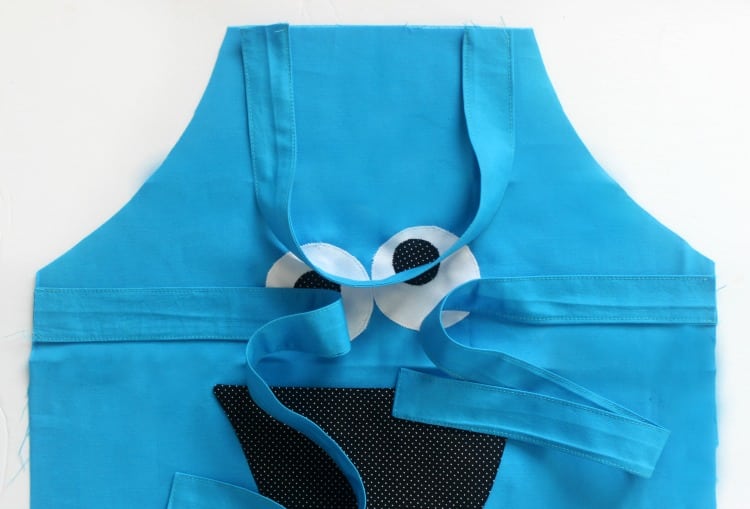 13. Place the neck band on the top of the apron 1/2″ away form the edge, lining up the raw edges with the top of the apron.
14. Place each strap 1/2″ from the arm curve, lining up the end with the raw edge to the sides of the apron.
15. Lay the apron back on top of the apron front, with the right sides of the fabric facing each other. Pin to keep everything in place, making sure to pin the neck band and straps secure. Leave a small opening (4-5″) open along the bottom to turn it right side out.
16. Stitch the front and back apron together using 1/4″ seam allowance. Clip corners and curves.
17. Turn right side out and iron seams flat. Fold the opening edges closed and pin in place.
18. Top stitch around the entire apron using a 1/8″ seam allowance.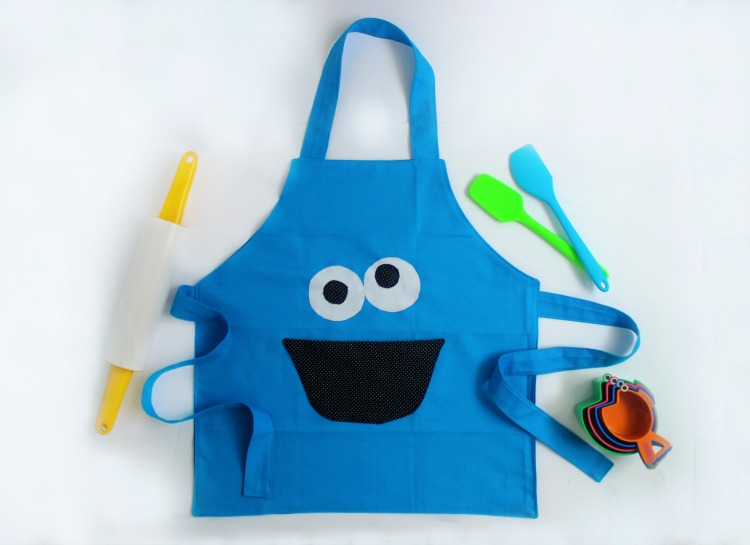 Isn't he perfect? I kind of have a thing about enabling my kids and their interests. You can use this cute apron pattern to make any of the Sesame Street characters! If you need a little inspiration
check out the bean bag/rice packs that we made!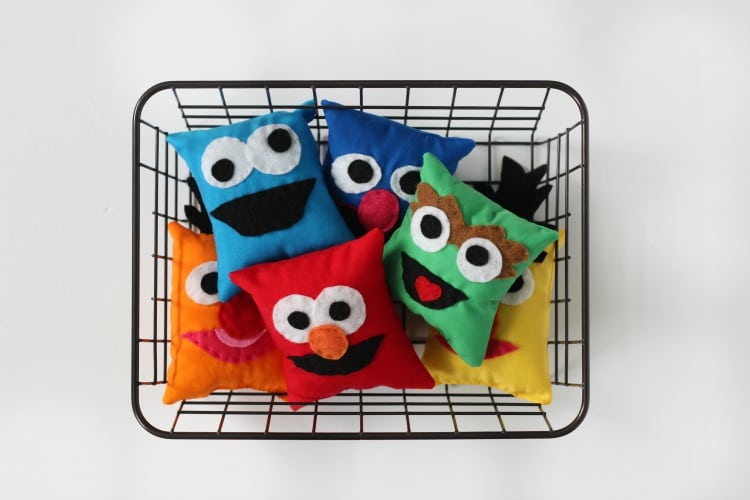 I'm thinking that an Oscar the Grouch apron would be hilarious. Or Grover? Grover is one of my favorites!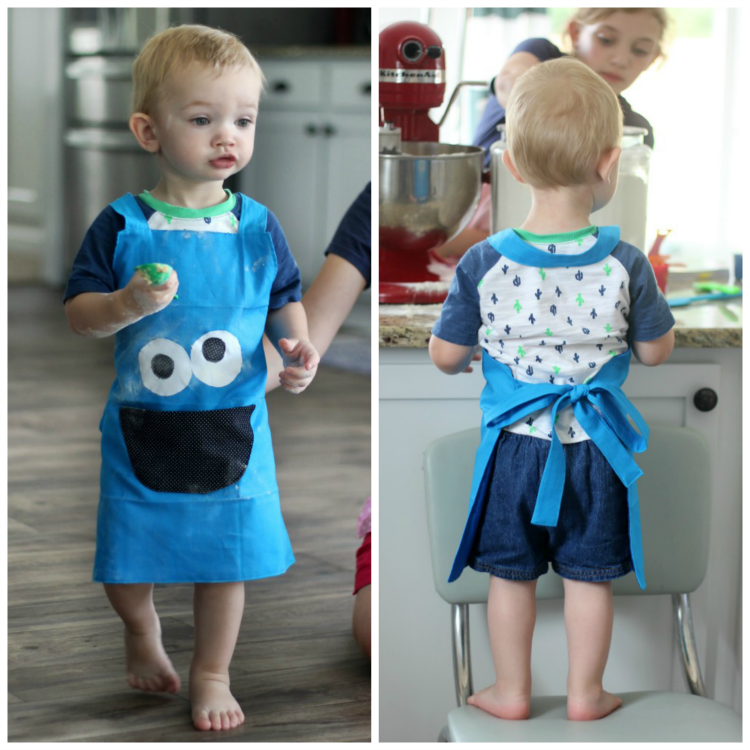 The girls were very excited to make cookies when they got home and immediately grabbed their aprons when they saw Mac with his. We made 6 dozen Chocolate Chip Oatmeal Cookies via the
Food Nanny (recipe here)
and finished them just in time for the boys when they got off of the bus!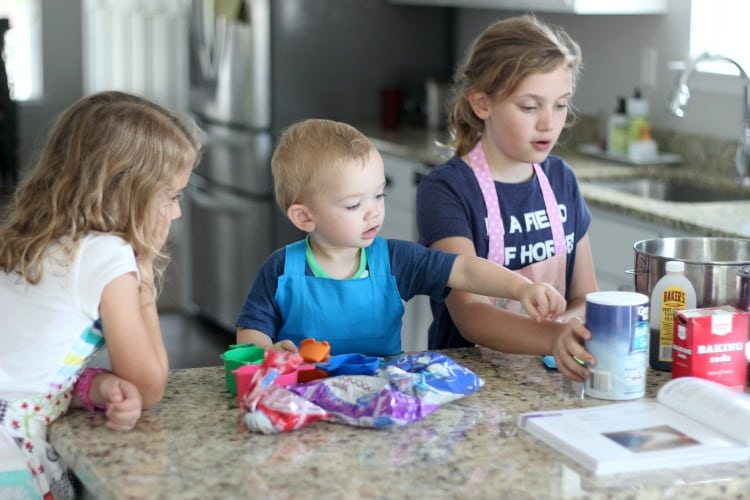 Mac is quite the "helper" in the kitchen. Baking with him is always an adventure! We wouldn't have it any other way though. He gets SO excited to help stir or pour sugar into a bowl.
And if you really want to see him light up, ask him where Cookie Monster is when he is wearing his apron. He'll smile and point to his belly. 🙂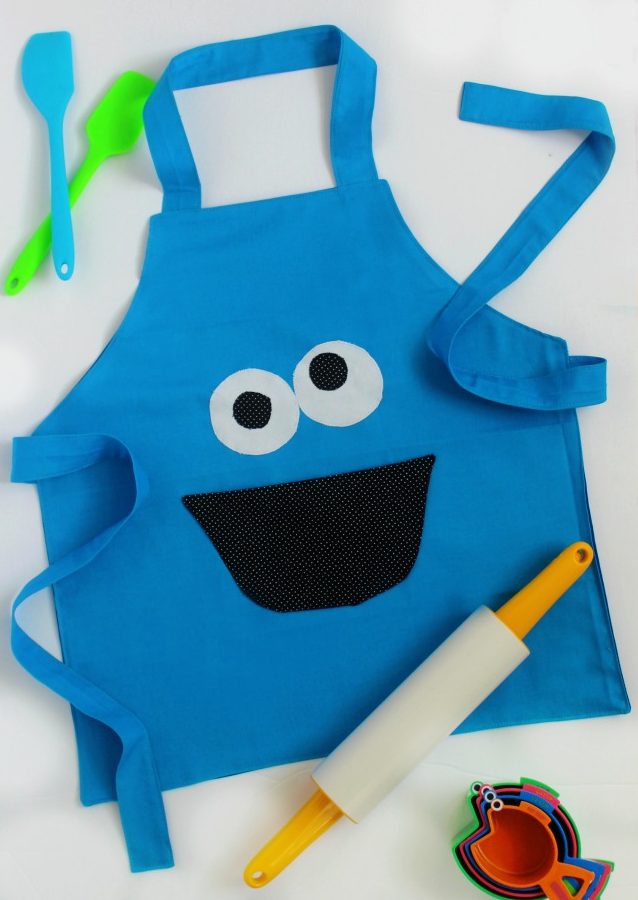 You might also like…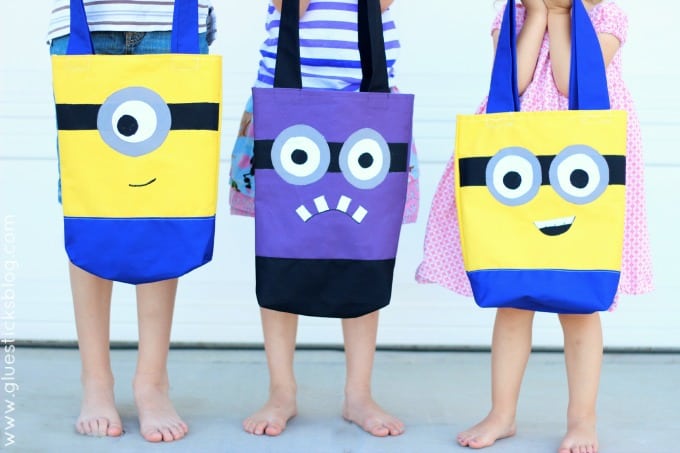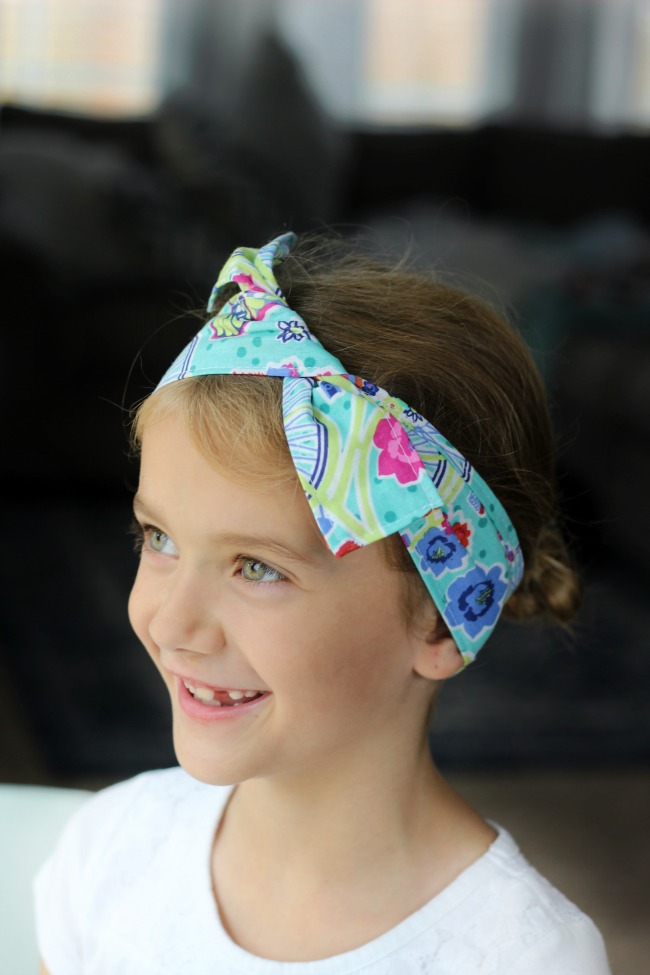 Welcome! I'm Brandy, mother to 5 darling kiddos and a cute black lab named Toby. My husband is in the Coast Guard so we've lived all over the place, turning each house into a home. I love baking, sewing, making cute things with my kids, and sharing what I've learned with all of you!