Make lunchtime fun with these lunch box coupons! Each contains a thought-provoking question for your child to answer when they get home in exchange for a hug, high five or anything special you want to share with them! This is a sponsored post written by me on behalf of Stonyfield® Organic.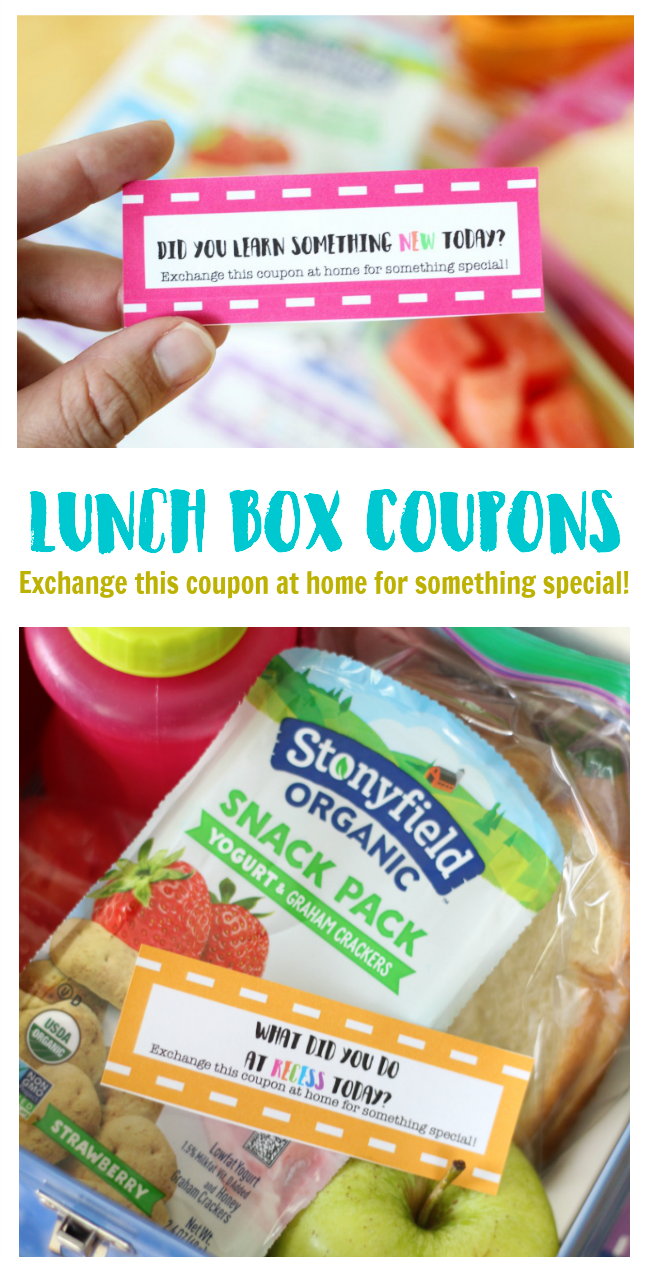 School is back in session here in Virginia. Would you believe that we didn't start until after Labor Day? While many of our family and friends were sharing back to school photos on social media, we still had over three weeks of summer left and it was fabulous! Now that four out of five are in school the house is pretty quiet. I'm glad that I still have one at home to keep me company!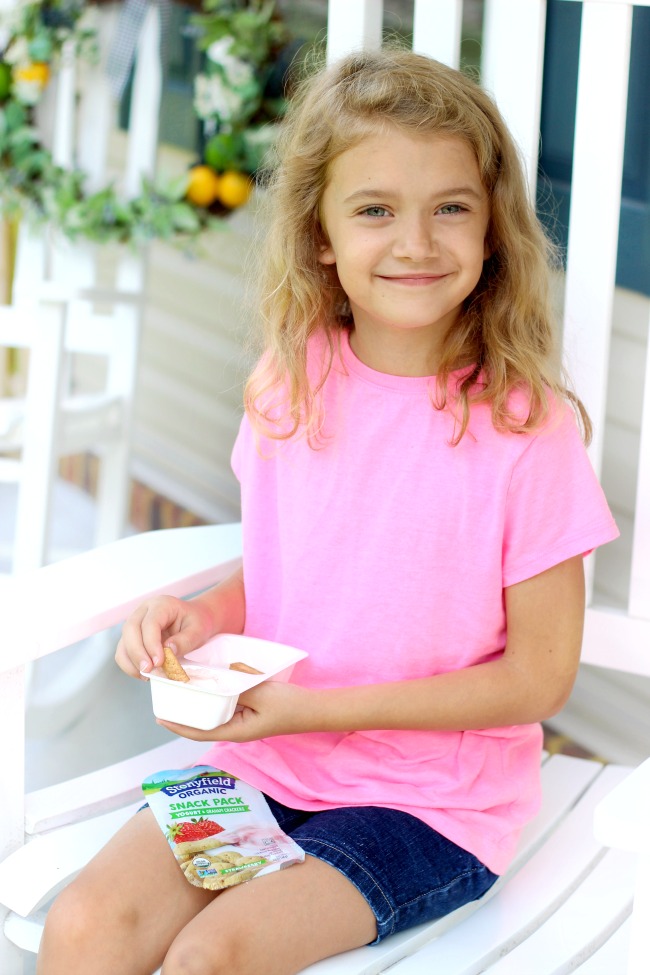 All of those fun snacks that accompanied us on all of our summer day trips to the zoo, waterpark, amusement park and camping are now being tucked inside of lunch boxes. Stonyfield Organic Snack Packs? We've have been dipping mini rice cakes and pretzels into yogurt for years so these just make sense and they come in three flavors.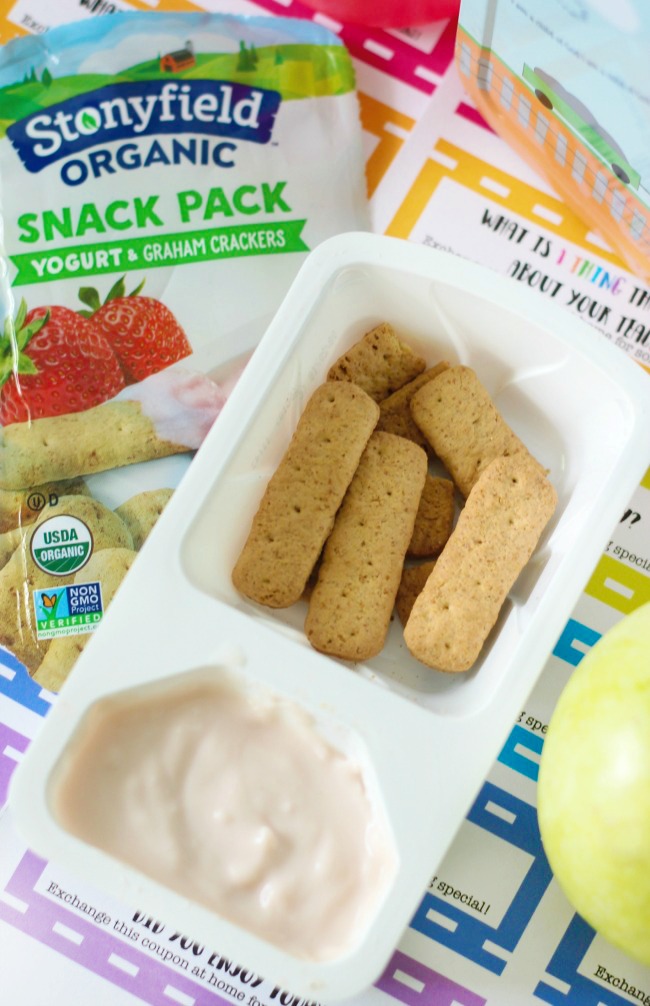 Stonyfield Organic Snack Packs are easy to eat (no spoon required!) contain no artificial flavors or colors, and are USDA Organic & Non-GMO project verified.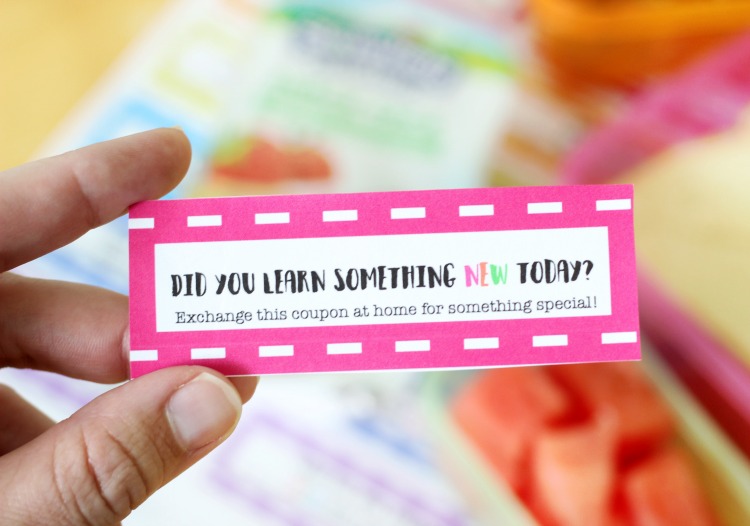 Another thing that I enjoy doing this time of year is creating a fun back to school printable to tuck inside of their lunch boxes.
I remember my mom putting little notes in my lunch when I was younger and I always looked forward to her handwritten messages. My kids love finding lunch box jokes and notes inside their lunches too. So much so, that they remind me if I go a few days without tucking a special little note inside! Sometimes they even pick out which ones they want me to use, haha! I have a container in my utensil drawer that I keep full of pre-printed notes. This makes it quick and easy to add a little handwritten message to the back and add it to their lunch.
We've all seen plenty of lunch box jokes and notes, but have you seen lunch box coupons? My girls have had a lot of fun with these and it gives them something to think about during the school day!
Printable Lunch Box Coupons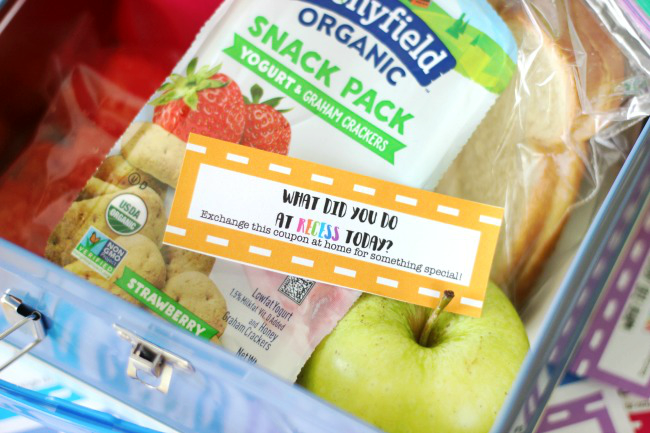 Each coupon asks a question:
"What did you do at recess today?"
"How did you brighten someone's day?"
"What is 1 thing that you like about your teacher?"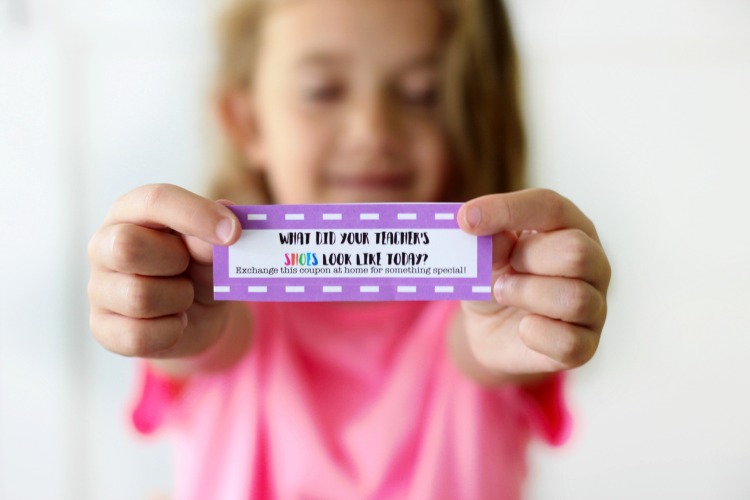 There are 12 different questions that you can cut out and add! When they get home they give you their answer and receive something special. AND YOU DON'T HAVE TO GET FANCY. My girls receive a hug, a high five, or a homemade cookie. Oh, okay. If you want to get fancy you can, I'm just saying that you don't have to. My kids just love having my undivided attention!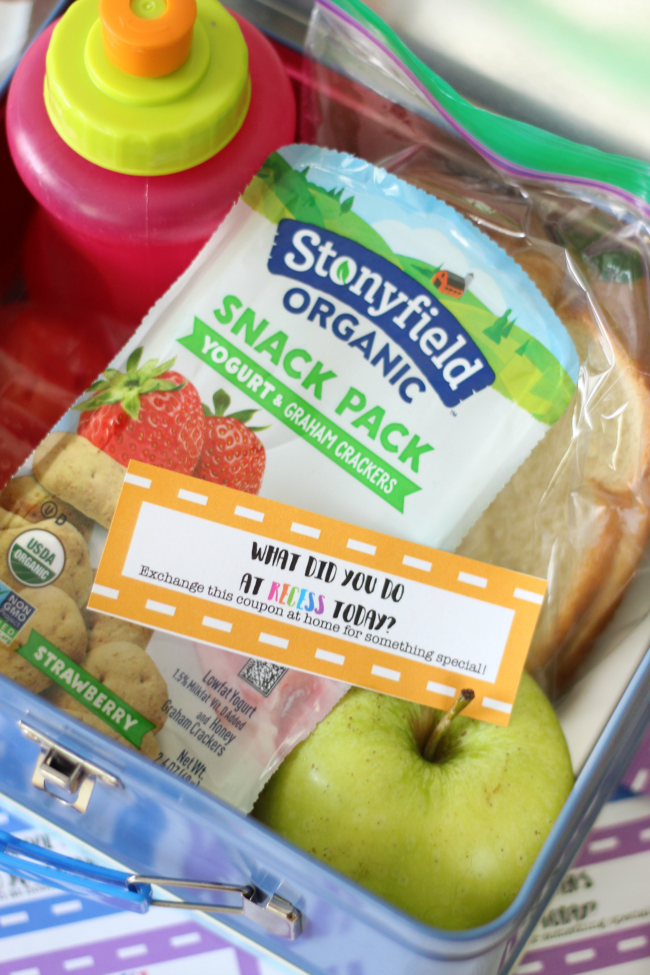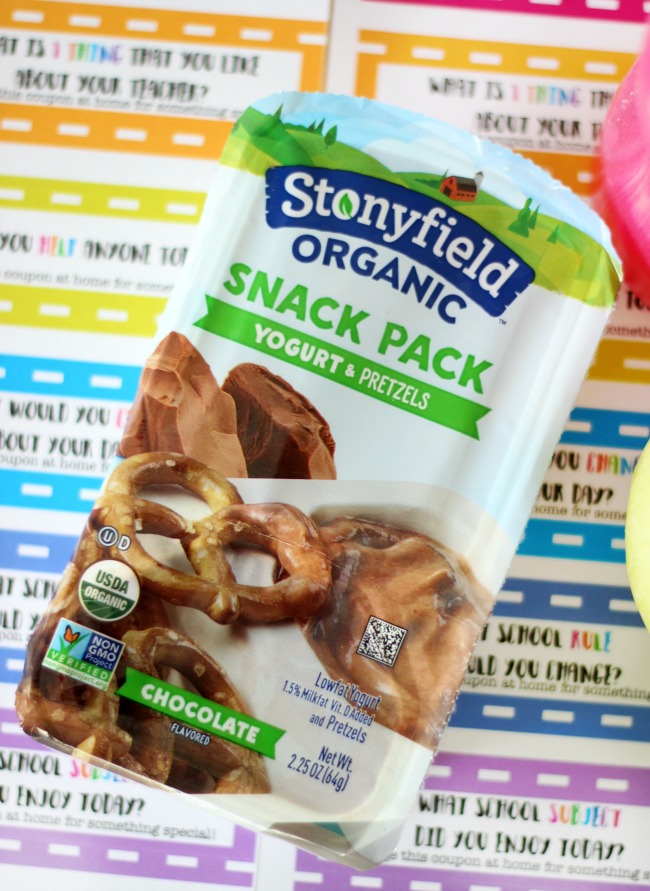 Remember how I said that the Stonyfield Organic Snack Packs come in three flavors? You can find the Chocolate Yogurt & Graham Crackers Snack Pack and the Chocolate Yogurt & Pretzels Snack Pack in the yogurt section at the grocery store, too!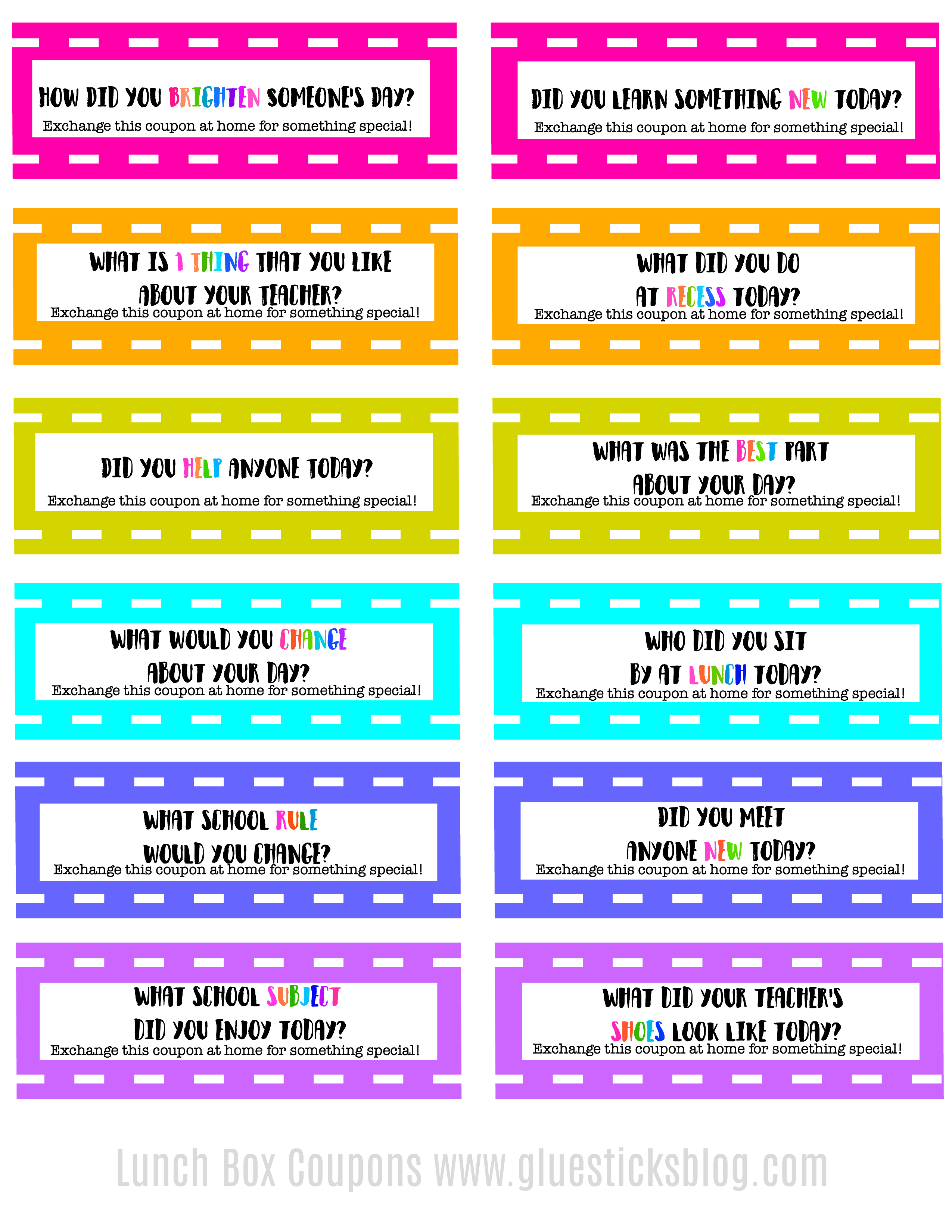 Click here to download a copy of our lunch box coupons!
This is a sponsored post written by me on behalf of Stonyfield® Organic.
You might also like…