Add a smile to your child's face with these goofy printable lunch box jokes and riddles that are perfectly sized to slip into their lunch box for a fun surprise! Bring laughter with these cute animal jokes, pirate jokes, and silly puns! I'll even share some fun out-of-the-box lunch ideas for kids! Originally published in 2014.
You might also like our Valentine printable jokes and coupons, our conversation starters for lunch boxes, or our ghoulie Halloween lunch box notes!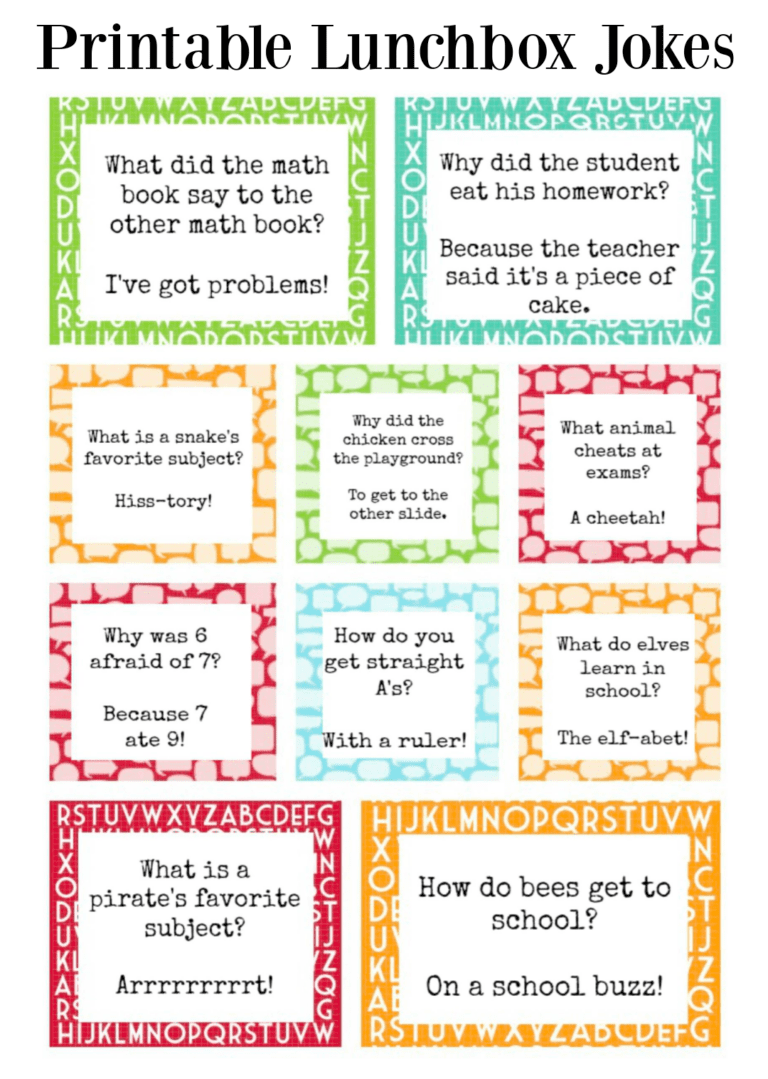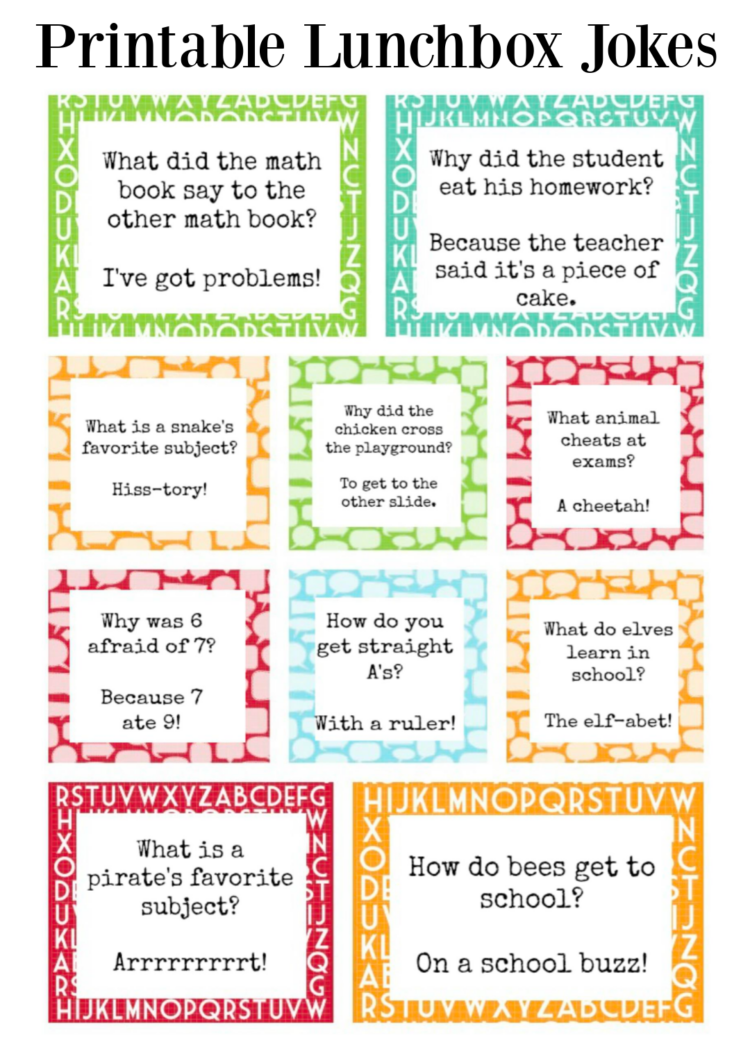 Lunchbox Jokes
Some of my fondest memories of my school days were the little notes that my mom would leave inside my lunch box. I'm 35 years old and STILL have some of them in my childhood memory box upstairs. That was back before the days of printables so hers were colored by hand, with colored pencils. You know, back before us, moms had Pinterest as our cheat for everything! My mom always comments on how creative I am with the things that I do with my kids. Um, Mom. You were creative too, you just had to work harder for it!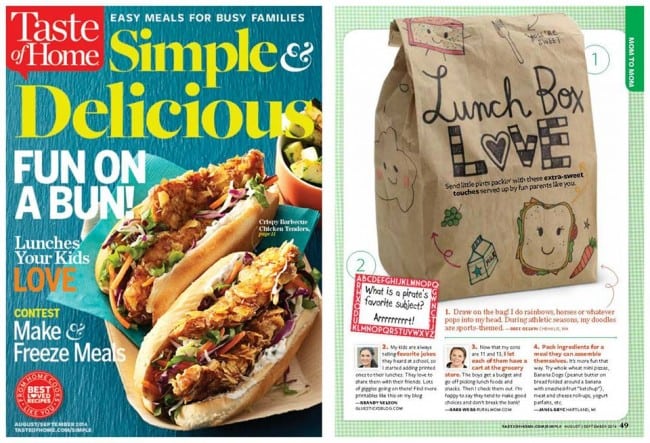 My oldest three started school last week and it perfectly coincided with a fun little project that I have been working on! I created some fun printable lunch box jokes for the Simple and Delicious Magazine by Taste of Home and they were featured in their August issue.
Print them out, trim them, and slide one into your child's lunch for lunchroom fun. I created these because my boys were always coming home from school and sharing the latest joke they learned from a friend. Now they can add to the laughs too!
School Jokes For Kids
How do bees get to school? On a SCHOOL BUZZ!
What do elves learn in school? The ELF-ABET!
What is a snake's favorite subject? HISS-TORY!
Why did the chicken cross the playground? To get to the other SLIDE!
Why did the student eat his homework? Because the teacher said it's a piece of cake!
What did the math book say to the other math book? I've got problems!
What's a pirate's favorite subject? Arrrrrrrrrrrrt!
What animal cheats at exams? A CHEETAH!
How do you get straight A's? With a ruler!
Why was 6 afraid of 7? Because 7 ate 9!
I love making my life easier by finding free printables and making the lives of other moms easier too. So without further ado, here is a collection of cute jokes to add to any lunchbox any time of year.
Tip: print out a bunch of jokes and keep them in an envelope in a kitchen drawer, making it easier to slip them into your kids' lunch boxes with very little prep!
Printable Funny Jokes For Lunches
Download the Pdf Printable School Jokes Here!
Master List of Add-Ins for Kids Lunches
(my kids' favorites)
Fruit and veggies: grapes (sliced in half for small children), banana, kiwi, strawberries, blueberries, watermelon slices, carrot sticks, and black olives. My daughter likes making a salad and brings a small container of salad dressing to add.
Sacks: rice cakes, applesauce pouches, cheese sticks, turkey sticks, yogurt, crackers, fig bars, cookies, jerky, hard-boiled egg, pretzels.
Sandwiches and sandwich alternatives: pasta (they'll heat it in the morning and place it into a small thermos), muffins, "sushi" roll-ups (made from bread, peanut butter, bananas, jam, and other simple ingredients), 7-layer dip (and more sandwich free ideas), blueberry muffins, pumpkin muffins, banana bread, pretzel bites, bagels, pretzel bun sandwiches (my kids makes these with sliced deli turkey, bacon, and cheese).
Out-of-the-box Lunchbox Ideas For Kids
For more fun back-to-school lunch box printables, check out this darling collection of notes and jokes from Craftaholics Anonymous. I like printing out a variety of notes, cutting them up in advance, and keeping them in one of my kitchen drawers so that I always have some on hand.
Welcome! I'm Brandy, mother to 5 darling kiddos and a cute black lab named Toby. My husband is in the Coast Guard so we've lived all over the place, turning each house into a home. I love baking, sewing, making cute things with my kids, and sharing what I've learned with all of you!