Random Acts of Kindness Day is February 17th. Print out a week of cute tags to color and hand out to brighten someone's day! Tuck everything inside of a box for a Random Acts of Kindness Kit. A fun activity for Girl Scouts, Activity Days, school and more! This post contains affiliate links.
Looking for another Random Acts of Kindness idea? Check out these fun tags that say, "Tag! You're It!" to encourage others to pay it forward with kindness (after receiving a fun little treat!). You might also like our 12 Days of Christmas QR code gift idea or our "When Life Gives You Lemons" activity for Activity Days or Young Women!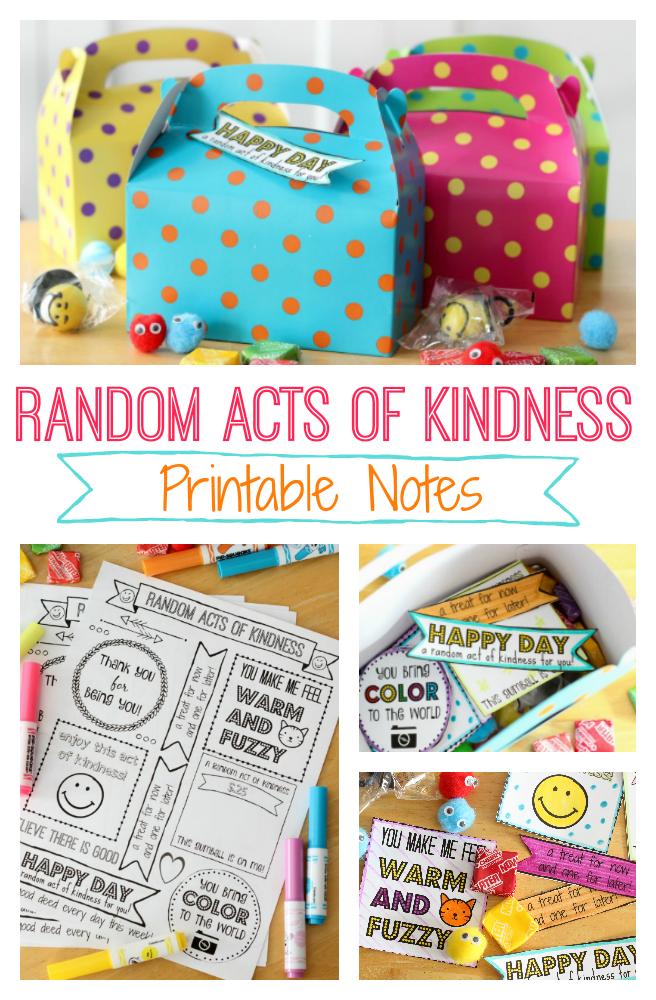 I work with the 8-11 year old girls at church and it is seriously so much fun. The program is called Activity Days and we meet twice a month on Wednesday nights for our activities.
For one of our February activities we are making Random Acts of Kindness Kits!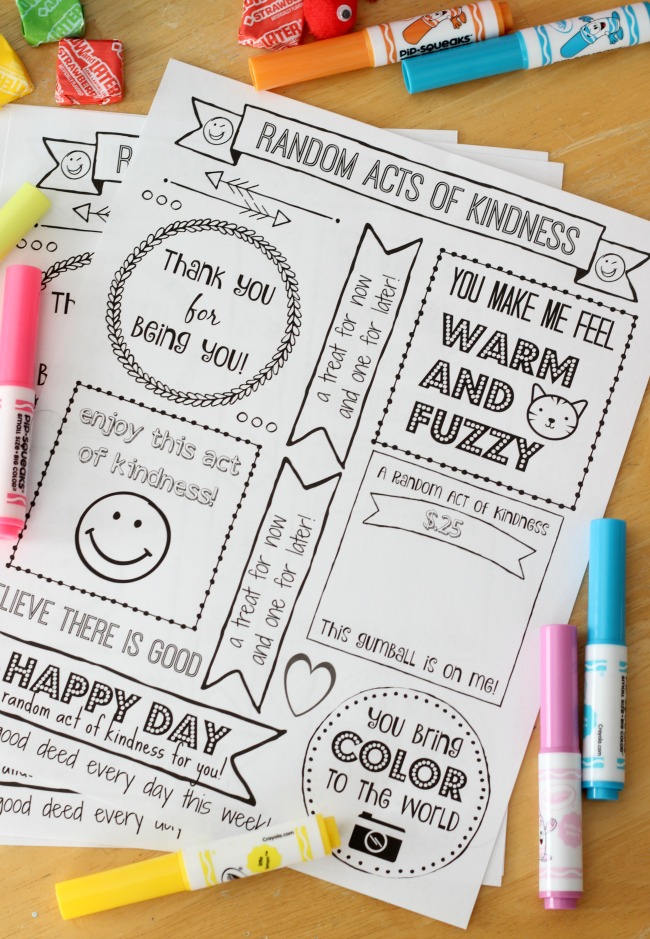 Each girl will go home with a tiny box full of printable tags and treats to pass out during the week before Random Acts of Kindness day!
I created a coloring page for each girl to customize. You can print out your own copy here!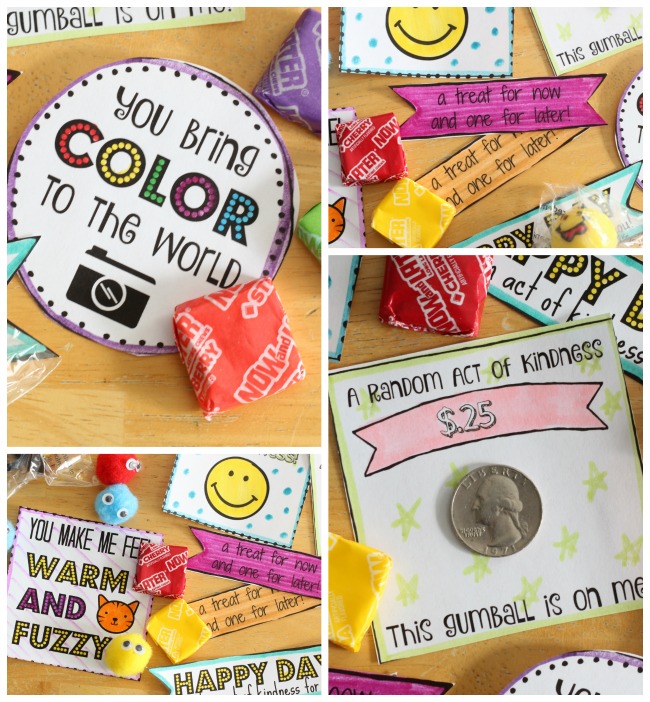 There are 8 notes to color and cut out. I also ordered a variety of goodies from Oriental Trading and Amazon for them to pass out with their notes. The availability of some items fluctuate so I've updated some of the links with products that are in stock (as of today) and would work perfectly!
Now and Laters are bright and colorful and go perfectly with the "You Bring Color to My World" and "A treat for now and one for later!" notes.
Happy Face Suckers Or Pins can accompany the "Enjoy This Random Act of Kindness" tag. They can leave this on someone's pillow after they make their bed or on a door step after they bring in someone's trash cans from the street.
Warm Fuzzies are just plain fun and perfect for Random Acts of Kindness Day. Each girl will get a handful to add to their kit to pass out to friends and family. There is a note to accompany these, but they can use them on their own too. (Can also purchase pom poms and glue on craft eyes!)
There is also a note that they can attach a quarter to and leave on a gum ball machine at the grocery store. What child would't want a surprise gum ball after shopping with mom or dad?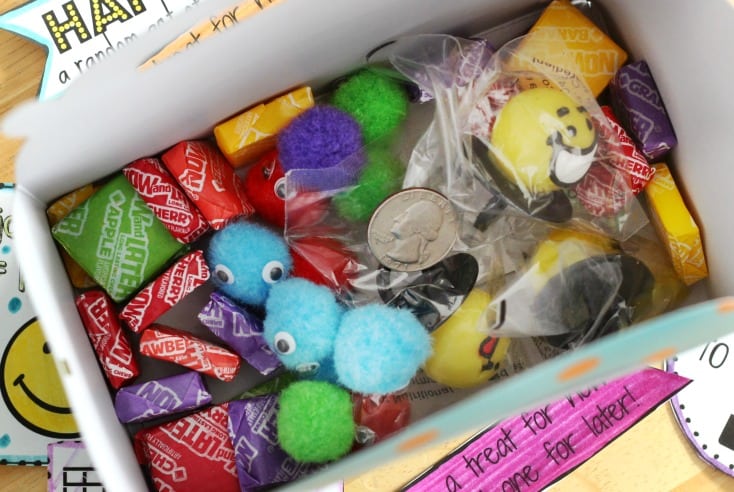 Everything fits perfectly inside these little
polka dot boxes
to make it easy to store on their dresser.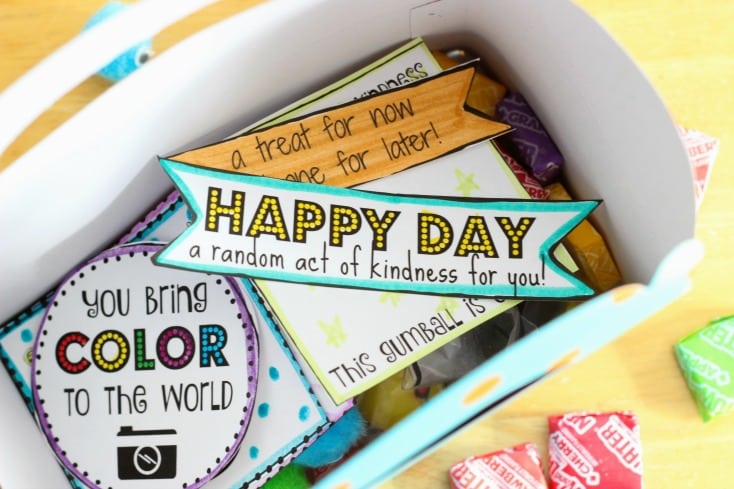 I'm super excited about this activity and since I have a daughter in the class I can't wait to see some of these little items left around our own home!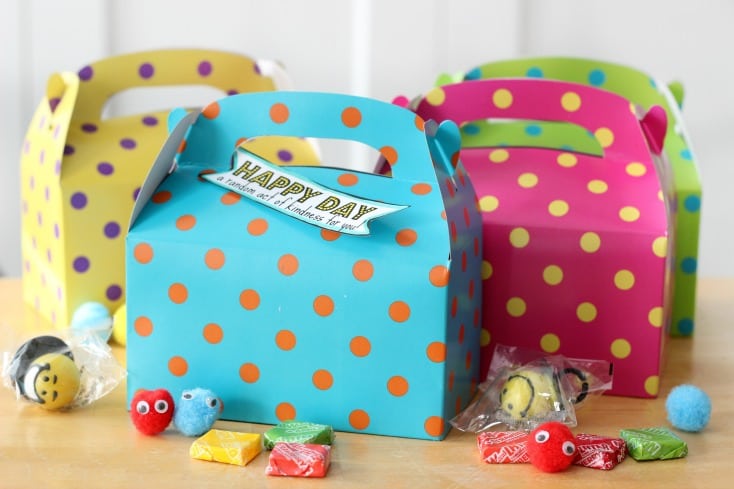 Download Printable Tags Here.