This shop has been compensated by Collective Bias, Inc. and its advertiser. All opinions are mine alone. #ICantEven #BigLots #CollectiveBias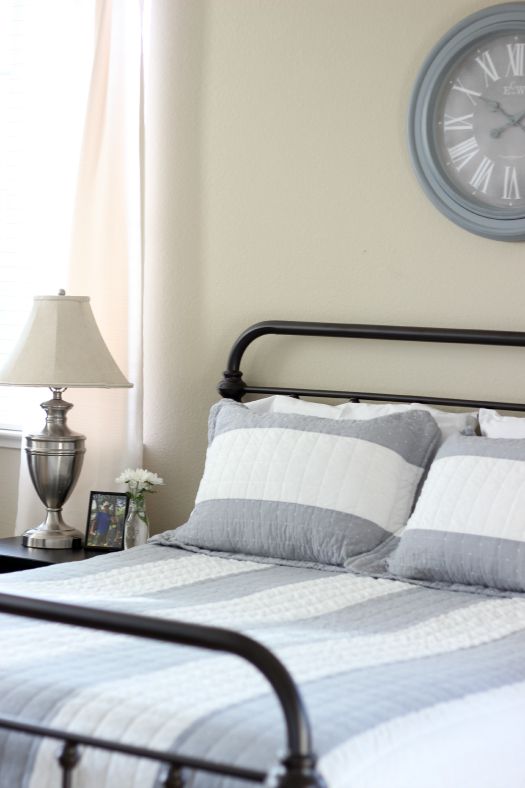 Is your master bedroom the most neglected room in the home? Ours has been for over a decade. Room makeovers don't have to be over the top or done in a day. We've been slowly working on ours over the course of a couple of years, and recently added the final touches!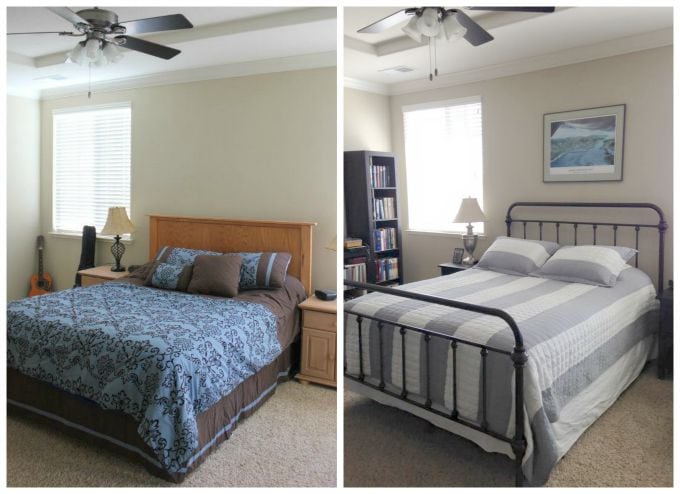 The photo to the left is how our bedroom looked when we moved into our home 3 years ago. I vowed that after 10 years of marriage, I was going to finally decorate our master bedroom, but it didn't end up being a priority. We organized and decorated the living room, we hung photos, filled up bookshelves, and even decorated the kids' bedrooms. Then we got to the master bedroom and, as usual, it ends up being a burial ground for old furniture.
Can any of you relate?
My sister and I went on a weekend trip two years ago and when I came home my husband had surprised me with new side tables, a dresser, and bookcases in our room. We had been using the same bedroom set for 10 years so it was so nice to have an update! That motivated me to keep going.
The next year I bought a couple of new bedding sets like the striped one above, and this year we took the plunge and bought a new headboard AND a footboard! I know, right? We're moving up in the world!
The photo to the right is where we were at last week with our updated room. It looks good, right? I just needed a few finishing touches, and honestly, those few things really made the biggest difference in tying everything together!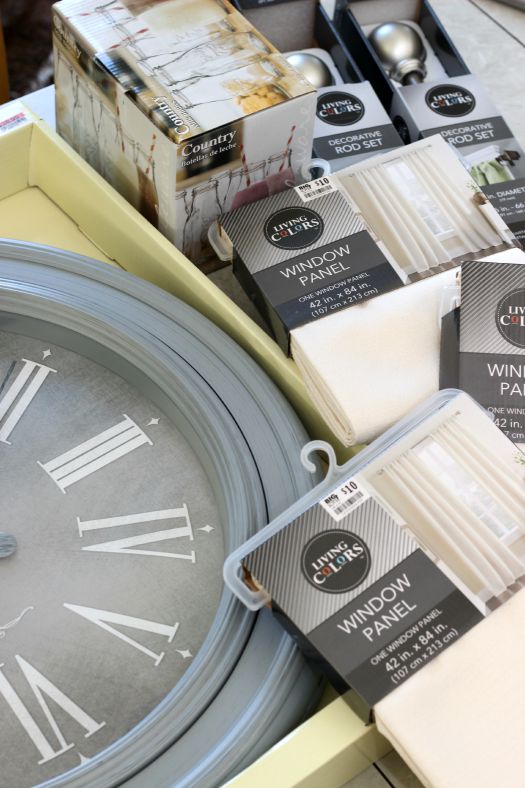 I made a trip to
Big Lots
, and as I browsed the aisles a friendly employee asked how I was doing and if I was looking for anything specific. I had no idea, honestly! I really wasn't sure what I was going to get and was waiting for something to "speak" to me 😉
Tip: Throw pillows, candles, area rugs, mirrors, and picture frames are great ways to make a statement in a room without breaking the bank and can be changed out seasonally!
I ended up choosing a blue/grey clock to match our bedding, 4 cream curtain panels, nickel curtain rods, and some small vases.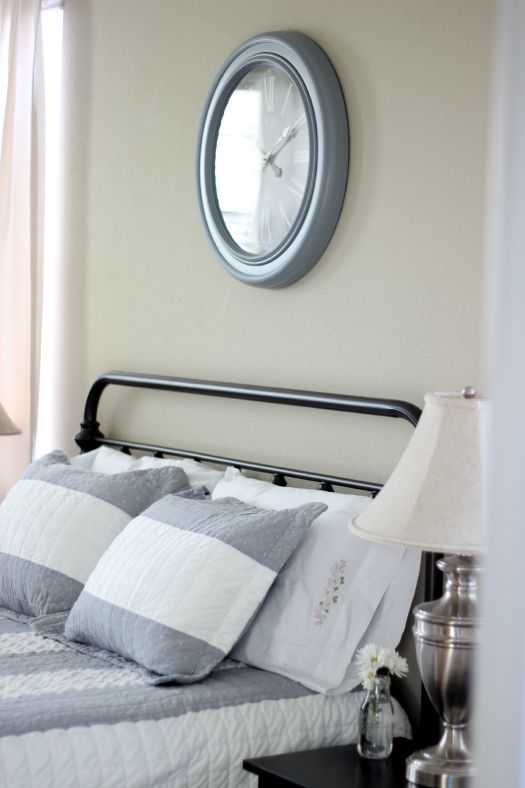 Tip: if you have high ceilings, don't be afraid to go big with your wall decor.
I chose the giant clock to balance out the high ceilings in our room.  I may end up making a collage of frames and decor around this clock in the future, but even if I leave it as is it's big enough to stand out on its own.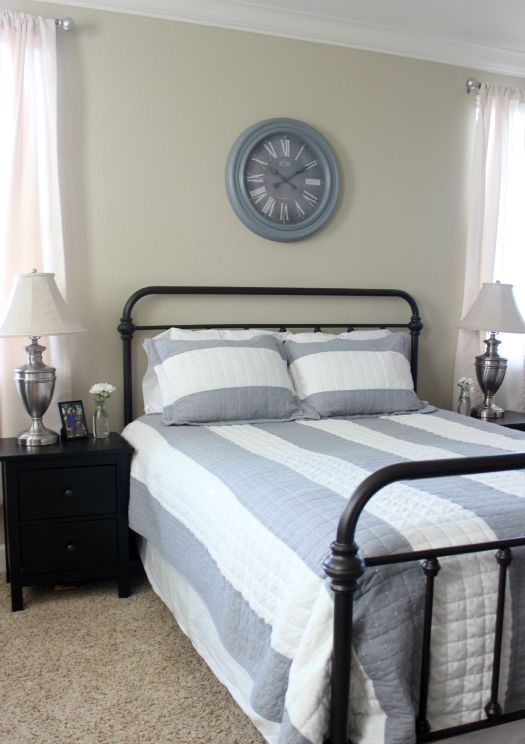 Tip: Even if you have blinds, adding curtain panels can soften the look and really pull the room together.
There were so many styles to choose from at Big Lots. I decided on some solid cream window panels to add soft glow to the room. There was already plenty of black so the nickel curtain rods helped break that up and coordinate with the lamps.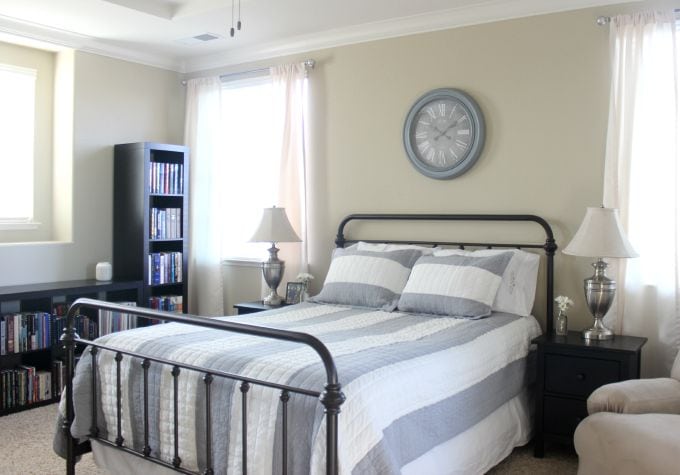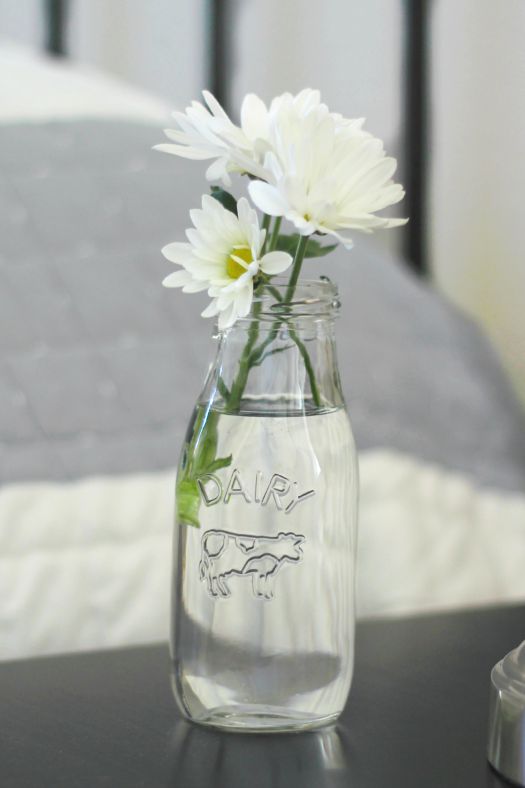 Tip: Adding cut flowers in vases or vessels is an easy way to add life to any room. "Flowers bring about positive emotional feelings in those who enter a room," said Dr. Haviland-Jones. "They make the space more welcoming and create a sharing atmosphere."
Milk bottles made the perfect vases for the nightstands. I keep fresh flowers in my kitchen and dining room so it was time to show my bedroom a little love too.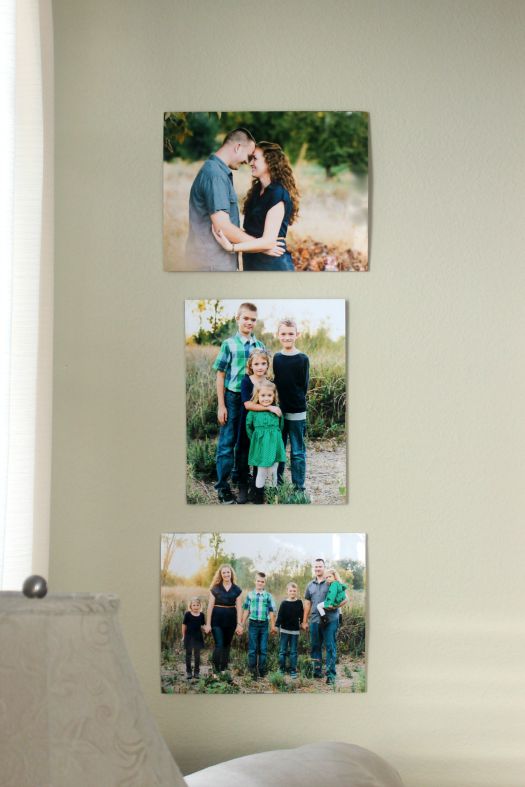 Tip: A room isn't finished until the art is hung.
The progress in our bedroom motivated me to put up a few family photos that had been sitting on my dresser for about 9 months. Photos truly are my favorite home decor. This is probably why we only have 2 paintings on the walls in our home and everything else are photos! It's a beautiful sight to see every morning when I wake up. These are mounted on thick foam board and attached to the wall with removable backings so that they are easy to move around.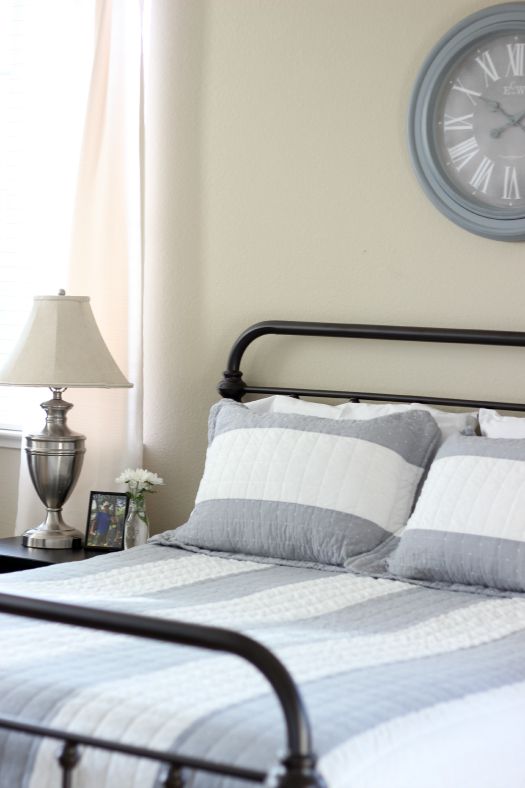 So tell me, what is the most neglected area in your home?
You can follow Big Lots on Facebook, Twitter, Pinterest, and Instagram to keep up to date with the latest products.